Social video: it's kind of a big deal. People watch more than 100 million hours of video on Facebook every single day, and YouTube reaches more viewers in the coveted 18- to 49-year-old demographic than any cable network in the United States. Snapchat has been reported to have 10 billion video views every day.
While those are already big numbers, the volume of social videos out there is still increasing. Tweets with videos increased more than 50 percent in the first half of 2016, and Cisco predicts that nearly 1 million minutes of video content will cross global IP networks every second by 2020. If you're not incorporating social video into your online strategy, you're going to be left behind.
But with so many videos popping up in social media feeds, it takes some planning to ensure your video content isn't lost in the noise. We'll start by looking at some general principles for social video, then dig a little deeper into the specific optimization strategies that work best for each network.

Bonus: Get the step-by-step social media strategy guide with pro tips on how to grow your social media presence.
How to optimize video for social media
Here are some key ways to optimize your video for social media to maximize engagement with followers and fans.
Grab attention quickly
Browsing social media feeds is overwhelmingly a mobile activity, with social media time spent on mobile ranging from 63 percent for those over 50 up to 78 percent for those aged 18 to 34.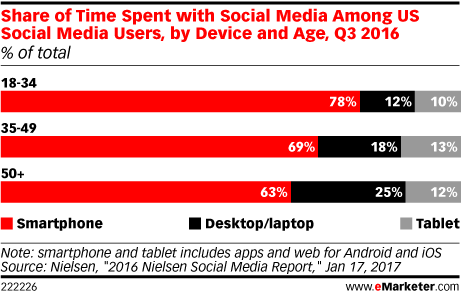 That means you're primarily dealing with users scrolling through a long feed on a small screen, and you have very little time to grab their attention. Data from Facebook and Nielsen shows that 47 percent of the value of a video campaign comes from the first three seconds of video, and 75 percent from the first 10 seconds.
Since most social video autoplays, viewers see the beginning of your video without having to press play. That gives you the chance to pull them into your content by leading with striking, compelling visuals.
This Lexus Facebook video, for example, is only four seconds long but packed with intense graphic elements and effective brand messaging:
Test vertical video
Since so much social media activity happens on mobile devices, Facebook, Instagram, Twitter, and even YouTube have all introduced vertical video formats to maximize the viewing area on mobile devices so that viewers don't have to rotate their screens. Especially if you're targeting the younger demographics that do almost all of their social browsing on mobile, it's worth testing vertical videos across networks to see how they perform.
This National Geographic Instagram video of a giant panda takes advantage of mobile screen real estate to serve up maximum in-your-face cuteness:
Expect viewers to watch with no sound
The majority of social videos that autoplay do so with the sound turned off and research from Digiday shows that most people—up to 85 percent—never turn the sound on. If your video requires sound to be understood, it doesn't stand a chance of capturing most viewers' interest.
It's important, then, to create a video that stands on its own with no audio track, emphasizing any visual components that make it appealing to the eye, and incorporating subtitles or text to convey any messages that require words. Take advantage of automated captions where they exist (like Facebook's automated captions tool), or add your own—but also consider creating videos that convey much of their meaning through visuals alone.
This Twitter video from DiGiorno is more fun with the music pumping, sure, but it conveys its messaging equally well without sound:
https://twitter.com/DiGiornoPizza/status/821715023512801280
Choose your thumbnail wisely
Autoplay may be the default, but users have the option to disable this setting, or it may not work if users have a poor connection. That means your video needs a compelling thumbnail to encourage users to click to watch, so don't just go with the default. Take a look at your thumbnail options to make sure the image conveys the value users will get by pressing play.
The thumbnail in this KFC Instagram video shows one of the final frames, but it's a good choice because it highlights the product and works well with the video description to convey the full message even if the viewer never watches the rest of the video.
Now that you understand some basic principles of how to optimize video for social media in general, let's look at some network-specific strategies so you can get the best performance from each of your social media channels.
How to optimize video for Facebook
Upload native video
If you already have videos posted to YouTube or other video sharing sites, it may be tempting to simply share a link on Facebook. But doing so seriously cuts your video's organic reach, according to eMarketer, from 13.2 percent to 7.9 percent.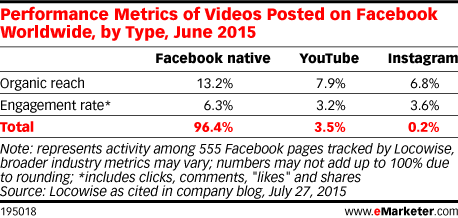 Simply put, the Facebook algorithm values native video, and it's in your best interest to play by the algorithm's rules. You'll also notice that only native videos, not linked ones, become part of the video gallery on your Facebook Page.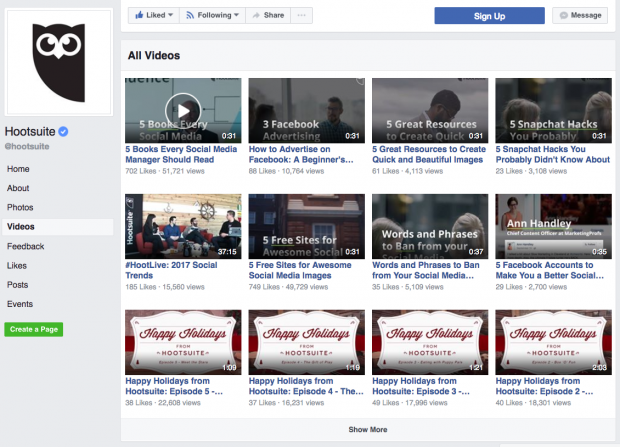 But wait, there's more: Only native videos also autoplay in viewers' feeds, while linked videos do not.
Give your video a catchy description
Don't neglect the text portion of your Facebook video post, which serves as a headline. Make it highly scannable and compelling to pique viewers' interest as they scroll through their Facebook feed.
Don't go overboard
The maximum length of a Facebook video is a whopping two hours, but Wistia found the optimal length to be two minutes or less.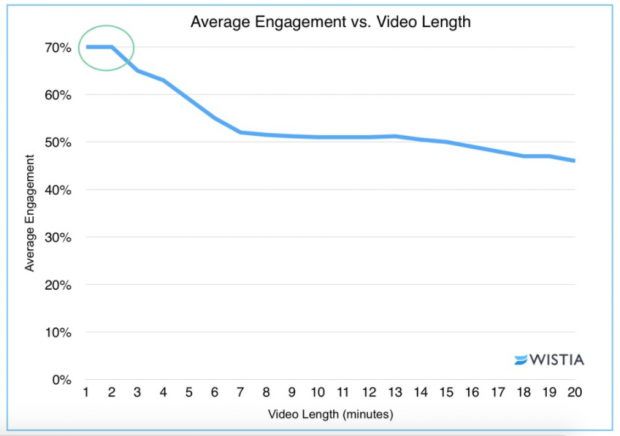 If your content is highly engaging or detailed, it might make sense to go a little longer—Wistia found virtually no engagement drop-off between minute six and minute 12—but most publishers should not get anywhere close to that two-hour mark.
How to optimize video for Twitter
Just like on Facebook, uploading native videos to Twitter provides the advantage of autoplay, so users see your video right in their feed without having to click. Native videos also become part of your photo and video library, with your most recent visuals appearing on the left of your Twitter profile.
Twitter internal data also shows that native videos get 2.5 times more replies, 2.8 times more Retweets, and 1.9 times more likes than linked video.
Native Twitter videos can be anywhere from one to 140 seconds long, and videos less than 6.5 seconds long will loop automatically, Vine-style, like this one from IKEA:
Live life on your own terms! See more from the #IKEA PS 2017 collection: https://t.co/N6Puvmy4fS pic.twitter.com/FgT1FFdFAB

— IKEA USA (@IKEAUSA) February 10, 2017
How to optimize video for Instagram
Instagram videos can be anywhere from three to 60 seconds long, and all videos loop automatically. While you can post any content you like as an Instagram video, there are two Instagram-specific apps that can help you create video that is, by definition, optimized for Instagram.
Boomerang
Boomerang creates GIF-like short videos that loop forwards and backwards, creating an effect that's similar to, you guessed it, a boomerang. The app takes a burst of up to 20 photos and stitches them together to create a short, snappy video that's a perfect fit for the Instagram universe, like this capture from the USA Basketball Women's National Team:
Hyperlapse
Hyperlapse is a stabilization technology for timelapse videos that also gives you precise control over the speed at which your timelapse plays. This can be a great way to show a quick video of an event that would otherwise be too long or slow for Instagram, like a sunset, a party, or even a tour of a city or property.
Lowe's does a great job of using Hyperlapse videos to create ultra-short project tutorials that showcase the products they sell:
How to optimize video for Snapchat
Snapchat videos are a maximum or 10 seconds long (other than Snap Ads) and have to be recorded through the Snapchat app—no uploading previously recorded video here. Since Snapchat is a mobile-only social network, viewers overwhelmingly watch videos in portrait mode—so be sure to shoot vertically.
Snapchat video, like all other content on this particular network, lasts for only 24 hours. If you want the chance to re-use your videos later, or post them to other social networks, be sure to save them to Snapchat Memories.
After all, if you don't save your Snapchat videos, you can't use them later to create content for other social networks, like this epic video from Jimmy Fallon and Ariana Grande:
For more ways to optimize different types of video for your social marketing strategy, including live video and 360 video, check out our post 6 Social Media Video Formats Marketers Need to Try.
Ready to put your video marketing plan into action? With Hootsuite you can upload, schedule, publish, promote, and monitor your social videos from one platform.