There's no question about it: Gen Z is built different.
But the definition of who qualifies as Gen Z varies depending on who you ask (for example, if you ask me, it's anyone who has never had to rewind a VHS).
You can't draw a solid line in time between Gen Z and Millennials—being part of a certain "generation" is just as much about cultural influence as it is about age. (Which traumatic movie defined your childhood, The Lion King or Up?) For the purposes of this blog post, though, we'll use Pew Research Center's definition: anyone born in or after the year 1997 is part of Gen Z.
Read on to find out how to effectively market to this unique demographic with ever growing buying power.
Get our 2024 Social Trends report, and dig into the juicy data that'll help you reach your goals in 2024—which is shaping up to be social's best year yet.
Marketing to Gen Z vs. Millennials
In the past, Gen Z and Millennials have often been grouped together as "digital natives" when it comes to marketing. This March 2021 Statista study, for instance, says that 62% of Gen Z and Millennials bought something as a result of social media marketing that month—but doesn't differentiate between the two generations.
Again, the distinction between them isn't always clear. Still, there are some important differences:
Gen Zers are more likely to have post-secondary education than Millennials. In the U.S., 57% of Gen Z continued education after high school (compared to 52% of Millennials, and 43% of Gen Xers).
In America, Gen Zers are more racially and ethnically diverse than Millennials. 50% of Gen Z identifies as BIPOC, while 39% of Millennials identify as BIPOC.
While their viewpoints are similar, Gen Zers are slightly more progressive than Millennials. Generally, Gen Z is liberal-leaning, and more likely to support things like gay marriage, racial equality, the use of gender-neutral pronouns.
How to market to Gen Z: 7 best practices
1. Put values first
When to engaging with a new brand on social media, Gen Z audiences care just as much about the company as they do about the product or service.
45% of Gen Zers say that a brand "appearing trustworthy and transparent" is a big motivating factor for engagement. So don't make your social marketing all about selling: create content that's explicit about what your values are, and share as much of your brand's story as you can.
For example, a clothing company looking to market to Generation Z should be transparent about what the clothes are made of, where they're made, and what kind of work conditions they're made in.
2. Speak their language
Communication is key. Being able to use language that Gen Z can understand and relate to is essential—and if you're not well-versed, it's best to learn by immersion.
Follow Gen Z creators, watch their content, and pay attention to their vocabulary, their acronyms and their jokes. Then, slay away.
One caveat: this takes time, and there's nothing less cool than trying to be cool. Don't force the language (it sounds inauthentic) or overdo it (it's cringey). You want to be the cool aunt, not the try-hard stepdad. The most surefire way to make sure your content speaks Gen Z's language? Hire them onto your social team.
(Psst: Gen Z, if you're looking for a job in social media, here's some advice).
3. Don't do performative activism and allyship
This goes hand-in-hand with putting values first: putting on a facade of activism while doing nothing to actually help the cause isn't going to make Gen Z like you. In fact, it might get you blocked.
According to data from Forrester's Technographics, almost a third of Gen Z say that they unfollow, hide, or block brands on social media on a weekly basis. The reason? "Gen Zers don't hesitate to cancel brands when they sense a shallow veneer."
A 2022 Forbes story agrees with this, stating that "younger generations are more likely to tie a brand or company's real-world impact on society to their shopping decisions… they are looking at everything from ethical manufacturing practices to treatment of employees and from eco-friendly initiatives to sustainability."
So don't rainbow-wash your June campaign, use BIPOC employees as embellishment to your content or claim a product is made sustainably when it's really not. Donating real money, uplifting marginalized voices, volunteering and attending marches and rallies are all ways to genuinely show up for your community.
4. Work with content creators and influencers to build trust
One foolproof Gen Z marketing strategy is working with the people they trust (and since it's tough to track down all of their older sisters, we're looking to social media influencers).
Folks aged 15 to 21 are more likely to follow some or many influencers than their older counterparts.
Source: Morning Consult
Plus, 24% of Gen Z women say that when it comes to learning about new products to buy, influencers are the source they turn to use most often.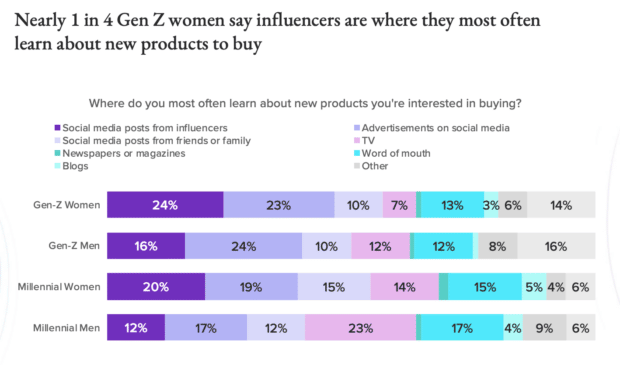 Source: Morning Consult
Collaborating with influencers is a very effective way to market to Gen Z. It's all part of that brand authenticity/speaking the language business: Gen Z wants to buy from brands they trust, and they hear about brands they trust from people they trust.
5. Entertain
According to this report from Morning Consult, Gen Z's reasons for following influencers include that "they produce content and information in a very entertaining way" and "they provide interesting content in a more personal setting."
Boring content gets you nowhere. Plus, Gen Zers say that when deciding whether or not to follow an influencer, being funny or having an engaging personality is the second most important factor.
Source: Morning Consult
Gen Z has a sharp, smart, and often dark sense of humour—lean in (mindfully, of course).
Showing that you can take a joke really makes a difference with this generation.
For example, after a bizarre rumour that Lea Michele can't read spread among Gen Zers, the celeb replied with a TikTok leaning in to the joke. That TikTok got 14.3 million views and the comments are super positive. It was a genius move (whoever is reading this to Lea right now, please tell her).
6. Use the right platforms
The strategies above can only be effective if Gen Zers are actually seeing your content—so make sure you're using the same platforms that they do. Hootsuite's Global Digital Report is a great source for seeing which demographics use which social media sites.
If you're trying to connect with Gen Z women, don't skip TikTok. According to a 2021 Statista study, TikTok is the third most influential advertising channel for Gen Z females' purchasing decisions.
The only "channels" that rank above TikTok are real-life endorsements: recommendations from friends/family and seeing a friend/family using a product. Instagram ads and IG influencer posts also rank high, while Facebook and Twitter ads are less likely to convince Gen Z women to hand over that sweet sweet cash.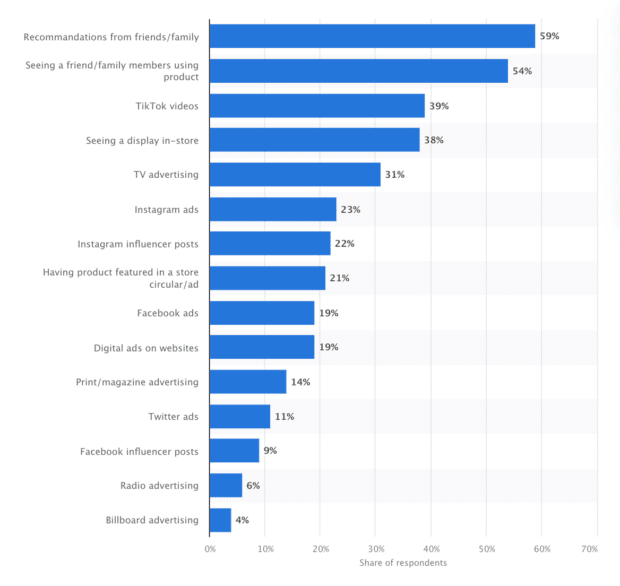 Source: Statista
7. Have a sale
Alright, this is going to work with any generation—but Gen Zers are particularly into deals.
In May 2022, discounts were found to be the number one reason motivating Gen Z consumers to engage with a new brand on social media. So, if all else fails, have a sale.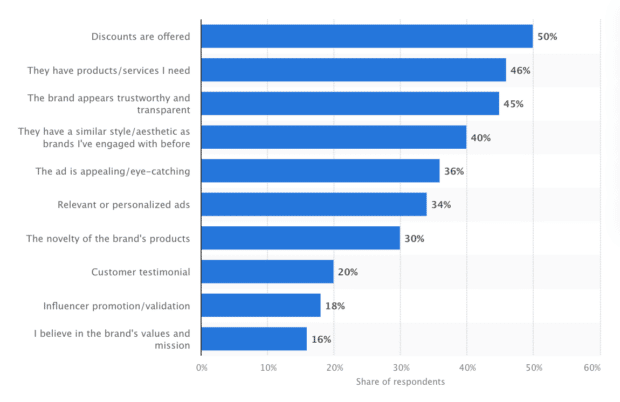 Source: Statista
6 best Gen Z marketing campaigns
1. ESPN's That's So Raven TikTok
Cultural references don't have to be current—in fact, appealing to a sense of nostalgia is one of the best ways to connect with your audience.
For example, the goal of this video from ESPN was to advertise that basketball season is starting. Instead of a regular ad, the brand posted video content referencing a somewhat niche Disney Channel TV show that aired from 2003 to 2007.
This was a lighthearted, funny and extremely sharable clip, way more engaging than a traditional ad. Even non-sports fans were sharing it, and a few even commented that this TikTok convinced them to start watching basketball.
2. Fenty Beauty's #TheNextFentyFace campaign
Rihanna's Fenty Beauty is known for making products for everyone, and really walking the walk when it comes to representation in the cosmetics industry.
The brand's #TheNextFentyFace campaign was like two campaigns in one: it was a contest to find a model for an upcoming 2023 campaign, but the method of finding that model was an advertisement all its own.
Fenty challenged their followers to post TikToks using the campaign's hashtag and tagging Fenty Beauty in order to enter, encouraging thousands of creators (some with large followings, some small) to post Fenty Beauty products.
This campaign has it all: it's an offer to give back to consumers (the winner gets a ton of Fenty products, plus a cool modeling experience and travel to two brand events), it's a way to get followers to share their products, it's a method for discovering new voices in the industry and it's an opportunity to further prove their brand values.
10/10, Riri.
3. Patagonia's founder giving away the company to fight combat climate change
Okay, looking at this as a marketing campaign is kind of icky: we'd love to believe that this act of philanthropy from a billionaire was entirely motivated by a genuine care for the environment.
And maybe it was. But when Patagonia founder Yvon Chouinard announced he was donating the company (valued at $3 billion) to a specially designed trust and a nonprofit organization, people went crazy.
Among the supportive emojis and folks congratulating the founder on this act of selflessness are thousands of comments promising to buy Patagonia's goods. One says "thank you for making holiday and birthday shopping so freaking easy for the rest of my life on this planet."
If you're looking for an example of authentic company values–and the kind of real brand activism that gets Gen Z on your side—this is it.
4. Scrub Daddy's hilarious, aggressive videos
They say if you don't have something nice to say, don't say anything at all.
Scrub Daddy's social media manager must have missed that memo, and the result is hilarious. Some might consider it overkill to film a video literally burning your competitors. Not Scrub Daddy.
This company's TikTok is so Gen Z-friendly, we'd be shocked if it wasn't a Gen Zer running it.
Scrub Daddy leans into the villain role in a super fun way, going where most big brands won't (for example, profanity isn't off the table). While these types of videos aren't for everyone, they're a lot more entertaining than the more sanitized kind of marketing that we're used to seeing. It's an authentic, exciting and bold move, which is exactly what Gen Z loves.
5. Glossier's brand collab with Olivia Rodrigo
A brand deal with a teen pop sensation is Gen Z marketing gold.
It's a large-scale example of how effective influencer marketing can be—influencers aren't celebrities, but they're still widely known and trusted (sometimes even more than celebs). When collaborating with a creator, the most important thing to consider is how well that creator's values align with your brand values.
Cosmetics brand Glossier isn't all about the glam—the company focuses on a more natural look, and partners with celebrities and influencers who generally do the same. Plus, it's way more affordable than luxury brands.
That's why a collab with Olivia Rodrigo works: the young singer often pulls off the no-makeup-makeup routine, and her young fans likely buy makeup that is within Glossier's price range.
6. Ryanair's unhinged TikToks
Airlines aren't typically known for having a sense of humour, but Ryanair is really bringing the jokes. Their TikToks are unique in that many of them don't actively encourage people to fly with Ryan Air: it's more about making the brand appear fun and relatable.
The above video is actually geared towards other brands using social media for marketing, it's not specifically advertising Ryanair. They'll also make fun of folks who swear they'll never fly with the airline.
Or just a TikTok appreciating Bella Hadid.
This marketing is great for Gen Z because it really doesn't feel like marketing at all—sometimes it genuinely seems like Ryan Air does not care whether or not you fly with them. They're just there for a good time.
It's smart advertising for Gen Z, younger folks who don't have a ton of disposable income are a great audience for a budget airline. And as silly as a plane with human eyes is, it's super effective brand recognition: the account has almost 2 million followers.
FAQs about marketing to Gen Z
Does Gen Z like advertising?
No, at least not in the traditional sense. Instead of polished, professional ads, Gen Zers prefer marketing that is relatable, honest and entertaining.
What do Gen Z consumers want?
Gen Z consumers want to support brands that share the same values as they do: values like LGBTQ+ rights, racial equity and environmental sustainability.
What do Gen Z value the most?
Above all, Gen Z values authenticity: brands that are transparent and genuinely care about issues that matter, brands that make and keep promises and brands that make a difference in their community, regardless of scale.
Save time managing your social media presence with Hootsuite. From a single dashboard you can publish and schedule posts, find relevant conversions, engage the audience, measure results, and more. Try it free today.
Do it better with Hootsuite, the all-in-one social media tool. Stay on top of things, grow, and beat the competition.
Free 30-Day Trial