New Executive Guide to Organizing Your Social Business – HootSuite Enterprise White Paper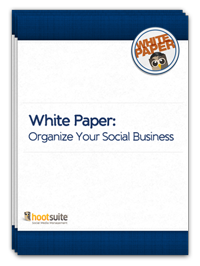 There is no doubt that social media is revolutionizing business communications. Social media's open stream of communication breaks down past barriers between customers, competitors and influencers alike, providing an ideal environment for mediating approachable brand conversations.
Through analytics, monitoring conversations and adjusting social strategies accordingly, customer engagement is more effective and simplified. While the benefits of social are endless, organizing your social business and solidifying a strategy beforehand are key to benefiting from your efforts.

This white paper is designed to take enterprises at any stage of social media maturity to the next level of organization. Scale to meet customer needs and reap the rewards of effective social media engagement across the enterprise.
Find out how social is amplifying corporate culture on behalf of HR, streamlining workflow, developing and nurturing leads for sales and monitoring your business' social ROI. But before jumping to the social enterprise finish line, let's walk your business through the parameters for social organizing to set up solid foundations. Learn how to organize teams, establish centralized control over social tools, discover which teams own social and why and strategize around best practices.
Download your copy today.  Discover the essential steps involved in turning a business with a social advocate into a mature social enterprise in our comprehensive 'Organize Your Social Business' White Paper.