Social media for real estate is an essential tool for promoting listings, generating leads, and building a long-lasting brand. It also helps agents establish relationships with potential clients, nurture existing ones, and cultivate a network of industry professionals.
Still, when it comes to marketing real estate on social media, there are certain strategies and tactics that can maximize the reach of your message. This guide will outline the best practices for using social media as a real estate agent, brokerage, or firm.
Bonus: Get a free social media strategy template designed specifically for real estate agents, brokers, and marketers. Use it to easily plan your own strategy, track results, and keep your team in the loop.
Real estate is a highly competitive industry that requires agents to be constantly on their toes. With 90% of agents promoting their real estate listings online, cultivating an online brand that stands out is essential.
Leveraging social media real estate opens up countless opportunities for your brand, including:
Awareness
Want more eyes on your listings? More faces at your open house? Social media for realtors is one of the best ways to turn views into sales. Not only can you unlock access to thousands of new potential clients, but you'll also remind past clients why they worked with you, and why they should again.
Reach
While an online listing may get a few dozen views, a strategically managed social media account can reach thousands of potential customers. It's true, vanity metrics can be shallow, but don't underestimate the power of social media engagement for your real estate brand.
Lead generation
Social media also provides an effective way to generate new real estate leads. Word-of-mouth referrals are great, but why not give potential clients a chance to find you through a relevant hashtag, collaborative Instagram post, or organic search?
Networking
Real estate might feel like a solo game, but networking and community are integral parts of growing your brand. Social media makes it easy to meet and interact with like-minded agents, brokers, and firms. Not to mention, strategic social media collaborations can do wonders for your organic reach–so don't be afraid to team up with relevant agents online.
Targeting
Looking for high-net-worth clients? Want to bring in more first-time homebuyers to your firm? Real estate social media advertising lets you promote your relevant types of posts to specific demographics, locations, or areas of interest. This ensures that your message reaches the right people and that you're not wasting resources trying to reach people outside of your market niche.
Cost
Organic social media is an incredibly cost-effective way to market your real estate business. Most social media platforms are free to use, and while paid promotion can be beneficial, you don't have to spend a lot of money to reach your desired clientele.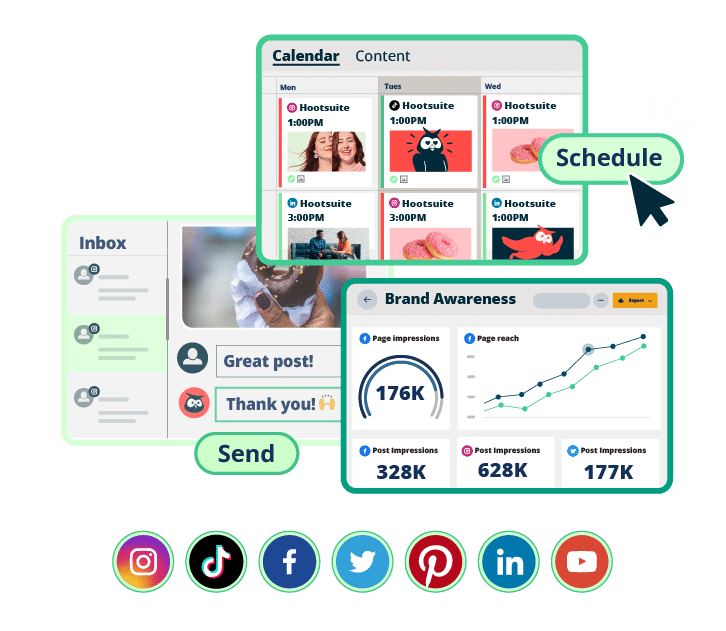 #1 Social Media Tool for Real Estate
Grow. Create. Engage. Schedule. Publish. Measure. Win.
Free 30-Day Trial
Social media strategy tips for real estate agents and firms
Ready to get started? Here are a few tips to help you create an effective social media strategy for your real estate business.
1. Plan ahead
Social media strategies are what set great accounts apart from their competitors. It's not enough to think up clever posts on the spot–you need a long-term plan for consistently building your following.
You can start building a social media strategy for real estate agents by creating a marketing calendar for yourself and breaking down your posts into batches. Block off time to create content, update your calendar, and review analytics each week. As well, don't forget to also plan ahead for holidays or special occasions that may be relevant to the real estate industry.
Use Hootsuite to plan, batch, and schedule content in advance, so your audience is never left longing for more. Find more content planning tips here.
Bonus: Get a free social media strategy template designed specifically for real estate agents, brokers, and marketers. Use it to easily plan your own strategy, track results, and keep your team in the loop.
2. Identify your target audience
Before you start developing a real estate social media strategy, you need to know who your target audience is and what they're looking for. Are you targeting first-time home buyers in a certain area? Are you a luxury real estate firm looking to reach relevant buyers?
Let your target audience determine your channels and your wider real estate social media strategy. For example, older clientele might be more active on platforms like Facebook, while young influencers and content creators love YouTube, TikTok, and Instagram.
What's Next – You're Invited

Your next chapter. Your next home. Your next escape. Nothing compares to what's next. #sothebysrealty https://t.co/5W51TH5pzq pic.twitter.com/4WOv0knPcU

— Sotheby's International Realty (@sothebysrealty) April 26, 2023
3. Be your brand
Branding is important in any industry, but especially in real estate, where client-agent relationships are built on trust. But branding isn't just about your logo, font, or colors. It's about the overall experience you create for your clients.
Consider how you want to be perceived by prospective and current clients. If you're a luxury firm, posts about travel, cars, and upscale dinners will be appropriate. If you're marketing to first-time home buyers, consider sharing personal life milestones like engagements, home purchases, and family events.
Above all else, know your values and exude them online. Your clients will appreciate the authenticity more than you know.
4. Create stunning visuals
The real estate world is all about the wow factor. From beautiful homes to amazing views, it pays to showcase the beauty of your listings in a visually appealing way.
Create stunning visuals for your social media channels, such as videos of property walkthroughs and photos taken from different angles or perspectives. You can also create virtual home tours that give potential buyers a better sense of what each property is like.
Similarly, don't forget about video-centric platforms like TikTok, Instagram Reels, and YouTube. In the U.S., 62% of users access YouTube daily, and TikTokers use the app for an average of 1.5 hours every single day. Standing out on these channels is a great way for real estate agents to reach more users and build their brands.
Check out these real estate social media post ideas to get your creative juices flowing.
5. Uplift your neighborhoods
Of course, listings are an important part of your social media real estate. But polluting your client's feeds with constant listings may lead to lost followers and engagement.
Data from the National Association of Realtors found that 46% of buyers want their real estate agents to give them knowledge about their search areas.
Consider mixing up your real estate content with local events, neighborhood hangouts, new restaurant openings, festivals, museums, sporting events, and more. Your audience will appreciate content that has a personal touch and gives them new insights into their city.
By creating engaging content that goes beyond just your listings, you can keep your followers engaged and build relationships with them over time.
6. Be a technology front-runner
Social media for real estate is a fast-moving field. Platforms like TikTok and YouTube have completely changed the game, and new tools are constantly popping up.
The best way to stay ahead of the competition is to be an early adopter of these new platforms. While you don't have to make a huge commitment to every new trend, taking the time to invest in learning and testing out new social media tools can give you a huge advantage.
Don't forget, platforms are constantly changing their algorithms and features. Keeping up with these updates can help you uncover new tactics that get your content seen by more people.
7. Prioritize customer service
The primary goal of social media real estate should always be relationship building. Responding promptly and courteously to comments and messages, whether good or bad, will help you build trust and foster relationships.
If a customer has a problem, try to address it as soon as possible. If someone is looking for a specific home or neighborhood advice, go the extra mile and provide them with helpful details like schools, transit routes, and your favorite coffee shops.
With Hootsuite Inbox, you can bridge the gap between social media engagement and customer service — and manage all of your social media messages in one place. This includes:
Private messages and DMs
Public messages and posts on your profiles
Dark and organic comments
Mentions
Emoji reactions
… and more.
The all-in-one dashboard makes it easy to
Track the history of any individual's interactions with your accounts on social media (across your accounts and platforms), giving you and your team the context needed to personalize replies
Add notes to customers' profiles
Handle messages as a team, with intuitive message queues, task assignments, statuses, and filters (this feature is particularly useful for larger brokerages)
Track response times and CSAT metrics
Plus, Inbox comes with handy automations:
Automated message routing
Auto-responses and saved replies
Automatically triggered customer satisfaction surveys
AI-powered chatbot features
Check out our social media customer services tips to inform your strategy.
8. Educate and inspire
For many people, real estate is a black box. It can be intimidating to commit to a mortgage, neighborhood, or home sale if you don't really understand the process.
Agents and brokers should use social media to demystify real estate and build relationships with potential customers by providing helpful information. Talk about market trends, offer advice on how to get ready for a home purchase or sale, or just provide inspiration around making a home more beautiful or functional.
Your clients will appreciate the effort, and it will help foster trust as they journey toward their purchase.
9. Dive into paid advertising
One of the biggest benefits of using a social media marketing strategy for real estate is the ability to boost your efforts with paid social media. Not only can strategic investments get your content in front of more people, but you'll be able to target your best customers directly.
Set targeting parameters by location, age, demographic, and interests to ensure everything you post is seen by the most qualified audience.
Hootsuite Ads lets you manage paid campaigns across networks with ease. Plus, build comprehensive reports that show you what's working, what's not, and where you should target next.
10. Build community
While your followers might initially come to your content for real estate information, they stay for the community. Your social media pages can be a place where audiences come to explore new cities, learn about specific real estate markets, or even connect about issues that matter to them.
Consider how your real estate and social media strategies are built to foster long-term connections with your followers. You never know which one of these people will become your best client later on.
11. Stay consistent
Consistency is key on social media, where the competition is fierce, and attention spans are short. Real estate agents that plan ahead, post regularly, and have clear strategies for their content have a better shot at standing out.
Learn how often to post on every major channel in our comprehensive guide. Once you know what kind of posting schedule you want to follow, batch, schedule, and track your posts using Hootsuite.
Building a real estate social media strategy from the ground up is never easy, so we created this extensive template to help you get started.
Simply make a copy of this document and tailor it to your needs. Then, you'll be ready to take the realtor social media world by storm.
Still wondering how to market real estate on social media? Here are some of the best real estate agent social media campaigns we've seen.
1. Graham Stephan
With over 4.1 million subscribers, real estate YouTuber Graham Stephan is one of the best-known names in real estate social media. But, you'll be surprised to see much more than simple listings and walkthroughs on his channel.
Graham knows that his viewers are interested in growing their wealth, so he gives tips, tricks, and insights into his own life, and how he became a multi-millionaire at twenty-six. Graham's content is a good reminder that it's not only clients that come to your channels. Consider how you might use content to inspire the next generation of realtors. And, grow your personal brand at the same time.
2. Oakwyn Realty
The best brands know that you don't need to slap your logo on something in order for people to recognize it as yours. Oakwyn Realty, a real estate firm in Vancouver, BC, knows this better than most.
Instead of posting home walkthrough videos, or agent achievements, Oakwyn focuses on promoting its values, inspiring its agents, and cultivating a strong vibe with its social media content.
Take this post, for example, which offers a simple, natural visual, paired with an inspiring quote. Does this have anything to do with real estate? Maybe not. But, it does paint Oakwyn as a brand that cares about its agent's health and success–and that's something buyers, sellers, and agents will want to get behind.
Oakwyn is a great example of how focusing on content, rather than sales, can level-up your realtor social media marketing.
3. Engel & Völkers
Buying a home is about more than just a stunning property. Homes mean memories, big life events, security, and more.
When real estate brokerage Engel & Völkers makes property walkthrough videos, they go beyond simply showing off the bedrooms and bathrooms. They show you what your life would look like if you lived here, from weddings, to raising children, and everything in between.
Use your real estate social media content to place your clients in the home, and see how fast those sales come through.
4. West Haven Group
We've already talked about the importance of educating real estate clients through social media. One of the best ways to do this is through regular market updates, like this one from West Haven Group.
Market updates help people buying and selling real estate gauge whether now is the time to invest or sit still. They also position your firm as experts in the real estate field.
You never know when a potential client will need a nudge in the right direction, so be sure to share your knowledge and industry insights widely.
5. Miranda Caldwell
Video platforms like TikTok and YouTube Shorts thrive on short, snackable content. So, why not use them to show off the best, most interesting features of your house?
Miranda Caldwell does real estate TikTok right with these short, intriguing videos that keep her viewers watching. Consider how you might leverage unique or different features of your property on social media
What social media is best for real estate sales?
The best social media channels for real estate agents depend on who your target audience is. According to the National Association of Real Estate Agents the majority of home buyers are older millennials and Gen Xers. These audiences are more likely to use platforms like Facebook, Instagram, Twitter, and LinkedIn.
Source: National Association of Real Estate Agents
How is social media used in real estate?
Social media for real estate is a great way to engage prospects and position yourself as an authority in the industry. You can use social media to target potential buyers, advertise listings, showcase your knowledge of the local market, and build relationships with clients.
What should a new realtor post on social media?
New realtors should focus on creating content that showcases their expertise in the field, provides helpful tips and insights to potential buyers, and promotes their listings. As well, it's important to share content from other realtors or industry professionals in order to build relationships within the community.
Ready to level up your social presence to bring in new leads on autopilot? Use Hootsuite to schedule, publish, and analyze your content and stay on top of DMs across all your platforms—from one dashboard. Try it free today.
Get new clients and close more deals with Hootsuite, the #1 social media management tool for real estate agents.
Free 30-Day Trial