How to generate leads in real estate
There's way more to real estate than showing houses and negotiating deals. In addition to understanding the latest market trends and knowing your way around numbers, you also need to be a savvy marketer. And if you want to keep your client pipeline full, you need to know how to generate leads in real estate.
The best agents know that marketing and generating leads is an ongoing effort, one that helps you build your personal brand, expand your network, and grow your real estate business. But where should you start?
Below, let's dive into the different ways to get real estate leads, where to find them, and how to convert them into happy clients.
Bonus: Get a free social media strategy template designed specifically for real estate agents, brokers, and marketers. Use it to easily plan your own strategy, track results, and keep your team in the loop.
How to generate leads in real estate
Whether you're a new real estate agent looking for clients or an experienced broker in need of some fresh ideas, here are 22 (online and offline!) real estate lead generation ideas.
1. Optimize your Facebook page
Consider your real estate Facebook page a hub for online business. Not only is Facebook a good channel to promote your latest listings and open houses, but when it's optimized for search, your Facebook business page can be an efficient way to generate more leads.
There are a few elements to optimize to set up your page for lead generation.
First, make sure your page name and username are searchable and associated with what you do. For example, the terms "real estate agent" or "[your city] realtor" should be somewhere in the title so your page shows up in search results when people search for those terms. Your Facebook page can appear in Google search results, so optimizing your title with relevant keywords is important.
Another way to optimize your Facebook page is to add a CTA button that lets people contact you right away. Your CTA button can link to your email, a contact or sign-up form, or even Messenger.
Source: Twelve Rivers Realty on Facebook
2. Work on your Instagram hashtag strategy
Instagram hashtags are an effective way to expand your reach, increase impressions, and tap into relevant conversations on the platform. If you want to grow your following and generate leads, you need an Instagram hashtag strategy in place.
Hashtags help Instagram categorize your content and get it discovered by more people who may be interested in a topic. When your post generates engagement with your followers, the algorithm will show that post to other people who may be interested — especially if they're searching for a hashtag you used.
You can learn more about how to use Instagram hashtags in the video below:
To generate more leads for your real estate business, use hashtags to get in front of potential clients. There are a ton of real estate-related hashtags to choose from, but the best way to get in front of the right people is to use niche hashtags.
For example, instead of using #RealEstate (which has been used in over 89 million posts and counting), consider a more niche hashtag like #RealEstateListings which has only been used by 215,000 posts. You can niche down even further and create a branded hashtag that makes it easy for your clients to keep up with your current listings and open houses.
Using a more specific hashtag makes it easier for your post to stand out and reach the right people instead of getting lost among millions of other posts.
3. Join a Slack community
You may already use Slack to communicate with your team internally, but have you ever thought of using it to generate real estate leads? The social messaging app is at the center of many online communities, with many groups using Slack as a discussion forum and networking group rolled into one by starting a Slack community.
Slack communities are where people interested in a certain topic can come together to discuss the industry, ask questions, and swap advice or stories with other members. If there's a particular real estate topic you're interested in — or your ideal clients are interested in — join a Slack community dedicated to the topic.
Whether you join a community for real estate investors or first-time buyers, the best way to generate leads is to be an active and helpful participant. Use your perspective and experience to help other members or answer their questions.
Forming genuine connections can help you organically generate leads as you build your know, like, and trust factors.
4. Ask clients to leave a review on Facebook
Testimonials are gold for real estate agents. When potential clients search for an agent like you, glowing reviews from past clients can have a big impact. After you wrap up work with every client, ask them to leave a review on Facebook for you.
Asking clients to review you on Facebook comes with a couple of benefits.
One, they have to use their personal account to write the review, and putting a face to the testimonial helps build social proof.
Second, your Facebook rating will appear in Google results when someone searches for your business. Having positive reviews next to your name will help boost your reputation and make it more compelling for potential leads to reach out.
5. Engage with your past clients
Your relationship with a client shouldn't end after the contracts are signed. Relationships are key in the real estate industry, so it's important to maintain connections with everyone you work with, from associates to past clients.
To help you stay in the loop with your past clients, follow them on social media or meet up for coffee occasionally. Congratulate them on their latest milestones and share any helpful or relevant housing or industry updates with them as they come up.
Maintaining your client relationships will help you stay top of mind if they need your services again. It also makes them more inclined to refer you when opportunities come up.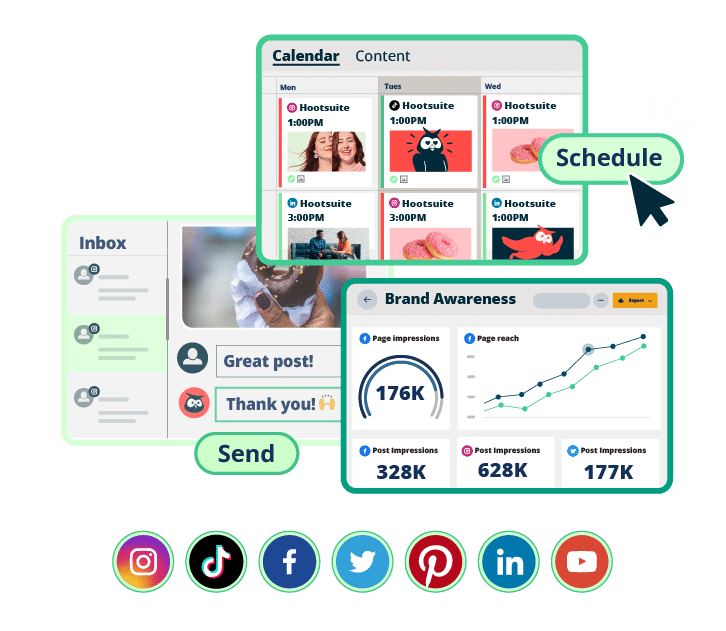 #1 Social Media Tool for Real Estate
Grow. Create. Engage. Schedule. Publish. Measure. Win.
Free 30-Day Trial
6. Create a lead magnet
A lead magnet is a tried and true marketing method if you want to drive traffic to your site and capture emails. You can use this freebie to attract people to your website and convert them into clients.
Here's how a lead magnet works. You create a free, helpful resource and promote it on your social media and website. To access the full resource, people must enter their email, and then the resource will be sent to their inbox.
Need ideas? Common real estate lead magnets include home-buying or selling checklists, guides to the local housing market, or fun neighborhood guides that highlight things to do in the area you serve.
LinkedIn is great for sharing your expertise or unique take on industry topics and trends. This is referred to as thought leadership, and not only does it help build your personal brand, but it can also help you generate quality leads for your real estate business.
You can create a regular post or an article if you want to address a heftier topic. Don't forget to include a few relevant hashtags to help LinkedIn categorize your post and show it to people who may be interested in the topic.
If you want to make sure your industry takeaways have the most chance of success, experiment with what works and doesn't work with the LinkedIn algorithm.
8. Follow potential clients
One of the best ways to find leads in real estate is to look for them yourself. Spend some time on Instagram, Facebook, or LinkedIn, looking for potential clients to connect with.
To find potential clients on social media, consider the platform you're on. For example, if you want to find people on Instagram, search through location tags and hashtags related to your market. You may find people who are new to your area or people who are about to embark on the home-buying process. Send an Instagram DM if it feels natural, but avoid coming across as spammy.
Once you start following potential clients on social media, engage with them now and then to warm up the connection and eventually convert them into a lead.
9. Reach people with Reels
Instagram loves Reels. Not only are Reels a favored format on the platform, but they're also a great way to reach people who don't already follow you.
Creating Reels helps you increase your reach and grow your audience on Instagram. You never know who may see your Reel in their explore tab and visit your profile as a result. If you want your profile to keep up with the benchmark rate of 21,000 profile impressions, then you'll definitely want to create compelling Reels.
Reels are perfect for real estate, too. Try repurposing your listing videos into short Reels to give potential clients a glimpse before they see a full tour, like in the example below:
Another great thing about Reels is that they offer you a chance to get creative and show off your personality.
Sharing a more personal side of yourself can also help you reach your ideal clients, so don't be afraid to get in front of the camera.
10. Support local businesses
If you focus on one market, like a city or a specific neighborhood, show your pride and expertise in the area by supporting and promoting local businesses.
Join your local chamber of commerce to stay involved in community updates and initiatives, engage with local influencers, and support small businesses in your area.
Whether there's a new business in the neighborhood or a longtime business is hosting an event, use your social network to amplify them on social media and generate support.
11. Drive engagement with Stories
Instagram Stories are a great way to interact with followers, amplify your other content, and stay active on the platform.
Whether you want to share links to recent listings, repost your static posts and Reels to drive more engagement, or use the questions sticker to do AMA-type sessions, there are plenty of ways to reach and interact with potential clients.
If you need fresh inspiration, here are even more Instagram Story ideas you can try.
12. Educate on TikTok
If there are two things we know for sure about TikTok users, it's that they love to be entertained and educated. The hashtag #TikTokTaughtMe has over 13 billion views and counting as people flock to that corner of the internet to learn something new every day.
How does this help you as a real estate agent? You can tap into TikTok's massive, engaged user base to reach — and teach — potential clients.
The key to using TikTok to generate leads is to get creative with the hacks and tips you share. You don't have to stick to real estate facts and figures.
Think about your target audience and what they'd want to learn about. If your ideal client is a first-time homebuyer, share how-tos on typical home improvement projects that people may tackle in their first year.
@openhouseaustin Being a homeowner comes with its fair share of expenses and overwhelming projects. It can be tempting to put off home improvements until you have more time or money, but some things can be done pretty quickly and affordably. This fence project is a great example of how small changes can make a big impact without breaking the bank. With a budget of less than $200 and less than 2 hours of work, this homeowner was able to transform their outdoor space. By simply installing a new fence, they were able to create a more private and secure area for their family to enjoy. The project was completed quickly and easily, and the results speak for themselves. Whether you're looking to make a big change or just spruce up your home, it's important to remember that every little bit counts. By taking on small projects like this one, you can make your home feel more comfortable and inviting without spending a fortune. So why wait? Start planning your next home improvement project today! #homeimprovement #DIY #fencing #outdoorliving #budgetfriendly #transformation #privacy #security #affordable #quickproject #homeowner #spruceup #comfortable #inviting #austintx #austin #austintexas #homebuyer ♬ original sound – Homebuyer Education
13. Participate in Facebook Groups
If there's an interest group you want to join, there's probably a Facebook group dedicated to it already.
Similar to Slack communities, Facebook Groups offer real estate agents a great opportunity to connect with people and provide genuinely helpful insights into what you know best, whether that's local knowledge or real estate-specific topics.
Want to establish your authority on a topic and gather leads at the same time? Start a newsletter.
And if you're thinking, "I don't have time to learn a newsletter platform and build my audience from scratch!" I have great news for you. If you have a business Page on LinkedIn, you can create your own newsletter within the platform.
Even if you've never created a newsletter before, LinkedIn's native newsletter feature makes it easy to publish articles that people can subscribe to. Your newsletter will have a page where people can learn about who you are and what you'll be discussing before they subscribe. People can also see the past editions you've sent out.
15. Address topics clients are searching for online
The home buying and selling process can be challenging, and potential clients have a ton of questions. They often turn to Google with their questions — which means you should be there with answers.
If you want to generate more real estate leads online, write blog posts that answer common questions your clients may have.
Be sure to include a clear CTA somewhere in the blog post, like a contact form or a direct link to your email. This way, if visitors find your answer helpful, they may be more inclined to reach out for your services.
16. Promote your next open house on Facebook
Next time you're planning to host an open house, don't forget to create a Facebook event for it. This is a free, simple way to promote the event and attract interested buyers.
By creating an event on Facebook, you can cross-promote with your personal network and invite them to the event. You never know who may stumble upon the event.
Source: Krista Spring on Facebook
If you have the budget and want to reach even more potential buyers, you can also boost your event. Putting ad spend behind the event helps to reach even more potential buyers.
17. Leverage Facebook and Instagram advertising
If you have a flexible marketing budget, Facebook and Instagram ads are an effective way for real estate agents to get more leads.
The key is to have a compelling CTA or use attention-grabbing creative to get people to stop scrolling and click on your ad.
One way to take advantage of Instagram and Facebook ads in real estate is to use carousel ads. These interactive ads give users more to scroll through than static ads and are perfect for showcasing multiple images or videos from a listing.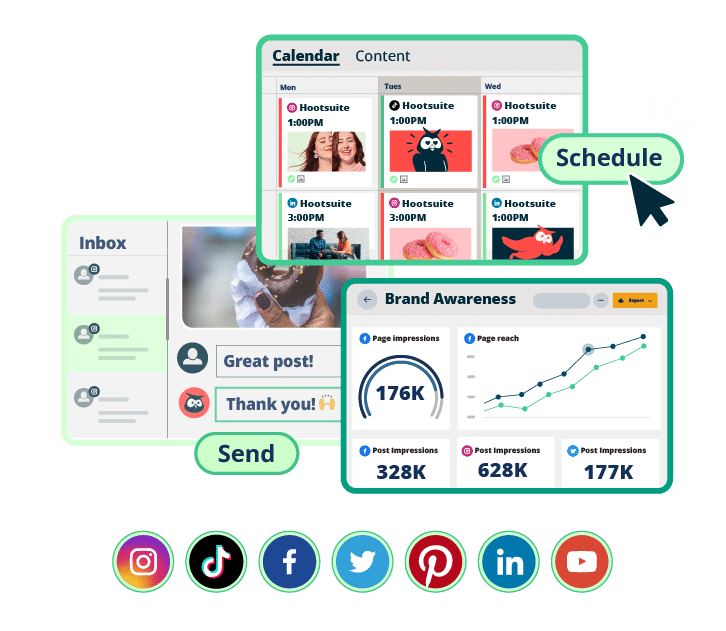 #1 Social Media Tool for Real Estate
Grow. Create. Engage. Schedule. Publish. Measure. Win.
Free 30-Day Trial
Reddit is a great way for real estate agents to act as a helpful resource for anyone asking real estate-related questions.
Because it's a community-moderated platform, there are certain guidelines users have to abide by, one of which is to not self-promote.
As on so many other platforms, the key to getting leads through Reddit is to be helpful rather than sales-y. The goal is to connect, answer questions, share stories, and provide genuine, helpful advice to those seeking it.
19. Network with home professionals
As a real estate agent or broker, you know plenty of other agents. But your network should also consist of people outside of the agent-broker circle.
Why? Connecting with people who aren't agents but are adjacent to the industry can help you build your referral network.
Related service providers include:
Mortgage lenders
Insurance brokers
Builders
Interior designers
By affiliating yourself with other home industry professionals, you increase your chances of being referred to new clients through them. In turn, you can also recommend them to your current clients who may be looking for trusted professionals.
20. Add a free tool to your website
Consider adding a free tool to your team's website, like a mortgage calculator or home valuation assessment. This is a helpful way to educate potential clients, whether they're in the market to buy or sell.
Source: RE/MAX Capital City
These tools are helpful, of course, but they're used to capture a lead's information, like their email address. This is essential data to have if you want to turn these leads into clients.
21. Contribute to industry publications
Another way to position yourself as an industry expert and gain leads through your reputation is by contributing to industry publications.
Use tools like HARO or Qwoted to connect with journalists and publications who may be looking for quotes or insights from real estate experts like yourself. If you consider yourself a wordsmith, you can even write your own article to contribute to industry publications that accept guest posts.
Contributing to trade publications or local media outlets will help you build your personal brand as a real estate expert in your local market. It will also help you get in front of a new audience of potential clients.
If you market on more than one social platform (and we know you do), Hootsuite is your all-in-one social media content creation, scheduling, and monitoring tool.
Hootsuite Composer allows you to create and schedule posts for Facebook, Instagram, Twitter, and other social media sites. (And if you don't love writing social posts, Hootsuite's built-in OwlyWriter AI will do that for you — based on a text prompt or a listing link.)
With Composer, you can put together a week's worth of content that'll publish whenever you want. There are even personalized recommendations for the best times to post based on your audience analytics.
Then, you can hop over to Hootsuite Analytics. It'll show you how content from all of your social channels is performing on one dashboard.
Real estate agents and brokerages worldwide use Hootsuite to streamline their social marketing efforts, improve their client experience, and ensure compliance with industry regulations. See for yourself why we are the real estate industry's leading social media management platform!
Learn More About Hootsuite For Real Estate
Get new clients and close more deals with Hootsuite, the #1 social media management tool for real estate agents.
Free 30-Day Trial