Once you post an Instagram story, it's only up for 24 hours… but in internet time, that's plenty. Ask any social media manager who's posted something by accident: every minute matters.
500 million users access Instagram stories every day. That means that Instagram stories are an excellent opportunity for businesses (58% of users say they're more interested in a brand after seeing them post a story, and stories generate a quarter of the platform's total ad revenues) to make some serious cash.
Whether you're using Instagram for your company or just for fun, stories are a key part of growing your audience. Posting a story is easy enough. But you don't want viewers to just tap through your stories—you want them to hit that link button, answer your poll, maybe go to your Instagram shop and treat themselves or listen to your new song on Spotify.
Here are 32 Instagram story ideas you can copy to create high-quality, effective content that will get you more views and engagement.
Bonus: Claim your free pack of 30 Instagram Story background templates created by Hootsuite's professional graphic designers. Easily customize them in Canva, and take your Story game to the next level today.
32 Instagram story ideas for more views and engagement
Cute Instagram story ideas
1. Share a Reel or feed post with a "new post" sticker
You might notice that your stories are getting more views, likes and overall engagement than your Instagram feed posts are. Some users only view Instagram stories and don't scroll through their feeds at all.
To make sure your content is still reaching those people, you can share new posts (or Instagram Reels) to your story — ideally, adding something like text or a sticker to make it more engaging. There's plenty of "New Post" stickers that perfectly sum up that action.
Source: @happybudsbrooklyn on Instagram
Reels are cut off after 15 seconds, but if you want to learn how to share a whole 60-second Reel to your Story, you can check out this video:
2. Hide a new post with a sticker
Similar to the above, you can use a sticker to obscure a photo that you've posted or shared to your feed. This creates an intriguing image that is tempting to click on and learn more about—like a lift-the-flap book.
Source: @gggraphicdesign on Instagram
3. Share UGC with a sticker
Life hack: you don't even have to make your own content to post a cute Instagram story.
UGC, or user-generated content, is a rich source of engaging content for brands and creators alike. For example, a fashion blogger that takes photos in a cool pair of shoes and then tags the shoe company has provided UGC for the shoe company. It only takes a second for the business to share the post, and it's a nice change from the polished brand-generated content that's usually on a company's Instagram.
This kind of content doesn't have to be too pretty, either. After a user shared a photo taken in IKEA Canada's cafeteria and tagged them, the brand reshared the post with a fun sticker. It's not the Scandi-cool vibe that IKEA is known for, but it's fun and genuine. It also acts as social proof, subtly letting followers know that other users love Ikea's meatballs.
Source: @ikeacanada on Instagram
4. Make a poll
Asking your followers to vote or state their preference using a poll is a great way to engage them, and it's easy with Instagram's built-in poll sticker. If your poll references a product, you can link to that product in the same story.
Source: @cocokind on Instagram
5. Make a quiz about your content
Test your diehard followers (and get some valuable engagement) by using a quiz sticker and asking them questions about your brand. It's a fun way for your audience to interact with you as a creator—and answering a question correctly gives all of us a little boost of serotonin, right?
For example, New York Magazine made a quiz about one of their feature stories: you'd have to read the story in order to get the answers. This is an awesome way to encourage followers to read the feature (and hopefully, other posts on the website, too).
Source: @nymag on Instagram
6. Say thank you to your followers
Without your followers, you're just shouting into the void (which has its place, for sure, but is not really what we are going for from a social media marketing perspective). Show them some love by saying thank-you via your story.
Source: @muchable.nl on Instagram
7. Share a coupon code and link
Saving money is cute, right? Sharing a coupon code on your Instagram story as well as a link directly to that product gives followers an incredibly easy route to getting a discount (and you, an incredibly easy route to getting some money).
Source: @florianlondonuk on Instagram
8. Share content that inspires you
Whether you're a business or a creator, chances are that you find inspiration somewhere—from a walk in the park, from an indie song, a cool vase you once saw, etc.
Sharing photos or videos of things that make you, you (and make your brand, your brand) is an effective way to communicate a genuine humanity to your followers. You're not a bot, prove it.
This fashion brand shared photos from the founder's trip to the fabric store—it's interesting to see the behind-the-scenes and not just the final product.
Source: @by.ihuoma on Instagram
Cool Instagram story ideas
9. Share a great product photo with a product link
Text, stickers and emojis have their place, but there's something to be said for a plain, clean, high-quality photo. If you have a great lifestyle shot of one of your products, consider simply sharing that with a link to the product. Effortlessness screams cool.
Hint: Fill in the "text" field when adding a link in your Instagram story to replace the hyperlink. Instead of your website, the tappable sticker can say something like "READ THIS," "LEARN MORE" or "SHOP NOW."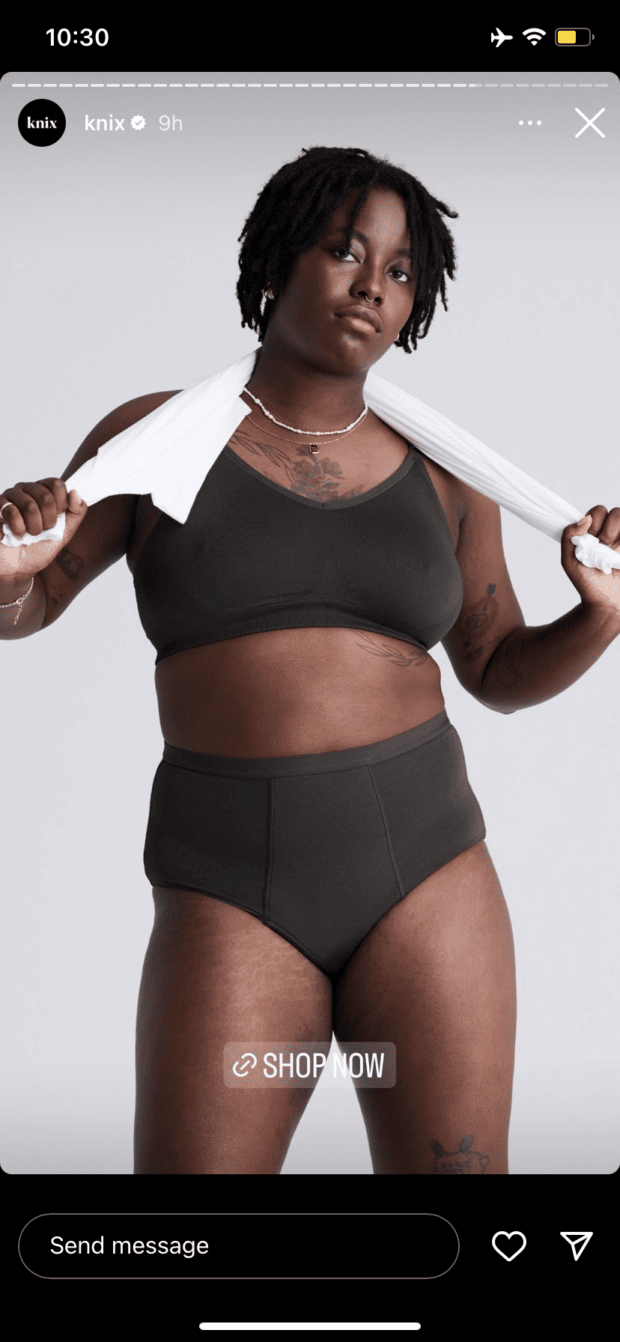 Source: @knix on Instagram
10. Share an aesthetic photo with a tiny tag
Similar to the above, sharing a single photo that's not so polished can also be super engaging. There's a lot of visual pollution on Instagram—buttons, notifications, text, etc.—and creating a moment of peace as users tap through.
Adding a tiny link or tag is cool, too. Like a virtual Where's Waldo.
Source: @savantvision on Instagram
11. Post your out of office message
When you're going on vacation (you deserve it) you can let your followers know via an Instagram story. It's an opportunity to share a more personal side of your brand, and to show off a cool vacation photo.
Source: @mongeyceramics on Instagram
12. Share a photo from another Instagram account
It doesn't always have to be about you. Sharing content from other accounts (with proper credit, of course) helps you to provide your followers with a more holistic experience, and might even foster some good relationships with other creators.
Just make sure you're posting content that aligns with your own—it should make sense in the context of your personal brand. For example, this sustainable swimwear company shared an educational (and uplifting) video about the Great Barrier Reef. It's in line with the brand's values and provides interesting and positive content for their followers.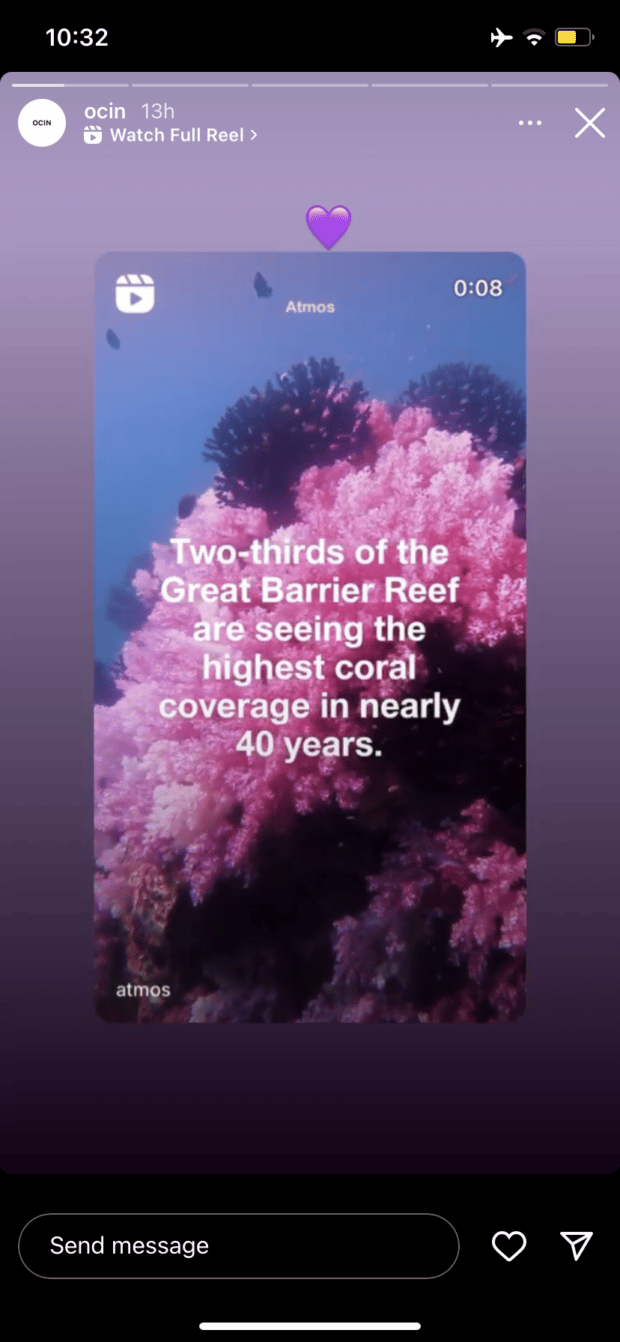 Source: @ocin on Instagram
13. Use a simple interactive sticker
Different interactive stickers require different amounts of brainpower (and overall effort) to engage with. For example, a question sticker is high-effort — it involves the user thinking of an answer and typing it out. A poll is slightly lower, as the user just has to read the answers and tap one.
A simple emoji reaction sticker like the example below is even easier to interact with. It doesn't provide a lot of information to you as a creator, but it's a fun and nearly effortless way for your audience to engage with you.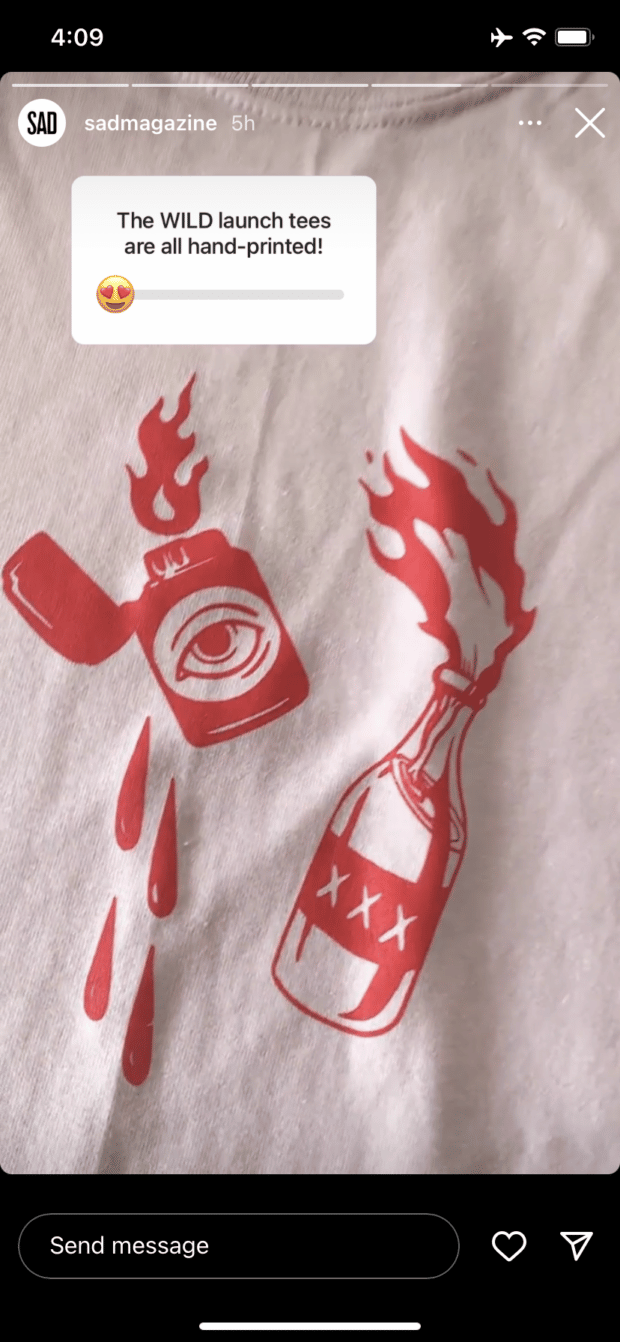 Source: @sadmagazine on Instagram
14. Make a countdown for an event
Instagram's countdown stickers are engaging because they're dynamic—the clock changes every second. The countdown also generates a sense of urgency, encouraging your followers to get excited about the event.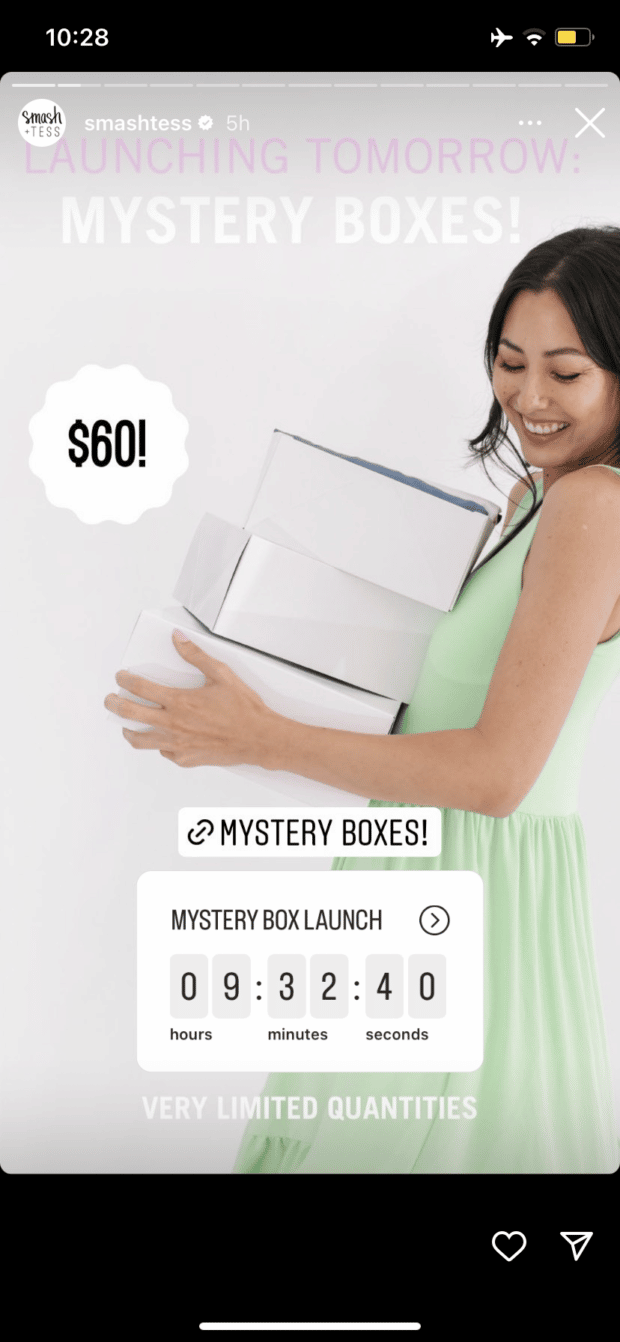 Source: @smashtess on Instagram
15. Call out specific customers
It's good to ask permission before doing things like this (some folks might not want to be tagged publicly), but calling out specific customers helps you create a connection with your audience.
This ceramicist tagged the person who ordered a specific piece in a progress photo, sharing cool behind-the-scenes look into her practice.
Source: @katpinoceramics on Instagram
Creative Instagram story ideas
16. Give a sneak peek of a sale or special event
Everyone likes feeling like an insider, and providing your followers with a little pre-event content helps to hype them up. This kind of story doesn't have to be polished: give your audience an authentic look at what kind of preparation goes into your work.
For example, this vintage store owner took a video of themselves making posters for an upcoming sale.

Source: @almahomevintage on Instagram
17. Announce a contest winner
Hosting a contest or giveaway on Instagram is a great way to gain followers—but you can also create effective engagement when you're announcing the winners.
Posting a contest winner on your stories is good for two reasons. First, it can help notify a contest winner that they've won, and second, it helps to prove the legitimacy of your contest to your followers. After all, how many contests have you entered and never heard back from?
Non-winners (or folks who didn't enter in the first place) will be more likely to enter future contest when they are reminded that there's actually a winner.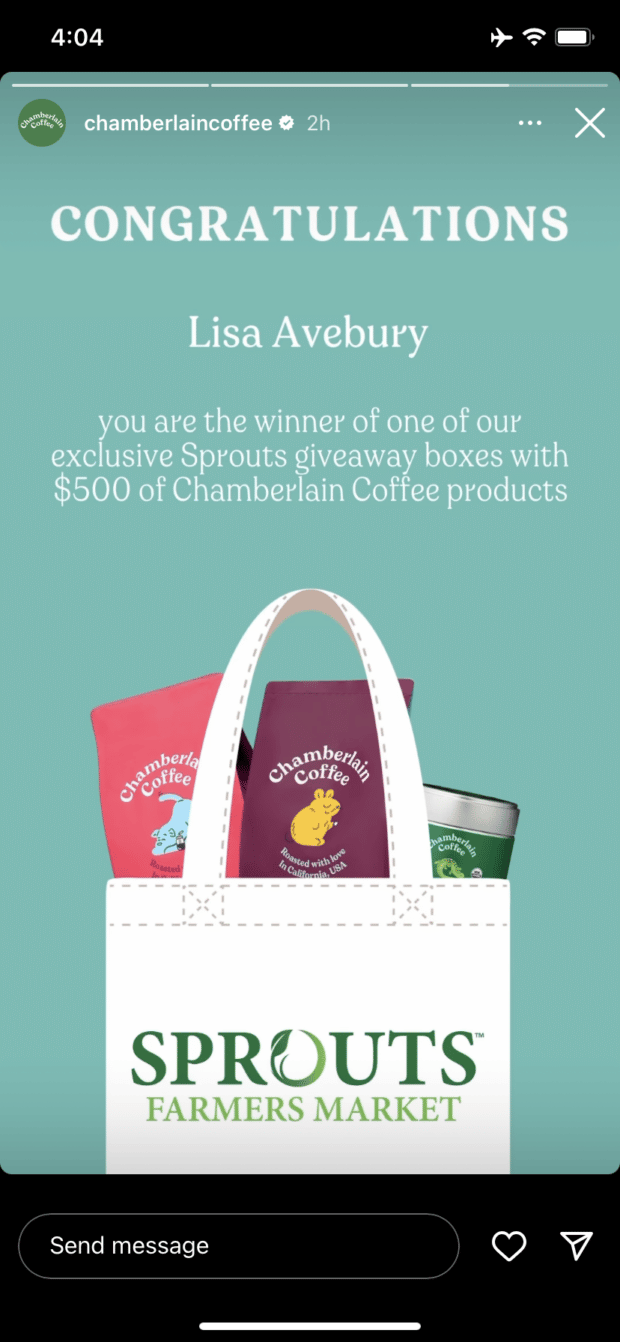 Source: @chamberlaincoffee on Instagram
18. Share a positive review
You can advertise all you want, but nothing hypes your business up quite like a positive review. Share one on your Instagram story to humbly show your followers how terrific you are.
Source: @michellechartrandphotography on Instagram
19. Show off your craft
If you work in a creative industry, you can use the story sticker to flaunt your skills. This works best if you've got some time on your hands. (Binging a mindless reality show? This might be the time to get busy.)
For example, this artist devoted some time to doodling their followers' suggestions, creating a really engaging lineup of Instagram stories.
Source: @vaish.illustrates on Instagram
20. Share progress photos
Rome wasn't built in a day, they say, and if Romans had Instagram you can bet they would have been showing progress pics. Sharing several photos of the same thing in different stages can be super compelling (like this Porche illustrator's story).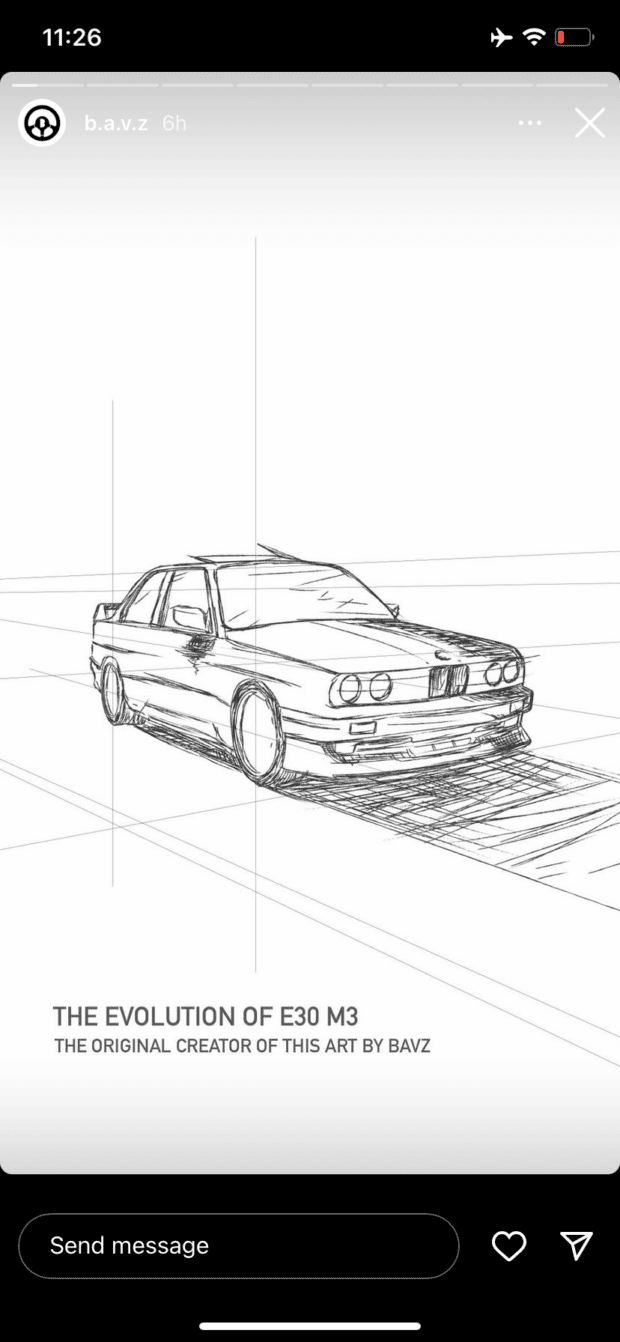 Source: @b.a.v.z on Instagram
Instagram story question ideas
21. Ask for followers' suggestions
Take advantage of your follower's wealth of knowledge and connections by asking them for suggestions. This can be something that's related to your business or brand ("What scent of candle should I make next?") or something personal ("Hairdresser recommendations in Chicago?").
On top of gathering valuable insight, this has the added bonus of making your followers feel like you value their input—which, of course, you do.
Source: @yelpmsp on Instagram
22. Encourage followers to ask questions about your event
If you have an event coming up, in-person or online, you can generate some buzz by asking your followers if they have any questions about it. This is also an effective way to gauge how well you've been delivering information (if you get lots of questions about what time it starts, for example, you might want to check that you made that info public in the first place).

Source: @greyscollective on Instagram
23. Create a specific "ask me anything"
"Ask me anything" or "AMA" is often used when creators ask questions on their Instagram stories.
But such a broad request can yield fewer responses. It's better to be specific in your ask. For example, this artist challenged followers to ask his "Top 4 Anything," which encourages them to really think about a question. (Top 4 dog breeds? Top 4 pizza toppings? Top 4 seasons?)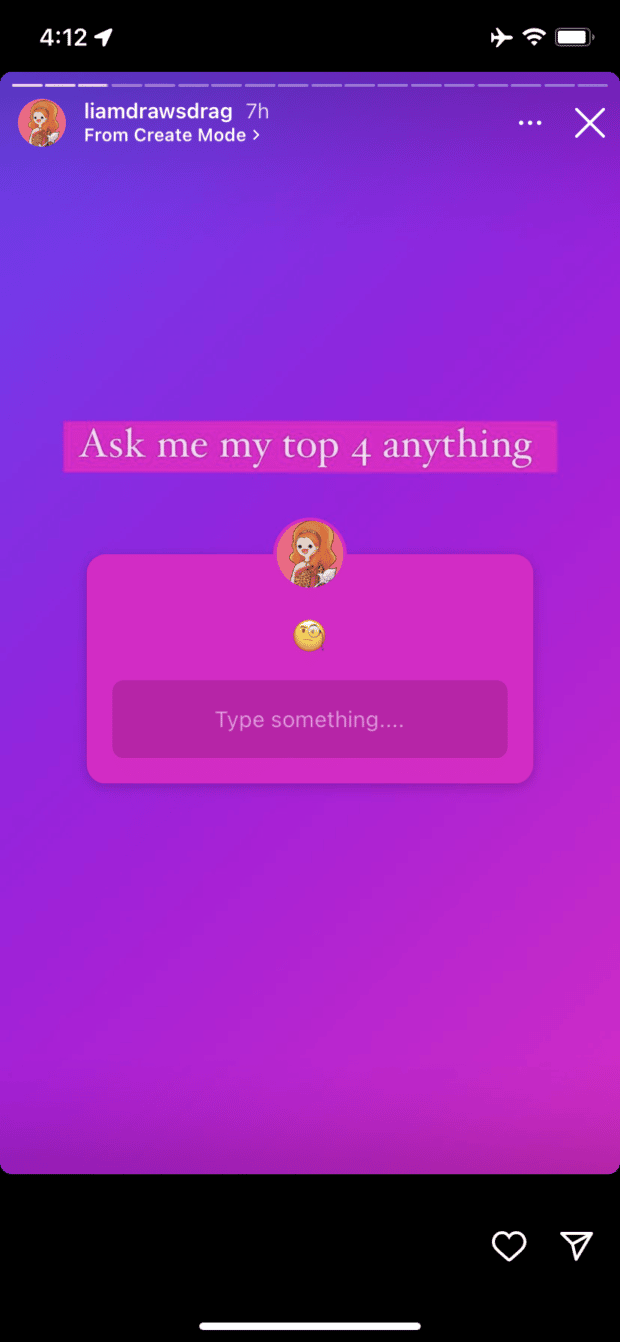 Source: @liamdrawsdrag on Instagram
24. Ask for anonymous questions or feedback
Full disclosure: the internet can be a very mean, very angry place, so make sure you're in a good mental state when embarking on this sort of Instagram story question adventure.
Through the new NGL app, you can add a question sticker that allows anyone to submit a message anonymously. This can be fun for your followers and might result in some surprising (and brutally honest) feedback. It's also an opportunity for your audience to ask questions without judgement.
Source: @eunicechanphoto on Instagram
Instagram story layout ideas
25. Share an aesthetic collage
Not every story you post has to have an actionable component—in fact, posting too many stories with polls, question stickers and links can get a little exhausting for your followers.
Break it up by posting a beautiful collage (lifestyle photos of your brand, if you like, or even just a few pretty pictures from your camera roll).
Source: @tofinosoapco on Instagram
If you want to learn how to add multiple photos in an Instagram Story, this video will help:
26. Use a photo editing app to create a cool layout
There are thousands of photo editing apps that are designed specifically for Instagram. The options can be overwhelming (and expensive) but we've done a rundown of the best tools for Instagram in a handy dandy blog post.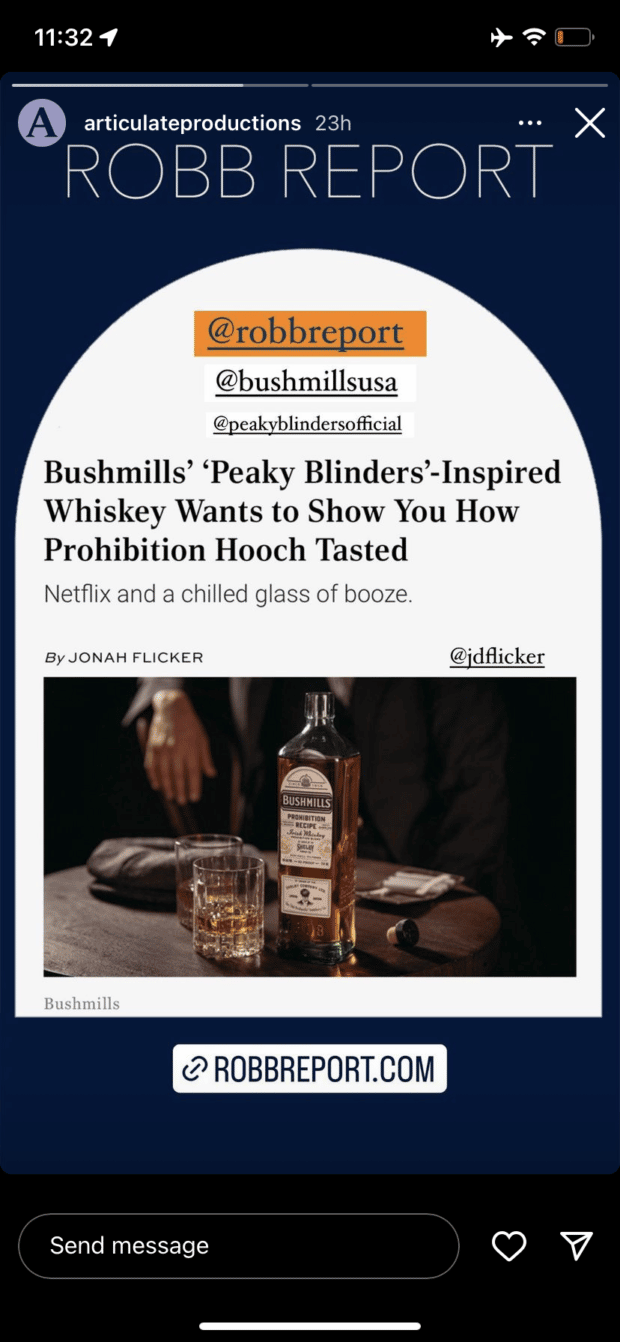 Source: @articulateproductions on Instagram
27. Gather old posts under a new theme
Think of this like a quick and dirty Instagram Guide — you can share a bunch of your past content under a new theme for a fun, visually compelling story.
For example, Canada's Drag Race shared past photos of drag queens under the theme of elements (Au for a gold look, etc).
Source: @canadasdragrace on Instagram
Instagram story design ideas
28. Layer one photo on top of another
By using a pretty background photo and then choosing another picture from your phone's album to layer on top of it (do this by finding the Camera Roll sticker), you can get a two-in-one look.
This is a great way to share tweets via Instagram—it's much more interesting than the screenshot alone.
Source: @thefilmscritic on Instagram
29. Share an informative graphic
Using Hootsuite's free Instagram stories templates, you can combine photos and text into beautiful graphics that communicate valuable information to your followers (like what's for breakfast).
Source: @thebeaulab on Instagram
30. Share multiple stories under one theme
If you have lots of photos to share, consider sharing them as separate stories instead of making a collage. The user experience is sort of like flipping through a book—your followers have to turn the page (tap the screen) to find out what's next.
This vintage-inspired clothing brand showed off an outfit that can be worn four different ways by posting a separate story for each style. They introduced the quartet of stories with a cover, which is a clean way to ease your followers into the narrative you're constructing.
Source: @shop.lovefool on Instagram
31. Use an emoji to suggest tapping to the next slide
An emoji or sticker pointing to the right is a helpful hint to users that there's more in store. This is a good strategy to use if you have a lot of information to communicate in your stories. It's better to share info in small chunks, so your stories don't get overwhelming.
Source: @poshmarkcanada on Instagram
32. Share a single photo with some educational text
This is an excellent way to share digestible bits of information with your followers. It's simple and clean, so it's pleasing to the eye. Pick a single photo and choose a few sentences to accompany it.
If the message you want to convey is too long, use several photos as separate stories, so the viewer has to tap through to read—that's what Patagonia does in this story.
Source: @patagonia on Instagram
Schedule Instagram posts, reels and stories, and manage all your social networks from a single dashboard. Try Hootsuite for free.
Grow on Instagram
Easily create, analyze, and schedule Instagram posts, Stories, and Reels with Hootsuite. Save time and get results.
Free 30-Day Trial