Whether you're trying to cross-promote content, grow your follower base, get the message out about a product or idea, engage a specific community, or just have a little fun with your feed, an Instagram takeover is never a bad idea.
But running a successful takeover requires a bit of planning and a whole lot of coordination. In this guide, we'll cover everything brands and creators need to know to make sure your next collaboration is a hit.
What is an Instagram takeover?
An Instagram takeover is when someone temporarily takes over another account to create and share content—usually on behalf of a brand. The takeover host might be a celebrity, an influencer, or even a team member.
It's kind of like when your friend uses your phone to post a silly selfie while you're in the bathroom. Instagram takeovers just require much more planning and intentionality. (Oh, and your permission!)
The MS Association had actress Selma Blair take over its Instagram to promote its 52nd anniversary.
Why should you do an Instagram takeover?
An Instagram takeover is one of the best organic marketing tools for your account. As long as you approach it strategically, it's almost impossible to see a downside to the practice.
Whether you're a social media marketer or an influencer, it's the ultimate win-win scenario. In an Instagram takeover, both parties can benefit from one another in expected (and surprising) ways.
Read on to learn why an Instagram takeover is the right decision for you.
Instagram takeover benefits for businesses:
Here are a few ways an Instagram takeover can help your business.
Find new audiences
Think of an Instagram takeover as a bridge that connects similar (but not identical) groups of people. If you invite someone to guest post on your account, many of their fans will likely follow along to see what happens. It's a great way to gain high-quality followers.
Build hype
If you have an important milestone approaching, a takeover makes perfect sense. An Instagram takeover is a great hype machine. Consider it a chance to drum up attention before launching a new product or service. It's like a social media version of Kanye West's Yeezy collabs with Adidas and the Gap or Travis Scott's McDonald's meal.
Earn credibility
An Instagram takeover is a tacit endorsement of your account. This is especially valuable if you cater to a specific niche. For example, a meal kit company might work well with a family-oriented influencer. A takeover is a way both parties can vouch for each other.
Quantity and quality
No one wants to flood the feed, but keeping up with consistent, timely, relevant posts is also important. Even the greatest marketing managers can occasionally feel stuck in a rut. Takeovers can be a great way to freshen up your marketing strategy and think outside the box (or, er, grid).
Instagram takeover benefits for influencers:
We know takeovers can be a great way for businesses to breathe new life into their Instagram feeds, but what's in it for creators? Here's how successful Instagram takeovers can be helpful for influencers.
Expand your reach
If you've been invited to host an Instagram takeover, it's a chance to share your voice with a brand new audience and showcase what you have to offer. Takeovers are a rare opportunity to connect with a group of people who have a proven interest in your niche.
Build your reputation
When you partner with a brand, you tell their audience (and your own) that you're a trusted voice in that space. Plus, you can add every successful brand partnership to your pitch deck and use those wins to generate even more deals.
Generate content for your account
You can (and should!) promote the takeover on your Instagram, too. If you're taking over a brand's account, you'll likely have exclusive Stories and posts you can share with your followers.
Have fun
Despite their high-profile nature, Instagram takeovers are relatively low-stakes. The posts can be as polished or rough-around-the-edges as you want, and the audience will roll with the punches. In fact, a change in tone or look might even garner more attention as your viewers poke around to figure out what's going on. As long as you're serious about strategy, there's a lot of room to have some fun.
View this post on Instagram

Broadway Plus shares an engaging video and poster to advertise that Hadestown star Kimberly Marable will be taking over their Instagram Story to share a day in the life on tour.
How to do an Instagram takeover in 7 steps
1. Set your goals
Start by asking yourself the big-picture questions. What are you hoping to accomplish with this Instagram takeover? Having a clear purpose will help you plan out every step of your strategy, from who will host to the measurable metrics for success.
Here are a few goals you could consider when planning an Instagram takeover:
Growing your audience
Increasing brand awareness
Promoting a new product
Launching a campaign
Boosting engagement during a special event
Freshening up your account
Driving traffic to your website
2. Select a takeover partner
An Instagram takeover is inherently collaborative, so you'll want to choose someone who is the exact right fit for you. Let's break down the dos and don'ts of booking an Instagram takeover partner.
For brands
DO partner with someone who is aligned with your brand.
You'll want to pick a creator who understands the product or service you have on offer. You should also make sure they fit the demographic of your target audience.
For example, a slang-heavy Gen Z influencer won't make waves with a target audience of baby boomers. A super-polished millennial creator isn't likely to connect with TikTok teens, either. Make sure a potential partner's tone works for your audience.
DO partner with someone whose content you enjoy.
If you enjoy someone's content, your followers probably will too. Take a look at your potential partner's IG grid, stories and tagged page to get a feel for their personality and posting style. This is a fairly personal collaboration, so getting a feel for who you're working with is important.
DON'T book someone just because they have lots of followers.
Your potential takeover partner might have a large follower count, but don't go on numbers alone. Their engagement rate is also important. Do their followers seem interested in what they're posting?
You can calculate engagement yourself, but your partner should also be able to supply these stats in their media kit.
DON'T book someone who only does sponsored posts.
Ideally, you want to partner with someone whose page has a healthy ratio of organic content to sponsored ads. If someone only participates in branded content, chances are they're not going to do much for your business.
For influencers
DO pick a partner that you authentically enjoy.
Your followers trust that they're getting the most authentic version of you, and this is even more critical when marketing a product. If you're not fully sold on something but agree to participate, you could hurt your personal brand in the long run. Being strategic about who you partner with can ensure your decisions are best for you.
DO research the brand to make sure you align with them.
Once you've decided you'd like to work with a brand, spend some time researching them. Even a quick Google will tell you if there are any controversies with their brand or product. The last thing you want is to be blind-sided by negative questions or comments during a takeover.
DON'T work with someone for the wrong reasons.
We know it's tempting, but make sure you're not working with someone just because they've offered you payment or a free product. Social media users can sniff out inauthenticity a mile away. If your takeover feels off, it will hurt your online reputation, too.
DON'T overextend your reach.
Instagram takeovers can be great for building your brand. But that doesn't mean you should do them constantly. The point is to drum up hype with exciting events, but if you overextend yourself, you'll hurt your overall influence in the long run.
3. Choose your takeover format
There are many different kinds of Instagram posts, and each could serve a different purpose in your Instagram takeover. For example, you might be okay with your collaborator posting all over the feed or prefer they stick to Stories.
These Instagram formats are perfect for takeovers:
Instagram Stories
While it depends on the style of the takeover, you'll likely want to plan your content around Instagram Story posts. After all, users know and love IG Stories as a place for both slick and rough-around-the-edges content. They're great for trying out fun experiments.
Stories can also be customized with links and calls to action. Plus, you can save Stories in your highlights, so they don't need to disappear forever when the takeover ends.
Team Canada invited different athletes to take over their Instagram Story to share a day in their lives.
Instagram Feed
The main Instagram feed, also known as the grid, is a more permanent home for your takeover content.
Generally, the grid isn't best for tons of quick posts in quick succession (a.k.a. "flooding the feed"), but it can still work well for takeovers. Guest content will stand out on your feed, which means it can continue attracting attention long after your takeover. It's also a great place to include Reels.
The Canada Council for the Arts invites up-and-coming artists to share works in progress, musical performance and visual art as part of their ongoing takeover series.
Instagram Collabs
One of Instagram's newest features is perfect for Instagram takeovers.
The Instagram Collab tool allows you to simultaneously post the same image or Reel on two accounts. The post appears on both party's grids and is credited to both accounts.
Podcaster and meme-maker Premiles partnered with the tech company Air for a series of self-aware collaborative posts.
Collabs are a great way to boost your reach and engagement since your post will automatically be shared with two audiences at once. With the right call-to-action, Collabs can be a powerful marketing tool. Who knows, they may even replace takeovers entirely someday.
Instagram Live
IG Live is another great option for a takeover. Livestreams just require some pre-planning and a great deal of trust.
With a livestream, there's more room for error, but that spontaneity can be fun. Just make sure your content, goals and partnership are aligned before going live.
Scott Wolf and the cast of 'Nancy Drew' did a brief Instagram Live takeover that was captured on YouTube.
4. Prepare the logistics
Once you've picked a partner and created a plan, it's time to map out the details of the takeover.
How long will your partner be posting on your account? How many posts would you like from them, and what kind of content are you looking for? You also might be expected to pay an influencer rate, particularly if you expect the person taking over your account to post about it on their own feed. Put all of your expectations in writing, ideally in some form of contract.
You'll also want to determine exactly how you plan to run the takeover. There are two main ways of doing so:
A partial account takeover means the creator submits their content to you for final approval and posting
A full account takeover means you hand over the keys to your account
In most cases, we'd recommend choosing a partial takeover. It allows you to double-check that your partner's content matches your expectations. Plus, you can schedule the takeover posts alongside your regular content using your social media scheduling tool of choice. (We like Hootsuite for this, of course, but we're biased)
A full account takeover is riskier, but sometimes it's the only option — if you want your takeover partner to go live, for example. It means you'll have less control over what your partner posts, though, and sharing your password makes you more vulnerable. Just make sure you create a new, temporary password and switch it back as soon as the takeover is complete.
5. Market your event
You've successfully planned your takeover. Now, you need to make sure the world doesn't miss it.
Treat it like an IRL event and hype it up in advance. Share a post in your main feed and remind your audience in Stories in the time leading up to the takeover. You might even consider throwing a few dollars behind the post to promote it further.
The American Association of Colleges of Osteopathic Medicine shared this eye-popping poster to promote a Pride Month takeover.
Don't forget to promote the takeover outside of Instagram, too. If you've got an audience on Twitter, Facebook, or TikTok, they also might want to know about it.
6. Do the takeover
You might be letting someone else take over your account, but that doesn't mean you're off the hook entirely. While your takeover is unfolding, keep an eye on the comments and make note of the live feedback.
You'll also want to be around in case anything goes wrong. There's nothing worse than needing a last-minute password reset and not having the resources to do so.
7. Measure your results
Once the takeover's over, the real fun starts. It's time to dig into the performance metrics to find out just how well you did. Measuring your results is the only way you'll learn what worked and where you can improve next time.
The most important metrics for evaluating your takeover will depend on your goals. You'll likely want to take a peek at Story views, engagement stats, and follower growth.
You can use Instagram's native tools to review your analytics on a fairly high level. If you want detailed comparative metrics, though, you'll need a more robust tool.
Among other things, the Hootsuite Analytics dashboard can help you:
Compare your takeover's performance to past posts using historical data
Rank Instagram comments by sentiment (positive or negative)
Generate downloadable custom reports
Show you the best posting time based on past engagement, reach, and click-through data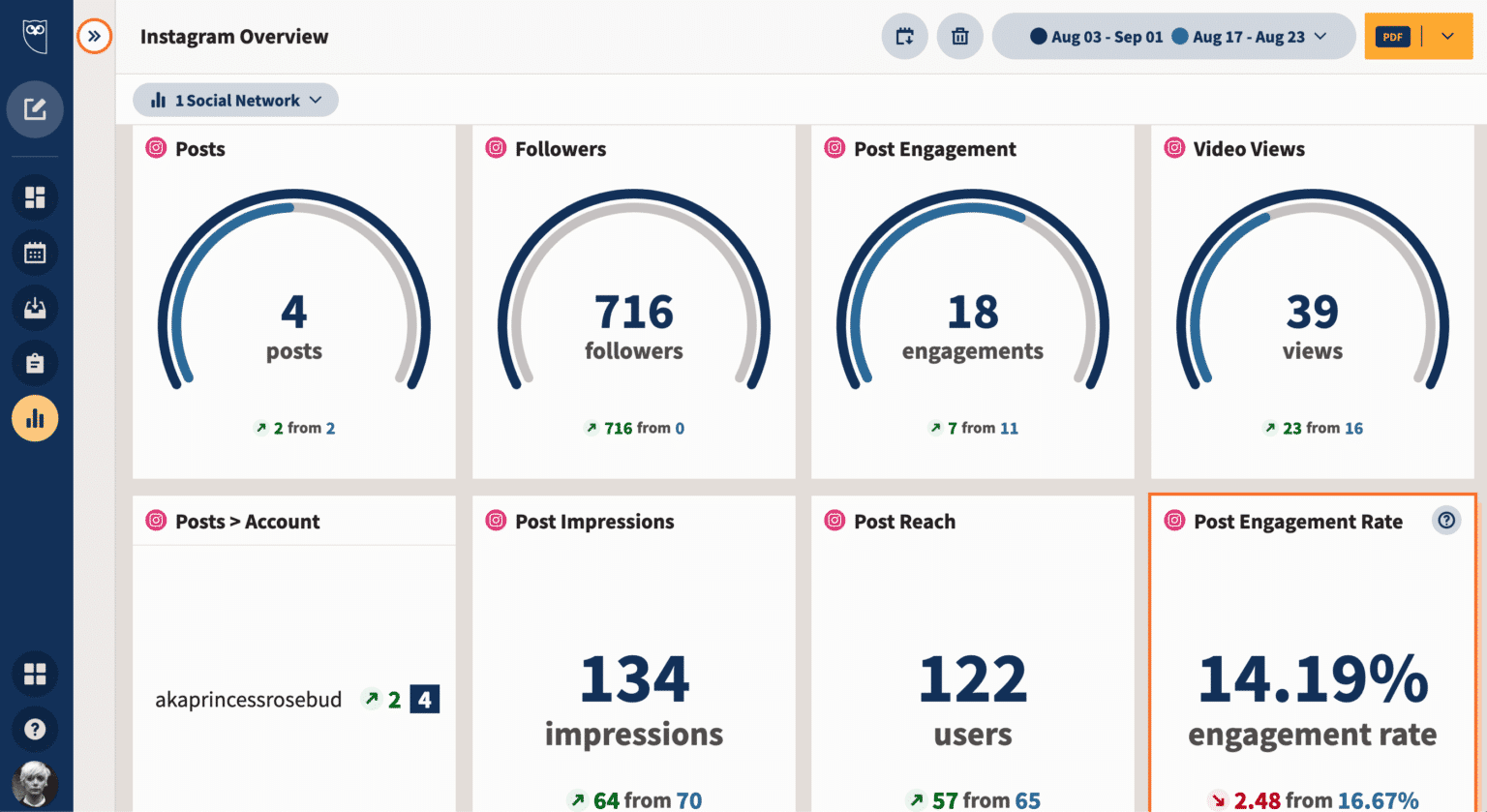 Want some help measuring your results? Here are the best Instagram analytics tools. We've got more information on using IG Live analytics too!
Frequently asked questions about Instagram takeovers
Do I need to pay my takeover partner?
It's well within standard practices to pay an influencer for their participation. But some partners may be willing to participate for free or in exchange for your product. It's really a case-by-case basis.
Just make sure both parties communicate their expectations in writing before the takeover. You can also check out our guide to influencer marketing for more details.
What should I ask my Instagram takeover partner to do?
Again, this will depend on your goals and strategy. You might want them to highlight a product or hype up a specific element of your brand.
But you also might just want them to be themselves. Sometimes, the thrill of the unknown is more rewarding than having someone be "salesy" on your account.
The web series Critical Role invites guests to share a day in their lives as part of their Instagram Stories takeovers.
Is it safe to share my password with another user?
Obviously, there are always going to be risks when sharing your account with someone else. The safest, simplest bet will be to have your takeover partner submit their content to you and then posting it yourself.
But if you've opted for IG Live, that's not necessarily an option. In that case, change your password before sharing it with your partner. Then, change it again once the takeover is complete.
When is the best time for an Instagram takeover?
If you use Hootsuite, you can use your past performance metrics to find the best time for your particular audience. There's also a long-running Instagram trend for "Takeover Tuesdays."
NASA rocket scientist Kevin J DeBruin highlights different women in STEM for his weekly Takeover Tuesday posts.
Manage your Instagram presence alongside your other social channels and save time using Hootsuite. Schedule and publish posts, engage your audience, and measure performance — all from a single dashboard. Try it free today.
Grow on Instagram
Easily create, analyze, and schedule Instagram posts, Stories, and Reels with Hootsuite. Save time and get results.
Free 30-Day Trial