Collab posts on Instagram offer an effective way for brands to partner with content creators, increase reach and engagement and build a community on the platform.
This post has everything you need to know about collab posts, including how to find a collaborator, build the post and the best strategies for a successful collaboration.
Psst: You can also watch this video to catch the basics in under 7 minutes.
Bonus: Claim your free pack of 15 creative Instagram post templates made by Hootsuite's professional graphic designers. Easily customize them in Canva, and start getting more engagement today.
What is an Instagram Collab post?
An Instagram Collab post is a single post that appears in two different accounts' Feeds or Reels — and features two users as the post's author. Collab posts also share performance statistics, including comments, likes and the number of shares.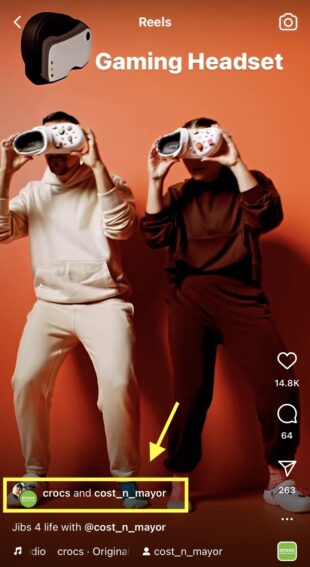 Source: @crocs and @cost_n_mayor
One user creates the post and then invites the other to be listed as a collaborator. Once the collaborator accepts, the post appears as a feed post or Reel on both users' accounts.
The benefits of Instagram Collab posts
Reach a wider audience
When you use the Instagram Collab feature with another brand or creator on Instagram, you're accessing your collaborator's audience (and, in turn, your collaborator is accessing your audience). It's a mutually beneficial relationship: both parties increase their overall reach.
And it's not just a wider audience: it's a new audience. A collab post will result in fresh eyes on your products, resulting in an opportunity to introduce more people to your brand.
Get more engagement
Good collab posts have a higher engagement rate — usually, that's because fans of either (or both) of the collaborators are delighted by the collaboration.
For example, the post above announced a collaboration between a ceramics studio and a candle maker — the two brands created a product together, and both of their fans voiced their excitement about the partnership through likes, comments and shares.
Simplify content creation
It's a content creator's job to, well, create content. Let the creator that you're working with do what they do best by allowing them creative freedom and control over the collab post (not only does this let the creator put their own genuine spin on the content, it's also one less thing for your in-house team to do).
Especially if you're a smaller brand, partnering with a creator can take some of the burden of actually making the content off of your plate.
(Psst—wondering how much you should pay the creator? Here's a guide.)
Improve brand authenticity
Social media users are aware that businesses use social media for marketing. And traditional advertising can come across as detached (and boring), especially if you don't have a unique or personal angle.
That's where creators come in: being engaging, authentic and entertaining is what they do. When you partner with a creator, you're showing your audience that you align with their beliefs, which is an important part of establishing a multi-dimensional brand voice (and it also helps support the creator and amplify their message).
Build your community
This comes along with brand authenticity: participating in Instagram collaborations will help you establish relationships with other creators and brands. It's literal social networking: you're connecting with other people in a meaningful way, instead of just sending your content into the void of the internet.
How to create an Instagram Collab post in 4 steps
Ready to post the content from your Instagram collab? Here's how to do it. First, make sure your Instagram account is public. If you have a private account, any followers you do not share with the collaborator won't be able to see the content.
1. Begin by taking the steps you would normally take to post a photo or video: create a new post, select your content, write a caption, etc. (Make sure you're optimizing your content for Instagram's algorithm, too). To indicate to Instagram that this post is a collaboration, first tap Tag people.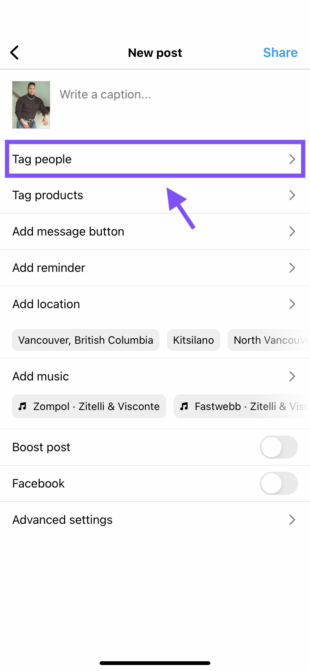 2. Instead of tapping the photo to tag people, hit the Invite collaborator button.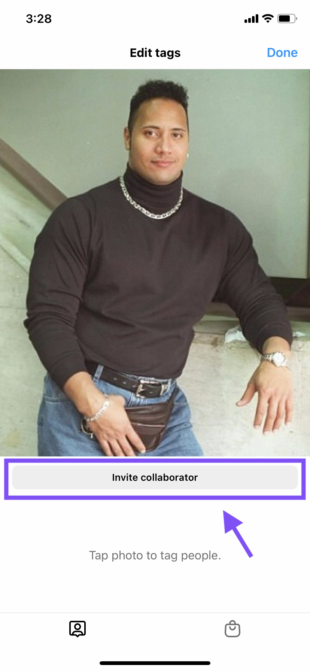 3. Next, type in the handle of the creator or brand that you are collaborating with, and select them. Then you're ready to hit post.
(Note: as you can see from the screengrab below, the Rock does not allow collaborations on Instagram. If you're running into this issue – or if a brand is having trouble tagging you — see the part of this blog post entitled "How to allow collab posts on Instagram.")

4. This last step isn't something you have to do: it's something your collaborator has to do.
Once you hit post, your collaborator will receive a DM letting them know that you have invited them to collab. The collaborator must view and accept the request. This ensures that collaborations are posted with the consent of both parties.
Below is an example of the kind of direct message that the Rock would get if I invited him to collab on this post.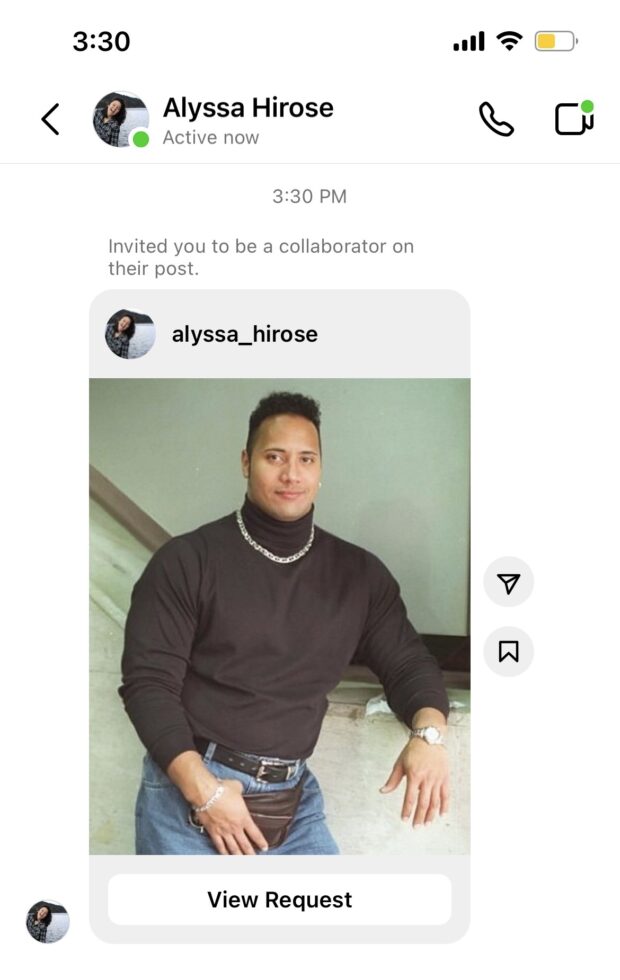 Remember! Instagram Collabs doesn't take the place of a branded content label. If you have a creator account that uses the branded partners feature, you still need to label your spon-con to stay compliant with advertising regulations.
How to collab on Instagram Reels
Posting a collaboration on Instagram Reels is basically identical to posting a regular feed collab. Here are the steps:
1. Once you've created your Reel (or received the content from the creator), start to post as you normally would. When you arrive at the page where you can add a caption, location and tag, select Tag people.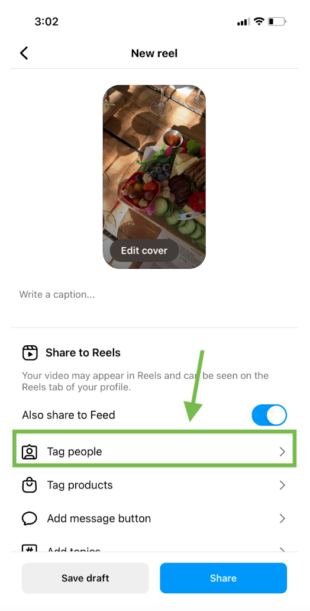 2. Tap Invite collaborator.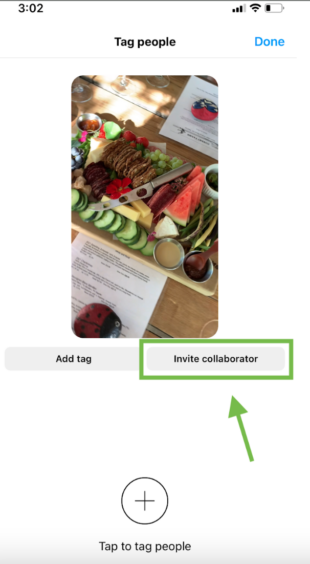 3. Type in the handle of your collaborator, and select it when it comes up. Then, hit Done and post as normal.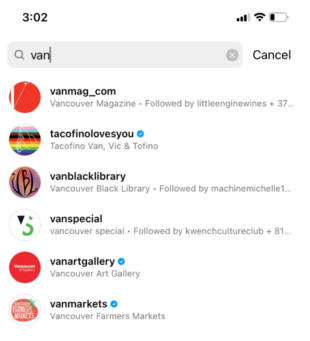 Your collaborator will have to accept the invite to collab in order for this step to be complete—get them to check their DMs for your request.
How to allow collab posts on Instagram
In order for a collab to be posted to Instagram, both collaborators need to consent to the partnership. For best results, both the initial poster and the added collaborator should have public accounts. If the brand or creator that you are collaborating with is having trouble sending you the invitation to collab, here's how to fix it.
1. Go to your Instagram profile and tap the menu icon (the three horizontal lines in the top right corner). Then, hit Settings and Privacy.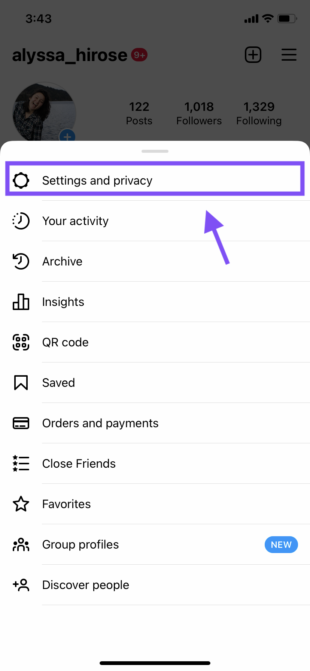 2. Next, go to Tags and mentions. (For the purposes of privacy, Instagram considers collaborators and tagged accounts to be the same).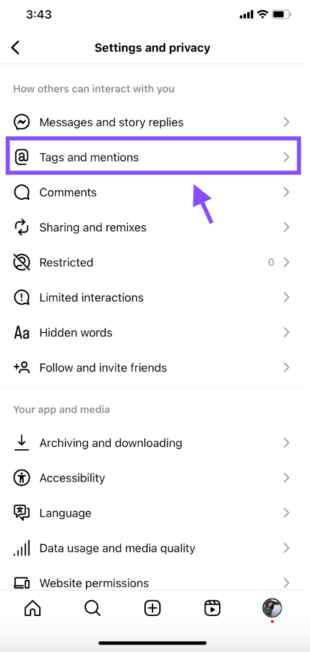 3. Take a look at the three options under Who can tag you. If you select Allow tags from everyone, that means that any account can invite you to collaborate on an Instagram post. If you select Allow tags from people you follow, only accounts that you follow can invite you to collab.
(Psst: Make sure you follow the account of your collaborator. Not only does this make the partnership easier, it's also common sense: collabing with a creator that you don't even follow looks inauthentic).
The Don't allow tags option means that no one can tag or collaborate with you. Obviously, don't choose this if your goal is to collab.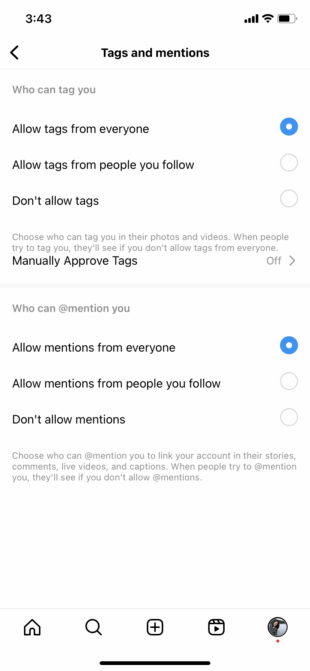 6 examples of successful Instagram collab posts
Need inspo for your next Instagram collab? Here's some tips from brands and creators who are doing it right.
1. Partner with a creator in a related niche
When choosing a creator or influencer to collaborate with, make sure that the folks that you are considering are working in a related niche or industry. In other words, the partnership should make sense to both your audiences.
For example, this collaboration between Athleta and track and field athlete Allyson Felix is a great match — it's reasonable that a brand that makes clothes for athletes would partner with one.
Steal this idea:
Invest time and resources into choosing the right collaborators. Selecting the perfect partner is the first step towards a successful collab.
Ideally, the best partner is someone who genuinely loves your product or service and is excited to spread the word.
For inspiration, look at big brands in your industry who have worked with creators, and use similar strategy.
2.Collab on a giveaway
Running an IG giveaway is a foolproof way to boost engagement on Instagram, and organizing a giveaway with another brand or creator is even better.
Tuck Bedding partnered with bakery Gallz Provisions to give away a sheet set and a cake (not a sheet cake, which feels like a missed opportunity). In addition to this being a great engagement booster. Users entered by following both brands and tagging friends in the comments. It's also an example of an outside-the-box partnership.
Steal this idea:
Ask your collaborator if they have something they can contribute to an Instagram giveaway, and create an awesome prize.
Think about what metric you're trying to increase (likes, follows, comments, shares, etc.) when deciding your entry method.
Abide by all of Instagram's Promotion Guidelines.
3. Encourage your collaborator to get creative
As mentioned above, creators are successful because they're imaginative: let them do their thing. A collaboration that feels too corporate or unemotional won't ring true for audiences.
This collab between Lululemon and comedian Daniel LaBelle nails it: the creator's unique sense of humour comes through in the Reel, and it doesn't feel super sales-y. Also, Lulu isn't a company that's typically thought of as being particularly funny—this is a refreshing look into another side of the brand.
Steal this idea:
Give your collaborator creative freedom and a meaningful role in planning and executing content.
Think beyond traditional advertising and consider incorporating a more subtle marketing strategy.
Show a more lighthearted side of your brand by partnering with a fun (and funny) creator.
4. Be strategic about your audience
Participating in an Instagram collaboration will instantly put your brand in front of a new audience: think hard about who you want that audience to be.
Scotiabank's collab with content creator Spencer Barbosa was a very clever move for the bank. Barbosa's followers are mostly young adults, many of them likely just starting to reach a point of financial independence: the perfect audience to target with bank-related marketing.
Steal this idea:
Think about what demographic you want to target when deciding who to collaborate with.
Collaborate with a creator who has an audience that is likely to be interested in your brand.
Make sure the collab clearly shows how the creator's audience can benefit from supporting your brand.
5. Collaborate with yourself
Sneaky! If you manage the social media for several brands (or have sister brands that belong to the same umbrella company) you can partner with the one person you know you can always rely on: yourself.
In other words, you can share content to the audience of both brands through a collab post. Undergarment brand Knix did this through a "partnership" with their sister brand, KT by Knix. Internally, arranging this kind of collaboration should be relatively simple, but it still benefits both brands.
Steal this idea
If you have a sister company, post an Instagram collab with them to increase your reach.
This also works if you manage two accounts—for example, if you're a small business owner with a personal account and also an account for your small business.
This is a super effective way to spread the word about a new brand when you already have one established brand: collab to capitalize on the audience you already have.
6. Support a community you care about
When you partner with a content creator to post an Instagram collab, you're showing support for that creator—and, in turn, for the community that that creator represents. This can be a powerful tool for taking a social stance and making a meaningful statement as a brand.
The North Face's collaboration with drag artist Pattie Gonia did just that. On top of being a very funny partnership at (north) face value — the brand Patagonia is obviously one of The North Face's largest competitors — this collab also showed The North Face's support for the LGBTQ+ community.
Important: Don't make this an empty gesture. If you're looking to partner with a collaborator in order to voice your support for a particular social cause or group, make sure that you are taking actionable steps to support that cause beyond an IG post (making donations to an appropriate non-profit is a good start).
Steal this idea:
Partner with a creator whose social values align with yours.
Make a statement that goes beyond marketing.
Do your research: find out how you can be supportive outside of the Instagram collab.
Maintain a relationship with the collaborator and consider ways to show your continued support.
Instagram Collab post FAQs
How do you collab a post on Instagram?
To collab post on Instagram, use the Invite Collaborator button and type in the name of the account you are collaborating with.
The Invite Collaborator button is in the same location that you add tags in — for details, look up the screenshots earlier in this blog post.
Why can't I post a collab post on Instagram?
If the account you are collaborating with has tags turned off, you won't be able to request a collab with them. Make sure that both parties have public accounts that allow tagging in order to post a collab.
How do you accept collab posts on Instagram?
When another account invites you to collab on Instagram, the request will show up in your direct messages. Hit View Request and accept the invitation in order to make the collab official — it will appear on your feed as well as the feed of your partner.
Save time managing Instagram for business using Hootsuite. From a single dashboard, you can schedule and publish posts directly to Instagram, engage your audience, measure performance and run all your other social media profiles. Try it free today.
Grow on Instagram
Easily create, analyze, and schedule Instagram posts, Stories, and Reels with Hootsuite. Save time and get results.
Free 30-Day Trial