Instagram Hashtag Guide 2023
If you want your content to get in front of as many people as possible (and isn't that the whole point of this social media thing?), embracing an Instagram hashtag strategy is key.
Hashtags are a powerful tool for discovery on the photo- and video-sharing app (and, tbh, on all your other favorite social media accounts, too). You may have heard whispers that Instagram is improving its keyword-search capability, but those good ol' humble hashtags remain an incredibly effective way to reach the audiences you crave… and we dare say, deserve.
Ready to level up your Instagram hashtag game? You're in the right place. Let's do this.
Instagram hashtag generator
Wave your magic hashtag wand (by that we mean: fill out the form below) and watch your reach and engagement grow fast on Instagram. Make sure to follow the best practices outlined later in this post for maximum success, too.
Please note: This tool may display inaccurate or offensive material that doesn't represent Hootsuite's views. You're solely responsible for use of any content generated using this tool, including its compliance with applicable laws and third party rights.
A hashtag is a combination of letters, numbers, and/or emoji preceded by the # symbol (e.g., #NoFilter). Instagram hashtags are used to categorize or label content and make it more discoverable.
How to add hashtags on Instagram
You can add hashtags to the caption of your Instagram post or Reel, or include them in text elements on your Instagram Story. They are a great way to expand your Instagram audience and get more reach.
For instance, if you've posted a photo of a skunk on a surfboard, you might pair it with the caption "The waves really stink today #surfing #surflife #animalssurfing #skunks #wildlifewednesday."
Creating a hashtag on Instagram couldn't be easier: just type the hashtag symbol (#) followed by a word. You can even add numbers to hashtags on Instagram… emojis, too! #prettycool2023🤯
You can either make up your own hashtag (#skunkswhosurf), or add one that other people are already using — like#surflife, which has more than three million posts.
And if you want to be really sneaky? You can even hide your hashtags.
To hide a hashtag on an Instagram post or Reel, just add it as a comment instead of a caption.
You might also want to write the caption, hit the return button several times, and adding a caption a few lines down. That way, the hashtags will be hidden unless a viewer expands the caption.
If you're adding a hashtag to an Instagram Story, make the text element very, very, very small and move it somewhere on the image or video where it can blend in. You might also consider layering another visual element over top to bury it, like a sticker. (Learn more Instagram Story hacks here.)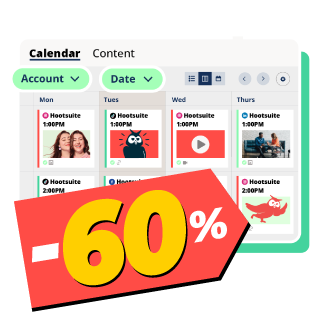 Our best deal EVER!
The deal won't get any sweeter. Get an annual Hootsuite plan 60% off and save up to $1,793 now.
Claim this deal
How to view Instagram hashtags
Anyone who conducts an Instagram hashtag search will see a page showing all the posts, Stories and Reels tagged with that hashtag.
Hashtags are also clickable. Anyone who clicks on an Instagram hashtag will view all other posts that use the same hashtag.
People can also choose to follow hashtags, which means they can see your hashtagged post in their feed even if they don't follow you (yet!).
By the same token, though, people can also choose to block hashtags.
While you can't block hashtags that are posted by accounts you follow, you can create a block to prevent certain hashtags from appearing in your suggested content.
Go to your profile and tap the hamburger menu (those three horizontal lines at the top-right).
Tap Settings, then Suggested content.
Tap Specific words and phrases, and then add the hashtag or keywords you'd like to hide.
Do hashtags work on Instagram?
And if you're wondering if hashtags work on Instagram? Yes, they totally do!
That being said: we recently ran an experiment looking specifically at the effectiveness of Instagram SEO vs hashtags… and let's just say the results were eye-opening.
Check out the article or watch the video below to see what we found:
These are the most popular Instagram hashtags as of the writing of this article. But remember: the most popular Instagram hashtags are not necessarily the most effective.
A large number of posts may mean lots of people follow that hashtag, but it also means there's a ton of content on it and your posts might get lost. Consider using a combination of popular and niche hashtags to reach different audiences, from broad to specific.
Top 50 hashtags on Instagram
#love (2.1B)
#instagood (1.6B)
#fashion (1.1B)
#photooftheday (1B)
#photography (1B)
#art (1B)
#beautiful (816M)
#nature (771M)
#picoftheday (714M)
#happy (693M)
#follow (687M)
#travel (685M)
#cute (660M)
#style (634M)
#instadaily (627M)
#tbt (581M)
#followme (553M)
#summer (539M)
#beauty (522M)
#fitness (514M)
#like4like (514M)
#food (502M)
#instalike (493M)
#photo (482M)
#selfie (450M)
#friends (436M)
#music (434M)
#smile (432M)
#family (432M)
life (431M)
#fun (430M)
#girl (424M)
#likeforlikes (385M)
#motivation (344M)
#lifestyle (338M)
#likeforlike (327M)
#sunset (320M)
#amazing (286M)
#nofilter (284M)
#instamood (276M)
#sun (269M)
#follow4follow (250M)
#inspiration (235M)
#followforfollow (211M)
#instapic (205M)
#bestoftheday (200M)
#cool (165M)
#swag (144M)
#night (144M)
#happybirthday (121M)
Popular B2B hashtags
#smallbusiness (118M)
#business (107M)
#entrepreneur (97M
#socialmedia (35M)
#digitalmarketing (28M)
#sales (20M)
#tech (19M)
#leadership (18M)
#innovation (13M)
#networking (12M)
#SEO (9.1M)
#contentmarketing (7.3M)
#marketingstrategy (6.9M)
#businesstips (5.8M)
#startups (5.4M)
#productivity (3.9M)
#strategy (3.8M)
#b2b (2.9M)
#consulting (2.9M)
#workplace (2.3M)
#professionaldevelopment (1.3M)
#leadgeneration (940K)
#b2bmarketing (575K)
#saas (516K)
#thoughtleadership (194K)
Popular B2C hashtags
#fashion (1B)
#beauty (522M)
#fitness (514M)
#explore (468M)
#lifestyle (338M)
#foodporn (296M)
#foodie (238M)
#instafood (234M)
#instafashion (182M)
#travelgram (171M)
#shopping (153M)
#homedecor (138M)
#fashionista (134M)
#instatravel (124M)
#sale (95M)
#shoplocal (81M)
#summervibes (58M)
#instabeauty (26M)
#styleinspo (24M)
#discount (13M)
#instashop (10M)
#healthAndwellness (8M)
#instasale (1.7M)
#productreview (1.2M)
#b2c (387K)
Hashtags for Instagram likes
#love (2.1B)
#instagood (1.6B)
#instagram (1B)
#follow (687M)
#instadaily (627M)
#instalike (493M)
#like (356M)
#explorepage (324M)
#followforfollowback (284M)
#instamood (276M)
#insta (206M)
#fyp (182M)
#instafashion (182M)
#daily (168M)
#like4likes (142M)
#instalove (135M)
#instaphoto (121M)
#likeforlikes (112M)
#instacool (108M)
#followers (104M)
#comedy (79.5)
#like4follow (73.1M)
#follow4followback (67.5M)
#likeme (42.7)
#likesforlikes (11M)
Dog Instagram hashtags
#dog (363M)
#dogsofinstagram (303M)
#dogs (164M)
#instadog (114M)
#doglover (93.7M)
#dogoftheday (82.M)
#ilovemydog (49.6M)
#rescuedog (26.2M)
#doglove (23.4M)
#dogphotography (19.2M)
#dogmom (17.5M)
#dogmodel (10.5M)
#Dogsitting (10.1M)
#Dogofinstagram (9.7M)
#dogtraining (8.4M)
#doglife (6.1M)
#Doggrooming (6.1M)
#Doginstagram (4.1M)
#doginfluencer (1.9M)
#dogboarding (1.7M)
#dogsmile (1.7M)
#Dogselfie (1.7M)
#dogpics (1M)
#doggram (1.5M)
#Dogadventures (1.3M)
Fitness Instagram hashtags
#fitness (514M)
#gym (250M)
#workout (214M)
#health (162M)
#fitnessmotivation (137M)
#bodybuilding (132M)
#healthy (119M)
#yoga (116M)
#running (88.3M)
#body (63.3M)
#run (59.9M)
#fitnessmodel (59.4M)
#gymmotivation (54.7M)
#cardio (51M)
#fitnessaddict (45.5M)
#fitnessjourney (38.4M)
#getfit (35.3M)
#fitmom (29.1M)
#workoutmotivation (24.8M)
#gymrat (22M)
#fitnesslifestyle (17.4M)
#yogainspiration (16.7M)
#sweat (16.1M)
#strengthtraining (12.3M)
#gymgirl (10.5M)
Art hashtags for Instagram
#art (1B)
#photography (1B)
#artist (310M)
#drawing (283M)
#artwork (193M)
#digitalart (135M)
#artistsoninstagram (110M)
#draw (104M)
#instaart (92.8M)
#artoftheday (76.5M)
#contemporaryart (66.6M)
#paint (54.5)
#abstractart (46.8M)
#artgallery (43.6M)
#artistic (28.3M)
#artofinstagram (22.9M)
#artcollector (16.9M)
#modernart (15M)
#tattooart (14M)
#urbanart (14M)
#picsart (14M)
#artists (13M)
#artlover (11.1M)
#artdaily (6.7M)
#artjournal (5M)
How to find trending hashtags on Instagram
Unlike Twitter, Instagram doesn't publicize a list of trending hashtags. (Why you so shy, Insta?!)
However, if you search for a hashtag on Instagram, you'll see how many posts use that hashtag. You'll also see a list of other popular Instagram hashtags using similar words, with post counts included too.
To search for a hashtag on desktop, enter the hashtag including the # symbol into the search box. On mobile, enter your search term in the search box, then tap Tags.
If you're paying attention to your Instagram feed, you'll learn to quickly spot trending hashtags as they emerge. Don't be too quick to jump on a trend, though. Only post using a trending hashtag if it really makes sense for your business, and for the specific content in your post.
For best results, limit yourself to 3 to 5 hashtags per Instagram post (or Story, or Reel).
Technically, you're allowed to post up to 30 hashtags… but too many hashtags can look spammy and may even hurt your reach.
This advice is coming straight from Instagram itself, but if you want more evidence that sticking to 3 to 5 Instagram hashtags is a good idea, we actually put this to the test.
Our little experiment found that, yep, 3 to 5 Instagram hashtags is the sweet spot. (Read the full, thrilling recap of our Instagram hashtag experiment here!)
And remember: Instagram's search tool also analyzes the actual content of your captions, too… so hashtags aren't your only way to make an impression. Write informative, clear captions packed with search terms and keywords to take advantage of social SEO.
There are really no rules about what an Instagram hashtag can be, but you can loosely sort hashtags into one of these 10 categories:
Product or service hashtags
These are basic keywords to describe your product or service, like #handbag or #divebar
Niche hashtags
These get a little more specific, showing where you fit in the context of your industry, like #travelblogger or #foodblogger
Industry Instagram community hashtags
Communities exist on Instagram, and these hashtags help you find and join them. Think #gardenersofinstagram or #craftersofinstgram
Special event or seasonal hashtags
These can refer to real holidays or seasons, like #summerdays, or they can be used for all those National [Thing] Day holidays, like #nationalicecreamday or #nationalnailpolishday
Location hashtags
Even if you geo-tag your Instagram post, it can still be a good idea to include a hashtag that refers to your location, like #vancouvercraftbeer or #londoneats
Bonus: Download a free checklist that reveals the exact steps a fitness influencer used to grow from 0 to 600,000+ followers on Instagram with no budget and no expensive gear.
Daily hashtags
Every day has plenty of its own hashtags, from #MondayBlues right through to #SundayFunday. We created a whole list of daily hashtags for you to choose from if you're looking for an easy source of hashtags to add to your posts.
Relevant phrase hashtags
These hashtags combine elements of product hashtags, niche hashtags, and community hashtags. Basically, they're phrases people use on Instagram to connect to existing communities in a slightly insider way, like #amwriting or #shewhowanders
Acronym hashtags
Perhaps the best-known acronym hashtag is #TBT for Throwback Thursday. Other popular acronym hashtags include #OOTD for outfit of the day, #FBF for flashback Friday, and #YOLO for you only live once.
Emoji hashtags
These hashtags can include emojis on their own, like #😎, or words or phrases with emojis attached, like #sunglasses😎.
Branded hashtags
These are custom hashtags that relate to your brand or a specific campaign, like #starbucksboy or #slurpeesummer. These can be a great way to encourage community building around your brand, keep track of user-generated content or even encourage employee ambassadorship.
The internet is full of Instagram hashtag generators, but the truth is, you'll get the most effective results if you do the legwork yourself. And that means…
Scoping out your competition
Obviously you don't want to be a copycat. But there's always lots to learn from watching others in your industry. What's working for them? What community groups might they be tapping into with their tag strategy? What hashtags are they using that you definitely want to avoid?
Tools like Brandwatch for Hootsuite are super helpful for analyzing competitors and scoping out industry trends.
Spy on your audience
Okay, maybe "spy" is a harsh word… but how about eavesdropping? If your desired audience is using certain hashtags as a community identifier or to participate in a conversation, this could be a great tag for you to try out, too.
Pro tip: Use social listening tools like Hootsuite streams to keep an eye on all your audience, your nemesis and industry heroes, all with one convenient dashboard.
Let Instagram guide you
When you pop a word into the Instagram search tool, you'll see a bunch of related search terms pop up as suggestions. These are often relevant phrases that might score you an even wider (or more niche!) reach.
For instance, you might know instinctively to label your crochet pattern post with #crochet, but Instagram also suggests the labels #crochetaddict, #crochetlove, and #crochetersofinstagram — specific, community-oriented hashtags that have millions of posts each.
Make your own branded hashtag
On Instagram, anyone can create a totally unique hashtag to promote a campaign or your brand as a whole. In other words: the best hashtag for your brand was inside of you all along!
Let your audience know about your hashtag by highlighting it in captions and Stories, or even including it in your Instagram bio. Promote your branded hashtag with a contest, and collect some awesome user-generated content along the way.
Explore the Explore page
Instagram's algorithm may be sliiiiightly mysterious, but these posts all ended up on the Explore page because they were engaging in some way. Learn a little something by peeping featured posts and making note of their hashtag choices. If you notice any patterns emerging, there's no harm in trying to mimic their success.
Use Hootsuite's AI hashtag suggestions
Okay, earlier, we were dunking on hashtag generators, it's true… but this one is different.
Hootsuite's AI technology analyzes both your caption and the images you've uploaded to suggest the most relevant tags. These are going to be a unique-to-you combination of tags, and one that you can use right in Hootsuite Composer.
Learn more about our cool new robot writer friend here!
Use the right amount of hashtags
Limit your hashtags to 3 to 5 on Instagram. Yes, you technically can include up to 30, but we've discovered that fewer is really going to get you better engagement and reach.
Study your analytics
Take the time to review which hashtags are working best for you. Hootsuite Insights offers helpful analytics in a beautiful package to help social media managers understand what tags are successful and which ones are flops.
Incorporate your hashtags at the end
Pop your hashtags at the end of your caption (or even post them in a comment!) instead of incorporating them into the text. Using hashtags in the middle of your captions or comments might make your content less accessible to people using text-to-speech readers.
Learn more about accessibility for social media here.
Pick the best hashtags, not the most popular ones
Choose hashtags that will attract quality followers, not just a large quantity of followers. Just because a hashtag like #followme has millions of posts doesn't mean that it's going to pull in the kind of target audience you actually want — you might find your follower count jump with bots and spammers, which could be a turn-off for real potential customers.
Look for hashtags that accurately represent what you're all about, whether that's a literal description of your product or services (#bookstore), or a shout-out to a community that you're part of (#bookloversofinstagram). Ideally, aim for a mix of broad hashtags and niche ones that all are relevant and meaningful to your brand and audience.
Want to search for multiple Instagram hashtags at once?
The Instagram app itself doesn't actually work well for multiple hashtag searches (though because of its improved keyword searchability, you might find some relevant results anyways).
For more accurate search results for multiple hashtags on Instagram, head to Google and search "site.instagram.com" followed by all the hashtags your heart desires. This will pull up posts tagged with all of the indicated hashtags.
Don't repeat yourself
It might be tempting to simply copy and paste the same long list of hashtags on every post, but don't do it.
Instagram's community guidelines clearly state that "posting repetitive comments or content" is not okay. If you use the same hashtags for every post, your content will be penalized by the Instagram algorithm.
Check the hashtag's meaning
Because hashtags are sometimes made up of multiple words running together (#hereisanexample), misunderstandings can sometimes happen. Proofread any new hashtags with a dirty mind to make sure you catch any accidental swears.
If you're using slang or an acronym, it's wise to do a quick search to make sure you're not accidentally posting something offensive, too. Maybe at your store, "B.D.E." means "Big Deals Everyday!" but the internet might have another idea all together.
Hide your hashtags (if you want!)
If you find your hashtags are distracting from your incredible caption, you can always tuck them away out of sight. You can do this by either placing them several lines below the caption (which will keep them hidden unless someone clicks "see more") or pop them into a separate comment.
Choose diverse hashtags
Instead of picking five hashtags that are variations on a theme (#dogs, #puppies, #doggos, #goodboys, #furryfriends), try to hit different types of search terms with each of your tags.
For instance, maybe one hashtag is related to your location (#boston) while another attempts to connect with community (#dogmoms) and another promotes your branded contest (#staceyssummerdogfashioncontest).
Don't use banned hashtags
Some hashtags—like #nudity or #youngmodel—get used inappropriately so frequently by users that Instagram basically hides them away.
(Rumor has it that using banned hashtags might even get you shadowbanned but… well, the jury is still out on that.)
Some of these tags are blacklisted temporarily, others permanently, but it's hard to predict exactly what will be ruined next (we've seen websites claim that #skateboarding is banned! Why! What did you guys do?!) so it's a good idea to double-check that your fave hashtags are working before you go ahead and schedule that post.
Start building your Instagram presence using Hootsuite. Schedule and publish posts directly to Instagram, engage your audience, measure performance, and run all your other social media profiles — all from one simple dashboard. Try it free today.
Better content in half the time
Boost engagement and save time with an AI writer, hashtag generator, Canva, and Grammarly Pro in Hootsuite.
Free 30-Day Trial