Daily hashtags are popular hashtags on social media for specific days of the week.
They are a great source of content inspiration. When used well, they can also boost your reach and engagement.
For busy content creators and marketers, the hashtag of the day is an easy way to gain exposure. But how do you know which one to use?
To help you out, we've compiled a list of hashtags below. We'll take you through how and when to use each of them to maximize your engagement.
This handy chart is like your week-at-a-glance for content ideas. Copy these daily hashtags for Instagram, Twitter, and TikTok (or wherever your followers are) for easy use.
Day of the Week
Daily Hashtags
Monday
#Monday
#MondayMotivation
#MondayMood
#MondayFeels
Tuesday
#TransformationTuesday
#TuesdayThoughts
#TopicTuesday
#TravelTuesday
Wednesday
#WineWednesday
#WCW
#WomenCrushWednesday
#Humpday
Thursday
#TBT
#ThrowbackThursday
#ThirstyThursday
#ThursdayNight
Friday
#Friyay
#FridayVibes
#TGIF
#FridaysForFuture
Saturday
#SaturdayNight
#SaturdayVibes
#Caturday
#CaturdayMood
Sunday
#SundayFunday
#SundayVibes
#SundayMood
#SundayBrunch
Just remember: Don't use all of these in one post! If you need more help, here's a more in-depth look at how to best use hashtags.
(And psstt, social media managers! We know you've got too many tabs open already — just save this cheat sheet to your desktop for quick reference)
#Monday
The #Monday hashtag is simple but a banger.
There's a reason it's so popular: #Monday covers a spectrum of content. The only caveat is that, well, you should only use it on Monday posts.
Because it's versatile, try combining #Monday with a few other relevant hashtags to find your niche audience.
It's worth noting that you can do this — a hashtag with the day's name — for every day of the week to increase your post's reach.
#MondayMotivation
Monday Motivation gets the people going.
Use this hashtag for any upbeat, positive, or thought-provoking content. Instagram users often post transformational photos with a before and after shot. Or share their journeys through life in the caption.
If you sell a product or service, try showing your audience how your offering can help with their #MondayMotivation.
You can use this hashtag to:
highlight milestones you or your business has achieved,
new routines you're embarking on, or
inspirational content.
#MondayMood or #MondayFeels
Straight up, Monday is a mood. And luckily, this hashtag can reflect whatever emotional state you choose.
You can pair it with a Monday Motivation tag and have your post reflect the awesome potential of the week ahead. Or, pair it with a Monday Blues tag and lament the finished weekend.
As a brand, this hashtag allows you to show followers the emotional side of your business. People like to engage with other people, not typically with brands. Use this hashtag as an opportunity to show the human behind the keyboard.
Be like Drake. Get in your feelings.
#TransformationTuesday
Did you miss #MondayMotivation? Not to worry — try #TransformationTuesday instead!
This hashtag boasts a lot of personal transformations — especially in the physical fitness realm. But, you can hijack it for your own purposes.
Try highlighting your humble beginnings and noting how far your brand has come. Or show off how your product or services can transform lives.
What would the world look like from a baby's eyes? With the right investments, it's a loving place. Through @WorldVision savings groups that build financial resilience, mothers in the DRC ensure good nutrition for their children. #worldvision #TransformationTuesday #EconDev pic.twitter.com/L5MuCS6ebL

— Jean Baptiste Kamate (JBK) (@jb_kamate) May 10, 2022
#TuesdayThoughts or #TopicTuesday
What's on your mind? These Tuesday tags are often used by people who want to share their thoughts. They can be on a specific topic or have more of an opinion vibe.
Make sure you're sharing tips that will add value to your followers' feeds. You want to avoid unintentionally reminding people of soap-box-style Facebook statuses.
#TravelTuesday
Share vacation photos, make your followers jealous, or inspire people to book a trip!
On #TravelTuesday, you can shamelessly post the photos you took on your last trip and reminisce about how much fun you had. Or, if you're a travel company, it's a great hashtag to find new clientele.
You can repost folks' travel photos (find our user-generated content guide here), using them as a testimonial for your services. You can also simply post photos of your destination with a strong CTA.
#WineWednesday
Wine Wednesday celebrates grapes in liquid form. Wine lovers use this hashtag to share everything from cheap bottles to multi-million dollar vineyards.
If you're in hospitality, viticulture, or simply love a glass of wine, this hashtag is for you. Celebrate your favorite bottle, share great #WineWednesday deals, or build excitement for new vintages.
#WCW or #WomenCrushWednesday
The WCW or Women Crush Wednesday hashtag can be used to hype up the women in your life. This "crush" usually isn't romantic — you can use this hashtag to bring attention to any women you find inspirational.
This hashtag's "crush" aspect is playful, so if your brand likes levity, use it to highlight women in your organization or industry.
#Humpday
You know that office co-worker who wishes you a Happy Humpday every Wednesday? This one's for them. #Humpday is a chance to celebrate the week's halfway point or moan about how slowly it's going.
Content creators and brands can use this hashtag to highlight the week's accomplishments or look forward to the weekend. Some very specific accounts, like the camel conservationists @camelcaravan_kenya, can actually use this hashtag to post on Instagram any day of the week.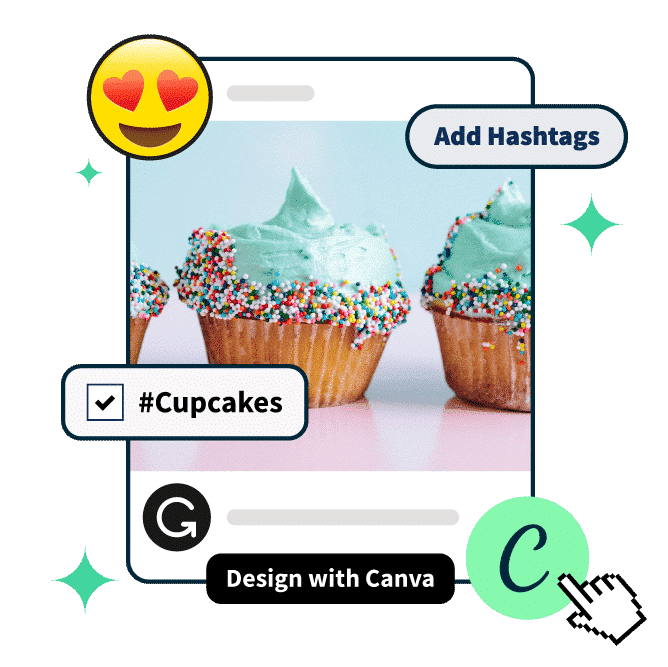 The formula for going viral
Everything you need to make engaging content. AI support for captions, an AI hashtag generator, and access to Canva and Grammarly Pro in Hootsuite.
Get 30 days for $0
#TBT or #ThrowbackThursday
Throwback Thursday or TBT has long been a hashtag used for reminiscing. Folks use it to look back on their lives, posting older (and often unflattering) photos of themselves. It's a lighthearted way of saying, "Look how far I've come."
With this hashtag, businesses can highlight their progress by posting old photos of products, logos, or teams.
#ThirstyThursday
Thirsty Thursday is Wine Wednesday's younger (by one day) brother.
You can repurpose #ThirstyThursday for any liquid beverage, making it an easy win for hospitality groups and CPG (Consumer Packaged Goods) brands.
You can also use this hashtag if your organization or brand is doing something related — like a team Happy Hour outing or a juice cleanse.
#ThursdayNight
Hit your post with a #ThursdayNight tag for all after-dark Thursday posts.
You can use this tag for pretty much any type of content. For example, if your team is working late, celebrating a win, or building hype before launching a new product on Friday, use this hashtag!
#Friyay, #FridayVibes, or #TGIF
TGIF, Friyay, and Friday vibes need no introduction. Anyone who has ever worked a Monday to Friday gig knows the drill.
Brands can tap into the pure joy of 5 PM on a Friday by using this hashtag. Bonus points to business owners who use this hashtag with some self-deprecating humor.
#FridaysForFuture
#FridaysForFuture is a green activist movement led and organized by youth — like Greta Thunberg.
This hashtag has specific uses, notably environmentalism. Use this tag only if your post touches on environmental activism.
#SaturdayNight or #SaturdayVibes
Weekends — especially nights — aren't necessarily the best time to post for engagement. But that doesn't mean you should never post on weekends.
So if you've got a team-building night or a staff party, stream it, repost your video, and tag it #SaturdayNight.
#Caturday or #CaturdayMood
The Caturday hashtag originated from 4chan way back and has a long internet history. But, all you really need to know is that if you want to highlight your feline friend, Saturday's the day to do it. Just make sure you add #caturday for reach.
Pet photos are always popular, and Caturday offers a prime opportunity to give your followers a glimpse into your personal life. Run a campaign featuring the pets of your team, showcasing one each Saturday.
If the featured pet has a strong personality, highlight it with a soundtrack, like Seamus' owner did in the video below.
#SundayFunday
The Sunday Funday hashtag highlights the enjoyable things people get up to on Sundays. Brunch, going to the beach, on a bike ride — whatever you do for entertainment.
If you sell a product or service that involves entertainment, group activities or anything that's, well, fun, then this hashtag is for you.
https://www.instagram.com/p/CeytTQ2lDes/
#SundayVibes or #SundayMood
The Sunday Vibes hashtag has a more relaxed attitude than Sunday Funday. Use #SundayVibes when you're relaxing, engaging in self-care, or lounging around the house.
If you're a wellness brand, #SundayVibes is perfect for you. Share photos that highlight how your products or services can enhance your followers' Sunday.
For inspiration, here are some off-beat holidays to celebrate in your next social media posts.
#SundayBrunch
Everyone loves a classic Sunday brunch! It might be the most important meal of the week.
This hashtag is great for hospitality groups, influencers and chefs. But really, just about anyone who likes brunch can use it.
Bonus tip: Find the right hashtags any day with Hootsuite's hashtag generator
Coming up with the right hashtags for every. single. post. is a lot of work.
Enter: Hootsuite's hashtag generator.
Whenever you're creating a post in Composer, Hootsuite's AI technology will recommend a custom set of hashtags based on your draft — the tool analyzes both your caption and the images you've uploaded to suggest the most relevant tags.
To use Hootsuite's hashtag generator, follow these steps:
Head to Composer and start drafting your post. Add your caption and (optionally) upload an image.
Click the hashtag symbol below the text editor.
The AI will generate a set of hashtags based on your input. Check the boxes next to the hashtags you want to use and click the Add hashtags button.
That's it!
The hashtags you selected will be added to your post. You can go ahead and publish it or schedule it for later.
Find the best hashtags and manage your entire social media presence with Hootsuite. Schedule posts and Stories, easily engage your audience, measure performance, and more. Try it free today.
Better content in half the time
Boost engagement and save time with an AI writer, hashtag generator, Canva, and Grammarly Pro in Hootsuite.
Free 30-Day Trial