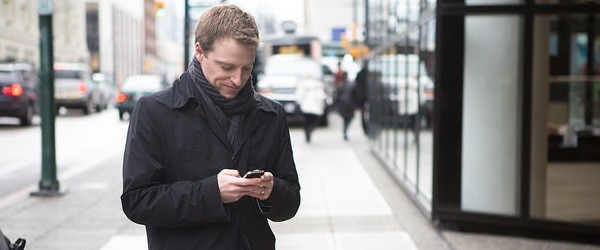 Social media has grown into an important lead generation tool; a new way for businesses to search for, find and engage prospects. In fact, 58 percent of marketers who have been using social media for three years or longer state that it has helped them boost sales.
Lead generation is about collecting information from potential clients that can be passed onto your sales team. There are a variety of social media tactics that can help you find or acquire these leads.
---
Bonus: Learn how to prove the ROI of your social strategy. Register for our webinar and get clear, actionable recommendations on how to: define what ROI means to your business, choose the metrics that will help prove it, and build a framework that demonstrates ROI in relation to your business needs and KPIs.
---
We've gathered six ideas on how to generate leads on social media below:
How To Generate Leads On Social Media
Promote gated content
Gated content may be the most commonly used lead generation tactic online, let alone on social media. Gated content refers to content that requires you to pass through a specific process, often providing your contact information, in order to access it.
On social media, the basic way to use gated content involves promoting a specific piece of content on your social channels—often a webinar, white paper or other forms of more detailed or lengthy content. When people click the link in your Tweet or Facebook message, they are brought to a landing page. This wall or gate, which requires people to provide you with information before you can access the content, will usually eliminate people with only a casual interest in your content or product. A small portion of the people you reach will be willing to exchange their information for the content, even knowing—as many of them will—that this will make them the target of your sales efforts. These people will likely believe the content might help them with their work, or are otherwise very passionate about the subject matter. As a result, this gate helps weed out unlikely buyers while providing your sales teams with more qualified leads.
Creating an army of effective employee advocates isn't something you do overnight: http://t.co/lwNAP74L7M pic.twitter.com/cwdXKWwe1u

— Hootsuite (@hootsuite) February 23, 2015
Promoting gated content directly to your followers is an easy way to generate leads through social media. Since gated content is one of the easiest ways to gather detailed information about prospects, it will also have a secondary role in many of the other lead generation tactics discussed below.
Contests
Contests are an easy way to engage potential prospects and gather valuable information for your sales team. The key is making the incentive something related to your actual product or service. Anyone will enter a contest that offers a trip to Hawaii or a free iPhone 6. Simply gathering their information doesn't actually make them a qualified lead, one that your sales team would benefit from having. In fact, you may actually waste your team's time by flooding them with contest leads that won't amount to anything. Your social media contests should focus instead on iterations of what you would offer clients anyways. Try running a contest which offers an extended free trial of your product, or a free upgrade to a higher tier of your service. The people that enter this social media contest are far more likely to be genuinely interested in your offering, and therefore worth reaching out to from a sales standpoint. We did this with our #Hootsuite4Life contest, which offered existing and non-users a chance at winning a lifetime subscription of Hootsuite Pro in exchange for filling out a form and tweeting about the contest.
Free things are the best. Want to win Hootsuite Pro for life? http://t.co/gpuzCtN2rq #HootsuiteForLife pic.twitter.com/My4qNB6ipe — Hootsuite (@hootsuite) September 29, 2014
You will also need to decide on how people on social will enter the contest:
Enter by retweeting/sharing/liking/following: Generally these will give you more entrants but are less valuable in terms of lead generation, since the only information you get is what's publicly available in social profiles. Also, the Facebook algorithm will punish certain posts that explicitly ask for likes or shares.
Click through to a landing page/form fill: Forcing people to click through from a social message to a landing page or form will decrease your number of entrants. However, those that fill out the form are more invested in your product prize, and will provide you with more valuable information.
In addition to asking for contact information, consider asking contest entrants for information about their business, business size, industry, title or interest in your product. Adding fields might decrease the number of entrants, but can make for a more qualified lead. Try landing pages with fewer fields and others will more, and see what works best for your audience.
Social media advertising
A growing tool for social media lead generation, social media advertising is particularly valuable because of its advanced targeting opportunities. Where normal social media posts can be targeted to a limited extent, based on geography or certain groups for example, social media ads can get far more granular in terms of audience.
Twitter targeting allows you to target people based on their networks or your own. Basically, if you have an event planning company in Portland, the strength of Twitter ads is that you can target audiences already following rival coffee shops in the city. You can also target people who are similar to your follower base, which is a great way to find your target audience. 
For many people, Facebook is far more valuable when it comes to targeting people by interest. Facebook let's you choose from a remarkably large list of interests so you can target, for example, who love trains or people who 80's hip-hop music. Additionally, Facebook let's you target people based on behaviours, like their purchasing behaviours and charitable donations. 
LinkedIn targeting, not unlike the social network itself, is very good for employee and company specific targeting. You can specify who you want to see the ad based on the industry they work in, their position and seniority (maybe you're sharing a white paper for managers?), where they work, how big their employer is (think of a post targeting enterprises, not SMBs), and beyond. 
Using this targeting, you can share content with people who fit the mold of a prospect for your business. Anyone who responds to the ad or clicks through to the content can then be tagged as a lead in your CRM system, or be reached out to by someone on your sales team.
Social media advertising often works in tandem with other lead generation tactics like gated content or contests. You might target a specific audience on Facebook for a contest or specific companies on LinkedIn for a B2B-focused white paper. The combination of gated content with audience targeting makes social media advertising an extremely effective approach at driving qualified leads.
Hosting a hangout or webinar
Hosting a Google+ hangout is a great way to put your business directly into contact with prospects. Hangouts can be limited to a few people or be opened up to anyone online. When you limit the size of a hangout, you might require people to register in advance. Where this differs from other forms of gated content is that you're actually inviting people to participate in something in real-time, not simply giving them something that already exists. In this way, you're immediately connecting with your audience, and can use that connection to learn more about them or even pitch your business.
Depending on the focus of your hangout, you can attract different audiences which might better fit your lead generation needs. A hangout focused on your product offering (like a product demo) would only appeal to those who might be interested in it. This might attract a smaller pool, but one that your sales team will likely have more success with. Customer service sessions would also fit in this category. Less product-specific hangouts, like panels with experts and industry discussions, will attract larger groups but many of these people will not be in the market for your product or service.
Regardless of the focus of your hangout, you should take the opportunity to drive participants to landing pages, contests, product pages and forms of gated content. More touch points with your company means better leads. The gated content will also help fill in the blanks, since Hangouts might only provide your sales team with limited amounts of information about participants. Once your hangout is over, it is then uploaded to YouTube. Make sure the video or the video description includes relevant links to the content you mention or your website.
Finally, don't be afraid to reach out to all participants after a Hangout. Thank them for attending, point them to gated content that might be of value to them, and encourage them to reach out to your team if they have any questions. This post-Hangout call to action might garner more leads than you would expect. 
Geotargeted social media search
For many businesses, connecting with a local audience is key to creating awareness and expanding their customer base. Many companies do geotarget their social media posts and ads in order to reach the audiences closest to their business. But far fewer businesses are taking advantage of geotargeting in search.
With Hootsuite, you can type a keyword into search and see Tweets nearby related to the term in question. This means that if you're a chiropractor, you can type "chiropractor" in search and find people in your area who might be in the market for you. You could also type in "sore back" or other relevant terms in order to find these leads as well.
The Hootlet Chrome Extension is another tool for geotargeted search. You can actually type in the address of your business and see Tweets from anyone from within 500 metres (or up to 25 km, but that would be far less valuable). This is a great way to connect with people in your neighbourhood and invite them into your business.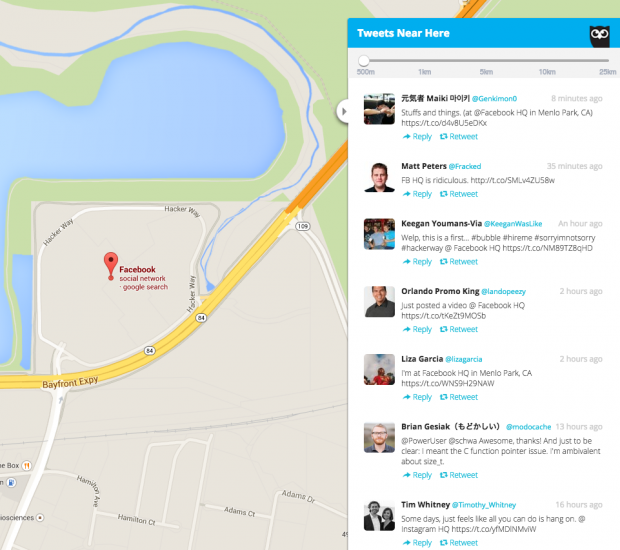 This feature can also be used for searches at conferences or events you're not event attending. If your tech company can't afford to go to SXSW, you can look up the venue on Google Maps, find people tweeting in the area and reach out with a trial of your app for example.
In these ways, geotargeted searches on social media can provide your sales teams with two key pieces of information: the location of prospects and their interest in your service. With this information, they can confidently reach out to these leads on social media and hopefully drive them down the funnel.
Targeted social media listening
A final tactic for social media lead generation is targeted listening. Social media listening can mean everything from creating search Twitter search streams and lists to participating actively in Facebook and LinkedIn groups.
Social media listening, from the outset, isn't going to gather as much information about prospects as some of the other lead generation tactics we've covered. However, committing the social media listening can put you into direct contact with the people who will be buying and using your products or services. It will also give you insight into what they think about the industry, your business and your competitors.
Create search streams for any social media message mentioning your brand or products. Any time a person inquires about your business, you should be responding in a timely manner. As the interaction continues, you may be able to pass of this contact to a salesperson. Search streams of broader industry terms might also reveal people interested in a service you could provide. As you identify these people, treat them as you would normal leads. Pass them onto your sales team and have people reach out with "cold tweets."
While search streams are a more passive approach, Twitter chats are a more active way to find prospects. Find chats that are relevant to your business and follow people who participate. Engage them within the context of the chat and try and continue that conversation one it's over. People might not want to be pitched out of the blue. Engaging them in this forum first is a great way to break down initial barriers and make people more receptive to your business. You can also host your own Twitter chat and try and attract prospects to the conversation. If they join in a chat voluntarily, you are far less likely to scare them off by providing CTAs, especially when they're relevant to the conversation.
Like Twitter chats, Facebook and LinkedIn groups are great places to identify and engage leads. On an even more basic level, you can also simply track who is engaging with the content you post on these social networks—which you should probably be doing anyways—and treat these individuals as prospects. Listen, engage and follow-up. These simple steps can truly make a big impact.
Start driving leads through social media. Try Hootsuite free today.