LinkedIn is the world's premier business network with 722 million users as of January 2022. 25% of all American adults use LinkedIn, and 22% of those use it every single day.
The main reason? To "strengthen their professional network." For individuals, it's a great place to stay in touch with old colleagues, get referrals for new business, or look for a new job.
But how do you effectively market your business on LinkedIn?
We've rounded up everything you need to know about marketing your company on LinkedIn — freshly updated for 2022.
Before you jump in, watch our step-by-step guide to creating a LinkedIn company page from scratch:
Bonus: Download a free step-by-step guide to combining organic and paid social tactics into a winning LinkedIn strategy.
How to use LinkedIn for business
Follow the steps below to set up, grow, and promote a LinkedIn company page and reach strategic goals on the platform.
Step 1: Create a LinkedIn Company Page
To access LinkedIn, you first need to create an individual account. This will also be the administrator of your Company Page (although you can add additional Page managers later). I'd recommend signing up with your work email address.
Okay, now we can create your Page. After you've logged in, click on the Work icon at the top right of your browser. Scroll to the bottom of the menu that pops up and pick Create a Company Page.
Choose the right type of Page from the four available options:
Small business
Medium to large business
Showcase page
Educational institution
They're all self-explanatory except for "Showcase pages." These are for companies who want to separate out divisions in their business to each have their own sub-page, but still link them back to the main corporate Page.
Showcase Pages appear on the main Company Page, as you can see here with Hootsuite's COVID-19 Resources page listed under "Affiliated pages."
After you select the Page type, start filling in your details. Your logo and tagline will serve as the first impression most LinkedIn users will have of you, so spend the time necessary to write a good tagline.
Hootsuite's tagline is: "The global leader in social media management."
When you're done, click Create page.
Ta-da, you now have a Company Page.
Step 2: Optimize your Page
OK, those are the basics, but it's time to optimize your new Page to get noticed and build your following.
First, scroll down and click the blue Edit Page button.
Fill out all the fields in this additional information area. This will make what you do clear to users and help with your LinkedIn SEO, a.k.a. showing up in search results. It's worth it: Companies with complete profiles get 30% more views.
A few LinkedIn Page optimization tips
Use translations
Serve a global audience? You can add translations here, so you don't need to create a separate Company Page for each region. You can have up to 20 languages on your Page, and it includes the name, tagline and description fields. Me gusta.
Add keywords in your description
Your LinkedIn Page is indexed by Google, so work in natural-sounding keywords where you can in the first paragraph of your company description. Keep it to 3-4 paragraphs max about your vision, values, products and services.
Add hashtags
Nope, not in your Page copy. You can add up to 3 hashtags to follow.
You can see all posts using these hashtags by going to your Page and clicking Hashtags under the post editor. This allows you to easily comment, like and share relevant posts right from your Page.
Add a branded cover image
Take advantage of this space to bring attention to your latest product launch or other big news. Keep it on-brand and simple. Hootsuite's features the new Social Trends 2022 report: a free mega-deep dive containing the secret sauce to outperform your competition this year (and next year, and the year after that…).
The current dimensions for this space are 1128px x 191px.
And finally: add a custom button
This is the button located next to the Follow one that LinkedIn users will see on your Page. You can change it to any of these:
Contact us
Learn more
Register
Sign up
Visit website
"Visit website" is the default option.
You can change it anytime, so if you have a webinar or event running, change it to "Register" or "Sign up" to focus on that, then back to your website after. Your URL can include a UTM so you can track where leads are coming from.
Step 3: Build your Page following
No one's going to know your Page exists unless you tell them.
Until you start posting content, you'll see this frankly adorable illustration of a marketer wearing sweatpants in deep discussion with their dog about this quarter's—wait a minute, that's me…
Here are 4 ways to get your new Page some love:
Share your page
From your main Page, click on Share Page beside the Edit button.
Share your new Page to your personal LinkedIn profile and ask your employees, customers and friends to give it a follow. It's an easy first step.
Link to your LinkedIn Page from your website
Add the LinkedIn icon to the rest of your social media icons in your footer, and anywhere else you link out to social media.
Ask your employees to update their profiles
This is key for the long-term growth of your Page. When your employees first listed their job titles on their profiles, you didn't have a Page. So those titles don't link anywhere.
Now that your page exists, ask your employees to edit their job descriptions on their LinkedIn profiles to link them to your new Company Page.
All they have to do is edit that section on their profile, delete the company name and begin retyping it in the same field. LinkedIn will search for matching page names. Once they click yours and save the changes, their profile will now link back to your Page.
This allows their contacts to find and follow you, but it also adds that user as an employee at your company. Displaying the number of employees you have can help your company establish credibility on the platform.
Send invitations to follow your Page
From your Page, you can invite your connections to follow it. LinkedIn limits how many invites you can send out to ensure people don't spam.
This isn't the most effective method since many people ignore their LinkedIn notifications (guilty), but it only takes a minute, so why not?
Step 5: Execute your LinkedIn marketing strategy
You have a LinkedIn marketing strategy, right?
Creating a Page is the easy part. Keeping it going with content your audience wants is the hard part — unless you have a plan.
The LinkedIn part of your social media strategy should include answers to:
What is the goal of your LinkedIn Page? (This may be different from your overall social media goals.)
What will you use your Page for? Recruiting? Lead generation? Sharing the super nerdy industry stuff that doesn't perform as well on Instagram or Facebook?
Are you going to advertise? What is your LinkedIn ads budget?
What are your competitors doing on LinkedIn, and how can you create better content?
Lastly, make a content plan:
How often will you post?
What topics will you cover?
How can you repurpose existing content to use on LinkedIn?
Are you going to curate content from others?
Once you know what you're going to post about and how often, it's easy to stay on track with Hootsuite's Planner.
You can upload your content, schedule it to auto-publish and quickly see everything in either a weekly or monthly view. At a glance, ensure your posts are evenly balanced across all the goals and topics you want to cover and easily add new content or rearrange upcoming posts as needed.
Try Hootsuite for free for 30 days
Besides posting your own content, don't forget to engage with others. Even though it's for business, LinkedIn is still a social network.
Check out our best tips for growing your audience in 2022:
4 ways to use LinkedIn for business
1. LinkedIn advertising
There are many LinkedIn ad formats to choose from, including:
Sponsored text ads
Sponsored posts (like "boosting" an existing Page post)
Sponsored messaging (to a user's LinkedIn inbox)
Dynamic ads that can include a user's details, such as name, profile photo and employer in the ad
Sponsored job ad listings
Photo carousel ads
Four out of five LinkedIn users have the power to influence business purchase decisions, so ads can be highly successful.
With Hootsuite Social Advertising, you can create, manage and analyze the performance of all your social ad campaigns across LinkedIn, Instagram, and Facebook in one dashboard. Hootsuite's unique analytics unlock new insights by showing the performance of both paid and organic campaigns across all three platforms. You always have the information you need at your fingertips and the ability to tweak campaigns for maximum results.
2. Posting job listings and recruiting
Job listings are already a popular destination for LinkedIn users. Forty million people look for a new job on LinkedIn every week. You can post a listing for free, which also shows up on your Company Page.
Paying to advertise your job listings can be worth it, too. Paid single job ads receive 25% more applications than non-promoted job ads.
LinkedIn has a dedicated Recruiter premium account that's been the standard for recruiters around the world for years. They also have a Lite version intended for small businesses.
3. Networking
This is the entire point of LinkedIn. Your professional network is more important than ever as more business tasks and deals continue to happen virtually.
LinkedIn reports that conversations between connected users grew by 55% from January 2020 to January 2021.
LinkedIn Groups is a great tool for networking. These are private discussion groups so anything you post there won't show up on your profile. The only drawback for companies is that you can't join with your Company Page. You have to use your personal profile in Groups.
But, many Groups allow users to share Page content, so joining a Group can be a good way of building both your personal network connections and Page followers.
You can find Groups under the Work icon at the top right of the LinkedIn dashboard.
4. Thought leadership
LinkedIn allows you to post long-form content, which many business leaders have used to build influential thought leadership reputations. Long-form content, when used properly, can cement you as an innovative leader and expert in your industry.
To post an article, click Write article from the LinkedIn homepage.
You can choose your personal account or Company Page to post from. Since our goal is to grow your business following, choose your new Company Page.
Alternatively, you could post thought leadership content under your CEO's personal profile, then re-share that content to your Company Page.
The publishing platform is almost like having your own blog software. It allows you to format your post easily, including adding images and video, and you can even save drafts.
Writing your piece is the easy part. Now, who's going to read it?
If thought leadership is your goal, you need to stick with it long enough to build momentum and interest in your work. Why bother? B2B decision-makers love thought leadership content.
These valuable prospects say they're willing to pay more to work with companies that publish thought leadership content.
A few tips to succeed:
Be consistent. This is the most important thing to keep your current readers and earn new ones. Decide on a weekly, bi-weekly or monthly posting schedule and then — I can't stress this enough — do it.
Be original. Don't regurgitate existing articles from the internet. Take a stand, form an opinion and provide a strong argument for your point. Not everyone has to agree with you. If they do, it's probably not true thought leadership.
Write once, promote forever. Don't forget to share and promote your older posts. Content production on LinkedIn grew 60% in 2020, so you've got competition. There's still a place for your content — just make sure to share it more than once.
3 important LinkedIn marketing tips
How you market your business on LinkedIn will depend on your goals. Generally speaking, these are the three things everyone should do to market like a pro.
1. Optimize your posts
Relevancy is more important than recency on LinkedIn. Their algorithm, like all platforms, aims to show users more of what they want to see and less of what they don't.
For example, the only LinkedIn poll I ever voted in was about how much I hated polls, so I had to laugh when LinkedIn served me this at the top of my feed today:
Here are the key ways to optimize your content:
Always include an image or other asset. Posts with visuals receive 98% more comments than text-only posts. For example, include a photo, infographic, SlideShare presentation, or video. (Videos receive five times the engagement of other assets.)
Keep your post copy short. For sharing long-form content, create a brief lead, then link over to the full article.
Always include a clear call to action.
Name the audience you're trying to reach (i.e., "Calling all creatives" or "Are you a working parent?")
Tag people and pages mentioned
Lead with a question to prompt responses
Create LinkedIn polls for feedback and engagement
Include two to three relevant hashtags in a natural way
Write strong headlines for articles
Respond to comments quickly to encourage more engagement
Find more tips in this course from Hootsuite Academy on LinkedIn content optimization.
2. Learn from LinkedIn analytics
If you're not trackin', you're only hackin'.
In all seriousness, measuring your marketing goals is only possible with accurate and timely analytics. LinkedIn has built-in analytics to tell you the basics, but you can save time and learn even more by using Hootsuite Analytics.
We've got a complete guide to everything you need to know about Hootsuite Analytics, but basically, you can:
Track y most engaging content
Find out how people come across your Page
Get traffic insights for each section of your Page, and Showcase Pages if you have any
Easily gauge the demographics of your audience
Hootsuite Analytics includes custom insights so you can tweak your LinkedIn strategy as needed to meet your goals.
3. Post at the best time
What's the best time to post on LinkedIn?
…There isn't one best time. It all depends on when your target audience is on LinkedIn. That depends on a ton of factors, from their time zone to their work schedules.
As with everything in content marketing, success comes from knowing your audience.
Hootsuite helps out with this big time.
Not only can you schedule all your posts in advance, so you never forget to post, but you can also choose to auto-post them at the best time for your company. Hootsuite analyzes your past performance to find when your audience engages the most.
4 LinkedIn marketing tools
1. Hootsuite
We've talked about how Hootsuite helps your LinkedIn strategy throughout this article. Hootsuite + LinkedIn = BFFs.
In Hootsuite, you can do it all:
Create and schedule LinkedIn posts and ads
Always post at the right time (a.k.a. when your audience is online and active)
Track and answer comments
Analyze the performance of organic and sponsored posts
Easily generate and share comprehensive custom reports
Optimize your LinkedIn ads with just a few clicks
Manage your LinkedIn company page alongside all your other accounts on Facebook, Twitter, Instagram, TikTok, YouTube, and Pinterest
2. Adobe Creative Cloud Express
Formerly Adobe Spark, Creative Cloud Express allows you to create free, eye-catching visuals right from your browser or mobile device.
You can remove image backgrounds, add animation, resize graphics for any platform and create professional-quality video assets. It also has a template library for expertly designed pieces to help grow your brand. You can also use Adobe Stock images for free.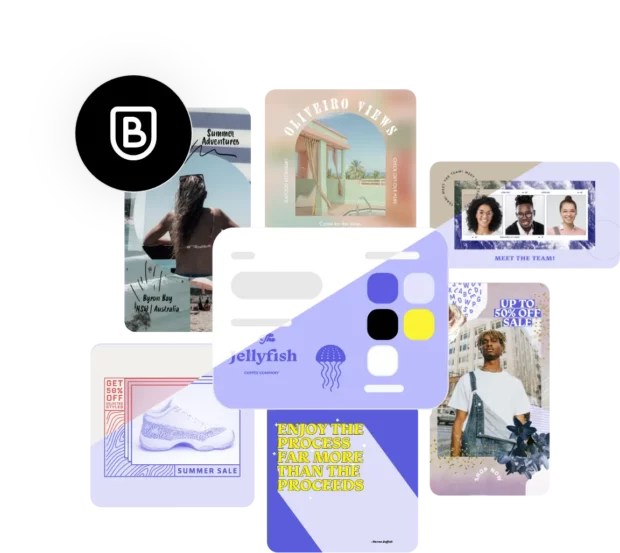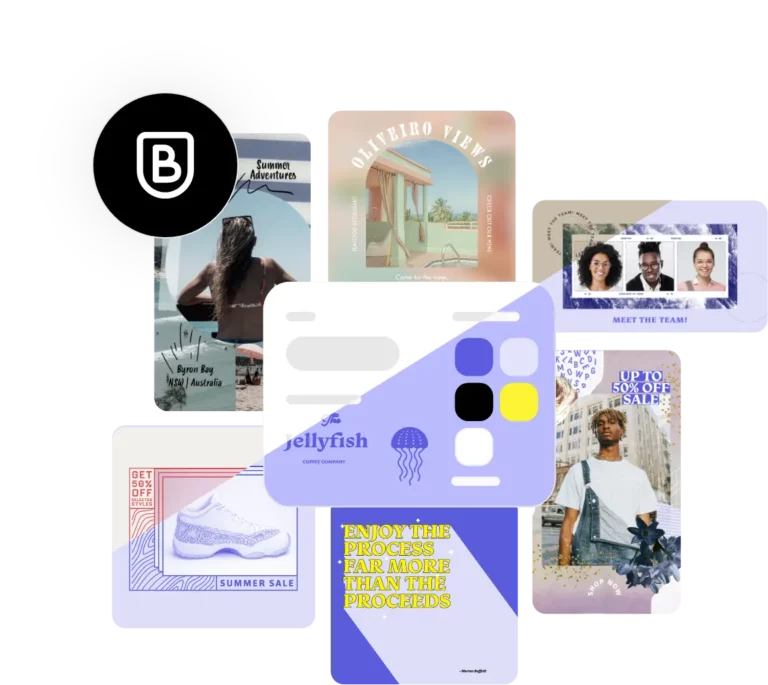 SlideShare
Adding meaty content like a presentation, infographic or white paper instantly makes your LinkedIn post highly shareable.
To add this kind of content, you need to do so through SlideShare. It's a separate platform from LinkedIn, so adding your content will also make it discoverable over there (bonus!). But the reason you want to add it there is so we can attach it to LinkedIn posts as a functional slider presentation, like this:
You can upload a PDF, PowerPoint, Word or OpenDocument file to use this way, and LinkedIn will show it in a presentation format.
Glassdoor
Managing your company reputation on LinkedIn is vital for recruitment.
Through Hootsuite's App Directory, you can install the Glassdoor app. Share your LinkedIn Company Page posts to Glassdoorso job hunters can get a better feel for your company. It also includes analytics reports for Glassdoor content engagement alongside your other Hootsuite reports.
LinkedIn is a professional network that allows you to build credibility, create a meaningful network and establish your company as an industry authority. All this is possible with the right LinkedIn marketing strategy, and now you know everything about how to create yours.
Easily manage your LinkedIn Page and all your other social channels using Hootsuite. From a single dashboard, you can schedule and share content (including video), reply to comments and engage your network. Try it free today.
Start your free 30-day trial. You can cancel anytime.
Do it better with Hootsuite, the all-in-one social media tool. Stay on top of things, grow, and beat the competition.
Free 30-Day Trial