Wondering what to post on LinkedIn? The platform is a gold mine for connecting with potential employers, customers, and colleagues in your field. A well-crafted LinkedIn post can help you differentiate yourself or your brand and build relationships that drive career success.
Still, coming up with LinkedIn post ideas can be awkward, not to mention a total time suck. If you're stuck, check out these post examples to spark your inspiration and build an engaging LinkedIn content strategy in no time.
Bonus: Download a free step-by-step guide to combining organic and paid social tactics into a winning LinkedIn strategy.
What to post on Linkedin: 12 ideas
LinkedIn is a place where content matters. You don't want to be "that person" who keeps posting sales pitches or self-promotional content on their feed–so what should you post?
Here are some great ideas for content that will keep your readers engaged.
1. Make posts rich and interactive
Like any feed-based platform, LinkedIn users are constantly wading through content, scrolling through vast troves of "I got a promotion" and "Here's why I'm awesome" plain text posts. If want to make sure your content stands out, you need to encourage reader interaction.
LinkedIn offers a variety of types of content that can help you do this. You can…
Post a poll
Share images and video
Upload an interactive PDF
Celebrate an occasion
Create an event
Share hiring opportunities
… all within your LinkedIn post.
Dynamic, rich, content-focused posts stand out on the feed. Not to mention, they give your users something to do beyond just reading and scrolling.
Source: Mercedes-Benz USA
2. Post relevant, timely content
It's important to keep up with industry trends and news related to your field or brand. If you spot something that is timely and unique, jump on the opportunity! Share your take on a recent social media trend, explain what experts are saying in your field, or offer tips from a recent blog post that relate to something timely in the news.
3. Tell a personal story
Okay, we all know the annoying LinkedIn users who seem to connect every life milestone to their business. Obviously, no one wants to be the person saying the birth of their first child reminds them of when they started their first business. Yikes!
That said, sharing stories that help humanize your brand can be powerful.
Consider what you want to reveal about yourself and how it connects to the bigger picture. For example, you might talk about why a certain cause matters to you or how your family or background has shaped who you are.
Make sure whatever you write is authentic and not forced. There's nothing worse than a story that only serves to highlight your own accomplishments.
If you're feeling particularly inspired and end up with some long-form content, consider the LinkedIn article format for your post.
4. Share relevant stats
Nothing speaks louder than the facts–especially when it comes to engaging professionals on LinkedIn. Sharing relevant industry stats, surveys, case studies, research, and data can help bring your posts to life.
Be sure to keep all stats, facts, and figures relevant to your brand. This helps ensure that your content on LinkedIn is informative rather than just fluff.
Source: Eric Partaker
5. Step outside of your industry
While LinkedIn is a great place to engage with colleagues, it's also important to step outside of the professional realm from time to time. Sharing posts about inspiring entrepreneurs or uplifting stories can help lighten up your content and give readers something different.
Plus, stepping out of your industry means you're not just talking shop all the time, which can be refreshing for both yourself and your followers.
6. Show off company culture
One of the best things about LinkedIn is that it gives you a chance to show off what makes your business or industry unique–namely, the people and culture that make up your team.
Posting employee spotlights, workplace stories, or behind-the-scenes looks can be a great way to humanize your brand and give readers an authentic look into your world.
Not to mention, it's a great way to turn your employees into brand advocates.
Source: Penguin Random House UK
7. Ask questions
Don't be afraid to ask questions of your followers! Asking for input on a certain topic or inviting users to share their thoughts can help spark interesting conversations and get more people engaged with your content.
Source: Jay Badiani
8. Highlight customer successes
Do you have customers that have achieved amazing things with your product or service? Highlighting customer successes is a great way to show off the value of your brand and give readers something to aspire to.
9. Feature user-generated content (UGC)
User-generated content can be a powerful tool for driving engagement on LinkedIn, as it shows readers that other people believe in what you're doing and are willing to share their experiences.
Consider featuring user-generated content in the form of reviews, testimonials, or even photos or videos from your employees or customers.
Source: Roxy Pilot
9. Give an opinion
The latest stock market numbers got you hot in the face? Or maybe your SaaS product just dropped a new feature that changes the game?
Giving your opinion on current events, market trends, or even developments in your industry can help you stand out as an authority and build yourself up as a thought leader.
Just be sure to keep it professional, okay? LinkedIn isn't the place for trolls or rants.
Source: Nikan Shahidi
10. Give expert tips and guidance
LinkedIn is already chock-full of vague and generic career advice, so surprise your followers with tips, hacks, and insights they can't get anywhere else.
Whether it's a how-to guide on converting e-commerce customers on social, a list of the best restaurants for business meetings in Los Angeles, or even just some general advice on how you got to where you are today–make it honest, make it real, make it yours!
Source: Matt Barker
11. Not this, but that
One of the best ways to establish yourself as an innovator on LinkedIn is to challenge the status quo.
If you see a UX design that you don't think quite works, or a billboard advertisement that could use some work, write up an alternative approach and explain why it may be more effective.
This is not only useful for your followers, but it also shows off your expertise and creativity.
12. Don't forget fun stuff!
LinkedIn doesn't have to be all business all the time. Consider adding some fun posts about hobbies or interests, as well as lighthearted content that might make your followers smile.
Animated GIFs do surprisingly well on LinkedIn, as do humor and jokes–when used correctly.
Source: The Marketing Millennials
Successful LinkedIn post examples to learn from
Still wondering what to post on LinkedIn? Here are some great LinkedIn post examples you can use today.
Plus, learn how to win the LinkedIn algorithm and put your best post forward every time.
1. Audi slays the multi-image post
Multi-image posts are a hit on LinkedIn, but this post from Audi gives you more than just static imagery. By breaking the image in two, this post grabs the viewer's attention and stands out on the feed.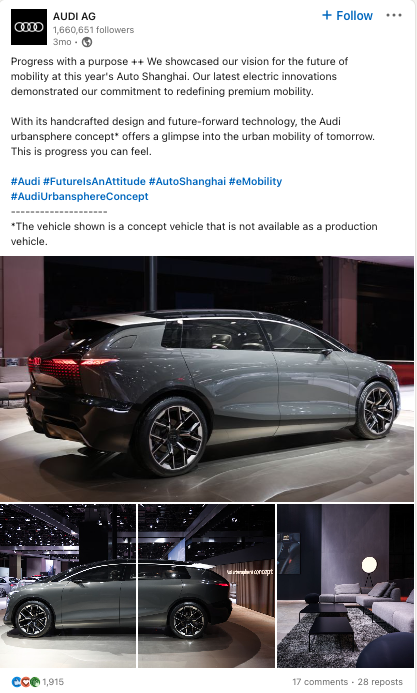 Source: Audi on LinkedIn
2. Adobe puts culture first
Working at Adobe is many people's dream job! But, beyond the creative projects and serious software, who really knows what goes on in the Adobe office? This LinkedIn post lays it out, giving a humorous, inside peek into the life of an Adobe employee.
3. Hootsuite gets trendy
Hootsuite recently created a TikTok video featuring famed mascot, Owly, decked out in Barbie imagery. The post was a hit and racked up over 1 million views! Sharing this success on LinkedIn not only celebrates the post, but it also paints Hootsuite as a social media leader.
4. Meta celebrates employees
LinkedIn posts don't have to be product-first. Meta shows its commitment to its employees by featuring their personal stories in a unique video format.
5. Airbnb prioritizes UGC
Airbnb boasts hosts around the world. Why not leverage their content to boost your brand? Check out this stunning video of an Airbnb property in Utah.
6. Seth Godin leverages event features
LinkedIn offers so many ways to post. From image and video posts, to occasions, events, PDFs, and more. Why not try uploading your webinar to LinkedIn so users can watch after the fact? Here's how Seth Godin did it on his LinkedIn profile.
7. Chris Do tells it like it is
Authenticity works on LinkedIn. Take this LinkedIn post example from Chris Do, where he teaches his audience how to say no to clients. Impactful visuals and sassy copy landed this post almost 5,000 engagements on LinkedIn.
Free LinkedIn post generator
Still low on LinkedIn content ideas? Don't stress. Use our caption generator for LinkedIn, and fill your content calendar with engaging posts even when inspiration runs dry.
Please note: This tool may display inaccurate or offensive material that doesn't represent Hootsuite's views. You're solely responsible for use of any content generated using this tool, including its compliance with applicable laws and third party rights.
Easily manage your LinkedIn company page and all your other social channels using Hootsuite. From a single dashboard, you can schedule and share content (including video), reply to comments and engage your network. Try it free today.
Do it better with Hootsuite, the all-in-one social media tool. Stay on top of things, grow, and beat the competition.
Free 30-Day Trial