People watch more than a billion hours of video on YouTube every day. Over on TikTok, more than a billion individual videos are viewed daily.
Even Instagram — the world's most popular photo-sharing app — has announced that it's shifting its focus to video… probably because Instagram videos get twice the engagement of Instagram photos.
Overall, the average person spends about 100 minutes a day watching online videos.
The bottom line? Internet-using humans are obsessed with videos.
Which means that video should be a vital part of your marketing or social campaign. (Wait, should this have been a video instead of an article? Excuse us while we have a quick spiral.)
But you don't need a professional videographer to create professional-grade video content for your marketing or social media accounts. You just need a good list of free stock video resources.
Which is exactly what we've got for you here. Read on for a list of websites for stock footage you can repurpose, remix or reimagine, without any stress about copyright infringement.
(Looking for great stock photo options, too? We've got you covered there, too, with our list of free stock photo websites.)
So grab the clips you need, and then add text, graphics or music to create highly watchable videos for your next marketing campaign… all for a sweet, sweet budget of zero dollars.
Let's get to movie-making, shall we?
12 of the best sites for free stock videos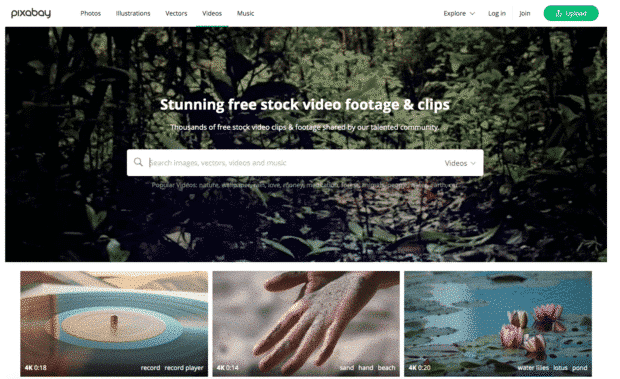 Pixabay offers over 2.3 million images and videos, all released under a simplified Pixabay License. All content on the site can be used for free, whether for commercial or non-commercial purposes, for print or digital. (Though certain downloads may specifically clarify "what is not allowed".) You don't need to get permission or give credit to the artist to use or modify the content, (but it's still best practice to always credit the owner).
Pixabay has a great collection of HD stock videos, whether you're looking for a quick 12-second clip of someone typing or a minute-long shot of future earth from space.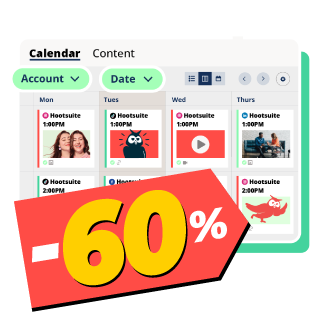 Our best deal EVER!
The deal won't get any sweeter. Get an annual Hootsuite plan 60% off and save up to $1,793 now.
Claim this deal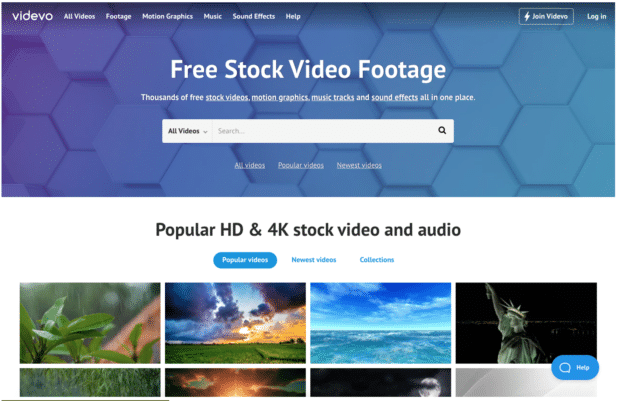 Videvo offers thousands of free stock video footage as well as motion graphics, music and sound effects created by their community of users.
The clips you download from Videvo will be licensed in a variety of different ways: some you may not be able to use for specific types of projects. There's a complete breakdown here of all the difference license types, but here's a quick summary:
Videvo Attribution License allows you to use a clip for free, but you have to credit the original author.
Clips with a Creative Commons 3.0 can also be used for free, with credit, and may be remixed or adapted.
Public Domain licenses mean that they're yours to do with as you wish!
Check out the individual usage rights for each video for more details.
Pexels began as a free photo site, but has since added a large library of free HD and 4K stock videos.
With Pexels' license, all photos and videos can be used for free, and without attribution (though giving credit to the videographer is certainly appreciated). Videos are OK to be edited and modified however you like.
Explore their daily "trending free stock videos" to find the most in-demand stock videos… like this soothing footage of hair being braided.
Videezy has a large collection of video clips that are royalty-free for personal and commercial use, but always make sure to check each clip's specific licensing info to make sure your favorite footage is available to use.
Most require that you credit Videezy.com when using their footage. However, you can also buy credits that will allow you to use footage without attribution.
There's a wide variety of high-quality video clips to choose from, in both HD and 4K resolution. When searching for videos, any results marked with "Pro" are premium clips that are only available by paying with credits.
Life of Vids is a collection of free stock videos, clips, and loops from Leeroy, an advertising agency in Montreal, Canada. There are no copyright restrictions, but redistribution on other sites is limited to 10 videos. (If you feel so inclined, they welcome you to buy them a beer or give them a shoutout on your website.)
New videos are added weekly, and they've got a beautiful collection of free stock images you can check out as well.
Started by entrepreneurs and filmmakers who needed good-looking video for their products, Coverr is intended to fill that same need for other up-and-coming brands: a little gift to the world, if you will.
Now, it has thousands of free videos, which have been downloaded more than five million times. All the videos are in HD, and available to download in MP4 format.
No sign-up needed, no attribution required, just instant downloads of free video footage. Use these sweet clips in commercial video projects or personal ones, and copy or modify them to your heart's content.
Splitshire was created by web designer Daniel Nanescu, who wanted to offer his photos and videos free for personal and commercial use. The fact that these photos and videos were all created by one person makes them more unique than content from other stock sites.
The videos are primarily drone footage of beautiful outdoor scenes, and you can download them by clicking on the title below each video. You're free to use them across all your social media channels, but you can't sell them or use them in projects with inappropriate content such as violence, racism, or discrimination.
Each month, Clipstill makes a handful of its web-quality "cinemagraphs" available for free download, so it's worth checking out and stocking up for future use. You never know when you're going to need some footage of a hot air balloon down the road, right?
If you don't want to wait around for just the right footage to come along (and have a few bucks to spare), you can also sign up for unlimited downloads for a one-time $49 fee.
Okay, it's not a collection of thousands or millions of clips, but maybe there's something among the hundreds of open-source 4K royalty-free stock video clips here that will tickle your fancy.
Formerly known as Stock Footage for Free, Dareful provides stock footage that's licensed under Creative Commons 4.0, which means you're free to share and adapt as long as you give appropriate credit and indicate if any changes were made.
It's all shot by a videographer named Joel Holland. Why's he giving it all away? We may never know, but we can watch this time-lapse footage of ominous clouds as we ponder.
There are new videos added every few weeks to the Vidsplay collection, which makes it a great resource for keeping your social video content fresh. And since it's been around since 2010, there's a huge backlog of older content to pursue, too.
You can download and use any video without paying royalties, although you do need to provide attribution.
What can you stock your content coffers with over at Mixkit? We're talking stock video clips, sound effects, music and even video templates. It's a library of resources provided by a company called Envato, a subscription service for creative assets, but this batch is free, free, free, with new content being added every week, with no attribution required.
Mazwai describes its free stock footage and moving images as "hand-picked," though it doesn't really specify by who. But whatever mysterious forces are choosing the videos that wind up here for download, you're going to get high-definition content that's either licensed under the Creative Commons 3.0 license (use for whatever, just make sure to credit the author) or under the Mazwai License (use for whatever, no credit required).
Once you've got your free stock footage ready to roll, check out our 10-step guide to creating great social videos. And then don't forget to track your social video stats to see just how it resonated with your audience.
Publish, schedule, and track the performance of your social video posts in Hootsuite alongside all your other social media activity. Try it free today.
Save time and stress less with easy Reels scheduling and performance monitoring from Hootsuite. Trust us, it's reely easy.
Free 30-Day Trial