The results are in. You won the award for Most Impressions on LinkedIn, Most Clicks Within a 24-Hour Window, and Overall Highest Engagement Award of the Year.
We're kidding. These awards don't exist (from what we know). But if they did, they'd be determined by LinkedIn analytics, as they're a means of measuring your social media success.
Why do we care about metrics? Hootsuite's senior manager of customer success, Gerard Recio, says it best: "Without measuring your social media efforts, how are you able to tell if your social strategy is working? Use analytics to establish baseline targets, then create short and long term goals to work towards."
We've given you the rundown for analytics across Facebook, Instagram, Twitter, and Pinterest—so it's about time LinkedIn got in on the action. To help you get the most out of LinkedIn analytics, we put together the following guide.
Bonus: Download a free guide to discover four time-saving tools to help you grow your LinkedIn network faster. Includes one tool that lets you schedule a week's worth of LinkedIn updates in just three minutes.
What are LinkedIn analytics?
What do analytics look like on LinkedIn? Like most social media platforms, it's often represented in followers, shares, clicks, and impressions.
For now, LinkedIn only offers insights for Company Pages.
What can you measure with LinkedIn Analytics?
As per LinkedIn, Company Page Analytics are split up into three sections—Updates, Followers, and Visitors:
1. Updates
Updates
A table showing the most recent updates and the following data:
Preview—Shows the first few words of your post if it included text.
Date—The date each update was posted.
Audience—Indicates whether the update was sent to all followers or targeted.
Sponsored—Shows which campaign(s) you've sponsored content in. Learn more about sponsored content.
Impressions—The number of times each update was shown to LinkedIn members.
Clicks—The number of clicks on your content, company name, or logo. This doesn't include interactions (shares, likes, and comments).
Interactions—The number of times people have liked, commented on, and shared each update.
Followers Acquired—How many followers you gained by promoting each update.
Engagement—This percentage shows the number of interactions plus the number of clicks and followers acquired, divided by the number of impressions.
Reach
A graph showing the trend on the number of times your updates were seen both organically and through paid campaigns on a daily basis.
Engagement
A graph displaying the number of times members clicked, liked, commented on, and shared your content in both organic and sponsored campaigns.
2. Followers
Total—The total number of LinkedIn members following your Company Page. The number displayed here is updated only once a day, so it may be different from the current number on your Overview tab, which is updated in real time.
Organic—Followers you gained without advertising.
Acquired—Followers you gained through Sponsored Content and/or Company Follow Ads.
Follower Demographics
A breakdown of who's following your company using five types of demographic data: seniority, industry, job function, company size, and more.
Follower Trends
Showing how your number of followers has changed over time.
How You Compare
Your number of followers compared to other companies.
Hot tip: How You Compare is a good insight to include in a competitive analysis. You can also use it as a benchmark to set goals in your social media strategy.
3. Visitors
Page views—A graph showing how many times your Company Page was viewed.
Career Page clicks—If you have a Career Page, this graph shows you how many times viewers clicked various elements of your Career Page. This metric might be useful for someone in your Human Resources department who's looking to see how much interest is being gathered by a job posting.
Unique visitors—A graph showing how many LinkedIn members visited your page, not including duplicate visits to a single page.
Visitor demographics—This is a graph showing a breakdown of who's visiting your Company Page based on seniority, industry, function, and company size.
Benefits of using LinkedIn analytics
1. Understand more about your audience
The key to engaging your LinkedIn audience is knowing as much as you can about them.
As a brand, you should have an idea of who you're speaking to—a buyer persona. Make sure your target audience is on LinkedIn by familiarizing yourself with the LinkedIn demographics that matter most.
The good news is that LinkedIn Analytics provides all the information you need to zone in on your target audience. With its Followers and Visitors sections, you get a good idea of what current and potential customers like about your brand.
Use LinkedIn's demographics graphs to get a breakdown of who's viewing your Company Page.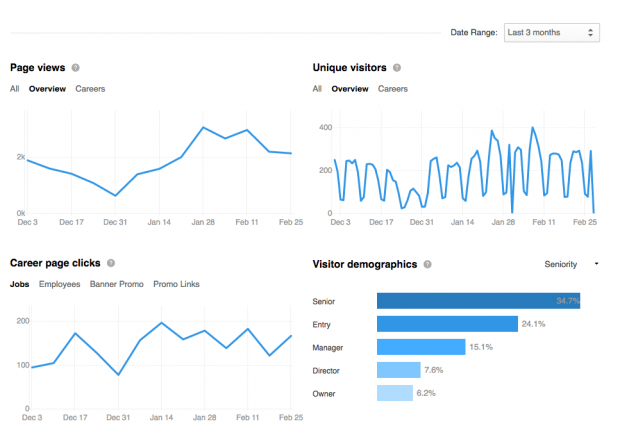 The demographics categories—seniority, industry, function, and company size—tell you about your audience's professional background. This is key to engaging them.
Let's say you're a publishing company that produces thought leadership content targeting the C-suite. LinkedIn Analytics will let you know if a CMO clicked on your last post. This is where you study their interactions with your brand and figure out what people are most interested in. Is it announcements on career movements within your company? Articles on industry trends?
Use these insights to start posting content your target audience wants to see. Curating and sharing relevant content with your audience is one of the best ways to boost engagement and spark more interest in your brand.
2. Replicate your success
You spent the last week creating a blog post on women in tech and you're excited to see how it's doing. How does it compare with other pieces you've published? Is it worth putting paid advertising behind it?
You can find this out from LinkedIn Analytics in the Updates section. With insights on likes, comments, shares, and clicks—you can figure out what content is doing well and what isn't.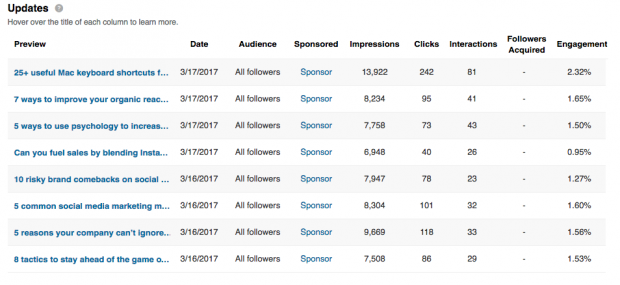 Analyze the updates with the most impressions and interactions—these are the posts receiving the most engagement. Check for similarities. What kind of content was in each update—images, copy, maybe a SlideShare presentation? What topics did they cover? A job posting? A product launch? What was the CTA, if there was one?
Use this data to tweak your social media content strategy to fuel engagement. It's also an opportunity to decide if you want to sponsor an update so it reaches more people. Under Followers Acquired, LinkedIn Analytics lets you know exactly how many new followers you gained through paid advertising.
3. Visualize your data
LinkedIn Analytics visualizes your data so can you see your social media performance at a glance. It makes identifying trends easy—such as spotting any dips or spikes in your data.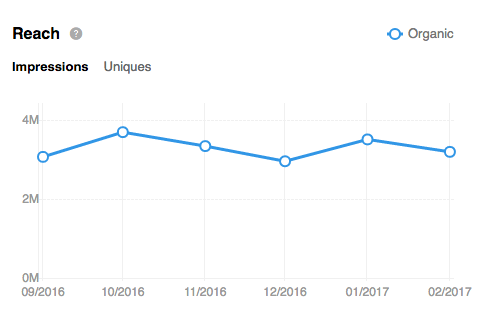 Hootsuite's social team likes to use the Engagement and Reach graphs to see a month-to-month comparison of specific metrics, such as clicks, likes, comments, and shares.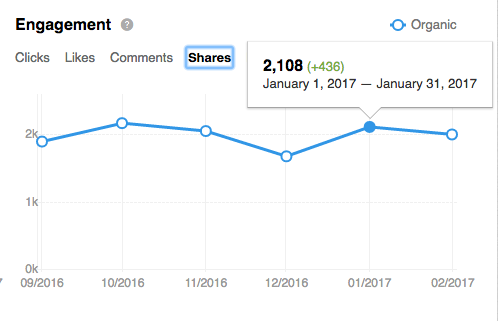 For example, in the picture above, we're measuring shares. By setting the date range to the last six months and hovering over the data points on the graph, you can see the total number of shares for January. This trick makes it easy to compare your social media efforts throughout the months.
Want to know more about data visualization? We know all about presenting data to prove the value of social.
LinkedIn analytics tools
1. Company Page Analytics via LinkedIn
Integrated right in the platform, LinkedIn provides company pages with data insights. To access it, you have to be the Company Page administrator on your LinkedIn business account.
If you need help creating a Company Page on LinkedIn, our post, LinkedIn for Business: The Ultimate Marketing Guide can help.
2. Hootsuite Analytics
Hootsuite Analytics lets you compare LinkedIn metrics alongside all your other social media profiles.
Our analytics tool also lets you build an unlimited amount of reports, taking your social media metrics and turning them into shareable visuals.
3. Brandwatch
Brandwatch is a social listening tool for every one of your social media handles. It even has coverage channels such as RenRen, Sina Weibo, Tencent Weibo, Taringa, and Xing. One of its coolest features? Metadata, which offers a deeper analysis with details such as location, positive or negative sentiment, and user demographics.
Easily manage your LinkedIn Company Page alongside your other social channels using Hootsuite. From a single platform you can schedule and share content—including video—and engage your network. Try it today.