This blog post may be titled "What is social commerce?," but maybe it should actually be called "Do you want to make some money?"
Global eCommerce sales are predicted to grow to $1.6 trillion in the next three years—an increase of over 100% compared to 2020. There's never been a better time to start selling on social.
Social commerce takes eCommerce businesses and makes them available on social media platforms, widening your brand audience and customer reach.
If you're a business with products to sell, this info probably makes you feel like that dollar-sign-eyes-green-tongue emoji.
Curious about how you can get a chunk of that change? We've got you covered. Read on for social commerce 101.
Bonus: Learn how to sell more products on social media with our free Social Commerce 101 guide. Delight your customers and improve conversion rates.
Social commerce is the process of selling products and services directly through social media.
With social commerce, the entire shopping experience from product discovery and research to checkout, takes place right on social media.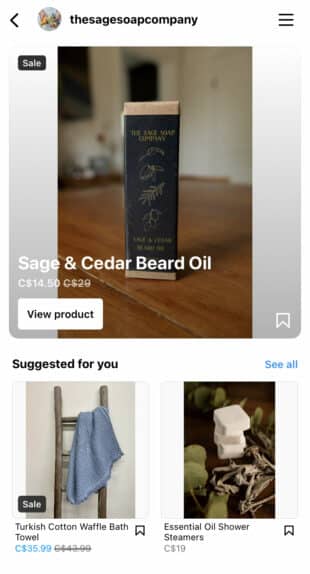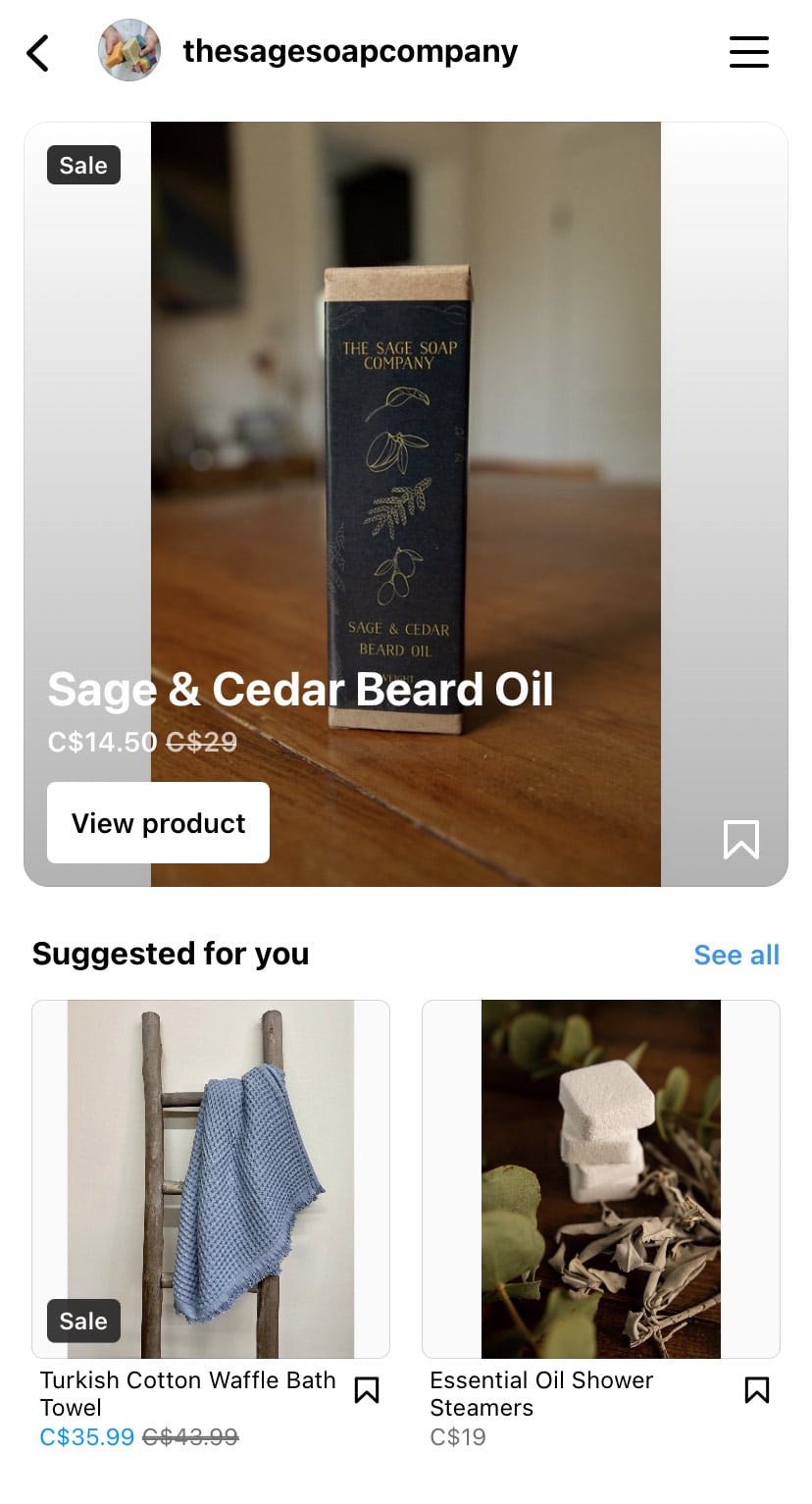 Currently, social apps with built-in native social commerce features are Instagram, Facebook, Pinterest and TikTok
With social commerce, you might see a pair of sweet strawberry-print clogs on your Instagram feed, hit "shop now", add it to your shopping cart and complete the purchase right there in the app.
Or, you could spot a well-priced crewneck as you're scrolling through TikTok, and click "Buy." Once your purchase is complete, you can continue to enjoy your usual TikTok experience by watching duet videos with your favorite artist, without missing a beat.
These are shopping opportunities (shopportunities!) right on the digital platforms that your audience uses most. And you should be taking advantage of them.
Social commerce vs. eCommerce
eCommerce refers to a shopping experience via an eCommerce site, online store, or dedicated branded app. Social commerce, by definition, allows the customer to make their purchase within their social media experience. Social commerce is not eCommerce.
Social commerce is also not social selling. Social selling refers to cultivating relationships on social media in order to build your sales prospect list. Read more about social selling here.
Not sure if setting up a social media shop is a good idea? Here are six reasons why social commerce is worth a shot.
1. Social commerce makes shopping a social experience
Shopping on social media makes the experience much more interactive than a typical eCommerce spree.
Consumers can easily consult with their friends on purchases, show off those hip new hightops, comment on Aunt Jackie's new "I Love My Niece" tee, review comments from other savvy shampoo shoppers, and interact directly with the kombucha brands they love.
For those who miss the social aspect of a day out at the mall, social commerce might just be the next best thing. (Though unfortunately without an Orange Julius pit stop.)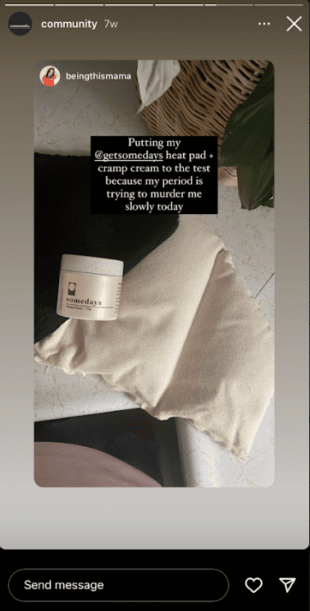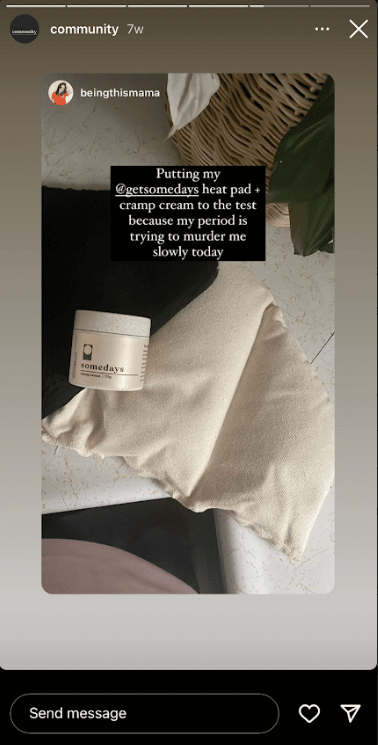 2. Social commerce removes friction
See it, click it, buy it. Social media shops remove friction from the consumer journey, making it easy to follow through from discovery to purchase. They're there. The product's there. Nowhere to go but the checkout.
Ultimately, every click of the mouse is an opportunity for a potential customer to change their mind. If they have to go from your ad to your website, to add the product to a shopping cart, to fill in their credit card info, that's a lot of moments to lose their attention.
Take those unnecessary steps away and just bring the shopping right to social.
3. There's some serious money to be made
Like Shakira's hips, numbers don't lie. Researchers are forecasting that e-sales will surpass $735 billion in the next three years.
If you want in on this action, it makes sense to bring your goods to the online spaces where your customers are already hanging out.
81% of shoppers research products on Instagram and Facebook, and shopping is a top priority for 48% of Pinterest users. Why not give 'em what they're looking for?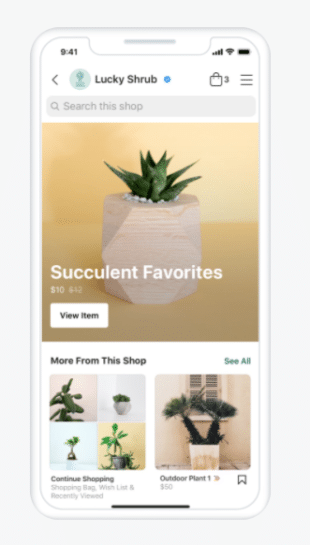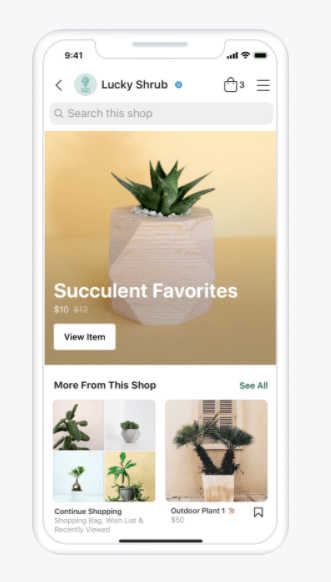 4. Social commerce offers an instant focus group
Not only does social commerce speed up the transaction process, but it also offers an incredible way to collect feedback.
Your catalog of goods is out there in the world for consumers to review and discuss together. No crystal ball is required: your customers can just tell you what they like or don't like.
Why not get your audience to vote and weigh in on product development and inventory decisions while they're there? (How are we feeling about my glow-in-the-dark wolf backpack design? Anyone? Hello?)
On social, you have clear data about exactly who your customers are, and the opportunity to chat with them after via comments or direct message, to provide personalized customer service.
5. Social media is where Millennials and Gen Z like to shop
If your target demographic lies in the 18-to-34 age range, they're already online and waiting to shop while they scroll.
48% of U.S. internet users of this age made a purchase on social media in 2019. For those in that demographic who haven't shopped on social media yet, 27% have expressed interest in giving it a go.
This is the modern mall. Time to open up shop!
6. You can sell to highly targeted audiences
With an incredible wealth of customer data available on social, you've got a prime opportunity to tweak and target your advertising.
Your horse-print bathrobes can be directly advertised to the flannel-loving equestrians out there. Adorable baby-sized sunglasses can be beamed right to the feeds of cool young dads.
Social commerce offers the chance to get specific, ready-to-buy products in front of specific people who would love them, in a way that traditional eCommerce and marketing cannot.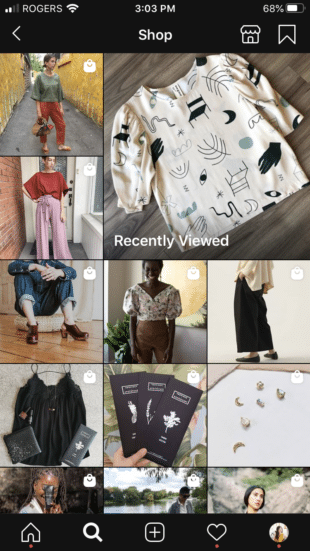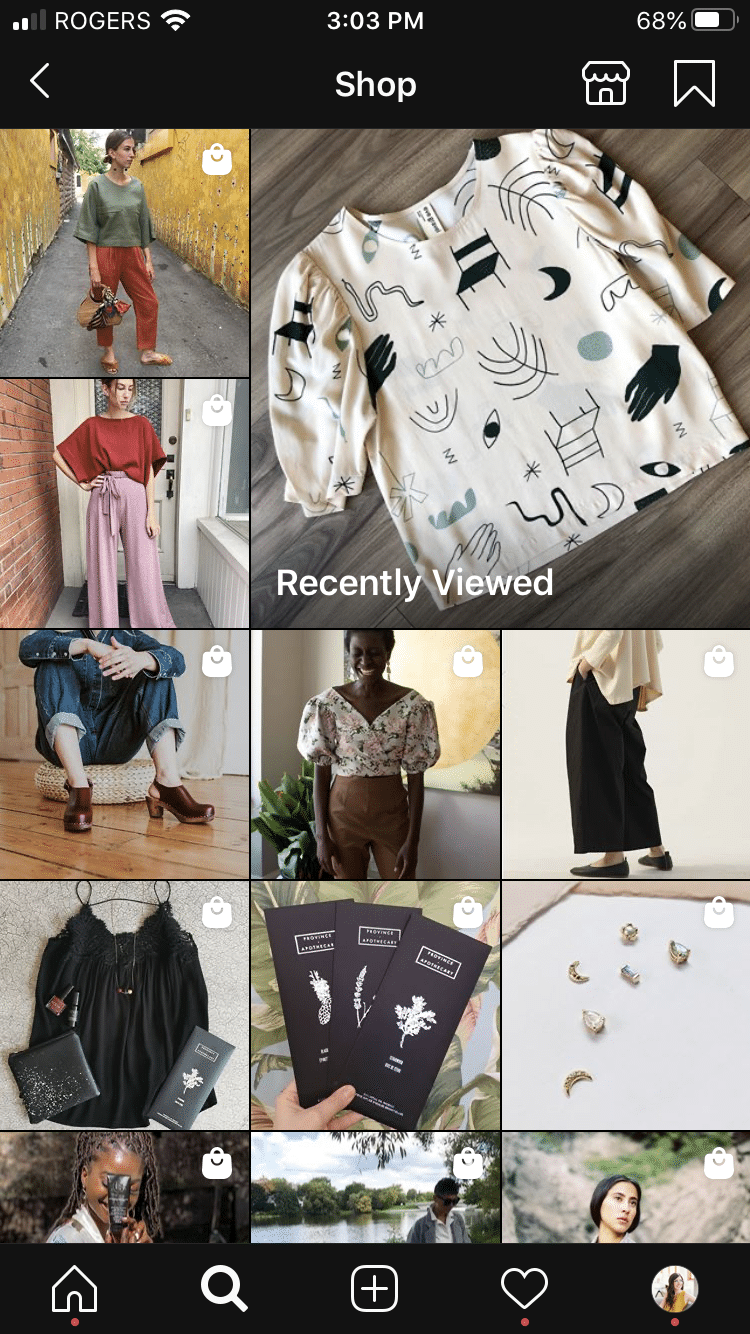 There are currently five social platforms that offer social commerce capabilities. But as the interest (and revenue) grows, it's likely we'll see more of these social media brands integrating "shop now" options.
Here are the current social commerce platforms available.
Facebook
You use your Facebook Business Page to share news, connect with fans, and show off your cute new logo. Why not use it to sell a few things and boost sales while you're there? Set up a Facebook Shop and you can do just that.
Facebook Shops are customizable. Choose which collections or goods to feature, and customize the fonts, images, and colors to suit your brand. Import an existing catalog of products from your website, or create one from scratch.
Your Facebook Shop will be accessible from your Facebook Page, your Instagram profile, your Instagram Shopping ads, or shoppable stories and post.
When it's conversion time, you've got the option for your customers to do an in-app checkout, or open up a direct Messenger chat with your business. You can also send them to your website.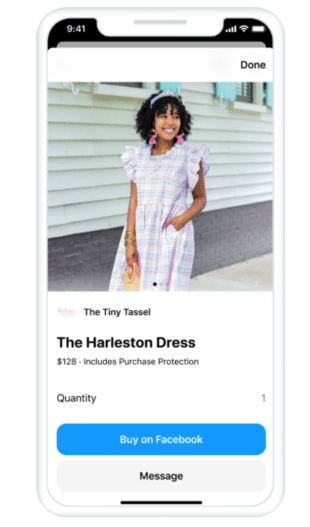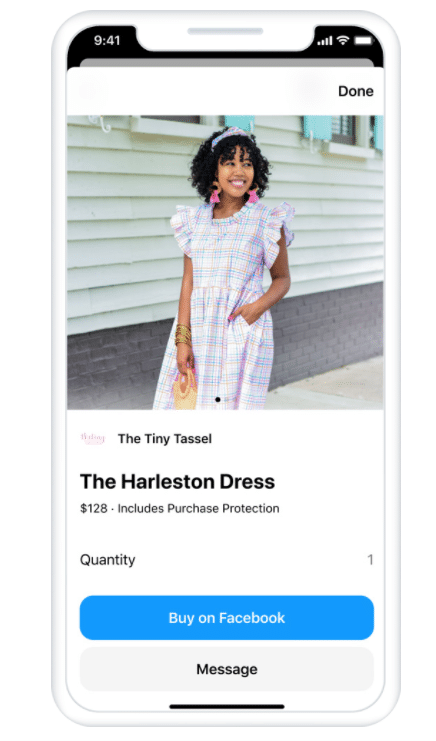 Once you start selling your products on Facebook, you'll likely see an influx of messages from your customers with questions about product details, shipping, and sizes. To save some time and make sure you never leave a question unanswered, use an AI-powered customer service chatbot like Heyday.
The Heyday chatbot can answer simple, repetitive questions for you right in Facebook Messenger DMs and flag the inquiries that require a more personal touch. Customer service has never been easier.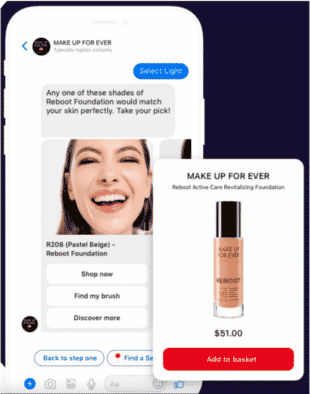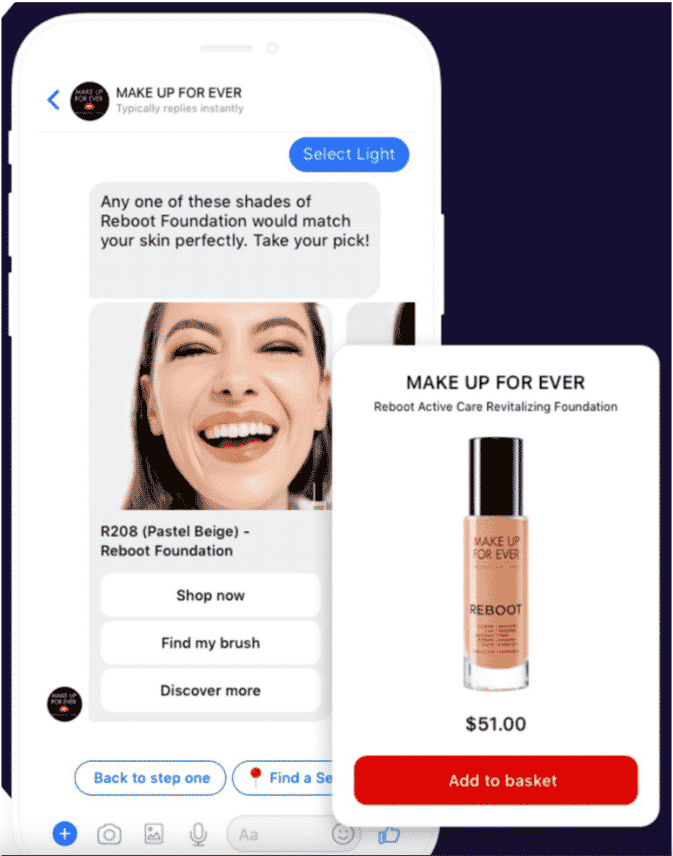 Another nice feature of Facebook Shops: you can create a test shop to learn more. Here, you can add items, manage orders, and even test out the customer experience.
Learn how to set up your own Facebook Shops with our step-by-step guide.
Instagram
60% of people discover new products on Instagram. Your products should be among them.
Instagram Shops allows users to buy products featured in your photos and videos from anywhere in the app.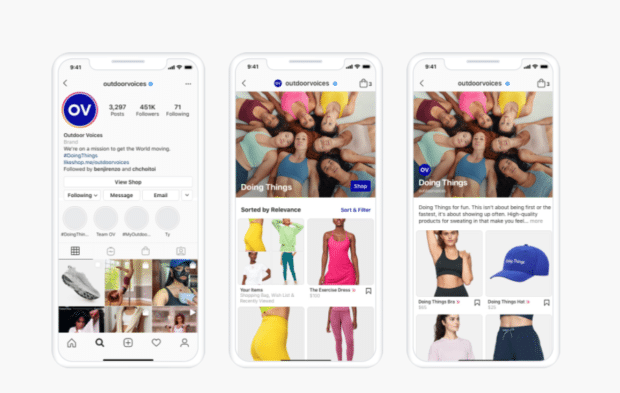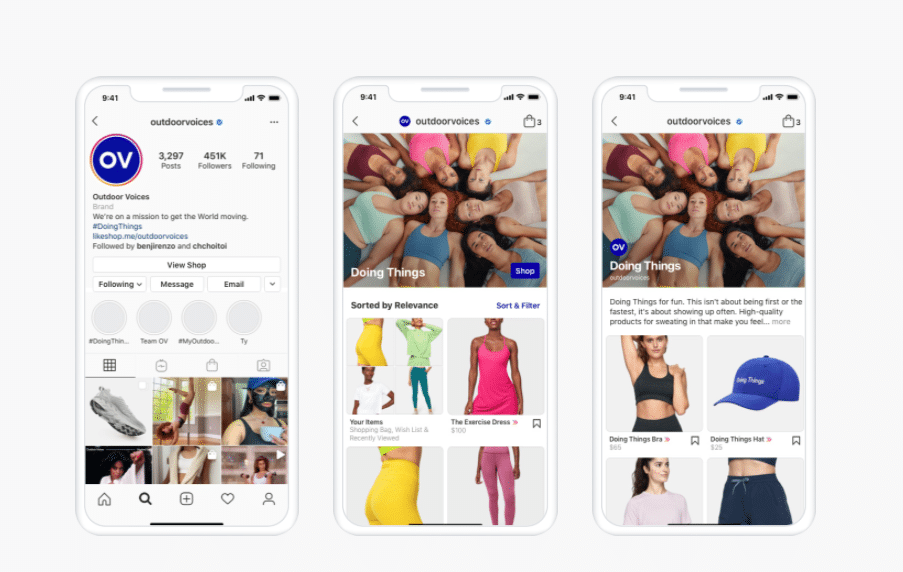 Business profiles can create a customizable storefront page that acts as a curated collection of products for sale. Each product in your Instagram Shop catalog will get its own detail page, featuring pricing, media, and a detailed description.
There are multiple ways you can sell products on Instagram. Shopping Tags allow businesses to tag their products in their Stories or posts. U.S. brands also have the option to highlight products in post captions and bios.
You can also sell through the dedicated Shop tab, where people can browse, save, and buy products listed by businesses or tagged by creators.
Or, you could create an Ad with a Shop tab placement within it. The Ad will appear with a "Sponsored" label and function as any other post or product listing in user feeds.
Meta also recently introduced a feature that makes it possible to shop through DMs. The capabilities are always improving and the demand is there.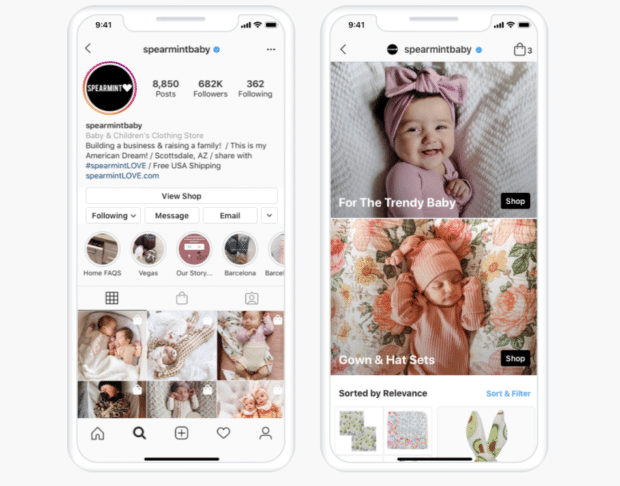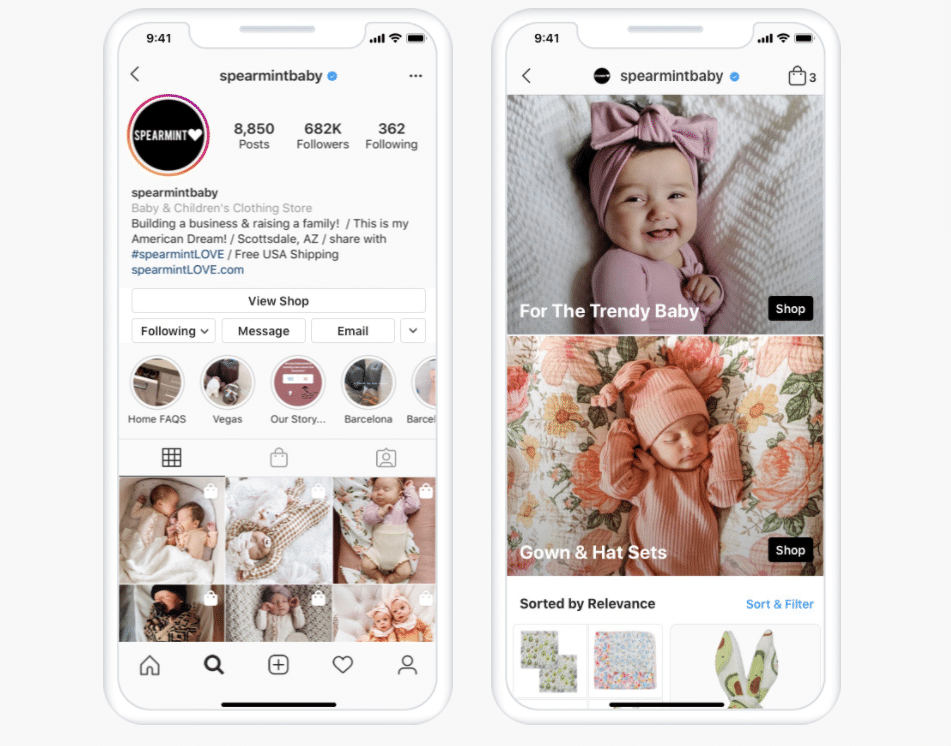 Note: To get your Instagram Shop set up, you just need to live in an eligible region and have an Instagram Business account that's connected to a Facebook page and Facebook Shop.
Learn more about how to set up your Instagram shop in our video:
Pinterest
Pinterest was one of the first social media platforms to offer shopping capabilities for users way back in 2015.
But there's some news you should pin right now: Pinterest does not strictly offer social commerce.
Yes, for business accounts, Pinterest does offer the option to create "Product Pins" (formerly Buyable Pins), which are displayed in your brand's Pinterest Shop. If a customer lives in the US and sees a Buy button below a Pin, they can complete their purchase through a checkout experience without ever having to leave Pinterest.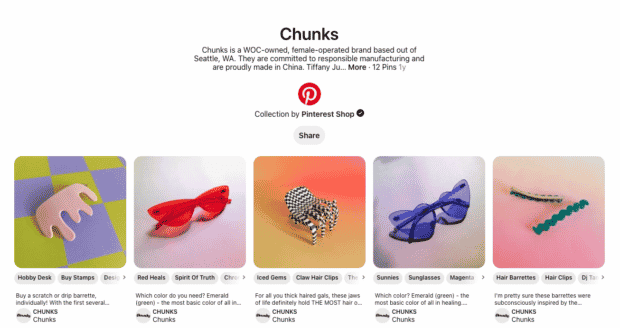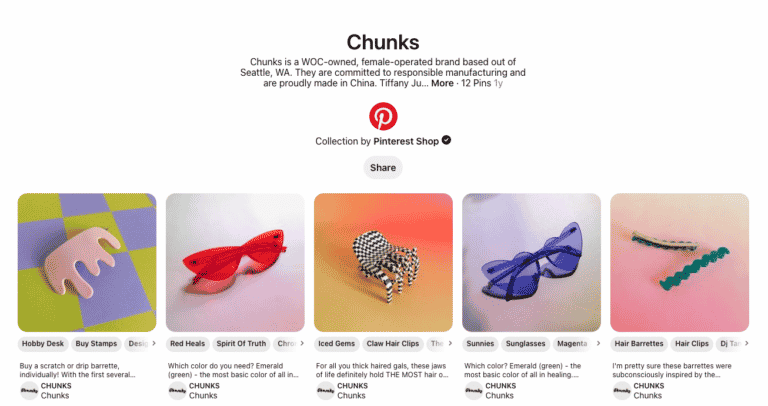 But outside of the US, it's important to note that these are not available to purchase within the app. Clicking on a beautiful vase, you'll be sent off of Pinterest to an eCommerce site to complete the sale.
Is Pinterest still a helpful tool for getting your goods out into the world? Absolutely — especially given that 89% of Pinterest users are there for shopping inspiration.
For more on making the most of your Pinterest account, here are eight business strategies to try.
Snapchat
In July 2020, Snapchat announced a closed beta launch of Brand Profiles. One of the profiles' features? A "Native Store" experience (powered by Shopify) that enables users to browse and purchase right from the app.
They debuted the feature with the help of five official approved influencer accounts — Kylie Jenner, Kim Kardashian, Shay Mitchell, Spencer Pratt, and Bhad Bhabie.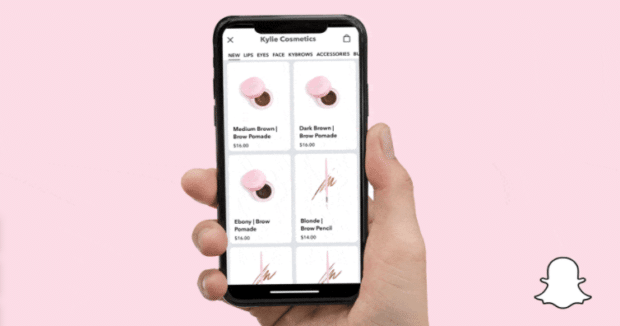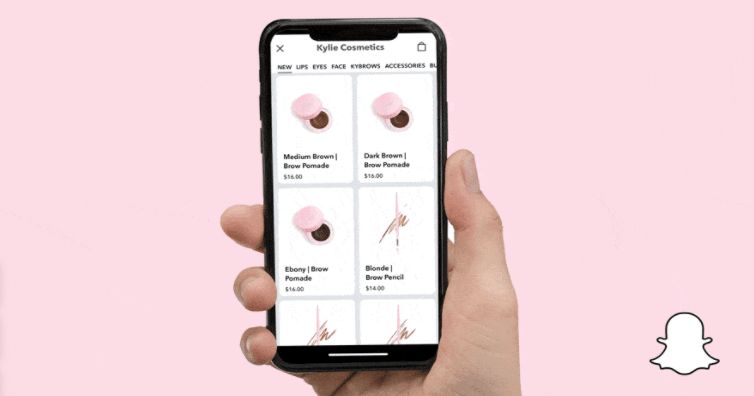 A few other brands have been approved in the meantime, and it's likely that this feature will expand to the rest of the non-Kardashian world eventually.
In the meantime, keep an eye on Kylie Cosmetics to see how she's making the most of the app's "swipe up to shop" capabilities.
Or brush up on your snap cred with the help of our Snapchat for Business strategy guide.
TikTok
Setting up a digital storefront on TikTok as a retailer or creator is a must if you want to stay relevant with today's buyers. TikTok Shop is the new shopping feature that allows merchants, brands, and creators to showcase and sell products directly on TikTok.
There are three ways to sell products on TikTok Shop:
in-feed videos
LIVEs
product showcase tab
The TikTok shopping experience is real. #TikTokMadeMeBuyIt, where users post what they've bought thanks to recommendations about products on the site, has been used 7bn times.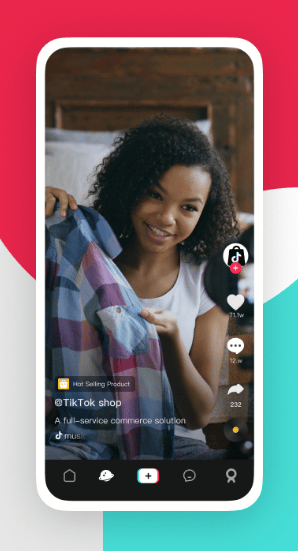 Note: In recent changes, TikTok pulled back plans to expand TikTok Shop capabilities from the North American market, but it's currently still available in the UK and Asia.

Bonus: Learn how to sell more products on social media with our free Social Commerce 101 guide. Delight your customers and improve conversion rates.
Your shop is set up. You're motivated and ready to sell. Here are key tips and tools that will help you make the most of this brave new digital shop-o-sphere.
1. Streamline sales and customer service with an AI chatbot
A swift and professional answer to a customer's question can make the difference between a sales and an abandoned shopping cart. With the right tools, you can automate your customer service and make sure that your customers are taken care of 24/7/365 (a.k.a. even when your team is not online).
Use a tool like Heyday to engage with your customers on their preferred channels and convert customer service conversations into sales.
Heyday is an AI chatbot for retailers that integrates your online store with your social media channels. It allows you to automate as much as 80% of your customer support conversations. When customers reach out to you on social media with questions regarding your inventory or order tracking, the chatbot assists them in real time (and passes more complex inquiries over to your support team).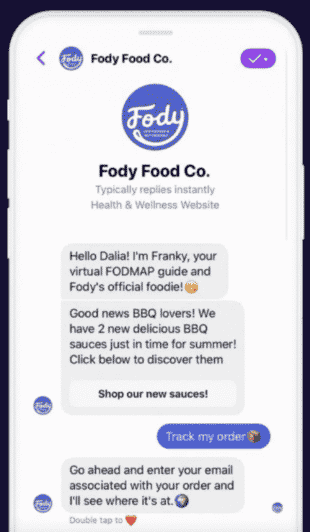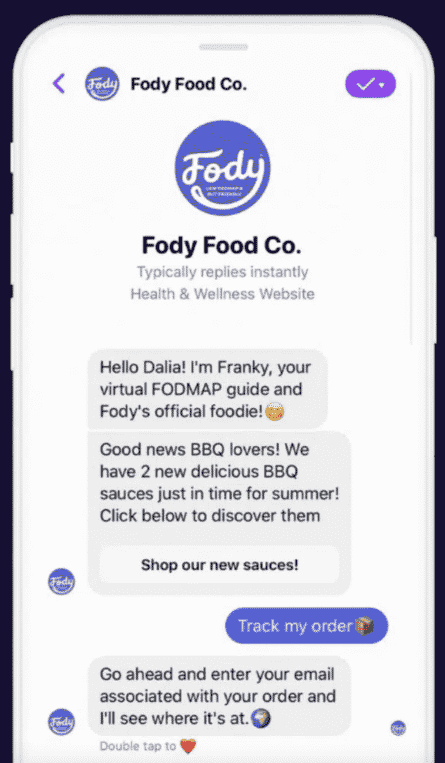 Heyday can also help you boost sales by automatically sending out back-in-stock and price-drop notifications to customers who had previously expressed interest in a product.
2. Engage with your followers
To create a great social commerce experience, you've got to remember the "social" part.
You can't just toss up your catalog and forget it. Answer questions, offer value and interesting content, be human and authentic, and so on. Set up a chatbot to help people move forward with their shopping journey through customer service.
The same best practices that you usually use for engaging your following all apply here.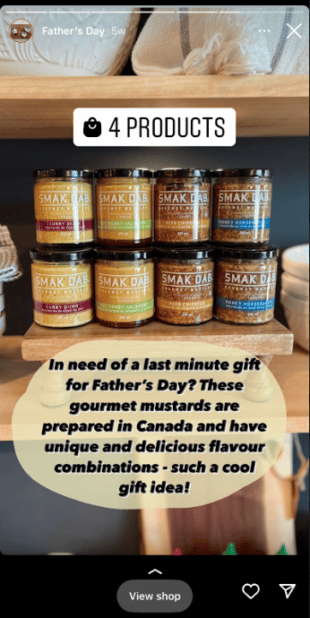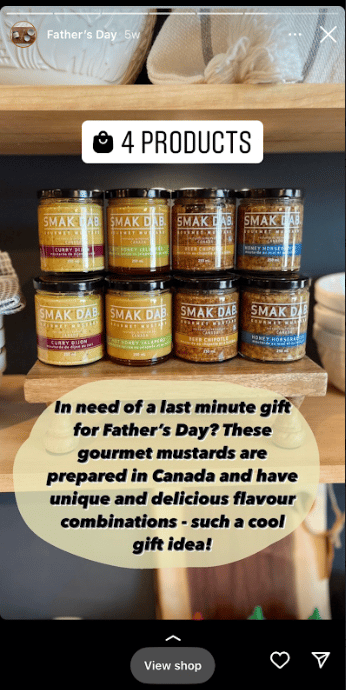 3. Listen strategically
You've got a front-row seat to your audience. Make the most of it.
Keep a close eye on comments and shares on your Shop, and respond or offer customer service when necessary.
Setting up social monitoring across all platforms can be a great way to catch feedback or industry news outside of your own bubble, too.
Check out our guide to social listening here.
4. Encourage reviews
93% of online shoppers say a review can make or break their decision. If you've got a product people are happy with, get them to help spread the word.
Whether it's an automated follow-up email asking for a review after a product has been delivered, or incentives like a contest to encourage previous customers to weigh in and share their experience, collecting social proof is vital to building a positive reputation online.
Once you've got some positive reviews, share them on your social feeds in creative ways, whether that's posting user-generated content, hosting a Live video with happy customers, or simply creating a carousel of positive comments. There are tons of ways to do this that won't make you sound like you're bragging.
5. Target your reach
Take advantage of the incredible data available to you on social to get your products or Shop in front of the right people.
Not sure who your audience is, exactly? Here's how to find and target your dream customer.
6. Price your products to move
Social commerce offers a great opportunity for lots of different kinds of products — clothing, dog toys, risqué pottery — but luxury products typically aren't successful here.
Because of the risk associated with buying something unseen, consumers are less likely to splurge on something with a larger price point.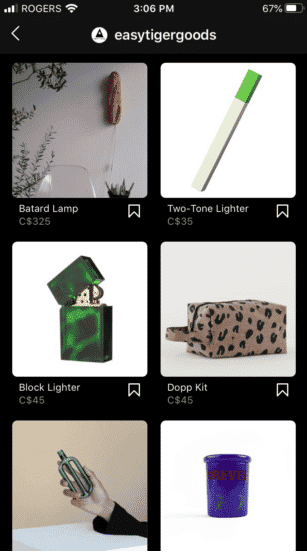 Shopify's data show that an under $70 price tag is ideal: right in that "why the heck not" sweet spot for many social users.
7. Include products from your Shopify store in your social media posts with Hootsuite
Though not strictly falling under the definition of "social commerce", Hootsuite users are able to easily post products from their eCommerce sites like Shopify, Magento, Woocommerce, and Bigcommerce, to their social networks via the Shopview app. It's an easy way to use social media to enhance your customers' online shopping experience.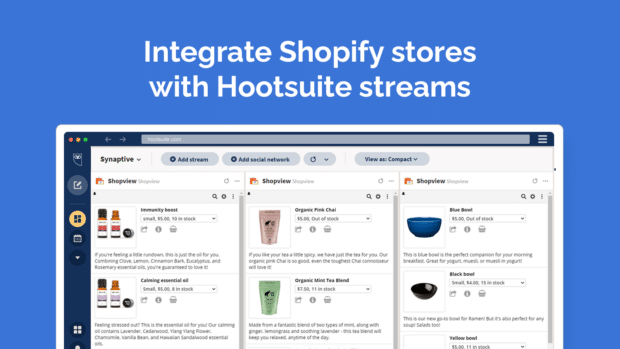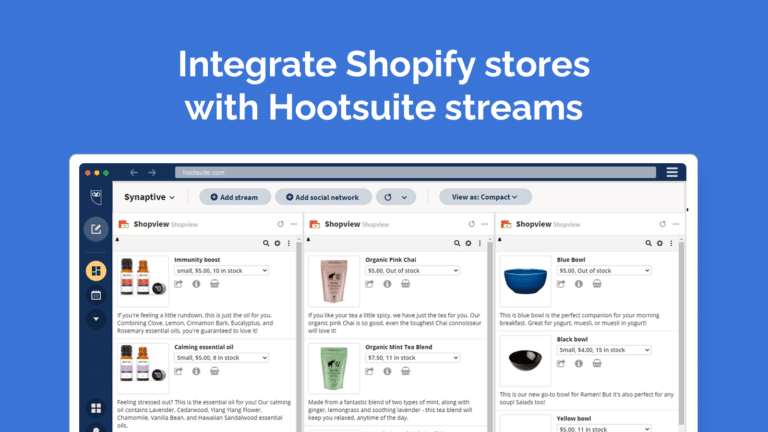 Of course, social commerce is likely just one piece of your overall digital marketing puzzle.
To craft a robust strategy that engages, sells, and intrigues all across the wide plains of the internet, dive into our Social Media Advertising 101 guide. Build up your brand across all your platforms for your best chance at success, online or offline.
Social commerce FAQ
What is social commerce?
Social commerce is the use of social media platforms to promote and sell products and services. It encourages and allows users to buy products directly within social media platforms, never having to open another browser.
How does social commerce work?
Social commerce capitalizes on the sheer amount of people using social media platforms around the world. For example, 59% of U.S. adults use Instagram daily and 38% of those daily visitors are logging on multiple times per day.
That's a huge potential audience for brands to advertise to, far surpassing any reach from television, radio, and print advertising.
Social media users can discover and explore brands, products, and services, add products to their shopping lists or carts, and complete checkout — all without leaving the social network.
Social commerce can involve the use of native shopping solutions (e.g. Facebook and Instagram Shops) or eCommerce integrations (e.g. browsing a product catalog and adding items to a cart on a social platform, then completing checkout in an online store).
What are the types of social commerce?
Native social media shopping solutions (e.g. Facebook and Instagram Shops)
Marketplace sales, a.k.a. peer-to-peer sales (e.g. Facebook marketplace, Craigslist, eBay)
Curated shopping lists (e.g. Shopping Lists on Pinterest)
Live shopping events (e.g. on Facebook Live)
Shoppable AR filters (e.g. shoppable Lenses on Snapchat)
Why is social commerce important?
Social commerce allows brands to make sales directly on social media. It's an effective sales strategy because it removes friction from online shopping experiences that start on social platforms. Many people discover products they like while browsing social media. Allowing them to click through to checkout without leaving the social network makes for a quick and streamlined experience, and reduces the risk of abandoned shopping carts.
What are some social commerce examples?
Examples of social commerce include:
Domino's Pizza taking orders via an automated Facebook Messenger flow
Mac Cosmetics' shoppable AR Lense on Snapchat
Gap using Instagram Guides for curated shopping lists
Nike using Product Pins on Pinterest
Best Buy Canada's Shop tab on Facebook
Engage with shoppers on Instagram and turn customer conversations into sales with Heyday, our dedicated conversational AI tools for social commerce retailers. Deliver 5-star customer experiences — at scale.
Turn customer service conversations into sales with Heyday. Improve response times and sell more products. See it in action.
Free Demo