Social Media for Business Guide
As much as you might love marketing your brand with billboards or radio ads, the fact is, social media for business has to be part of your marketing strategy in 2023. Sorry!
Social media is an essential way to reach your customers, gain valuable insights, and grow your brand. If you're avoiding this powerful communication tool, you're missing out on an incredible opportunity to connect with an audience. (Is this the "inner saboteur" RuPaul is always talking about?!)
Read on for everything you need to know to build a winning social media marketing strategy for your business.
'Social media for business' refers to the use of popular social media platforms by companies with the goal of promoting their products or services to their target audiences.
Millions of people across the world use social media platforms for personal reasons (my aunt, Madonna, et cetera), but brands may also operate social media accounts and use them for marketing and communication.
Alternative milk brand Earths Own, for instance, shares recipes on its TikTok account.
Jewellery company Tiffany and Co. shares inspirational videos on X (formerly Twitter).
House ambassador #Jimin of BTS visits The Landmark in New York City. Discover more: https://t.co/UgjaooBa9T #TheTiffanyLandmark #JeanSchlumberger #TiffanyAndCo pic.twitter.com/bFgdq5afJx

— Tiffany & Co. (@TiffanyAndCo) August 7, 2023
International bank HSBC posts fraud-safety information on its Instagram.
Large or small businesses can use social media as a tool to generate brand awareness, promote content, engage with customers, generate leads, perform market research, analyze competitors, gain insights on their audiences, or collaborate with influencers. That's a lot of bang for your buck, considering that social media platforms are all free to join.
We get it, you're a busy business person who doesn't have time to follow all those helpful links we've just listed above! Here's a full rundown on just how you can use social media to improve your business.
Increase brand awareness
Social media offers businesses the opportunity to create and share content to raise awareness about their brand. Consistently post relevant and engaging content, and word may just trickle out across the internet about all the cool things you're doing.
Non-alcoholic beer brand Nonny, for instance, produced this Instagram post highlighting that its product is available at Michelin Star restaurants.
Engage directly with your customers
Another benefit of social media for businesses? Social media platforms can provide a direct line of communication between companies and their customers. On Facebook, on Instagram, on X, companies can interact with their audience directly or publicly in a way that feels more responsive and personal than email or a 1-800 hotline.
Class Pass, for instance, uses its X account to help customers in need.
@classpass I am here at the gym and they are telling me I cancelled — but I did not. How do I get in?

— Mother Jam (@motherjam2) August 7, 2023
Use this intimate communication method to respond to inquiries, address concerns, and build a stronger relationship with their customers. (Brush up on social media customer service tips here!)
Promote your content
Think of social media as your new favorite publishing outlet. Use your Facebook account to drive traffic to blog posts, share an article on your X account, and distribute a video via TikTok. You've put lots of hard work into crafting informative or entertaining content for your potential customers and existing audience — use the magic of social media to actually get it in front of people.
Bonus: Get a free social media strategy template to quickly and easily plan your own strategy. Also use it to track results and present the plan to your boss, teammates, and clients.
Influencer Kelsey Nixon uses her Instagram account to direct people to recipes on her website.
Generate new sales leads
Potential customers are hangin' on social every single day… go get 'em, tiger!
Not only do you have an avenue to build relationships and practice social selling here, but social media platforms also offer advertising and targeting options. Target specific audiences based on demographics, interests, and behaviors, and build an incredible roster of sales leads.
Conduct market research
Get comfortable using social media analytics tools, and you'll find yourself awash in incredible market intel. Social media can provide insights into customer preferences, opinions, and behaviors, so that you can make informed decisions (online and offline!) about your products and services.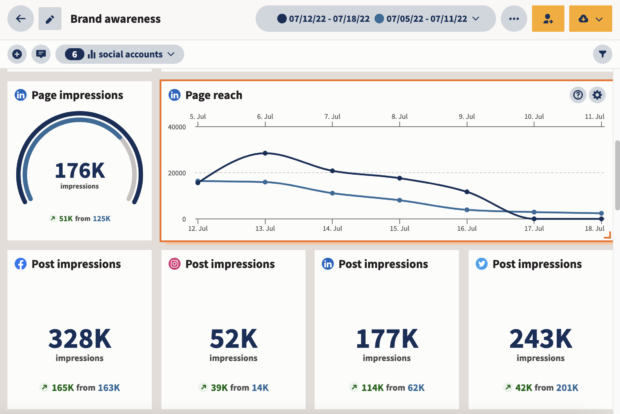 Watch the competition
Watch your competitors to learn what's working… and what's not. Use social listening, social streams, and competitor analysis to discover valuable insights about your customers, business strategies, and industry trends.
Collaborate with influencers
Over the past decade-plus, social media platforms have produced their own universe of celebrities. These are people with expertise, influence, and attentive audiences… and savvy businesses know just how to tap into that power. If your business is on social media, consider teaming up with an influencer for a campaign or long-term ambassador program. Our influencer marketing guide is a great way to get up to speed on how this brave new world works.
Manage your reputation
Even if you haven't been on social media this whole time, chances are, your fans and customers are… and your haters may be, too. People might be talking about you without your knowledge, gossiping up a storm on X, or sharing unflattering Instagram Stories slagging your product. If you're not there to rein in the convo, who knows what might happen?
Both extreme fans and major haters comment on Lululemon's Instagram posts, but the social team is handling both.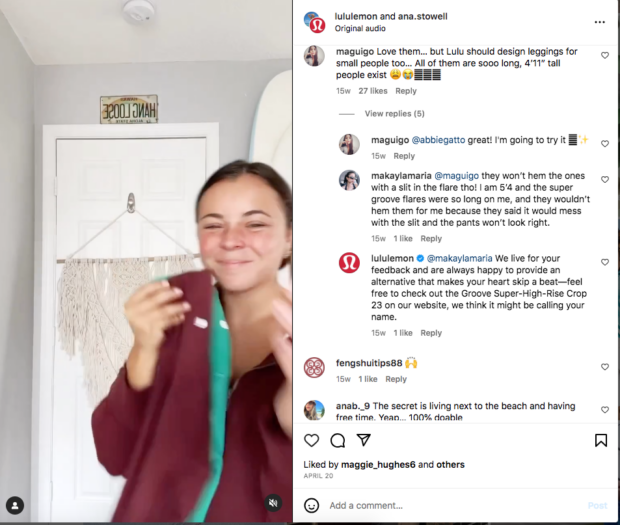 Being active on social media is important for any business interested in protecting its reputation. Spotting negative sentiment is the first step to nip problems in the bud. And on the flip side, rewarding or celebrating your big fans and cheerleaders may encourage more people to show your brand a little love. Learn more about social media reputation management here!
Target hyper-specific audiences with ads
Social ads are an inexpensive way to promote your business and distribute content. They also offer powerful targeting options so you can reach the right audience and make the most of your budget.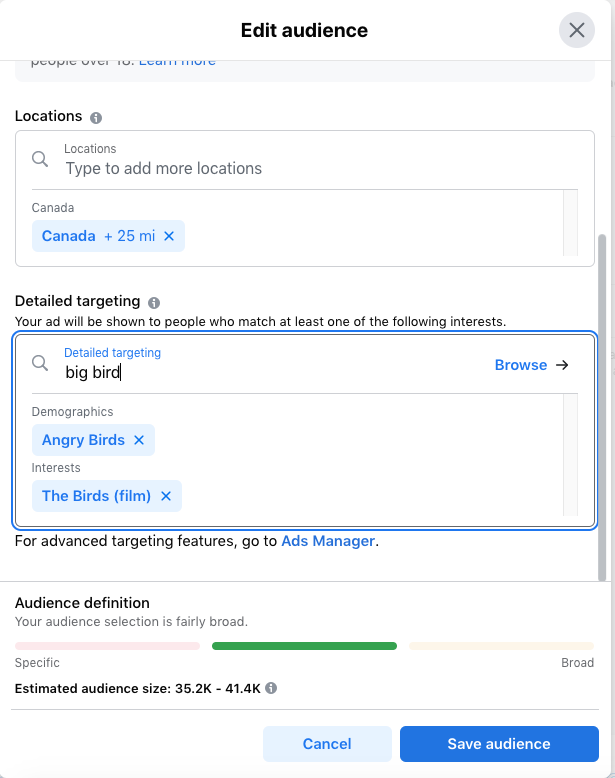 With ad targeting options including demographic information, geography, language, and even online behaviors, you can craft specific messages that best speak to different groups of potential customers and only pay for the exact viewers you want to reach.
Prove your ROI
It is always a challenge for marketers to prove a return on investment. But with social media tracking and analytics tools, you can see the full impact of your social media activities, from follows to engagements right through to purchases.
Tools like Google Analytics and Hootsuite Impact track website traffic generated from social media, conversions, email sign-ups, and ROI for both organic and paid social media campaigns.
UTM parameters are another great tracking tool that will help you see which social networks are providing the most benefits for your business.
You're a business person, so we're going to make a sweeping assumption that you love numbers. So here's a figure for you: more than 4.74 billion people across the world use social media. That's 93% of internet users and 76% of all North Americans.
If your business isn't on social media, you're missing out on a chance to reach these potential customers. Here are some more stats about the power of social media that will knock your business socks off:
The TLDR: numbers don't lie, and there's money to be made on these apps. What are you waiting for?
For more staggering stats, check out this list of social media statistics for social media managers and these important social media advertising stats.
The best social media platform for your particular business will depend on which one aligns best with your desired audience. But here's a quick rundown of what each can offer business users.
YouTube is the second-most visited website in the world. And though we may think of it at this point as an entertainment platform, it actually is technically a social network. Anyone can publish content and keep up with their friends and fave brands; you're connecting with people and engaging with creators; it's Social Platforms 101.
And like the other major players in the social world, YouTube has some interesting benefits for businesses.
Your community can gather together on your channel
Connect with your fans with YouTube's live-stream function
YouTube ads are available in a variety of formats: in-stream ads, in-feed video ads, and masthead ads, too.
You can also make money from other people advertising on your content if you have enough views. On average, YouTubers make between $3 and $5 per 1,000 video views through AdSense.
Learn more about starting a YouTube channel for your business here.
Meta owns both Facebook and Instagram (and WhatsApp and Messenger, for that matter), so there's a lot of overlap for these platforms — and many people using them, too. During the second quarter of 2022, 3.65 billion people were using at least one Meta product each month.
You can execute a cross-platform ad campaign, cross-post content, combine your customer service functionality through a unified chat tool, and even set up a digital storefront.
Use Meta Business Manager to coordinate both organic and paid campaigns across platforms
Hone in on specific target markets with advertising campaigns
Add live chat to your website using Meta-owned Messenger
Learn more about using Meta for business here.
With more than one billion monthly active users, TikTok is the hot spot for brands online. The short-form video platform offers lots of opportunities to get involved organically with the community via challenges and trends. However, if you've got a few bucks to spend, a little can go a long way here.
Learn more about TikTok for business here.
X is a text-based conversation platform (formerly known as Twitter), that connects brands with customers, leads, and brand advocates. According to X internal data, 76% of people agree that conversations on the platform have inspired them to make a purchase.
On X, you can provide dedicated customer service, providing speedy support through DMs.
X Lists are a great way to monitor your competition or keep an eye on your industry.
Advertising on X can amplify your reach and engagement, whether you want to drive traffic to your website, generate leads, or build brand awareness.
Learn more about using X (Twitter) for business here.
Though it's not as highly hyped as TikTok, Pinterest still can be an incredible social media platform for businesses… if the audience (all 465 million of 'em) is right for your brand, of course.
According to Pinterest Business, social media marketers turn to the platform to:
Reach a new audience and grow an online presence.
Drive more traffic to the business's website or online store.
Encourage conversions like newsletter sign-ups, ticket sales, or purchases.
Learn how to use Pinterest for business here.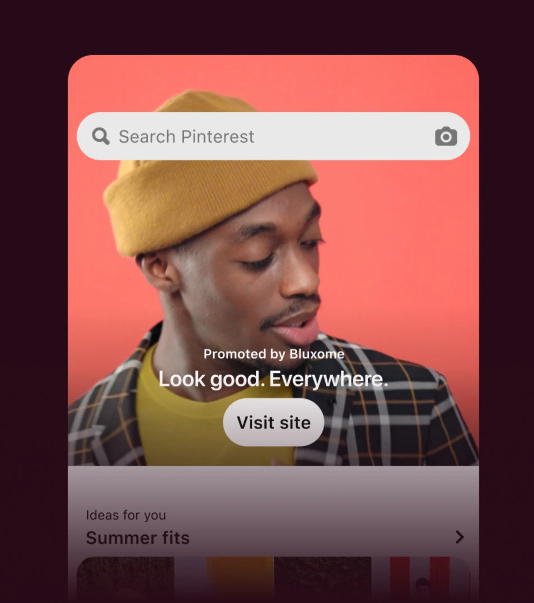 Wanna connect with the kids? There are 319 million users active on Snapchat each day, and the bulk of those Snappers are under 35.
Some unique Snapchat features for brands include…
Creating a sponsored AR lens
Designing a branded geo-filter
Advertising on Snapchat with a variety of advertising formats, from Shop ads to "Swipe Up to Call" ads.
Learn more about Snapchat for business here.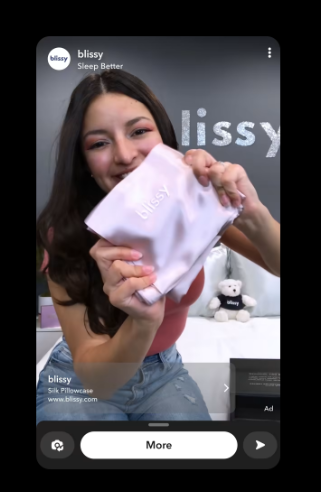 This is one of the only social media platforms specifically designed for businesses, so you're definitely going to want to get in the mix here.
Why is Google Business Profile so powerful?
Customers see your profile when actively searching for a business like yours.
Customers can quickly get a feel for your brand from your photos, reviews, and updates.
Keeping your profile updated is a small time investment with a big payoff: More customers.
Learn more about how to create a customer-winning Google Business Profile here.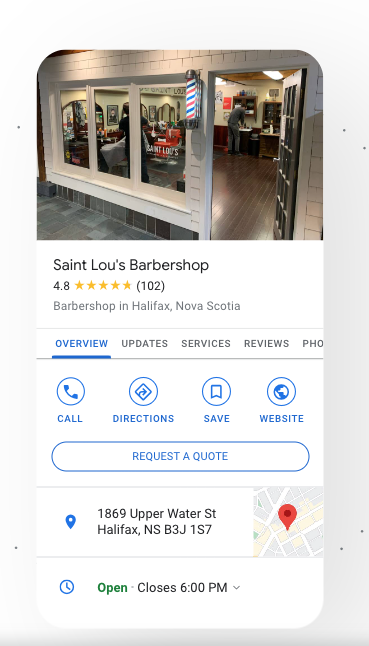 Social media tips for business
Here's how to make a splash with your business's social media account.
Set a specific social media goal
Without well-defined goals, measuring success and return on investment (ROI) is next to impossible.
Before you start posting up a storm, create a social media marketing goal that follows the SMART criteria (that means specific, measurable, attainable, relevant, and time-bound).
It's important to avoid getting caught up in vanity metrics like the number of followers and likes — these stats may not reflect the true value of your performance. Instead, focus on meaningful metrics like engagement, click-through rates, and conversion rates.
Need some examples of SMART social media goals? We've got you.
Understand your audience
Social media analytics can offer a wealth of valuable information about your followers. Dig into the numbers to understand demographics, geographical locations, and interactions with your brand.

It's not just fun to learn about other people, of course: these insights empower you to fine-tune your strategy and tailor your content to better target your audience's preferences.
Here's a simple guide and template for creating audience/buyer personas.
Be consistent
Social media users love someone they can count on. Deliver content reliably, and you'll be rewarded. Regularly sharing content helps to build brand awareness and keeps your business fresh in the minds of your followers. Maintain a consistent posting schedule to keep your audience engaged.
Comic artist Clarice Tudor posts to Instagram a few times every week, making her work (and the products she sells) a fixture in her followers' feeds.
Try it for Free: Start Your Free Trial
Create content that people actually enjoy
You could spam people with 100 meaningless posts a day… or you could focus on creating high-quality and valuable content that actually provides solutions, entertains, educates, or inspires. We know which one we'd rather see in our feeds.
This mortgage broker doesn't just ask you to hire him, he shares insights on the real estate market that can be helpful to even non-clients.
Avoid overly sales-y posts; instead, aim to build a genuine connection. If you brighten someone's day, teach them something, or give them a moment to relate to, you're far more likely to make a lasting impression and gain a new follower.
Here are 19 ideas for super engaging posts.
Post visual content
Look, we love to read as much as the next nerd, but humans are naturally visual creatures. Give your followers something to gawk at. Eye-catching images, graphics, and videos will help your posts stop someone mid-scroll to engage with your content.
Swimwear brand Left on Friday dropped this soothing, looping video of the ocean into its Instagram feed. If that doesn't stop you in your tracks amid the chaos of your news feed, what will?
Dig into our guide to creating stunning visual content for tips, tricks, and inspiration.
Engage with your followers
Social media is a conversation, not a broadcast, so take advantage of this two-way street. Respond promptly to comments, messages, and mentions. Encourage discussions and interactions on your posts. Engaging with your audience builds trust and loyalty.
Hone your hashtag and social SEO strategies
Though many platforms are upping their search functionality, hashtags still help increase visibility and attract a broader audience.
For anyone hunting for #barbie content, there's plenty to be found…
Research relevant and trending hashtags that align with your content and target audience, and make sure you're using no more than 3-5 in any given caption. Mastering the art of discoverability is key to growing your audience. Explore our guide to using hashtags in 2023 here.
Run contests and giveaways
Fact: People like free stuff.
Organize fun and creative contests or giveaways to boost engagement and attract new followers (we've got 12 inspiring examples right here). It's a great way to both reward your existing audience and gain more visibility.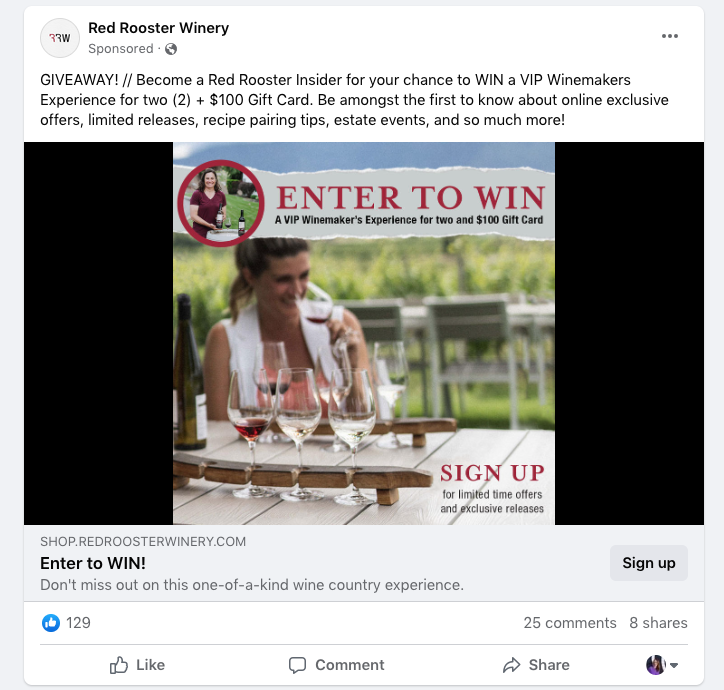 Learn from your analytics
Knowledge is power!
Use social media analytics to track the performance of your posts and campaigns. Reviewing successes and flops will help you and your team understand what works best, so you can adjust your strategy accordingly and see those key metrics climb up, up, up.
Post with authenticity and personality
No one comes on social to be fed a boring advertisement.
Get creative, and get real. Be genuine in your interactions and communications. Transparency builds trust, and customers appreciate businesses that are open and honest.
This publishing house may have grammar pros and proofreaders on staff, but its Facebook posts are written in colloquial, friendly, internet-speak (complete with emojis, of course).
h
Repost user-generated content
Sometimes, staring at a blank social media dashboard can be daunting, we get it. But if you've got a steady stream of user-generated content coming in, you never have to fear writer's block again.
Encourage customers to share their experiences and content related to your brand, advocating the use of a branded hashtag (#myLevis, #dogStyle, whatever!). Not only does this repurposed content keep your content calendar nice and full, but sharing user-generated content can act as social proof.
Team up with influencers
Tap into the power of the people who do social best. Partner with influencers in your niche who align with your brand values to significantly expand your reach and credibility.
Check out our guide to influencer marketing here.
Practice social listening
A little eavesdropping goes a long way regarding social media for business. Set up streams to track discussions about your brand, products, and industry. Monitor mentions — the good and the bad! Social listening is like a superpower, one that helps you understand customer sentiments and respond effectively to feedback.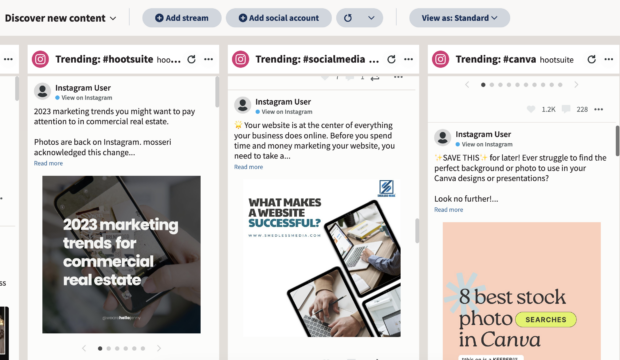 Experiment with live streams
Live videos on platforms like Instagram, Facebook, and X offer a more authentic and real-time connection with your audience, whether that's running an "Ask Me Anything" chat, giving a behind-the-scenes tour, interviewing a brand ambassador, or hosting a giveaway.
Unfiltered! Unapologetic! Give the people what they want! Learn more about social media livestreaming here.
Keep an eye on the competition
You know the old expression, "Keep your friends close and your enemies closer"? That goes double for social media. Wise brands keep an eye on their competitors' social media activities to learn from their successes and mistakes. More about competitive analysis on social media here.
Watch the trends and stay in the know
Social media is an ever-evolving beast. If you want to stay relevant, you've got to keep up-to-date on trends. Follow online tastemakers, keep your eye on the explore page, and generally stay active as a participant.
It's also vital to stay in the loop about the always-changing algorithm of these social platforms — behavior that's rewarded today may be totally unhelpful tomorrow, so stay tuned to the Hootsuite blog for the latest algorithm intel, and adjust your social strategy accordingly.
Explore more social media best practices here.
Trust us: arming yourself with the right social media marketing tools us going to make your marketing life so much easier. Here are a few of our faves for business (but we've got even more recommendations if you're ready to take things further).
Not to brag, but Hootsuite is an easy-to-use, comprehensive social media tool designed to cater to both individual entrepreneurs and large teams. If you want to streamline your social media efforts effectively, you've come to the right place.
Hootsuite's social-focused features provide a centralized platform for the entire social media marketing process: creating, scheduling, optimizing, and tracking social media posts.
With Hootsuite Composer, you can effortlessly plan and share content across various channels, including Instagram, Twitter, LinkedIn, and YouTube. (For added convenience, Composer seamlessly integrates with useful tools like Canva, Grammarly, and our in-house social AI tool, OwlyWriter.)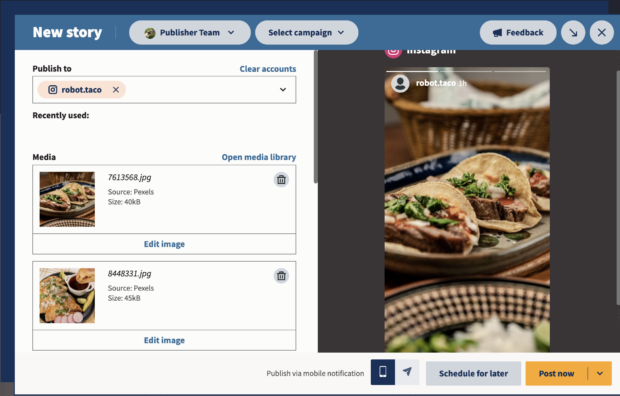 Using Hootsuite, you can easily repurpose your best-performing posts, identify and correct typos, upload branded graphics, and receive valuable recommendations for optimal hashtags and posting times.
Another super helpful feature for business is the Hootsuite Inbox. Inbox pulls all social media messages and interactions into one unified interface, regardless of platform. Hootsuite Inbox simplifies conversations and customer service, enabling you to reply swiftly and trace a person's interaction history with your brand, ensuring no customer is ever left hanging.
If you're flying solo or have a small social team without a graphic designer, Canva is the go-to for crafting original and branded graphics. There's a reason it's a favorite tool among social media marketers.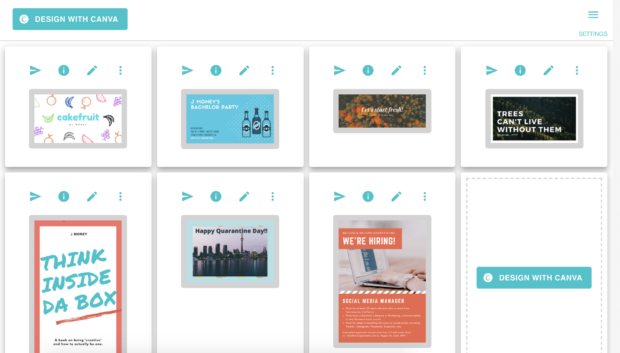 Regardless of your design background, anyone can use Canva's templates and fool-proof drag-and-drop design functions to create stunning visual content.
If you already have a Hootsuite account, you can easily connect it to Canva for direct access to upload and use your creative assets right in Composer. Ooh la la!
At best, a typo can make your posts look sloppy and unprofessional. At worst, they can cause confusion. So getting a little help with the proofreading process is definitely a good idea, which is where Grammarly comes in.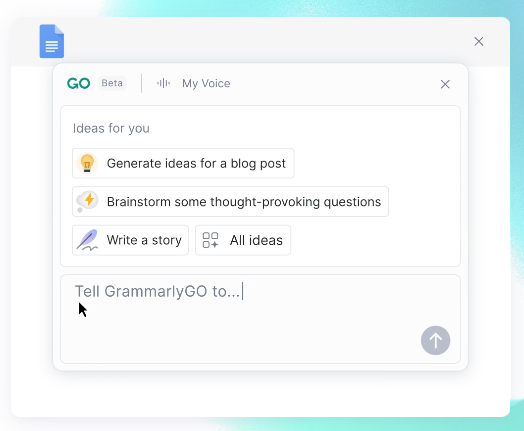 The AI tool helps grammar-check and spell-check text, but it can also review for tone and clarity, too. The latest updates to Grammarly even include text-generation and brainstorming features.
Fun fact: Grammarly is integrated right into Hootsuite's Composer. Save time with advance suggestions that will allow you to fix the posts in one click. If you're looking for clear, engaging, and mistake-free writing, we've got you covered.
First things first: Google Analytics is absolutely free. Second thing's second: Google Analytics is going to be incredibly helpful for tracking and measuring your business' traffic goals. Want to prove the ROI of your web and social media presence? Analytics is here to help.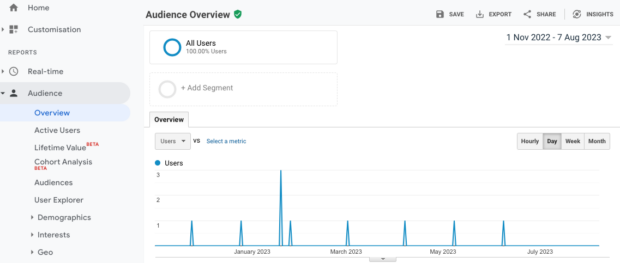 Google Analytics collects info on converted leads, where traffic comes from, demographic data, individual page traffic, and much, much more. With more than 56% of all websites using Google Analytics, it's one of the most popular tools out there for digital marketers.
Here's our step-by-step guide for setting up Google Analytics, and here's a breakdown of how to track social media in Google Analytics.
If you're a big organization, you're going to want to tap into the power of Brandwatch. Brandwatch is a downright exceptional tool for conducting market research and gauging brand sentiment.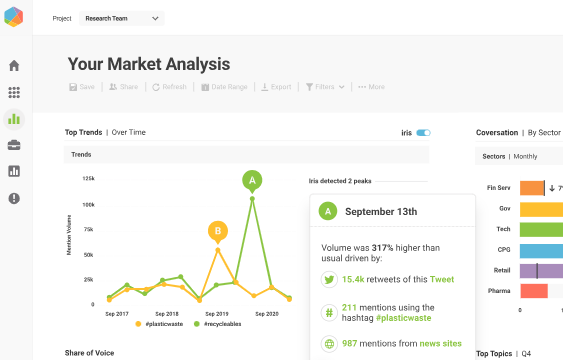 The enterprise-level solution offers marketers a unified platform for gathering invaluable industry data. With Brandwatch, you can delve into consumer insights and monitor brand performance metrics seamlessly.
And best of all: it integrates completely with Hootsuite. Hootsuite even offers an enterprise-level social listening feature powered by Brandwatch, called Hootsuite Insights.
Save time managing your social media presence with Hootsuite. From a single dashboard you can publish and schedule posts, find relevant conversions, engage the audience, measure results, and more. Try it free today.
Do it better with Hootsuite, the all-in-one social media tool. Stay on top of things, grow, and beat the competition.
Free 30-Day Trial