In 2021, Facebook rebranded to Meta, which now acts as Facebook's parent company and oversees Instagram, WhatsApp, and Messenger. These four apps are known as Meta's Family of Apps.
For marketers, this means that Facebook is now thinking of itself as part of a conglomerate of apps, but this isn't any reason not to drill down into the specifics of what really makes Facebook tick.
Read on to find essential Facebook demographics that matter to social media marketers in 2023.
Download the complete Digital 2022 report—which includes online behavior data from 220 countries—to learn where to focus your social marketing efforts and how to better target your audience.
19 Facebook user demographics you need to know in 2023
Not bad for a company started in a Harvard dorm bedroom! $115.6 billion of this revenue came from Meta's Family of Apps.
Not content with only having some of the biggest apps in the world under their belt, Meta is also investing heavily in Reality Labs, a business owned by Meta that produces augmented reality and virtual reality hardware and software. In 2021, $2.2 billion of Meta's 2021 revenue came from this area of the company.
Still known as Facebook in 2011, the company has grown wildly since the days of poking people on your friends' list. Since then, Facebook/Meta's revenue has grown by a mind-blowing 3086%, from $3.7 billion to $117.9 billion.
In Q4 2021, $15 billion of Meta's ad revenue came from the US and Canada
Kerching! Another $8.1 billion came from Europe, $6.1 billion from the Asia-Pacific region, and $3.2 billion from the rest of the world. Something to think about when you're crafting ad campaigns on Facebook.
Source: Meta
Yup, this includes Facebook, and this number has only increased quarter on quarter as more people find value in scrolling through Facebook, Instagram, WhatsApp, and Messenger.
Source: Meta
Asia-Pacific has the highest number of Facebook daily active users (DAUs)
In Q4 2021, a whopping 806 million people in that region logged into Facebook. In Europe, 309 million checked their Facebook account daily, and 195 million people did the same in the US and Canada.
Average revenue per user (ARPU) is an important metric because it tells Facebook how much money they make off their users. In 2021, Facebook's ARPU grew by 15.7% compared to 2020.
In Q4 2021, Facebook's ARPU was highest in the US and Canada, with the average revenue per user netting Facebook a cool $60.57. Conversely, the demographic with the lowest ARPU was Asia-Pacific with $4.89.
What's interesting here is that Asia-Pacific has the highest number of people logging into Facebook but the company earns the lowest amount of revenue from this demographic.
Facebook users love to be involved with Meta's other apps in its Family.
74.7% of Facebook users also use YouTube
72.2% of Facebook users also use WhatsApp
78.1% of Facebook users also use Instagram
In our research, we also found that Facebook users are least likely to also use TikTok and Snapchat, two platforms that generally attract a younger audience.
That's right. Older millennials can't get enough of Facebook. This demographic is most likely to have been early adopters of Facebook in a post-Myspace world and continued to use and favor the platform as they grew up.
Facebook is least popular with women aged 16-24, with only 7.3% of women surveyed listing the social media platform as their favorite.
Speaking of male and female demographics, it's worth mentioning that more than half of Facebook's ad audience are male, with women making up the remaining 43.4% of Facebook's advertising demographic.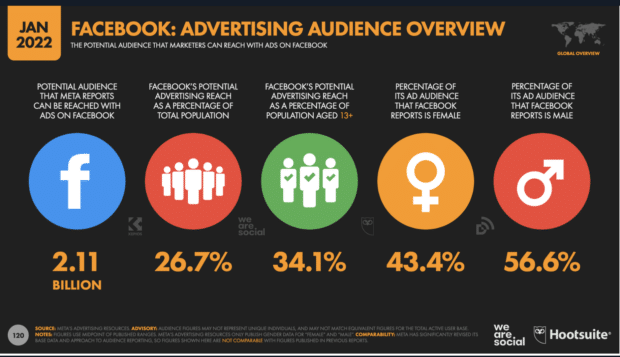 Source: Hootsuite Digital Trends Report
According to research by Pew, no other major platform comes anywhere close to this volume of usage, except YouTube, which is used by 80% of Americans.
49% of Americans say that they visit the social media platform several times a day
Repeat visits equal more chance of seeing an ad campaign, a significant driver in Facebook's growing revenue.
Need more Facebook marketing tips in your life? We've got you covered. Check out 39 Facebook Stats That Matter to Marketers in 2023.
72% of Democrats and 68% of Republicans use Facebook, and Democrats are more likely to use other social media platforms, including Instagram (40%), Twitter (32%), and WhatsApp (30%).
For marketing purposes, this means that the liberal demographic might be more tech-savvy and can be reached on more places online compared to their more conservative counterparts.
Source: Pew Research Center
If you're looking to run ad campaigns on Facebook, you'll need to know exactly who to target campaigns to, and men aged between 25 and 34 make up 18.4% of Facebook's ad audience. Women in the same age group account for 12.6%.
The demographics with the lowest ad reach are men and women aged 13-17 and seniors aged 65+.
Source: Hootsuite Digital Trends Report
If you're looking for more Facebook advertising insights, head over to How to Advertise on Facebook: Complete Facebook Ads Guide for 2021.
Closely followed by America, Indonesia, Brazil, and Mexico. The first European country on the list is the UK and then Turkey and France.
In India, Facebook ads reach 30.1% of the population aged 13+, and in the US, ads reach 63.7% of the same age group.
This is a decrease of 11% compared to previous years. Facebook was the fourth most popular app, beaten to the top spots by Snapchat, Instagram, and TikTok—notable all video-centric apps.
Could this be why Facebook recently introduced Facebook Reels across 150 countries?
For marketers, there are continual signals that the future of social media is video. The rise of TikTok and Reels across both IG and Facebook helps confirm this fact.
Goodbye, Craigslist! Hello Facebook Marketplace. The buy-and-sell element to Facebook has grown substantially since its launch in 2016 and is now used by over 1 billion people worldwide.
Facebook is making moves in the ecommerce world and launched Shops in 2020, giving its userbase access to a quarter of a billion stores. Shopping is becoming more commonplace on Facebook, with an average of one million people using Facebook Shops on a monthly basis.
Gotta stop that spam, somehow!
Bullying and harassment on the platform is in decline
Social media is no place to make other people feel bad about themselves. Period.
Luckily, it looks like Meta takes bullying and harassment seriously and reports that for every 10,000 content views, around 10-11 views contain bullying. The company also reported that in 2021, they took action on over 34 million posts that went against their community standards and policy documentation.
Manage your Facebook presence alongside your other social media channels using Hootsuite. From a single dashboard, you can schedule brand posts, share video, engage your audience, and measure the impact of your efforts. Try it free today.
Grow your Facebook presence faster with Hootsuite. Schedule all your social posts and track their performance in one dashboard.
Free 30-Day Trial