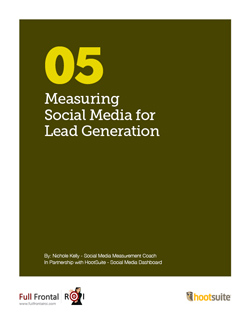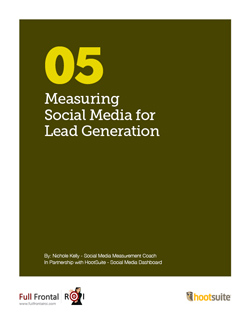 For all the social media measurement enthusiasts following our White Paper series, it's time to learn how your efforts generate new leads for your business. Complete with helpful HootSuite how-to's, Measuring Social Media for Lead Generation tackles this challenge to show you the return on your social media investment.
The final White Paper in our 5-part series is ready for you to download, embed on your blog and share with the folks you know. Check it out!
And while you're in a measurement frame of mind, hop on over to the webinar with White Paper author Nichole Kelly and HootSuite VP of Business Development, Greg Gunn. Hosted by The Pulse Network, this discussion focuses on the business challenges with measuring social media, and how HootSuite can help.
Social Media Leads
Building on the discussion about measuring social media for Brand Awareness and Customer Retention, the final White Paper closes the loop by showing you how to measure Lead Generation.
This paper packs an extra punch with a case study from RS Components, so you can truly see how to demonstrate the value of your social media leads.
Ultimately, measuring the lifecycle of the sale will help us to understand a customer's buying habits. This will allow us to optimize our Lead Generation strategies and put prospects on the path that leads to the highest conversion rates."
Measuring Social Media for Lead Generation
Reading List
This White Papers series will help you round out the conversation on social media measurement — plus they've got helpful how-to's for using the HootSuite dashboard to set up and gather social analytics on your campaigns.
Download each of them for free:
1) Introduction to Social Media Measurement with HootSuite
2) Applying Social Media Measurement to the Sales Funnel
3) Social Media Measurement for Brand Awareness