Looking to gain a better understanding of your customer's behavior and how to engage with them? Social media intelligence could be the answer.
By tuning in to the conversations that your target audience is having–both about your brand and the broader topics in your industry–you can gain valuable insights into how they think, what they care about, and what motivates them. This information can be used to shape a data-driven strategy.
If you've been daydreaming of the possibilities that social media intelligence can bring, here's your guide to what it is and why you need it.
Bonus: Download a free guide to learn how to use social media listening to boost sales and conversions today. No tricks or boring tips—just simple, easy-to-follow instructions that really work.
Social media intelligence is the practice of gathering data from social media conversations to inform your future marketing actions.
Unlike social listening, which involves simply monitoring conversations, social media intelligence takes it a step further and uses patterns and trends in data to inform decision-making.
For example, marketers looking to leverage social data intelligence might track Instagram, Facebook, and Twitter conversations to measure sentiment around their brand or products. They could later use this data to target their ads more effectively. Or, change the topics they write about on their blog.
Social media intelligence can also be used to analyze demographic data, uncover trends in customer behavior, and track competitor activity. All of this information can then be used to inform campaigns, create more effective content, and increase the ROI of your social media efforts.
Social media intelligence is composed of four main components: monitoring, collecting, analyzing, and taking action. Here's a quick breakdown.
1. Monitoring
The first step in social media intelligence is to monitor multiple social networking sites where your target audience is active. This allows you to observe how people are responding to products or services in multiple scenarios, and track what types of conversations are happening.
Social media listening tools like Hootsuite Streams are a great place to start when it comes to monitoring. With Streams, you can track keywords, hashtags, and phrases, as well as set up notifications for new mentions or conversations related to your brand.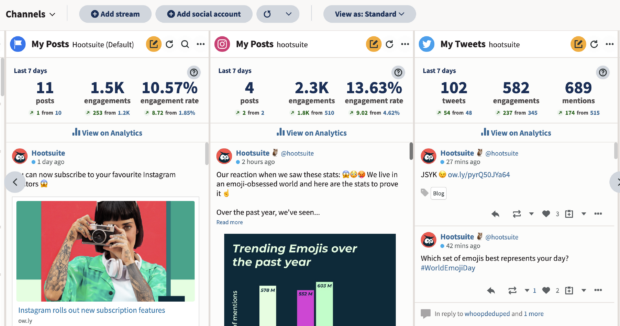 2. Collecting data
Once you've identified relevant social media conversations, the next step is to collect data to help inform your analysis. Data can range from demographic information, such as age and gender, to user behavior, sentiment analysis, trends, and more.
The goal of collecting data is to gain a comprehensive understanding of your target audience so that you can tailor your campaigns accordingly.
3. Data analysis
Now that you have all this big, powerful data, you'll want to make sense of it. This is where data analysis comes in. Interpreting the data, whether through manual analysis or automated tools, allows you to uncover insights into customer behavior and trends in conversations.
For example, you might find a lot of positive conversations from your over 50 female audience, and therefore increase your advertising spend for that demographic. Or, you might find a lot of negative sentiment about a competitor, and uncover an opportunity to swoop in and scoop up market share.
New to data analysis? Check out these social media tools that do the math for you.
4. Action
Once you have a comprehensive view of your target audience, it's time to translate that data into actionable steps. This could involve things like A/B testing, optimizing landing pages, creating targeted campaigns, or making changes to your product offering.
The goal is to use the insights learned from data analysis to inform decisions that will improve the customer experience and increase ROI.
Think of social data intelligence as a superpower! With the right tools, you can be the Professor X of social media. Or, maybe Doctor Strange… depending on which universe you frequent most.
Here are just a few ways harnessing your social media intelligence can benefit your organization.
Gather honest insights
Social media intelligence helps you to gain insights that are honest and unbiased. Since customers are free to express their thoughts without any pressure, they're more likely to be truthful in their assessments.
For example, if you're an airline trying to assess customer satisfaction, it might be hard to discern customers' true feelings through surveys or customer service interactions. However, social media may offer a more comfortable, relatable space to share their experiences. Listening, and managing this feedback appropriately, can go a long way in building trust with your audience.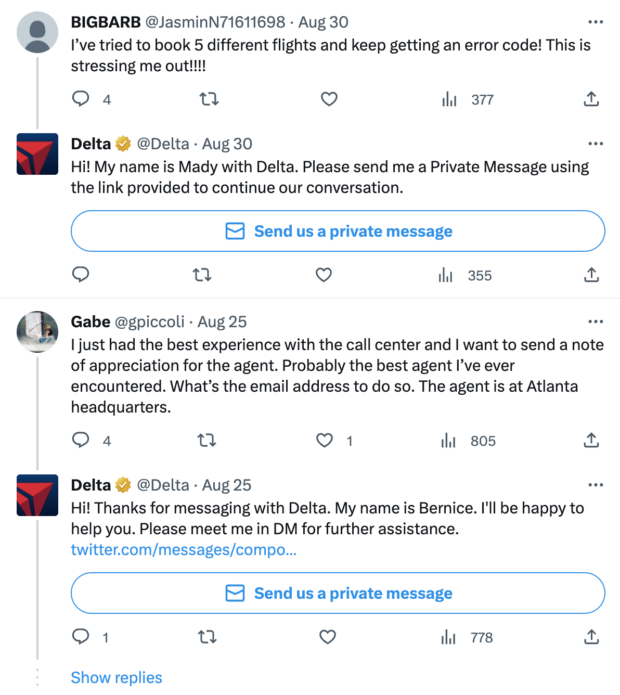 Get to know your customers
Social media intelligence is more than just monitoring sentiment. It also allows you to gain a better understanding of who your customers are and what they want from your product or service.
By tracking conversations and content related to your brand, you can uncover more than just basic demographic information. You might learn what kind of car they drive, what their favorite ice cream flavors are, or where they go on vacation. You might also learn their dislikes, like how poor website experiences ruin their day, or their frustrations around booking hotels and flights.
This information can then be used to create more targeted content and campaigns, as well as inform product development decisions. For example, a hotel chain with a slow website might choose to invest in an upgrade this year. Or, an ice cream chain with a well-loved flavor might increase the production of that flavor to meet consumer demand.
Spot opportunities
Social media intelligence helps you to spot opportunities early on. You'll know to investigate if there's a sudden spike in negative sentiment. Or, if there's an uptick in positive sentiment around a particular topic, you can start crafting a campaign or product related to that topic.
You'll also be able to identify new audiences and markets you may not have considered. Durex was one of the first companies to use social media intelligence to identify the needs of the LGBTQIA+ community — a market they had previously largely overlooked.
Durex used social media intelligence tactics, including surveys and social listening, to collect data on its wider customer base. With the insights they gathered, they were able to create more inclusive and targeted campaigns and boost sentiment among the LGBTQIA+ community from 10% up to 44%.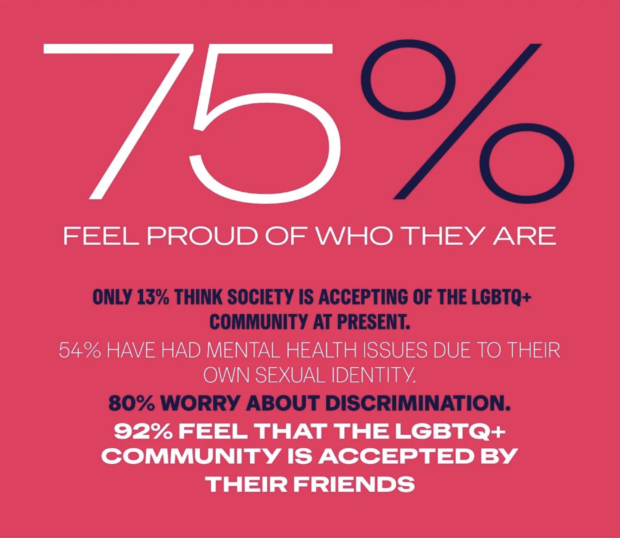 Source: Durex
Stay competitive
Ever wonder how your competitors are staying ahead of the game? Why not use social media intelligence to find out?
By using social media monitoring tools to closely watch your competitors' social media accounts, you can gain insights into their strategies and tactics. You'll be able to explore any unique selling points they may have and use them to inform your own product development process.
You'll also be able to spot any potential threats or opportunities in the market faster than your competition–giving you a competitive edge.
Social media intelligence tools
From sentiment analysis tools to more comprehensive platforms, there's a social media intelligence tool for every budget and need.
1. Hootsuite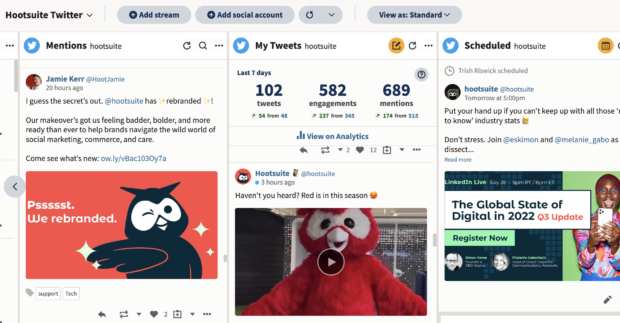 The best social media intelligence tools combine data collection and analysis into one seamless platform. Hootsuite does it all. With its customizable search streams, you can monitor any social network and see what's going on at a glance. You can also filter conversations by keywords, hashtags, locations, and specific users to zero in on essential topics and trends.
Hootsuite's professional plan also gives you access to detailed custom analytics, while Hootsuite Insights, powered by Brandwatch, provides an instant overview of millions of online conversations in real time. With its advanced search functionality and ability to filter results, this tool is powerful enough to manage your social scheduling, social listening, and analytics needs in one.
Features:
Customizable search streams for monitoring any social platform.
Advanced analytics and insights.
Mobile app to monitor on the go.
Ability to target influencers or brand advocates.
Streams are included in a free plan with access to detailed custom analytics available in paid plans.
2. Google Alerts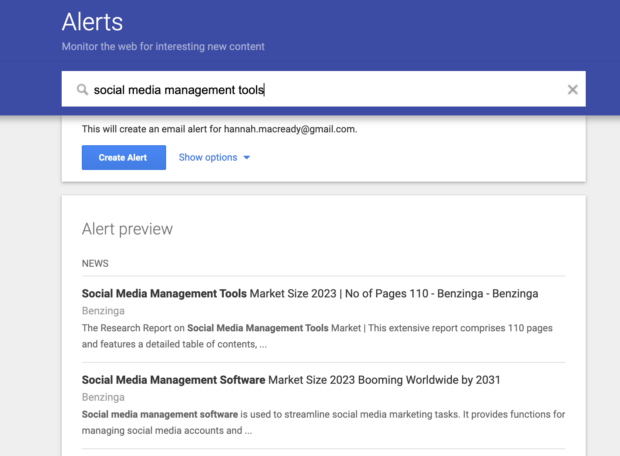 Social media intelligence doesn't have to be complicated. Sometimes, it's as easy as setting up basic alerts.
Google Alerts is a simple yet effective way to keep track of topics related to your business, brand, or industry. Simply enter a keyword, and you'll receive notifications whenever someone mentions it on the web–whether in a blog post, news article, or social media post–and then take action accordingly.
Features:
Set up custom alerts, so you're always in the loop.
Monitor topics related to your business, brand, or industry.
Receive notifications whenever someone mentions a keyword on the web.
Easy to use and completely free.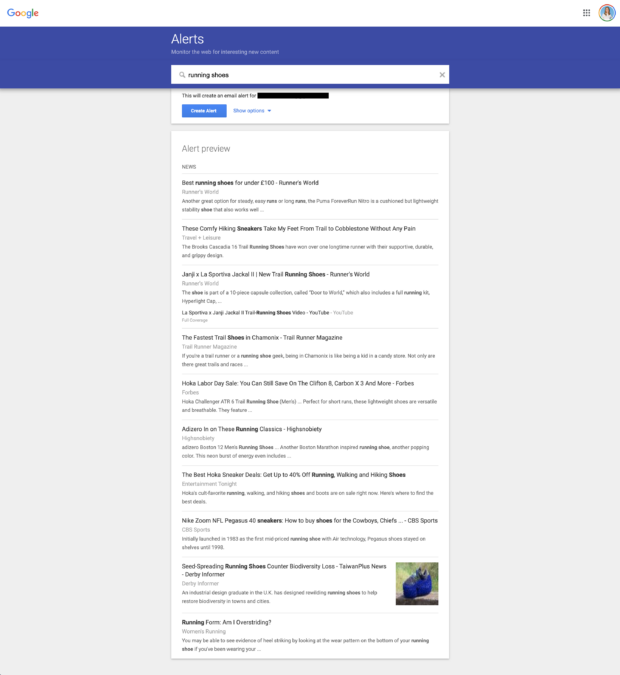 3. Atribus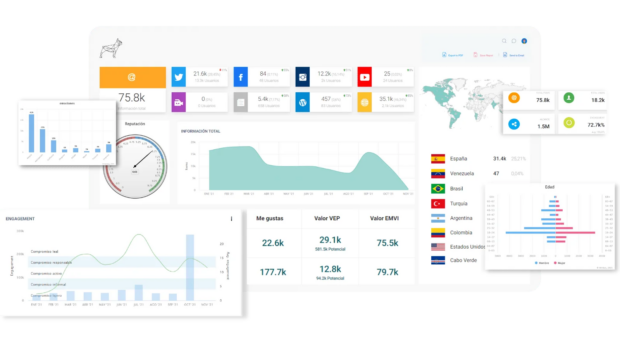 Source: Atribus
Atribus' key feature is sentiment analysis, which allows you to track customer conversations and uncover insights about their needs and preferences.
Atribus also goes beyond monitoring sentiment by classifying mentions into complaints versus inquiries. This helps brands identify potential pain points–allowing them to intervene quickly and create solutions.
Features:
Comprehensive sentiment analysis to uncover customer needs.
Ability to classify mentions into complaints versus inquiries.
Powerful analytics platform for in-depth insights.
Automated categorization of conversations by keyword or hashtag.
Advanced report filters and customizable dashboards for deeper insights into customer behavior.
4. Mentionlytics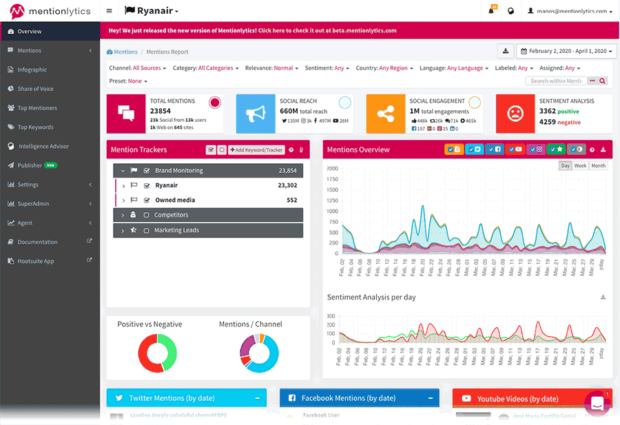 Source: Mentionlytics
Mentionlytics combines social intelligence, monitoring, and listening into one powerful tool. It provides a comprehensive view of any brand or topic, and allows you to track conversations across multiple languages.
Mentionlytics also provides real-time insights into key topics and trends, allowing you to uncover new opportunities or threats. It also offers comparison reports that let you compare your brand performance against your competitors. Track blogs, discussion forums, review sites, and more to stay ahead of the competition.
Features:
Automated sentiment analysis for real-time insights.
Comprehensive view of any brand or topic.
Ability to track conversations across multiple languages.
Comparison reports to benchmark performance against competitors.
Monitor blogs, discussion forums, reviews, and more.
Social media intelligence FAQs
What is an example of social media intelligence?
Law enforcement entities, such as the FBI, often use social media intelligence to identify potential threats or illegal activities by tracking public posts or discussions among social media users. These data points can provide valuable insights, aiding in proactive responses and policymaking.
What is the acronym for social media intelligence?
The acronym for social media intelligence is SMI. SMI stands for social media intelligence.
What is social data intelligence?
Social data intelligence is the process of collecting, analyzing, and interpreting data from social media platforms to gain insights into customer behavior or trends in a given market. This data can then be used to inform business decisions about marketing strategies, product improvements, and more.
Is social media intelligence the same as social listening?
While social listening is part of social media intelligence, they are distinctly different. Social listening is the act of tracking conversations on social media, while social media intelligence includes tracking, collecting, analyzing, and acting on the data gathered from those conversations. Think of social listening as the first ingredient in a much longer social media intelligence recipe.
Is social media intelligence the same as social media analytics?
Social media intelligence and social media analytics are related, but different. Social media intelligence refers to the tools and processes used to analyze large amounts of data from multiple sources–including social media channels, customer reviews, and more–to gain insights into customer behavior or market conditions.
Social media analytics, on the other hand, focuses on tracking specific metrics, such as likes, shares, and comments, and translating these into data that is used to influence future social media marketing decisions.
Hootsuite makes it easy to monitor keywords and conversations on social media, so you can focus on taking action on the insights available. Try it free today.
All your social media analytics in one place. Use Hootsuite to see what's working and where to improve performance.
Free 30-Day Trial