Responding to messages quickly is a huge part of social media customer service—and it's no different whether you're dealing with messages on Facebook, Twitter, LinkedIn, or Instagram. Luckily, Instagram has an easy-to-use option that can cut down on your team's time responding to questions.
With Instagram auto reply, you can easily set auto-responses to common questions and messages. This feature cuts down on the time your social media support team needs to spend monitoring and replying to customers.
In this article, we'll talk more about the Instagram auto reply feature, how it can be used, and a few message examples for inspiration.
What is Instagram auto reply?
Instagram auto reply is a feature available in your Instagram message settings that allows you to send automatic responses to frequently asked questions.
For example, if you regularly get a question like, "Do you offer free shipping?" your team can set up an auto reply that will answer the question instantly rather than forcing the customer to wait for a real person to respond.
There are a few different ways you can do this:
Instagram tools: Set automatic responses for frequently asked questions or craft canned messages that your team can easily send out via Instagram DM.
Meta Business Suite: Set up messaging automations for both Instagram and Facebook.
Third-party inboxes: Use tools like Hootsuite Inbox to easily monitor and manage your Instagram direct messages and comments.
Learn more about how a social inbox like Hootsuite's can help streamline your social media communication in this video:
What can you use Instagram auto replies for?
There are several ways to take advantage of Instagram's auto reply feature. Here are just a few types of automated responses you might consider setting up:
Welcome messages
Away messages
Frequently asked questions
Share contact information
Share business hours of operation
Provide shipment and payment details
Offer discounts
Explain wholesale pricing information
Tell customers how to handle issues with their orders
Share links to additional resources
Pros and cons of using Instagram auto reply
So why use Instagram auto reply? Is it the best option for creating automated responses and freeing up your team's time? As always, it depends on your needs.
Let's cover some basic pros and cons to help you decide.
Pros
Make a good impression. Instagram shows your followers how quick your team is to respond. A faster response time is a better look for your business.
Answer questions before they're asked. Create an auto-responder that gives your customers a clear idea of when they can expect to hear from a real person—unless your auto replies can give their answer immediately.
Save your team time. Stop writing the same reply over and over again. Automated messages give your team more time for escalated messages and other customer support issues.
Never miss a message. You don't have to worry about time zones when you enlist auto reply. Even when your team isn't working, customers can get answers as soon as they send a message.
Cons
Only for Instagram and Facebook. Instagram/Meta's built-in features only work for these two platforms. You'll have to enlist the help of external tools for other social media platforms—don't worry, we've got more on that below.
You have to connect your Facebook and Instagram pages. In order to access some of the more advanced tools, you must use Meta Business Suite, so you'll have to connect your Facebook and Instagram pages.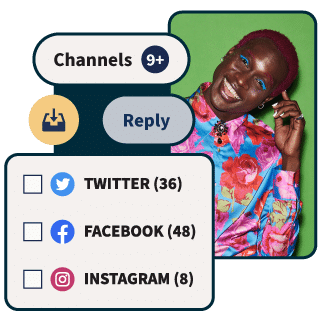 Reduce response time (and your workload)
Manage all your messages stress-free with easy routing, saved replies, and friendly chatbots. Try Hootsuite's Inbox today.
Book a Demo
15 Instagram auto reply message examples
Not sure what types of auto replies to set for your Instagram messages? Here are 15 examples to help inspire you.
Welcome message
Send one of these options to all new incoming Instagram DMs whenever your team is unavailable for a quick response:
Thank you for getting in touch! Our team is available from 10am-3pm CT. We'll get back to you within those hours!
Hey there—thanks for reaching out! Your message is important to us. Someone on our team will get back to you within the next 12 hours.
Sorry we missed you! Our team is currently unavailable, but we'll be back around 8am GMT.
Basic business information
Use one of these when someone messages you on Instagram to ask about hours of operation or contact information:
Our hours of operation are 11am-11pm ET Monday through Saturday.
To get in touch with a representative directly, please give us a call at [###-###-####].
To learn more or request a demo, email us at sales@company.com.
Our offices are located at 1234 Business Street.
Frequently asked questions
Here are a few common questions and answers you might want to incorporate into your Instagram auto replies.
How long does shipping take?
You can expect your items to arrive within 3-5 business days of your order.
How can I cancel my plan?
To cancel, go to the "Account" section of your dashboard and find the "Cancel plan" button.
We're sad to see you go! To cancel, please call one of our representatives directly at [###-###-####] or send an email to cancellations@company.com
Do you offer any discounts?
We love that you asked! Use promo code INSTA for 10% off your purchase.
What services do you offer?
We offer accounting services for small businesses.
How much do your services cost?
We work on a monthly retainer basis. Packages start at $1,000/month and go up to $15,000+ depending on your needs.
Are you taking new patients?
Yes, please head to our website to fill out the form for new patients.
Unfortunately, our therapists are fully booked at the moment. Please check back next quarter to see if any spots have opened up.
How to set up auto replies on Instagram
There are two ways to set up auto replies on Instagram. The first is pretty easy—do so right inside the Instagram app. The second involves digging into the Automations option in Meta Business Suite.
We'll walk you through each process.
How to set up auto replies via the Instagram app
First, open the Instagram app. Tap the messages icon in the top right corner of the home feed. Then, tap on the ellipses in the top right corner of your messages dashboard and select Tools.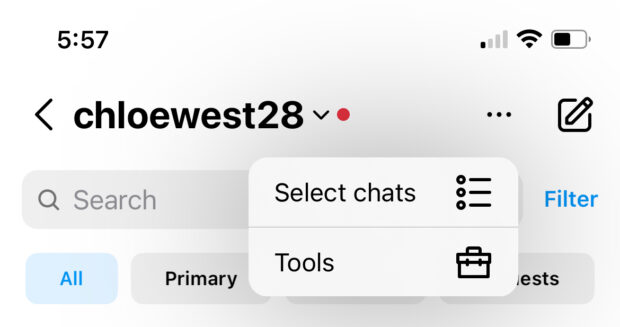 Here, you can set either saved replies (canned responses your team can tap on to send manually) or auto replies for frequently asked questions.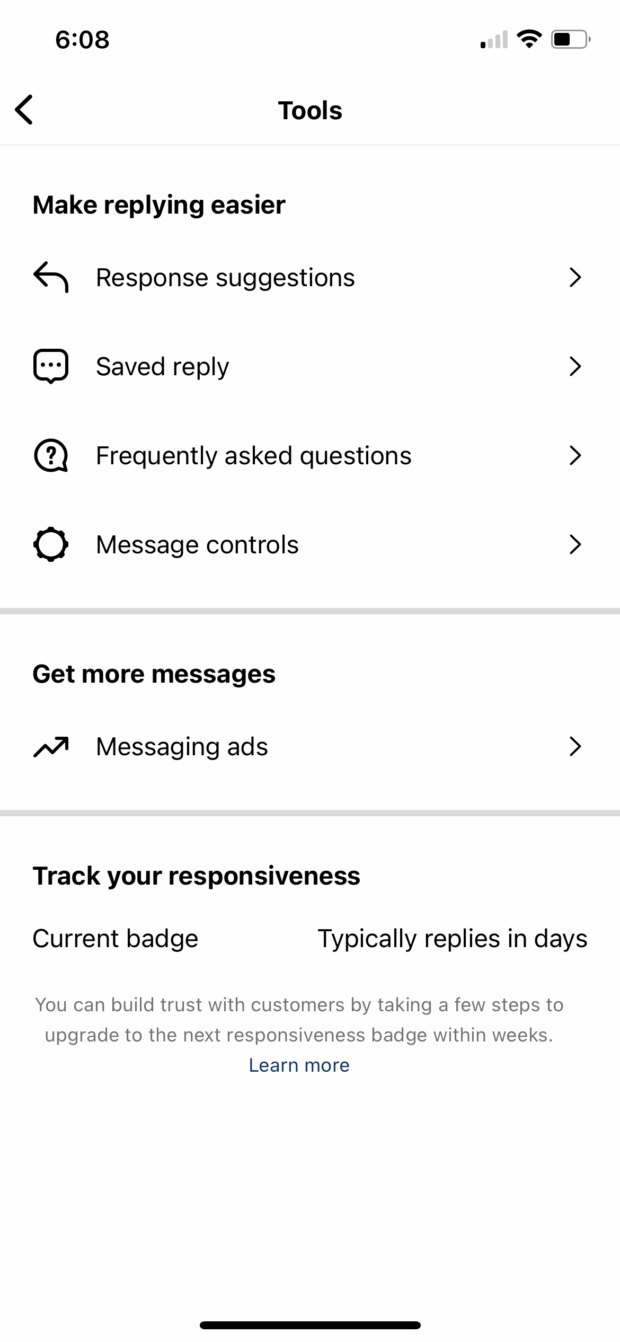 Tap on Frequently asked questions to access the auto reply feature. Instagram will typically include a few starter questions. You can customize these or use them as is—just add answers.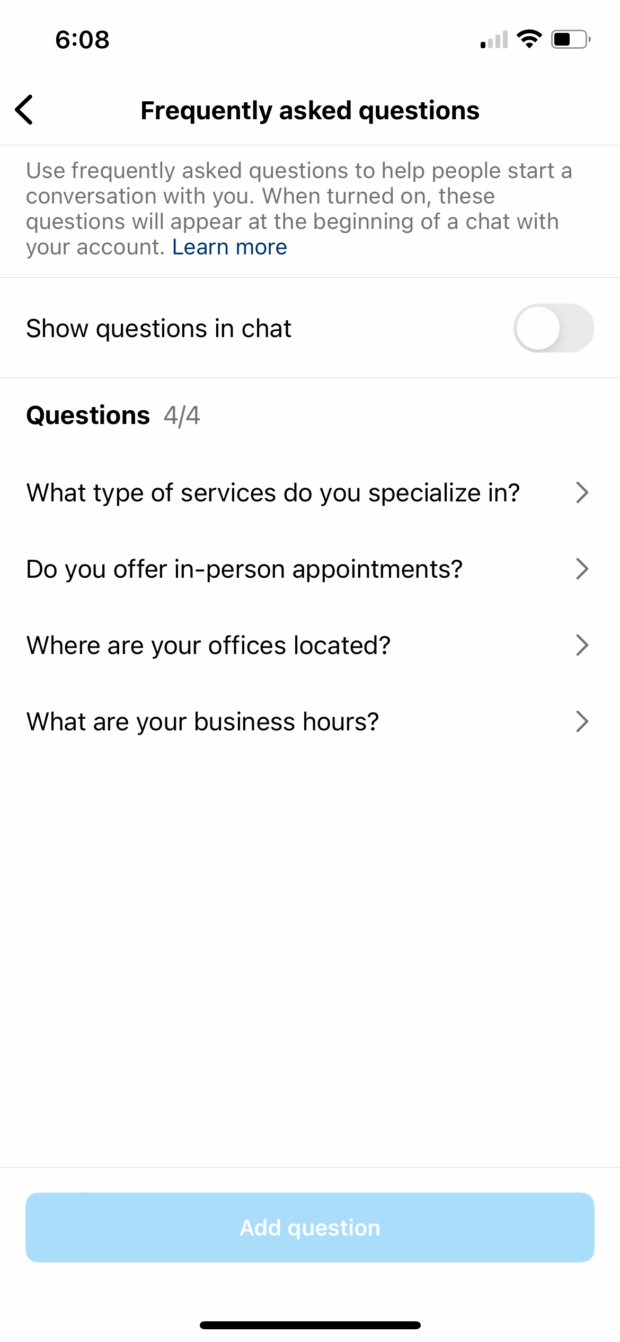 Add as many questions as you want. You can even show these questions in chat, so customers who want to message you have options to choose from.
How to set up auto replies in Meta Business Suite
If you have your Facebook Business Page set up and optimized and your Instagram business profile connected, you can use Meta Business Suite to create automations like this.
First, head over to your Facebook Business Page, then click on Meta Business Suite in the left-hand sidebar.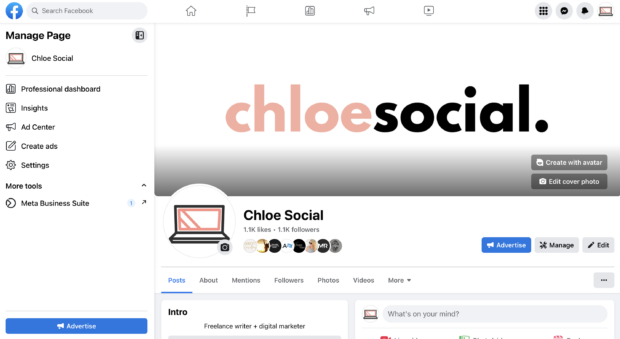 You'll then be taken to the Meta Business Suite dashboard. From here, click on Inbox in the right-hand sidebar.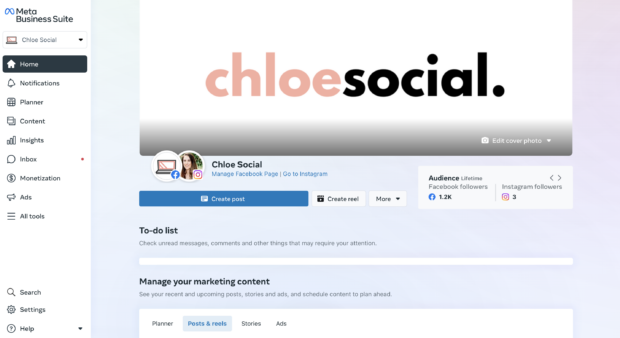 This inbox section will hold all messages and comments from Facebook, Instagram, and WhatsApp. If you're looking for a single place to manage these, Business Suite is a great place to do so. The biggest downfall is that those are the only platforms you can monitor here (more on that later).
To set up your auto-reply messages, click the atom icon to access Automations.

Here, you can set up a number of automations relating to your direct messages across all of Meta's platforms. If you haven't previously set up Frequently asked questions, it will appear as one of the Suggested for you options. Click on it to get started.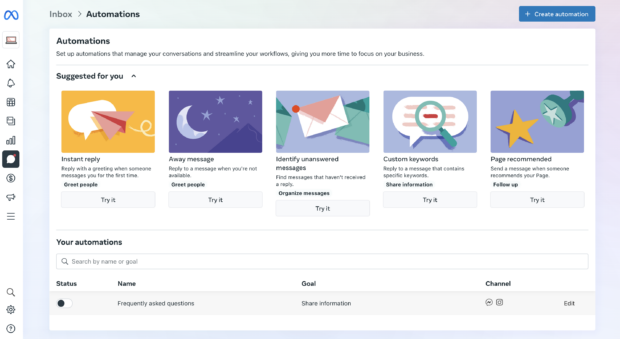 Select your Instagram account from the list of places you want to turn this automation on. Then, start adding questions. You can preview them in the left-hand sidebar.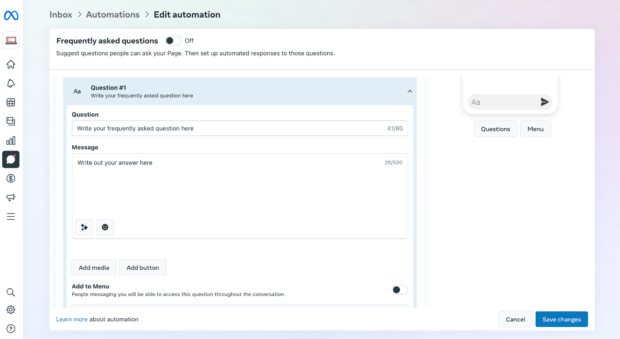 Once you're done, click Save changes and toggle this automation into the On position. And voila! You've got your frequently asked questions set up.
Other automations you can create are:
Away messages
Instant replies
Follow ups
How to auto-respond to messages and comments on Facebook, Instagram, X, and LinkedIn
We mentioned that Meta Business Suite is great for managing your messages and comments on Facebook and Instagram. But if your brand uses other platforms, like X (formerly known as Twitter) and LinkedIn, you'll need additional support.
Good news—you're in luck! With Hootsuite's Social Inbox, your entire social media and customer support team can monitor, manage, and respond to messages across all social media platforms in one space.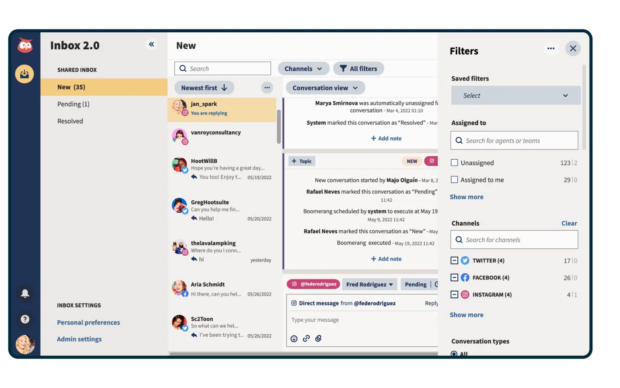 You can store information about various customers so you never start a new interaction as strangers, helping customers feel seen and valued. Assign messages and interactions to certain team members so the most-equipped person can handle each specific issue.
Use Hootsuite Inbox as your social media help desk, resolving messages as soon as they've been responded to and keeping notes on customer issues.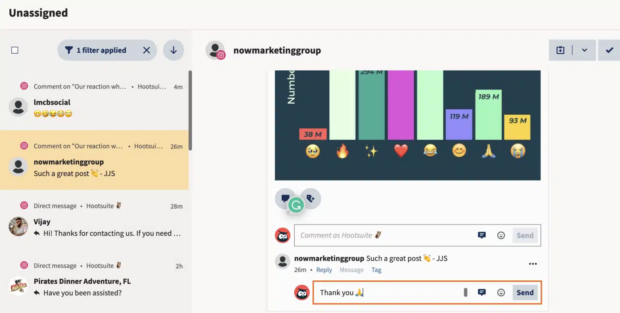 Create auto-responders for every social media platform you manage with Hootsuite.
Book a free Hootsuite demo and try Inbox today
Frequently asked questions about auto replies on Instagram
Why should you use Instagram auto reply?
Instagram auto reply is a great way to minimize wait time for frequently asked questions. If you know common questions your audience has, and there's a set answer you can provide, set it as an auto-response.
This saves your team time and ensures your Instagram followers don't have to wait for a response.
How do you turn Instagram auto reply off?
There's no quick on-off toggle for Instagram auto reply. Instead, you'll have to go into your Instagram messaging tools and remove any frequently asked question responses you've input.
What is a saved reply on Instagram?
A saved reply is a similar tool to auto replies. Instead of sending instantaneously, though, saved replies are simply stored in your Instagram messaging settings for your team to manually send out. This works if the question someone asks has different answers depending on the time of year. You can save replies for a quick response, but you don't want to have the response be automatic.
Keep your customers happy with faster message responses, thanks to Hootsuite. Respond to questions and complaints, create tickets from social conversations, and work with chatbots all from one dashboard. See it in action.
Save time on social messaging with automated responses, smarter workflows, and friendly chatbots — all in the Hootsuite Inbox.
Free Demo