When He Designed our Meeting Room Doors, He Wasn't Even Looking
Would you believe me if I told you that the artist who designed the artwork on our boardroom doors drew them by hand, and wasn't even looking when he did?
Our new office has drawn plenty of attention, in part because of its popular amenities. Perhaps by now you've seen some of the stories we've been sharing about the murals on our walls, and had a chance to download one of the many new wallpapers we've added to our media kit. Some of our meeting rooms have been adorned with murals, but all have been given names (after owl species, by size) and the glass doors feature images, printed on transparent vinyl, of those owls' habitats. HootSuite Designer Jason Esteban is the artist behind the eye catching designs, and his process might surprise you. He employed a drawing discipline known as "blind contour drawing."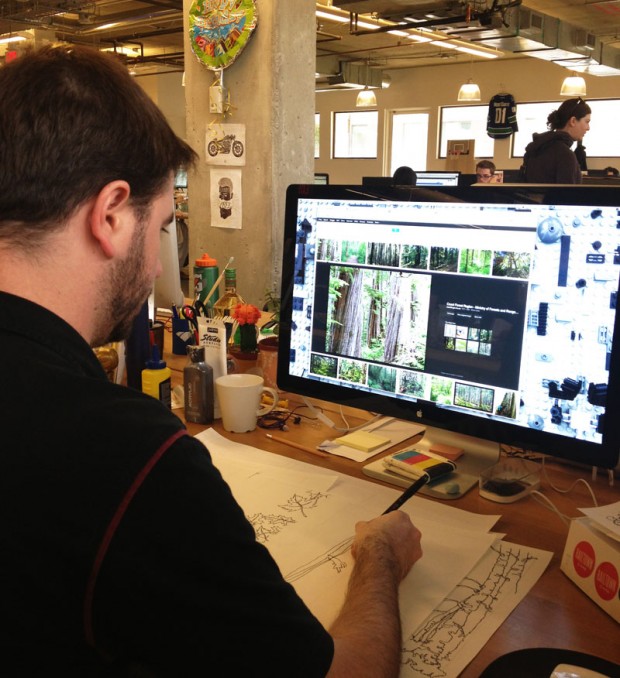 Blind contour drawing is traditionally a drawing exercise, intended to teach hand-eye co-ordination and train your hand to draw what you see, not what you think you see. The principle is basic enough: Look at what you're drawing—don't look down at the paper. This process removes your rational brain from the equation— and to hear Jason tell it, it improves your ability to accurately transcribe the visual world.
Speaking of letting him tell it: "For me, blind contour drawing is one of the purest forms of visual expression," says Jason. "I like how unfiltered it is. Its the closest I can get to putting an essence of 'me' down on the paper."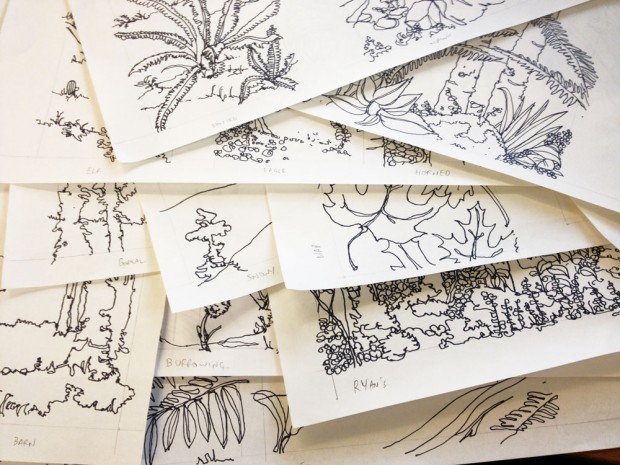 Looking at the resulting images, even the untrained eye can see something natural and unpredictable in the sketches. "The lines I manage to produce while blind drawing always surprise and delight me, Jason adds. "They are so much more playful, elaborate, and interesting than when I look at what I'm drawing. Sure, the drawings are often strange and overall inaccurate in many ways, but within all that there are moments where the pure essence of an object is captured in a single line—and those moments are magic."
We agree. Want to see them? We used a bit of magic (okay, not magic; Vine) to show you several at once:
Jason explored blind contour drawing at length during his Masters. When faced with the task of drawing natural owl habitats for the doors and windows of the HootSuite office, he immediately went to what he calls his "go-to style," as it fit perfectly with the natural themes evoked all through the office.
While he says he has spent long stretches without looking down at the page, Jason admits that he's augmented the style to suit his needs. "My rule is that I don't look down at all if the pencil is moving. This maintains the line quality I love so much, while allowing me to create slightly more compositionally planned pieces."
If you're as excited about these compelling images (and the backstory within) as we are, then you might be happy to know that Jason prepared a digital design of his work, now available to you as free wallpaper downloads for your desktop, tablet and smartphone: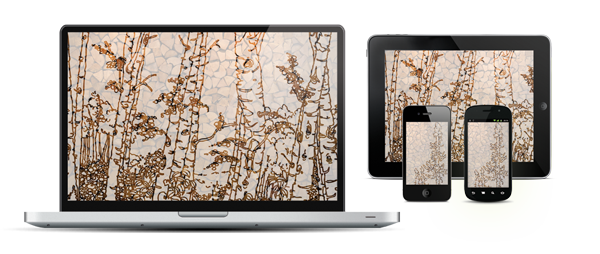 Desktop: 1920×1080 / 1680×1050 / 1280×800
Android: 640×960 / 480×800 / 480×640
Check out the entire collection of free HootSuite wallpapers here. And if you want to work in this artistic haven, visit our Careers page and tell us about yourself.