The algorithm that ranks home and explore feed content was given a bit of a reboot this December.
The rationale behind what Instagram engineers have dubbed a "constrained exploration system" was to create an entire experience that "feels like home." According to an Instagram blog post, the Home Feed ranking system ranks content from the accounts you follow "based on factors like engagement, relevance, and freshness."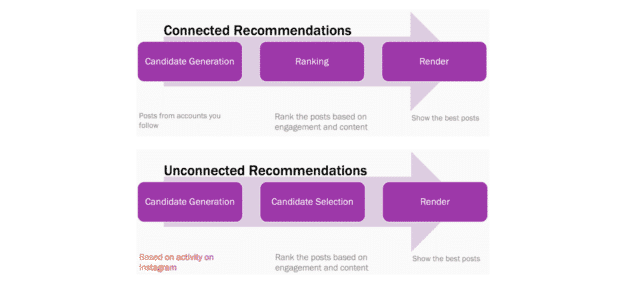 Source: Instagram
The explore feed algorithm relies on a three-part ranking funnel to predict the accounts people are likely to interact with during a session.
"If an individual interacts with a sequence of accounts in the same session, it's more likely to be topically coherent compared with a random sequence of accounts from the diverse range of Instagram accounts," explains Ivan Medvedev, senior software engineer of Machine Learning at Instagram in a Medium article.
In other words, if you're going down a BTS rabbit hole, the explore feed A.I. will recognize that.
To make it easier to fall down the rabbit hole, the explore feed was given the Google treatment. Until November, people could search for usernames, hashtags, and locations on Instagram. Now people can search with keywords, too.
More new product news! Now you can search beyond usernames and hashtags for interests on Instagram. This will be available in English in a handful of countries and we'll share more updates as we go as this is part of a longer-term investment in Instagram Search. pic.twitter.com/26Gj0iV8HT

— Vishal Shah (@vishalshahis) November 17, 2020