10 Sprinklr competitors and alternatives
Sprinklr has emerged as a popular social media platform, but it's not the only player in the space. In fact, there are many worthy Sprinklr competitors and alternatives that offer features or pricing plans that may be more suitable for your business needs.
To help you find the right solution, check out this list of the top ten Sprinklr competitors. Each platform's features, as well as its pros and cons, are outlined below.
Magic happens on social media when the right stories are heard and the right conversations are started. The list of Sprinklr alternatives below offers a variety of powerful social media tools to help you drive customer engagement, boost brand loyalty, and manage your online reputation.
1. Hootsuite
Hootsuite is a comprehensive social media management tool that makes it easy to schedule posts, monitor conversations, and measure performance across all major social media networks.
It also offers a range of features designed to help teams collaborate and stay organized, such as team dashboards, task assignments, custom approvals, and automated workflow processes.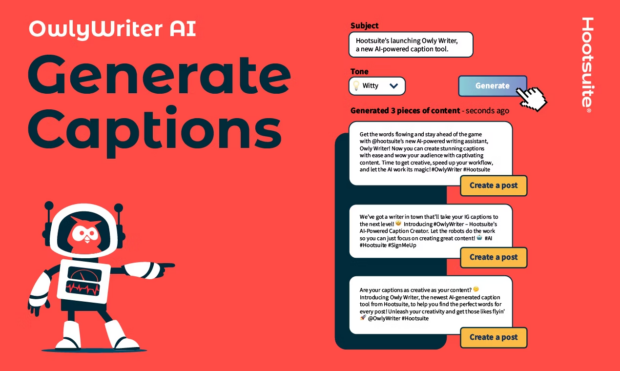 Hootsuite also features a suite of new AI tools, such as the OwlyWriter AI social media caption generator, username generators, employee advocacy calculators, and so much more.
Some of them are free and don't require a Hootsuite user account! Check out Hootsuite's free AI tools here.
Good for:
Businesses of all sizes (including small businesses, enterprises, franchises, and agencies) and freelance social media managers
Planning, scheduling, and publishing content
Creative content creation
Monitoring and engaging with conversations and mentions
Approval workflows and compliance
Social reporting, optimization, and analytics
Competitive analysis and benchmarking
Monitoring and managing all social media accounts in one place
G2 reviewers say compared to Sprinklr, Hootsuite is:
Easier to set up
More usable
Offers better admin features
Pricing:
Professional: $99/mo billed annually.
Team: $249/mo billed annually.
Business: $739/mo billed annually.
Enterprise: Flexible pricing based on business needs.
Looking to do more with less? Hootsuite is 3x cheaper than Spinklr and comes ready to use right out of the box with a user-friendly interface and a simple yet customizable dashboard. Try Hootsuite free for 30 days.
2. Meltwater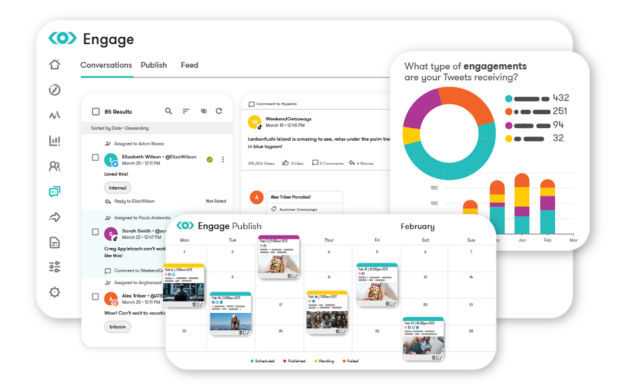 Source: Meltwater
Meltwater is a media intelligence platform that helps businesses track and measure online conversations, uncover insights, and monitor brand mentions. Meltwater also offers social media management tools like scheduling and publishing posts.
Some cons of the Meltwater platform include its lack of advanced theme and topic analysis, as well as weak dashboarding capabilities and widgets that are difficult to set up.
Good for:
Small to medium-sized businesses
Media monitoring and social listening
Uncovering brand insights from conversation data
Advanced data filtering
Competitive landscape analysis
Pricing
Meltwater does not publicly display its pricing and did not respond to requests for comment. But, according to Prowly, Meltwater costs between $6,000-$8,000 per year.
3. Brandwatch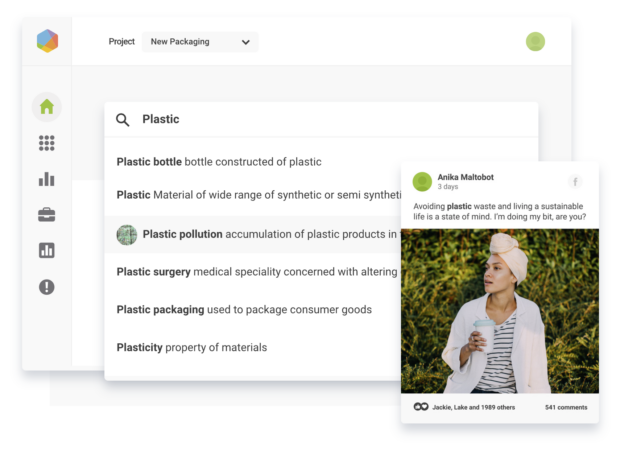 Source: Brandwatch
For those looking for a data-driven Sprinklr competitor, Brandwatch is the perfect choice. This powerful platform scours social media data to deliver actionable insights in minutes. Features include sentiment analysis, competitor benchmarking, trend spotting, and more.
Hootsuite Enterprise customers can leverage the Brandwatch integration within their existing Hootsuite dashboard, opening up the ability to anticipate trends, measure campaigns, and take action in a single platform.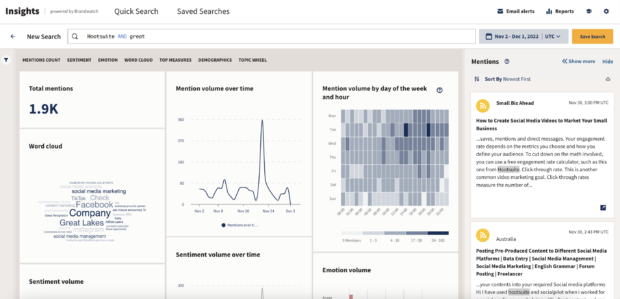 Good for:
Agencies, mid-size businesses and enterprise companies
Discovering relevant data from social trends
Industry-leading features for segmenting and analyzing data
Advanced sentiment analysis
Competitive benchmarking and reporting
Pricing
Pro: $800 per 10,000 mentions
Enterprise: $3000 and up for unlimited mentions
4. Sprout Social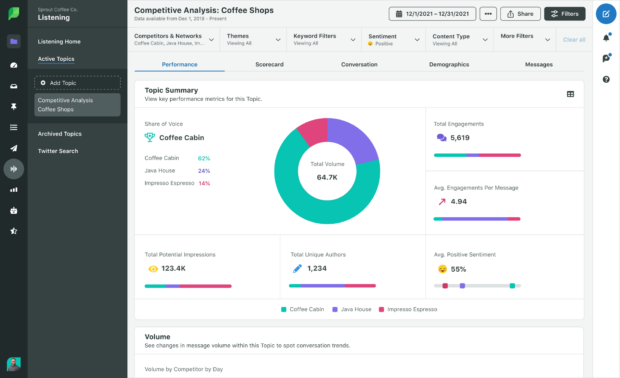 Source: Sprout Social
Sprout Social is a social media management software designed to help brands build a smart social media presence. It offers features for content scheduling, social media monitoring brand mentions, customer service management, and reporting.
Good for:
Mid-sized businesses and enterprise
Publishing and posting social media content
Analyzing and optimizing campaigns
Monitoring brand mentions and conversations
Pricing:
Standard: $249/mo, add $199 for each additional user
Professional: $399/mo, add $299 for each additional user
Advanced: $499/mo, add $349 for each additional user
5. Zoho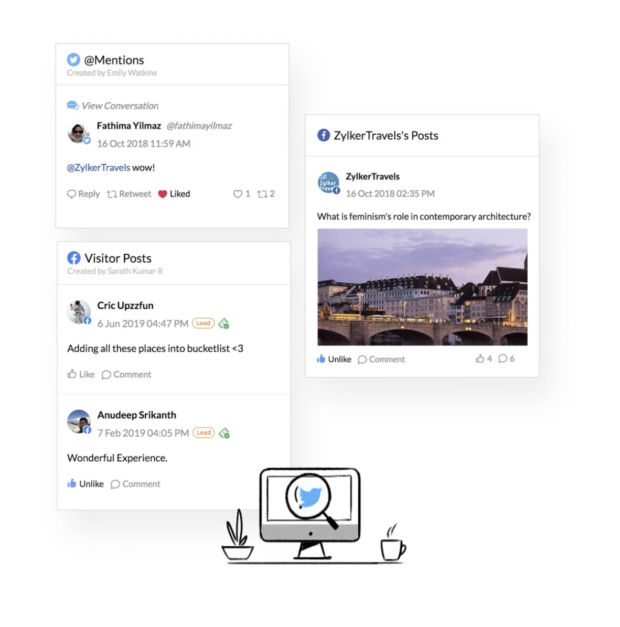 Source: Zoho
Our next Sprinklr competitor is Zoho. Zoho offers a social media management platform, CRM, conversion rate optimization (CRO) suite, email marketing platform, an e-commerce platform, and more.
While comprehensive, access to Zoho's suite of products is pay-per, meaning users may need to purchase multiple services to access the features they want. The interface is also somewhat cluttered and may take some getting used to. Users have also reported issues with account linking, tracking UTM parameters, and getting clear answers from the Zoho support team.
Good for:
Small to medium businesses and enterprises
Content creation, publishing, and scheduling among teams
Brand monitoring and social listening
Social advertising and campaign planning
Pricing:
Each Zoho feature is billed separately, but here's a quick breakdown of some popular features.
Zoho Social Premium: $50/mo billed annually
Zoho CRM: $71/mo billed annually
Zoho Commerce Professional: $75/mo billed annually
Zoho Email Professional: $6/mo for 20 users, billed annually
6. Buffer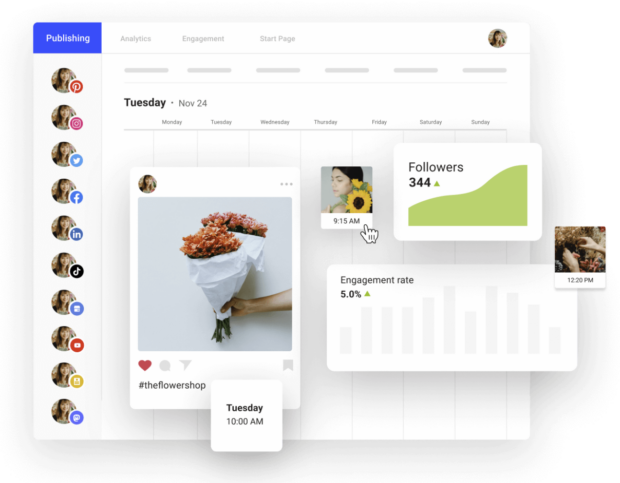 Source: Buffer
Small to midsize businesses looking to manage their social media presence may be familiar with Buffer. Buffer provides a straightforward way to schedule, publish, and analyze content across multiple networks from one central dashboard.
Buffer is a great option for those just dipping their toes into the world of social media management. Still, those looking for more advanced features, such as live team collaboration and enterprise features, may need to look elsewhere.
Good for:
Small to midsize businesses
Content planning and creation
Scheduling and publishing content across multiple networks
Analyzing post performance and tracking engagement metrics
Pricing:
Free Plan: Free for up to three channels
Essentials Plan: $6/mo for one channel, plus an extra $6/mo for each channel added
Team Plan: $12/mo for one channel, plus an extra $12/mo for each channel added
Agency Plan: $120/mo for ten channels, plus an extra $6/mo for each channel added
7. Later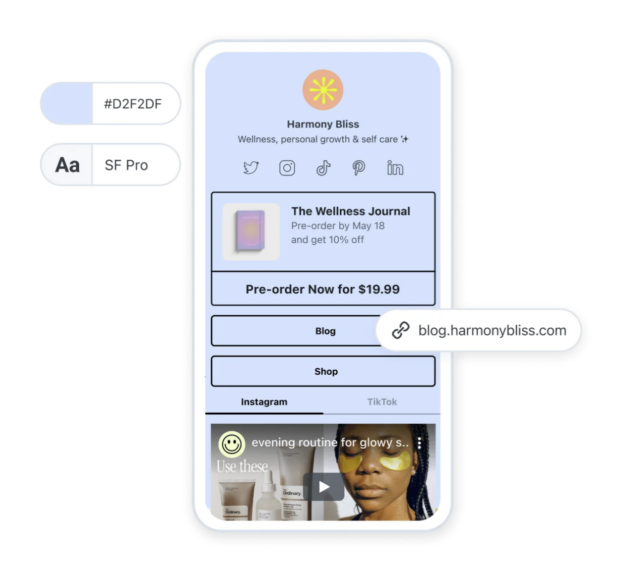 Source: Later
Later is a Sprinklr alternative that helps you plan, publish, and analyze content in advance for different social media networks. Later uses a simple drag-and-drop interface, making it easy to schedule a month's worth of content in minutes.
Good for:
Small businesses
Planning, scheduling, and publishing content
Seeing how your content looks in a visual feed
Analyzing post performance and tracking engagement metrics
Link-in-bio features
Pricing
Growth Plan: $40/mo for three social sets and three users
Advanced Plan: $80/mo for six social sets and six users
Scale Plan: $200/mo for fifteen social sets and ten users
Extra social sets and users add $15/mo each
8. KAWO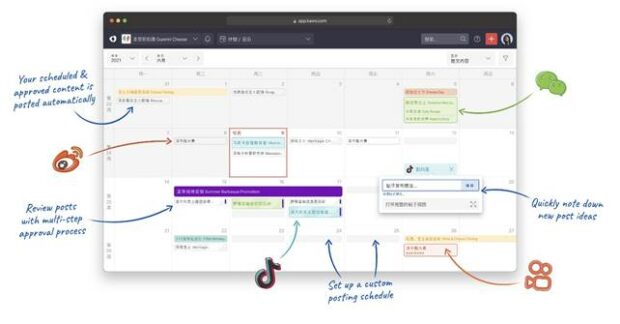 Source: KAWO
Businesses looking to succeed on Chinese platforms may want to consider KAWO, China's leading social media management tool. It is dedicated to building the most user-friendly software platform to empower marketing teams on Chinese social media channels such as WeChat, Weibo, Douyin and Kuaishou.
KAWO provides invaluable expertise in local regulations and customer insights and offers features such as content planning and scheduling, team collaboration, reporting and analytics, and AI-driven optimization. Hootsuite users can leverage the KAWO app directly from their dashboard, allowing them to collaborate easily on Chinese social media channels.
Good for:
Businesses looking to succeed on Chinese social media channels
Content planning and scheduling
Team collaboration, reporting and analytics
AI-driven optimization
Pricing:
KAWO CORE: Around CAD 6,000 annually, or $500/mo
KAWO CORE+: Around CAD 12,000 annually, or $1,000/mo
KAWO w/ Hootsuite: Free for Hootsuite users
9. Canva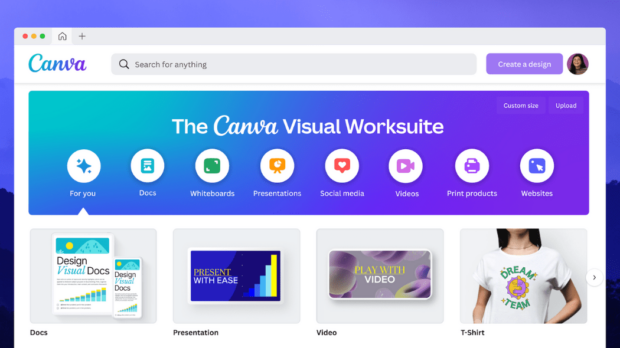 Source: Canva
Wait a second… Canva is a Sprinklr competitor? Yes! Canva is best known for its graphic design capabilities, but did you know that Canva Pro also includes a social media scheduler and planner? It currently has posting capabilities for Facebook, Instagram, Twitter and Linkedin.
Of course, Canva Pro does not offer the same breadth of features as Sprinklr or any of its other competitors–it's mainly focused on graphics and design. Still, it can be a great tool for businesses who want an easy way to schedule their Canva designs on social.
Canva is also a permanent feature of the Hootsuite dashboard, and you can access Canva templates directly from Hootsuite Composer. Or, integrate Hootsuite and Canva through the Hootsuite Apps database.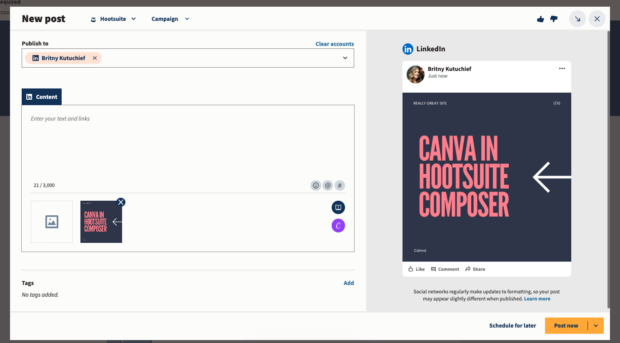 Good for:
Small businesses and digital agencies
Creating visuals for social media
Scheduling Canva-made posts on Facebook, Instagram, Twitter, and LinkedIn
Tracking simple engagement metrics like clicks, comments, and likes
Pricing:
Canva Pro: $16.99/mo for one user.
10. HubSpot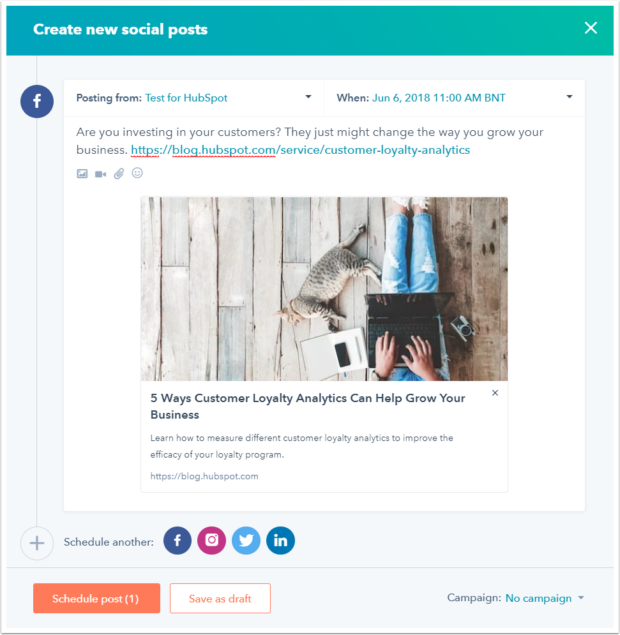 Source: HubSpot
Like Sprinklr, HubSpot is a customer relationship management (CRM) platform offering social media scheduling functions. HubSpot Marketing Hub is a robust platform that provides users with access to an entire suite of marketing tools, including email automation, analytics, reporting, and more.
Users of HubSpot Marketing Hub often say it's easier to use than Sprinklr and note that HubSpot provides superior customer service. Yet, the content calendar, content creation, and shared inbox tools in both tools lack depth when compared to dedicated social media management products.
Good for:
Small to medium-sized businesses
Social media publishing and campaign planning
Approval workflows
Campaign optimization
Pricing:
In terms of pricing, HubSpot is similar to Sprinklr, ringing in as one of the most expensive tools on our list.
Professional: $1,034/mo
Enterprise: $4,700/mo
How to pick the best social media tool for you
When choosing a social media management tool, there's no one-size-fits-all solution. You'll want to consider the size of your business, budget, and goals when deciding.
For example, if you're an individual small business looking for an easy-to-use platform with basic features at an affordable price tag, Buffer might be the right choice. On the other hand, if you're a larger organization looking for more advanced features and functionality, tools like Hootsuite might be better suited for your needs.
It's also important to consider whether you need access to international networks such as WeChat and Weibo. In that case, KAWO might be the Sprinklr alternative for you. And, if you're looking for a platform to do more than just scheduling and analytics, then HubSpot or Canva could be good options.
Here are a few things to keep in mind as you start shopping around:
Team member access: Many of the tools listed above charge by the user. So, consider how many people on your team will need access and how they'll use the platform. Approval workflows, editing options, and team collaboration features should also be taken into account.
Features: Make sure the tool has features that match your goals and objectives. Consider factors such as ease of use, customer support, analytics and reporting, paid advertising tools, integrations with other systems, and more.
Supported social networks: Check that the tool supports the networks you want to use. Tools like Canva are limited to the major networks, while others like Hootsuite and KAWO offer support for more niche networks.
Scale: The best social media tools grow with your brand. When choosing a Sprinklr alternative, consider whether the solution offers plans that scale with your business. How much will it cost to add new users? How about more social sets or additional features?
Price: Lastly, consider your budget and explore different pricing models. Most tools, like Hootsuite, offer a free trial, so you can try before you buy. If you can't try the tool first, get in touch with the brand's customer support team to see if you can get a live demo.
FAQs about Sprinklr alternatives
Who is the competitor for Sprinklr?
Sprinklr's top competitors include Hootsuite, Zoho Social, Meltwater, and Sprout Social. Each platform offers social media planning, scheduling, and publishing features, but Hootsuite remains a top contender when it comes to features and price.
What is Sprinklr best for?
Sprinklr is best for enterprise businesses with large teams who need a comprehensive suite of social media management tools, including content planning, post scheduling, team collaboration, analytics, reporting, and more.
Sprinklr's price range makes it out-of-range for most small to medium-sized businesses, and even enterprise brands may feel its pricing to be high compared to other competitors of Sprinklr.
Hootsuite is the Sprinklr alternative that's cheaper, easier to use, and packed with more tools to help you reach — and exceed — your goals online. See it in action.
Do it better with Hootsuite, the all-in-one social media tool. Stay on top of things, grow, and beat the competition.
Free 30-Day Trial