Between Facebook, Instagram, Twitter, Linkedin, TikTok, Snapchat and more, keeping track of all of your brand's social media accounts can feel like herding cats (and it's not nearly as cute).
But you don't have to go at it alone. There are lots of apps, platforms and websites out there for properly managing multiple social accounts.
This includes schedulers, reporting tools, and social media management software that ensures you're engaging with your followers regularly (and that no post, comment or direct message is missed) — and more.
With these tools, including some free social media management tools, you can gather up those kitties in no time. Let's start right meow.
The top 18 social media management tools
Bonus: Read the step-by-step social media strategy guide with pro tips on how to grow your social media presence.
What is social media management?
Social media management is the process of handling your presence on all the social media platforms your brand uses. It's not just for big corporations either — small businesses and solo creators need to manage their social media as well.
Managing social media includes planning and scheduling posts, interacting with followers, answering queries, keeping up with current trends, and analyzing your performance.
If that sounds like a lot — that's because it is! Using technology (a.k.a. social media management tools) to manage social media can help you:
Create and schedule social media posts in advance
Answer comments and DMs from multiple social media profiles in a single inbox
Track your analytics across accounts and platforms from one place
Generate and share comprehensive performance reports
Automate audience and industry research (through social listening and brand monitoring)
Keep your creative assets organized and available to your whole team
Improve your social customer support processes, response times, and customer satisfaction scores
A social media management tool can be anything from a simple photo editing app to a one-stop, do-it-all dashboard (*cough* like Hootsuite).
The big takeaway here? Social media marketing tools help marketers, business owners and content creators spend less time on the operational aspects of managing social media (i.e., clicking through countless tabs to keep up with profiles on different networks) and more time on creative and strategic work.
These tools are also essential for maintaining a healthy work-life balance while handling social media.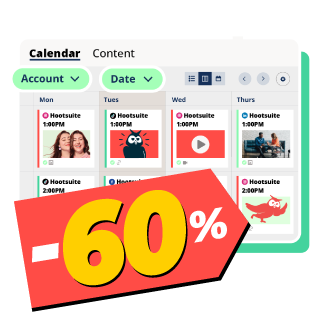 Our best deal EVER!
The deal won't get any sweeter. Get an annual Hootsuite plan 60% off and save up to $1,793 now.
Claim this deal
17 of the best social media management tools for 2023
Here are the greatest tools out there for managing your social media.
We're big fans of Hootsuite (shocker). And that's mostly because it's basically like having all of the best social media tools rolled into one convenient dashboard.
From an intuitive social media scheduler and planner to in-depth analytics, Hootsuite brings everything to one place so you get more done and save time along the way.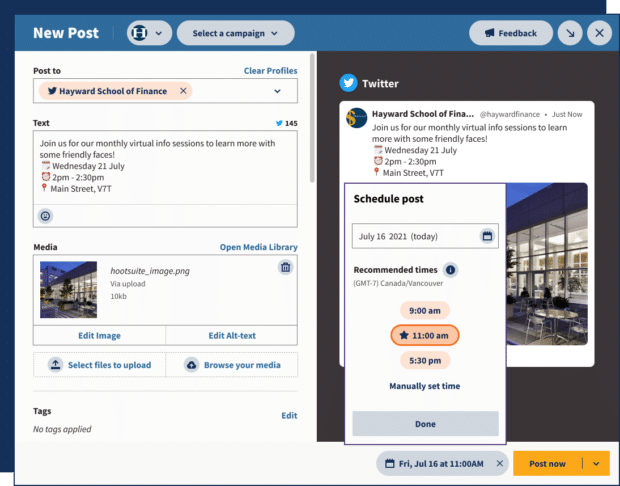 Hootsuite has a social media scheduler and content calendar, but it's also packed with features that help you perform better on social media. It happens to be one of the best social media management tools for multiple accounts out there.
Hootsuite provides insights on when your audience is the most active so you can post at the times most likely to give you a boost in engagement. It also allows you to view stats on all your social accounts in one place.
Hootsuite will even help you write captions and fill up your content calendar. Let the robots brainstorm for you and save time creating posts with OwlyWriter AI, Hootsuite's built-in social media caption writer and idea generator.
Oh, there are also Canva templates built right into the publishing window, so you don't have to toggle between tabs.
Our platform's social inbox is one of the best (totally unbiased, we promise) social media customer service tools out there. It organizes all your social conversations in one place, so you'll never miss a question, comment or share. It sure beats clicking in and out of apps all day.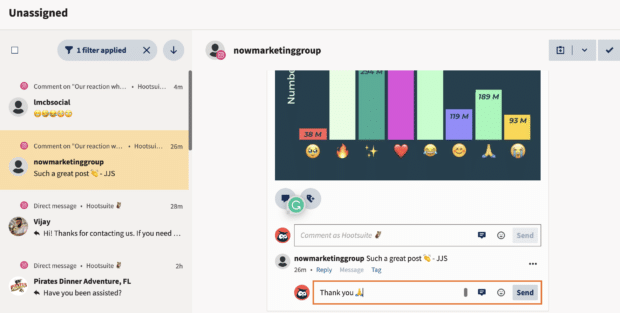 Hootsuite plans start at $99 per month.
Try Hootsuite for free. You can cancel anytime.
Although it's one of the most expensive social media management tools out there, Sprinklr offers some powerful capabilities that may help you stay organized and active on social media.
Like Hootsuite, Sprinklr lets you post to all of your social media networks in one place. It also has a unified social media inbox where you can monitor incoming messages across your channels as well as a robust analytics dashboard for tracking your performance.
Sprinklr offers one of the best social media listening tools (second only to Hootsuite's, of course). It lets you listen in on millions of conversations every day using AI-powered social listening software. Monitor keywords, phrases, hashtags, and more to gather actionable information about your brand or industry.
You can perform many of the same social listening tasks with Hootsuite Streams and Hootsuite Insights (powered by Brandwatch). Plus, Hootsuite costs much less than Sprinklr.
Later is a social media management platform similar to Hootsuite (you can compare Later and Hootsuite here). It comes with a variety of features, from analytics to scheduling tools, but it really shines through as a platform for smaller brands and creators who like to visualize and preview social media content before they post.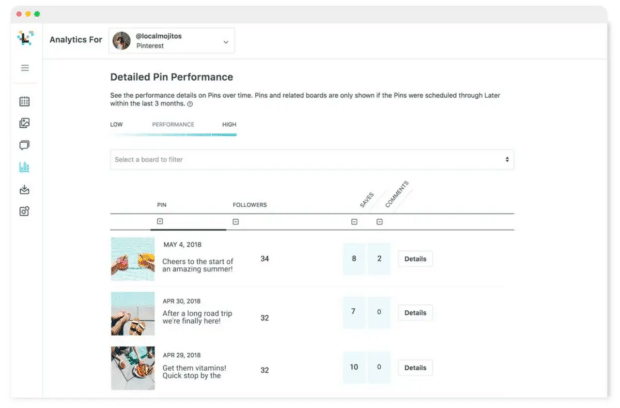 Source: Later
If you want to give your Instagram feed a little razzle-dazzle, Later has some neat extras. They offer an Instagram feed planner that lets you visualize exactly how your Instagram grid will look after you post. It's a nice way to give your grid a quick rebrand and make it stand out.
Although Later does have some tools for monitoring other channels, its analytics work best on Instagram. See how your grid posts, Reels, and Stories are performing to better strategize how you're performing across Insta.
Sprout Social is another top contender in the battle of social media management tools, and it may be worth your consideration. Offering scheduling and analytics for all the major social media platforms, Sprout can help you plan and execute your social strategy.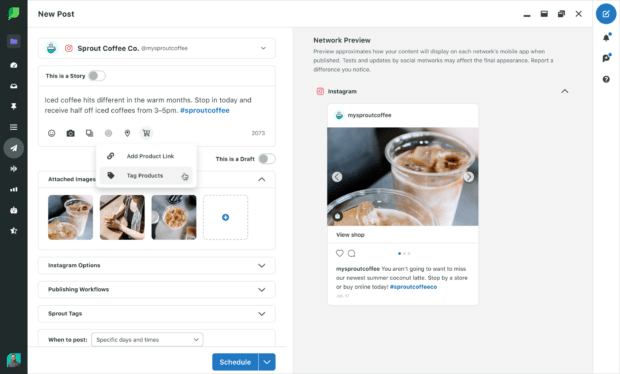 Source: Sprout
Like Hootsuite, Sprout offers a unified social media inbox that allows you to respond to messages across social media channels in one place. Easily prioritize messages, save time with auto-responders, and tag your messages to keep things tidy.
You'll also appreciate Sprout's full-featured analytics dashboard, which provides details on both your paid and organic posts and helps you decide when to publish content for the best results. You can also easily white-label and download reports from the Sprout dashboard.
Sprout is quite a bit more expensive than Hootsuite, but Hootsuite offers more features and integrations. Compare Hootsuite and Sprout to see which one works best for you.
You already know Canva is the design-savvy social media manager's best friend. The easy-to-use graphic design tool has revolutionized the way we create content, which is why we permanently added Canva to the Hootsuite dashboard. (No joke, there are Canva templates built right into Hootsuite Composer).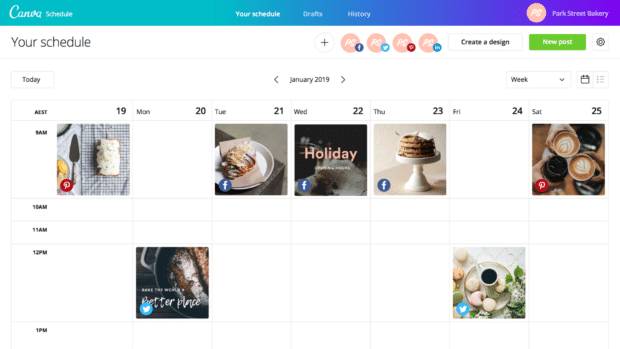 Source: Canva
But did you know that Canva Pro also includes a social media scheduler and planner? It currently comes with posting capabilities for Facebook, Instagram, Twitter and Linkedin. Within the Canva Pro dashboard, you can also track engagement, likes, clicks, impressions, and more to see how you're performing.
Although it's perhaps best known as a customer relationship management (CRM) platform, HubSpot also offers its own social media management software that may serve your needs.
Like many of the aforementioned tools, HubSpot's social media scheduler is designed to help you manage all your campaigns from one place. It allows you to publish content to LinkedIn, Facebook, Instagram, and Twitter and schedule your content to go live at the best possible time.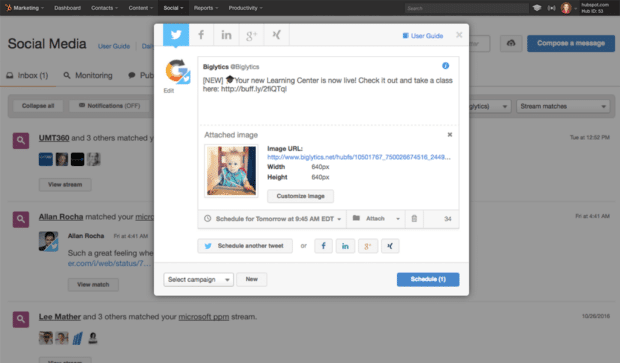 Source: Hubspot
HubSpot also comes with some helpful analytics tools to help you dig deeper into your post performance. Determine which platforms, campaigns, and publishing times work best for your brand. You can also monitor what people are saying about your brand or specified keywords with built-in social listening tools.
Buffer is another social media scheduler that comes with tools to help you build your presence on social media. It allows you to schedule posts to Instagram, Facebook, Twitter, TikTok, LinkedIn, YouTube, and Mastodon. You can also use it to reply to comments on Facebook Pages and Instagram business accounts.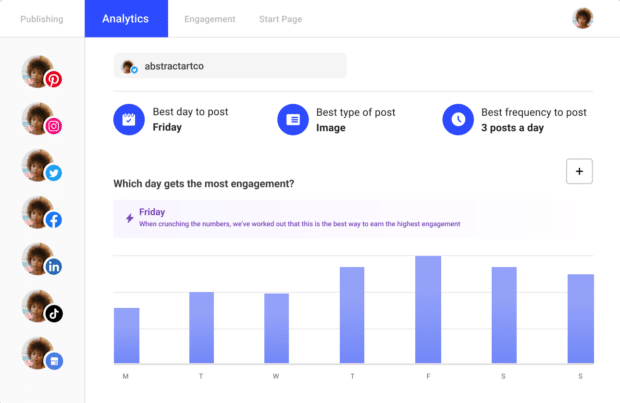 Source: Buffer
When it comes to all-in-one platforms, Buffer is relatively light on features. It doesn't offer analytics for all platforms and doesn't come with any social listening capabilities. However, Buffer's user-friendly dashboard is simple and straightforward, making it great for social media managers who just want to get in, schedule, and get out.
Be sure to read our guide to Hootsuite vs. Buffer for more on how these platforms compare.
This platform will automatically publish RSS feeds to your social (so, for example, you can set it up to automatically share a blog post to Facebook and LinkedIn the moment it's published on your blog).
Source: Synaptive
It's about $7 a month but free with Hootsuite's Enterprise plan.
Panoramiq Watch is an Instagram monitoring tool ideal for businesses looking to take their socials to the next level—it's all about keeping an eye on your competitors.
You can use it to watch specific hashtags, compare analytics and manage posts.
Source: Synaptive
Panoramiq Insights offers an in-depth look at your Instagram analytics, including stats on your followers, activity, posts and stories.
Panoramiq Insights even offers downloadable PDF and CSV reports if you really want to geek out.
Source: Synaptive
Panoramiq Watch has two plans. Under the standard plan, you can monitor up to 10 hashtags and 10 competitors for $8 a month. With the professional plan, you pay $15 a month to monitor 20 hashtags and 20 competitors.
Panoramiq Insights has a standard $8 a month plan that includes insights for two Instagram accounts. Each additional account costs an extra $4 a month.
Both tools are free with Hootsuite's Enterprise plan.
Brandwatch is a digital consumer intelligence platform that gives historical and real-time data relevant to you and your brand.
It analyzes images to recognize figures that you might care about and can compare the interests of different groups in your audience.
Source: Brandwatch
Brandwatch starts at $1,000 per month, and it's ideal for folks who are all about the numbers—it's very data-heavy, as opposed to visual.
Hootsuite offers a free Brandwatch integration for all Enterprise and Business plan users.
Cloohawk monitors your Twitter, then suggests "hacks" for better engagement and growth, plus tips on how to get you there.
It's like a Tweet doctor: diagnosing issues and prescribing fixes. A fix might be using the right hashtags, posting trending stories or reposting your old posts.
Bonus: Cloohawk's bot will auto-retweet anything deemed relevant to your brand.
Source: Cloohawk
Hootsuite offers a free Cloohawk integration for all users.
This app is a social media monitoring and discovery platform. In other words, it takes data from social media that can help you develop a marketing strategy.
Nexalogy can extract summaries with information, including objects, foods, events and people from images, and has an interactive timeline so you can see when folks are most active. It's useful for identifying crises in both politics and business.
Source: Nexalogy
And it's got a free plan!
Have you ever had a social post just disappear on you? Archivesocial records all the action on your platforms, so you'll never lose a post, like or comment.
It's especially useful for legal reasons—online recordkeeping is notoriously fickle, and apps like these ensure evidence is preserved.
Archivesocial's most basic plan is $349 a month.
Statsocial supports marketing initiatives by providing market data (from a database of 300 million humans) to help inform your strategy.
The platform can identify key influencers in your industry, identify your audience's interests and target specific individuals with surveys.
Source: Statsocial
Statsocial is free through Hootsuite.
Heyday is an artificial intelligence chatbot for retailers that integrates with Facebook, Instagram, Messenger, WhatsApp, and many retail-specific tools (like Shopify, Magento and Salesforce).
Heyday's smart technology can answer customer inquiries instantly and recommend products. If the query is too complicated for a robot, it will automatically go to a human instead.
Source: Heyday
Heyday starts at $49 per month.
For writing support, Copysmith is your hero. This platform can get your product pages ranked higher online and your posts a larger audience on social media. (After all, SEO and algorithms are technology, and so is this software: bot game recognizes bot game). This platform is ideal for brands with big marketing departments that need to do a lot of team collaboration.
Copysmith's Starter plan is $19 a month and comes with 50 credits, 20 plagiarism checks, in-app support, and integrations. Its Professional plan is $59 a month and includes 400 credits and 100 plagiarism checks.
Adobe Express's social-friendly templates make designing eye-catching, engaging posts, videos and stories easy.
Awesome visuals are an essential part of any strategy, and this is one of the best apps out there for photo and video editing.
Source: Adobe Express
This social media tool has tons of free stock images, templates and effects.
The basic plan is free. Premium (which includes more images, branding options, millions of stock images and 100GB of storage space) is about $10 monthly.
Fastory can up your mobile advertising game with templates for short games you can customize for your brand.
Their game catalog includes swipe quizzes, running games, photo contests and polls. This adds an interactive element to your social media and can increase your follower's engagement with your posts.
Source: Fastory
Fastory's pricing starts at $499 a month.
Save time on social media with Hootsuite. Manage all your accounts, engage your audience, measure results, and more — all from a single dashboard. Try it free today.
With files from Britny Kutuchief.
Do it better with Hootsuite, the all-in-one social media tool. Stay on top of things, grow, and beat the competition.
Free 30-Day Trial