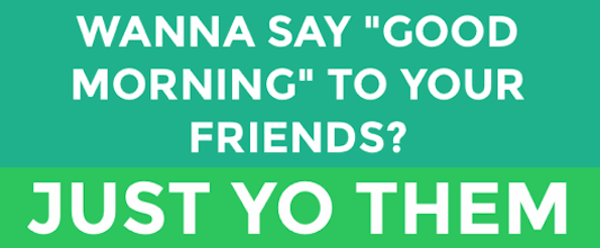 This Week in Social: Yo! Twitter Supports GIFs
Every Sunday, we will gather the week's most important news about the state of the social web. Not everyone has time keep up with the rapid flow of news throughout the week, but if you're a social media professional, you can't afford to miss the big stories.
Now that you have some time, let's get you caught up.
Latest From the Big 4
Every week Facebook, Twitter, LinkedIn and Google+ announce policy changes, updates, design tweaks, new features and other changes that can affect how you use their tools. Here are this week's highlights:
Twitter has finally embraced the irresistible phenomenon known as the animated GIF. The file format is now supported natively by Twitter's web client and mobile apps, so you'll no longer need to open a new window to watch them play. If the prospect of an exploding mobile data plan is throwing you for a loop, don't worry: GIFs won't animate automatically as you scroll through your timeline or search stream. You can initiate them manually by clicking the play button that appears over top of them, or by opening up the tweet on its own.
Starting today, you can share and view animated GIFs on http://t.co/wJD8Fp317i, Android and iPhone. http://t.co/XBrAbOm4Ya

— Twitter Support (@Support) June 18, 2014
Hootsuite Pro and Enterprise users can ensure that their GIFs work natively in Twitter by switching their image upload settings to pic.twitter.com, as shown below:
Posting GIFs to Twitter? Enterprise and Pro users, be sure to switch settings to http://t.co/i88WFAjS9y: http://t.co/GO1X5rnTlO

— Hootsuite (@hootsuite) June 18, 2014
Ephemerality is trending—at least for the time being. One week after introducing some Snapchat-like functionality to its Messenger app, Facebook launched Slingshot, a standalone app dedicated to disappearing content. Like Snapchat, Slingshot allows users to share moments with friends without having their photos and videos live forever on the web. But Slingshot looks to be more than a Snapchat clone, thanks to an intriguing limitation that is intended to spur more sharing: when you send somebody a message, they won't be able to view it until they send something back to you. This reply-to-unlock rule ensures that everyone is a creator and there are no passive spectators. Slingshot is aimed squarely at the 1% of social users who do most of the content creation online, but it might just encourage more people to get in on the fun.
LinkedIn also launched a single-purpose mobile app this week, dedicated to helping users conduct job searches while on the go. Unlike Slingshot, which creates entirely new functionality and doesn't require a Facebook login, LinkedIn's new app is intended to streamline and strengthen one of the core functions of the LinkedIn experience. LinkedIn wants to help job searchers make use of their "in between" moments, like when you sneak in a few minutes of Angry Birds while on the bus. In addition, the app's customizable push notifications will let you know when recruiters view your application, or when there are new job opportunities that meet your search criteria.
The Next Big Thing
The social web is a dynamic landscape, with new players constantly shaking things up. Whether it's a new class of Y Combinator startup stars announcing their big ideas, or a surprise venture capital investment in an app rumoured to be the next Snapchat, this industry moves fast. Here's the latest:
This week's most notable new player was undoubtedly Yo, the communications tool for people who think 140-character messages are too long-winded. Yo allows you to ping your contacts with a push notification and a high-pitched "Yo!" sound. That's all it does. Despite or perhaps because of its baffling simplicity, Yo went completely viral this week, and received enough press coverage on Wednesday to grow from 60,000 users to 200,000 in 24 hours. The origin of the viral trend was probably the Facebook page of tech writer Robert Scoble, who introduced Yo to his followers as "the stupidest but most addicting app ever."
With rampant user growth and $1 million in venture capital, Yo was flying high. Yet early Friday morning, TechCrunch broke the news that Yo had been hacked by three Georgia Tech students. The hackers were able to gain access to any user's phone number, send "spoof" Yo's from any account, and spam users with unlimited Yo's. They could also send push notifications containing whatever text they wanted, a blasphemous violation of the app's zero-content aesthetic.
Yo has confirmed the hack and is working hard to address its security issues. If anything, Yo's up-and-down week demonstrates how hard it is for us to predict the Next Big Thing in social media, where new trends emerge faster than you can say… well, you know.