7 Magic Ways You Can Use Scheduled Social Messaging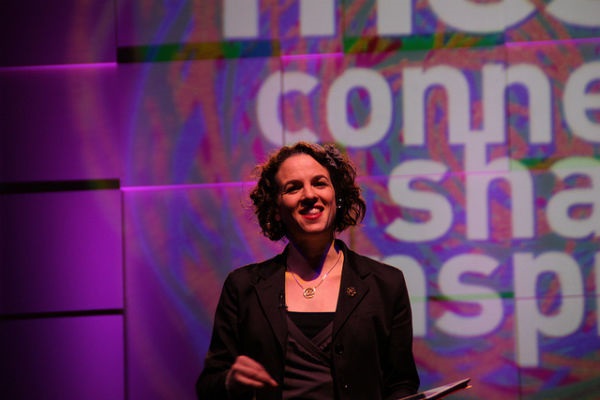 Alexandra Samuel is Vice-President of Social Media at Vision Critical, and appears as a Guest Contributor to the HootSource Blog. 
"How were you able to tweet while you were speaking?"
Of all the questions I get after giving a speech or workshop, this is one of my favorites. I'm always a little bit tempted to pretend that I am such a compelling speaker — and such a fast typist — that I'm able to fit in a few tweets without anyone noticing.
The truth, of course, is that the magic isn't mine. It belongs to HootSuite, which lets me queue up tweets and schedule them for whatever time I prefer.
Like a magic trick, the success of a scheduled tweet depends on the goodwill of your audience. Deceive, disrespect or hoax your followers, and you'll lose them. But use a little sleight of hand to provide a great experience, and your audience will pay no attention to the man behind the curtain.
Here are 7 magic ways you can use scheduled tweets:
1. Magnify Yourself
If you've posted a video or blog post you want to promote on Twitter, it's a good idea to tweet it 3 to 5 times over the course of a day or two, so that you hit people's home feed at different moments and maximize the chance that they'll see the link. Use the HootSuite scheduler to spread those tweets out, and write them a bit differently each time; you'll want to make it clear that you're still talking about the same post, so people don't click on multiple tweets and get annoyed when they hit a story they've already seen. (In Work Smarter with Twitter and HootSuite, I map out a workflow for scheduling self-promoting tweets as part of a strategy for building the professional relationships that matter to you.)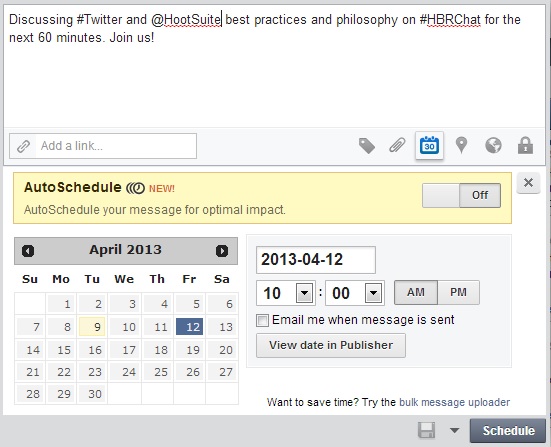 2. Make your ego disappear
An uninterrupted stream of self-promotion can easily become self-defeating. Queue up links to other people's content and web sites so that you avoid having back-to-back "read me!" "love me!" tweets. My favorite trick is to schedule self-promoting tweets for even hours, and generous, linking-to-other people tweets for odd hours, so that my self-promoting tweets are almost always separated. But then, because I'm not that generous, I set the self-promoting tweets for the top of the hour (e.g. 10:05) and the other-promoting tweets for the bottom of the hour (e.g. 9:45) so that most of the time, my most recent tweet links back to my own site.
3. Separate the links
If you're blitzing through your Google Reader backlog, you could be in danger of tweeting out forty tweets in an hour, thoroughly annoying your Twitter followers. Sending all those links to your HootSuite queue avoids overwhelming your followers. This trick is a nice complement to #2, because it gives you an easy way to break up all the self-promoting tweets.
4. Escape from tweet-free meetings
Because I am a neurotic person, I sometimes worry that people will compare the timestamp on my tweets to the time of our last meeting, and wonder why I was tweeting during an important discussion. Happily, HootSuite covers my tracks: since I schedule so many of my tweets for a later date or time, it's impossible to tell when I've been multitasking in a meeting, and when I simply had a scheduled tweet go out during a meeting that had my full attention. Conversely, I sometimes use HootSuite to capture a tweet that suddenly hits me like a 140-character bolt of lightning, but schedule it to go out after a meeting ends so that it doesn't feel rude.
5. Be in two places at once
If you're traveling overseas, tweeting in real time may land your tweets on deaf ears –if your followers are all asleep while you're tweeting. Use scheduling to shift those tweets back to your usual time zone and it's like you never left!
6. Slice your thanks

If you have a lot of people to thank – for example, the fifteen people who shared your latest blog post – you may want to queue up those thanks for an hour when they won't fill up your Twitter feed. (Remember that even though tweets that begin with a mention will only appear in the home feed of people who follow both you and the person you're mentioning, they will show up on your Twitter profile page.) Use a tweet scheduler to queue up that pile of thank-yous so that they go out in the middle of the night.
7. Tweet with no hands
As I implied at the top of this post, one of my favorite party tricks involves queuing up a stream of tweets before I take the podium to give a talk. I fill my HootSuite queue with tweets that share links to the sites or sources I'm planning to cover, appending the conference or event hashtag to each one. Then I let my audience know they can find all the resources I'm mentioning my checking out the conference hashtag, or (better yet) by following me on Twitter.
What makes these tricks magic isn't the illusion that you're tweeting around the clock. What makes them magic is the reality that you've calibrated your Twitter presence to what your audience wants, and when they want it.
Learn to schedule Tweets and other social messaging with HootSuite.