Expand Your Monitoring Capabilities – Assignments for Chrome

Thanks to social media, businesses today can listen to what the world is saying about their brand or products and respond in real-time. But even with the most avid online monitoring, opportunities (or crises) can be missed—when you're out of the office, in a meeting, or simply too busy to address a situation immediately. So what if you could enlist the help of your entire organization to become your eyes and ears on social media?
The new Assignments for Chrome extension allows HootSuite Pro and Enterprise users who are part of HootSuite Teams to quickly assign social media posts to their Team members as they browse Twitter.com and Facebook.com. With the extension, you can easily expand your team's monitoring capabilities so you can reply to important clients and audiences quickly and accurately.
This means even if you aren't browsing your social networks natively in the the HootSuite dashboard, you can still assign social messaging to the most appropriate person in sales, customer support, public relations, marketing departments and more.

Make sure social media opportunities are not being missed, put your time-sensitive messages in the right hands with Assignments.
To top it off, the Assignments Chrome extension also lets you track and monitor that assignment, to further ensure it's taken care of.
How Does it Work?
After installing the new HootSuite Assignments extension, HootSuite Team members have access to an Assign To button option, located directly below each social media post on Facebook.com and Twitter.com websites. Users can then:
Choose the HootSuite Team they wish to assign the message to.
Assign to either the entire team, or select the most appropriate member.
Have the option to include a custom message to help guide the next action of the message.
After sending an assigned post, the assignee will receive an email notification prompting them to view that post within an in-browser pop-up menu. This will allow the assigner to monitor both the progress on tasks that user has been assigned, and tasks have been completed.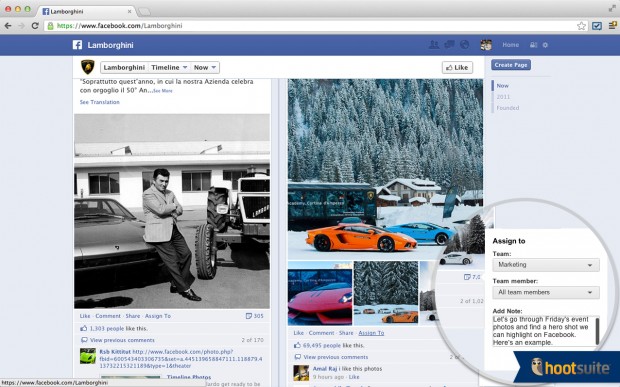 Helps to ensure no Twitter or Facebook message slips through the cracks—even in the busiest of work environments.
Lets users assign Twitter updates directly from Twitter.com or Facebook wall posts directly from Facebook.com to any team member, plus include notes for information on following up.
Sends assignees email notifications whenever a new message is delegated, and view assigned messages within a drop down assignment view in the browser.
Allows you to monitor the progress of assigned tasks—including auditing responses for quality assurance. Upon task completion, the assignee marks the message as resolved, allowing the assignor to monitor progress the whole way through.
The HootSuite Assignments Chrome extension will help your team reply to important clients and audiences more efficiently, accurately, and with less redundancy.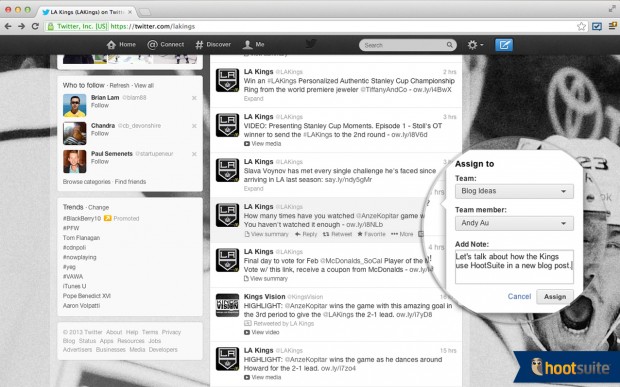 Get Started
To help you get started with the Assignments Chrome extension, we've also created this free Info Sheet. Download it from SlideShare, embed it on your blog, or print it out (on recycled paper) to pass along to your managers and colleagues.