It's that time of year again. There's a crisp chill in the air and the leaves are changing. Scarves are beginning to reappear and pumpkin spice everything is the treat du jour.
October is here and Halloween is right around the corner.
If you're the organized type, that means meticulously planning your costume. If you're more on the spontaneous side, it means throwing together something fun at the last minute.
Either way, costume ideas are the name of the game. And, if you're a social media marketer, then finding something job-relevant to wear to work is simply an added bonus.
That's why we've pulled together a list of clever social media costume ideas that any marketer would be proud to trick-or-treat in. Scroll on for inspiration.
1. Snapchat filter and lens costumes
Hunting for a costume that's easy, topical, and clever? Look no further. Dressing up as a Snapchat filter or lens is the perfect Halloween get-up for social media managers.
It's as simple as choosing your favorite filter, hitting the dollar store, and getting creative with some makeup or face paint.
There are plenty of how-to articles and videos online with step-by-step instructions on how to get the look of your fav filter.
YouTuber Brittany Marie walks through a makeup tutorial for the classic rainbow barf Snapchat filter.
If you're more of a butterfly filter Snapper than a rainbow barf filter enthusiast, then this tutorial from Seventeen is just the thing.

For more inspiration, check out this video from YouTubers Niki and Gabi.
In under seven minutes, they tackle how to put together a bunch of the most popular Snapchat filter looks, including:
Gold butterfly filter
Purple lips with stickers filter
Deer filter
Pink flower filter
Messy makeup/crying filter
Or, if you're looking for a filter that's a little more outside-the-box, YouTuber Madeyewlook gets creative with a few other favorites in a series of tutorial videos, including a very creative step-by-step look into how to do your makeup to look like Snapchat's facial recognition grid. In her video series, she also covers:
Googly eyes filter
Heart eyes filter
Mouse filter
Horror film filter
Cute and scary bunny filters
Heavy makeup filter
2. The Birds-Twitter mashup costume
If you're a fan of classic horror films, try taking your costume cues from the master of suspense himself, Alfred Hitchcock.
This costume idea requires a bit more forethought and planning. Start by dressing up as Tippi Hedren from her iconic role in 1963's The Birds.
Halloween Costume Idea | Tippi Hedren in The Birds > https://t.co/cYTUIm3MdP pic.twitter.com/eTPz0Ln6zH

— Amber McNaught (@foreveramber) October 20, 2015
Then, instead of menacing black fowl, adorn your Halloween masterpiece with friendly blue birds (or simply the Twitter logo) instead.
For some inspiration, take a look at our #SocialNotScary Halloween campaign from 2014.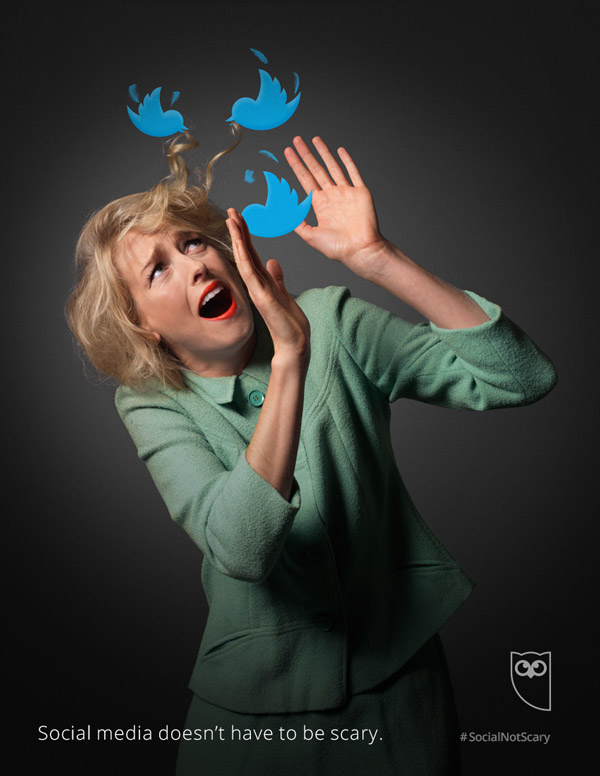 3. Instagram frame or filter costume
Another fun idea (and one that lets you wear whatever you like), is to go as an Instagram frame or filter. A bit of cardboard, some proficiency with a printer, and voila, you have a clever costume that's just begging to be shared on social. Fun for both selfies and group photos.
Hootsuite has an Instagram post frame that we pull out for special occasions (like Hootups and Instameets). For that personal touch, take your cues from our frame and include fun personal details, like your Instagram handle, a relevant caption, and some fun hashtags. No one will forget to tag you in their Halloween party photos!
For a twist on this idea, create a cardboard frame with cellophane so you can go as an Instagram filter. Use your printer to add other filter icons at the bottom to mimic Instagram's edit screen. Be sure to practice your best selfie face, because this costume's photo-ready.
Bonus points if you can match the cellophane to the color tones of an actual Insta-filter.
If you're on the tech-savvy side and want to kick things up a notch with a costume that's both clever and interactive, you can take your inspiration from Eric Micotto, a photographer who went as the (original) Instagram logo, adding a camera and iPad to his attire, in order to make the logo functional. Other party-goers could actually snap and preview images with his costume. Talk about social!
Hipster alert. This year's Halloween Costume: a fully-functional Instagram camera! pic.twitter.com/Oh7l7Jzc

— Eric Micotto (@Kamera_man) October 26, 2012
4. Facebook (and other network) costumes
A classic easy costume idea is to simply dress as your favorite network. This can mean quite literally printing out components of the network (such as logos and posts) and attaching them to your outfit or creating a sandwich-board costume.
This same general idea can be adapted to whatever network you like. To go as Pinterest, wear a corkboard with a variety of pictures attached to it using red thumbtacks. To be Twitter, try wearing light blue attire and carrying around a whiteboard so people can 'share' brief messages. Be creative!
Another route here is the punny costume. Think of the character Jim Halpert's Facebook costume from the TV show The Office in which he actually just wrote the word 'book' across his face. If you want something a little more interesting, you could also attach a book to your face or carry around a book filled with your friends' faces.
Or, if you truly want to strike fear into the hearts of your fellow marketers, you could go with a costume that's truly terrifying: a Facebook troll.
This costume is a delightful mashup between the world's largest social network (or any network of your choice) and cutesy troll dolls. A wig (or a little temporary hair dye), a social platform logo, a mean comment sign, and you're set.
5. Social media butterfly costume
A pair of costume wings, some social media logo cutouts, a little glitter, and BAM! You're a social media butterfly. And we all know that puns make the best costumes.
It's a classic costume, and for good reason: it's easy, it's work-appropriate, and it's clever. Perfect.
The great thing about this idea is that it can easily be made into a group costume. Simply have each group member wear the network colors and a printed out logo of a different social network, pop on some butterfly wings, and you're done. Bonus points if the wings match the network colors!
6. Snapchat logo costume
For a new twist on a classic, dress as a ghost for Halloween (complete with Charlie Brown-esque sheet), then attach a yellow poster board square to your back, and add a red notification circle to the corner. Better than a simple ghost, you're the Snapchat app logo.
https://www.instagram.com/p/9k4a29ly8J/
7. Owly costume
Of course, you can always use your Halloween costume to pay homage to your favorite social media management platform. Some feathers (real or felt) and a mask (or a fun toque)—and you'll look like Owly in no time!
BONUS: Chewbacca mom costume
If you want something that's both social and topical, why not take a spin as viral video star Candace Payne this Halloween?
The Texas mom recorded a Facebook Live video in her car after purchasing a Chewbacca mask. It's now the most-watched Facebook Live video ever—and the perfect costume. A black tee, a plastic Chewbacca mask (preferably one that makes the Wookie growl as heard in the video), constant laughing, and you're all set for this one.
Whether you're posting photos of your fantastically clever costume or running a Halloween campaign on social, Hootsuite can help. Try it free today.