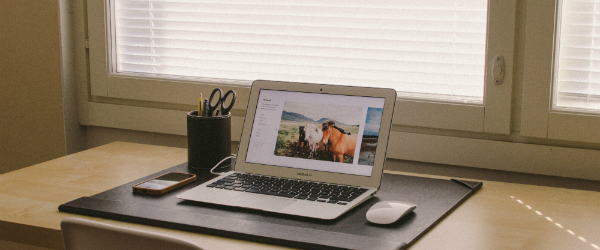 Creative Facebook Cover Photos: 5 Lessons From 10 Brands
Your cover photo is the display window of your Facebook profile: it's the first thing a user sees when they visit your brand's Page, so it may be the deciding factor between their choice to explore further or leave. There are some basic rules for social media images to keep in mind in order to make the most out of that page real estate.
First, it helps to know the correct dimensions for your cover photo. The best-looking picture will be about twice as wide as it is high. If you are making a custom design, work from a custom canvas with the dimensions of 851 pixels by 315 pixels—the ideal size for a Facebook cover image.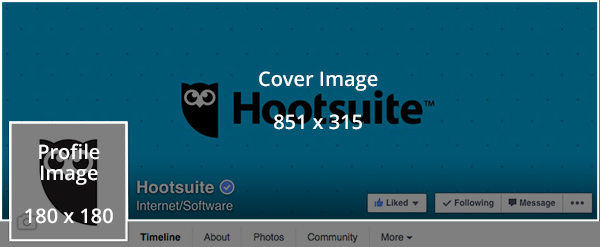 If you want to crop an existing photograph to fit the dimensions, choosing a high-resolution photo with portrait orientation will help you avoid such design flubs as bad cropping, stretching or blurred lines (no pun intended, Robin Thicke).
Next, determine whether you want your Facebook cover photo to contain any text. I'll go over the purposes of text in a cover photo in more detail later, but for now, some design basics: your cover photo should be a visual asset, and if there is any text, it can't overwhelm the photo. Make sure your text is clearly seen in the picture by choosing a complementing colour, and use a tasteful font, preferably in the sans-serif family for readability. In terms of the proportion within the picture, go by the 20% rule that used to be a requirement for Facebook cover photos as well as ads: it states that the size and amount of text, including the brand logos, cannot exceed 20% of the image.
Over the last quarter, an average of 703 million people logged into Facebook on their mobile device every day. With mobile traffic increasing for every major social network, it's crucial that your profile is optimized for mobile—in this case, that means your cover photo. In order to show off your cover image on a smartphone screen, it needs to be right or center-aligned. What this means is that if you have any text, or your image has a focal point (such as a face or a depiction of your product), it needs to be either on the right side of the rectangular image, or in the middle.
Last, but not least, you should be aiming to stay on-brand with all the visual assets used on your brand's social media pages. If you have a set of design assets, such as brand colours or images, keep them in mind when choosing the colour scheme of your entire profile. Then, design your cover image or choose the photo to go in that prominent spot in accordance with your brand's design assets.
We have covered the basics of choosing and designing your Facebook cover image, but learning is always easier with examples.Now, let's take a look at some brand Pages which keep all the important elements in mind while putting their cover photos to work.
5 Facebook cover photo lessons from 10 brands
Design your Facebook cover photos for different seasons, holidays
Brands such as men's fashion retailer Frank & Oak or sportswear company Oakley know the importance of highlighting the seasonal relevance of their products. Featuring high-resolution, colourful photographs with seasonal elements shows their social media audience the brand's awareness of the trends and needs of the clients, as well as the ability to match their creative output to the season's tone.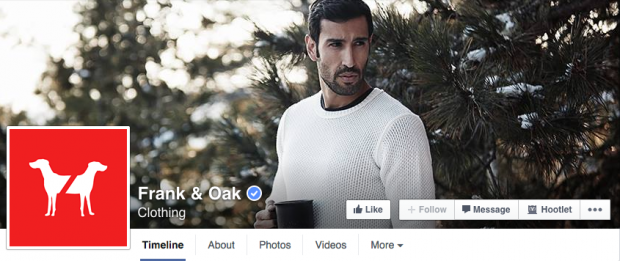 If your brand has a diverse selection of products, it's important that your design assets promote all areas of product specialization. One of the ways you can showcase how your brand fits into several lifestyles is by highlighting those lifestyles on social media, the way Oakley does in their beautifully shot cover photos.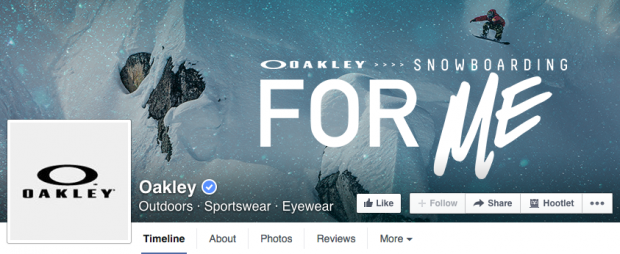 However, your brand doesn't have to specialize in seasonal products in order to join in to seasons' greetings and celebrate with their customers. You can sweeten the deal with a creative holiday display featuring your product on the cover photo, the way chocolate bar KitKat did in their Facebook Page.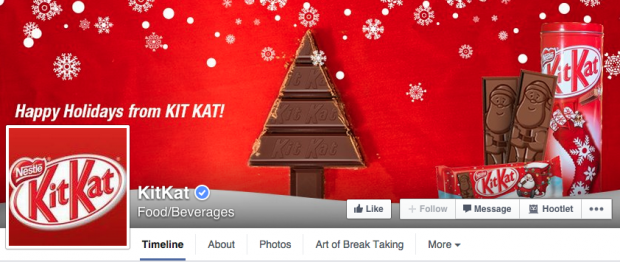 You can also engage in some Facebook-Inception and place your social media visitor in the midst of a holiday party, like peer-to-peer accommodations company Airbnb did.
Use Facebook cover photos to promote campaigns
Since a cover photo is the first thing a visitor sees on your brand's Facebook Page, you can use that space to create awareness of your latest product release, brand campaign, or company news. For example, Starbucks' cover photos featured images from its newly opened roastery in Seattle.
And the coffee mogul's latest cover photo promotes a campaign that can make one coffee addict's life a lot cheaper by winning free coffee for life.
Highlight your customers or partners with Facebook cover photos
Your cover image can—and should—also be used to give attention to your company's most important asset: your customers. See below for an example of how an online vintage-inspired clothing retailer Modcloth used recognizable brand imagery to design a thank-you note as a cover photo for their Facebook Page.

eBay's cover image can cover two lessons in this section: first, they are highlighting the products one could find on the e-commerce website, as well as put them in a larger context by displaying them as part of a lifestyle—whether it's a gift for your favorite fitness junkie or that dream axe to play your first face-melting solo.
Another peer-to-peer e-commerce service, Etsy, opts for a simpler design—they typically highlight a single merchandiser in their cover image. But if you've ever been on Etsy, you know they don't have to look far for appealing images to feature on their Facebook cover photo—all handmade and vintage works practically sell themselves.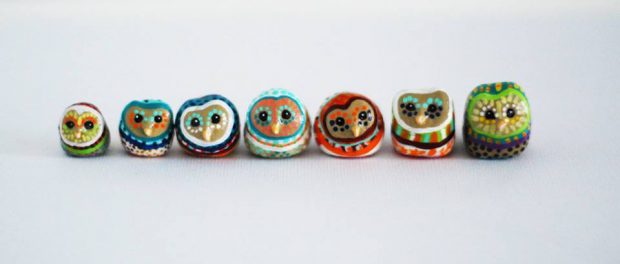 Coca-Cola has long established themselves as a leader in the advertising world, and their social media presence is no exception. There are probably enough lessons for a separate post to be learned from Coca-Cola's Facebook cover images alone; so for this example, I chose their current photo. It shows snapshots of different kinds of people in different parts of the world, all with one thing in common—a bottle of Coke prominently featured in the picture.
Connect with your customers' lifestyles with your Facebook cover photo
You designed your brand's product or service with the aim to improve your customers' quality of life, whether it's by saving them time, streamlining a process, tantalizing their taste buds or helping them find that perfect LBD. In short, you know your customers—show that knowledge off in your cover photo!
Herschel encourages their fans to use hashtags #wellpacked and #welltravelled to tag photos of the adventures they experience along with their Herschel product. Perhaps inspired by their customers, their cover photos feature breathtaking landscapes in faraway places, with one familiar sight—a Herschel bag.
Focus on the present with your cover photo
Your brand can also use that precious Facebook Page real estate space to highlight the latest in line of your brand's products—like Disney does with the latest movies releases from their studios.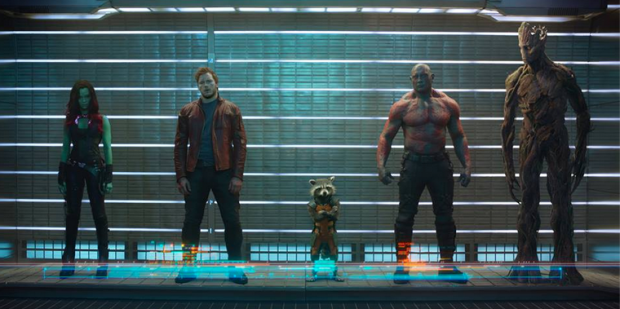 Or the way Cineplex, a large North American movie theatre operator, highlights the latest blockbusters currently showing in theatres.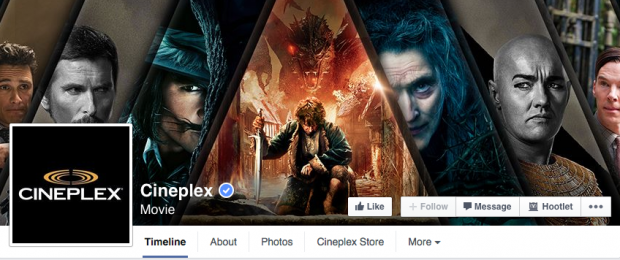 Know of any other brands using their Facebook cover photos to market their product or company better? Share them with us in the comments below.
Make managing your Facebook profile easier with Hootsuite. Try it for free.