The Evolution of Social Media (2008-2013) ~ An Infographic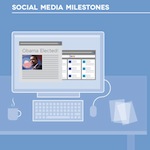 Social media is never static. It is an an ever-changing array of tools and platforms built for any number of purposes.
On November 28 2013, HootSuite celebrated its fifth birthday. Over the last 5 years social media has changed the world in innumerable ways. From becoming a resource for activists to showing us the earth as we had never seen it before, each year brought new social networks with new purposes (and the decline of others, like MySpace). Even our own tool has undergone major upgrades as we strived to meet the needs of a user base that exploded from zero to over 8 million. We want to thank those users, our customers and our partners for 5 years of growth.
The following infographic offers a snapshot of the last 5 years of social media, how it has evolved and impacted our lives. What stands out for you?

Share this infographic, especially with those who are still in doubt about the power of social media!