Facebook Hashtags to Simplify Public Conversations
Facebook hashtags are now a reality.
After months of rumors, the largest social network in the world has incorporated hashtags in an effort to encourage and simplify public conversations.
Facebook announced the new feature in a blog post, stating "Starting today, hashtags will be clickable on Facebook. Similar to other services like Instagram, Twitter, Tumblr, or Pinterest, hashtags on Facebook allow you to add context to a post or indicate that it is part of a larger discussion."
Within that post, the social network acknowledged that until now there had not been an easy way to see what people were talking about in large numbers. With Facebook hashtags, users will be able to click on a tag like #NBAFinals and view a feed to see what other users, and pages, are saying about that specific subject.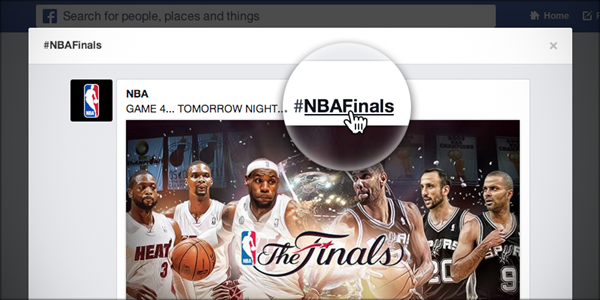 Facebook noted that between 88 and 100 million Americans engage on Facebook during primetime television. As an example, they pointed to the recent "Red Wedding" episode of Game of Thrones, noting that it received over 1.5 million mentions on Facebook — a lot of discussions that might soon be open to the wider public. (If you're a fan of the show, check out our Game of Thrones inspired infographic).
Users will also be able to click on Facebook hashtags originating in other services like Instagram (or cross-posted messaging from social media management tools), and "compose posts directly from the hashtag feed and search results." Hashtags will not automatically be public either, as people maintain the ability to make posts private.
The social network teased that Facebook hashtags are the first of a series of features they will be rolling out to surface public discussions and broaden engagement. Trending hashtags and "deeper insights" are on the horizon according to the blog post. This is good news for brands, who may have even greater opportunities to connect with all users — not just fans — on subjects that interest them through means other than advertising.
Learn more about Facebook hashtags in their Help Center.