An Owl's Eye View of HootSuite HQ ~ #HootPress News Roundup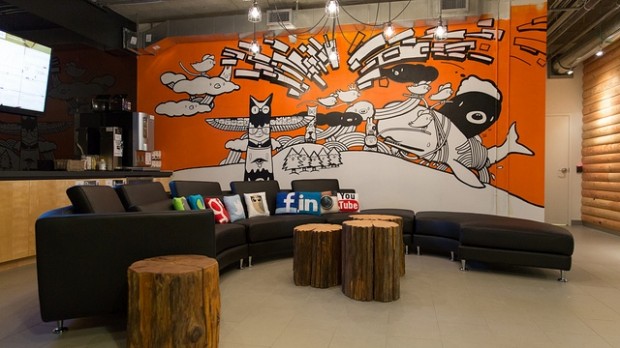 As you may have already heard, after four years of packing a growing number of people into our humble headquarters in Railtown, Vancouver, the owls at HootSuite have upgraded. Our new home is in a retro-fitted Police Department Building in Mount Pleasant (the bulletproof glass windows caught the eye of Rob Lewis, Editor of Techvibes.com).
To celebrate our new 33,000 square feet of space, we invited the press to come by and check out our new digs. Want to see peek inside the nest? We were featured nationally on a TV newscast that documented our office in this comprehensive photo slideshow and newscast.
Staying #HootFit
Monday mornings can be tough, and instead of keeping our employees buzzing with caffeine, we have the perfect place to take a quick fifteen minute break: the nap room. This room, complete with cots, blankets, dim lighting and relaxing decor is a great place to go when you need to recharge. Conversely, the fully equipped gym and yoga rooms are perfect places to work off some of that energy. The Vancouver Observer took notice of the facilities.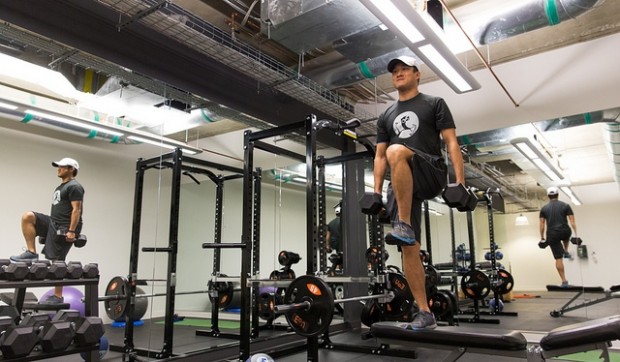 Some of our owlettes came up with a Tuesday night Boot Camp workout with our resident trainer, Gerard Recio. This not only lets us get to know our colleagues, but get our fitness on- summer is right around the corner… To make sure we are starting our mornings right (and following along with Vancouver tradition), we have an early morning Yoga practice in our yoga room. This helps center our owls, while also giving us a key to strengthening our bodies and minds, while developing balance and flexibility.
Social Owls
After all that working out, we can get a little thirsty. After leaving the gym or yoga room, it is only a short stroll down the hallway to our kitchen and cafe area. Not only are there foosball and ping pong tables, but we have beer and wine on tap. The taps get a lot of attention from outsiders, but the truth is the coffee machines see a lot more traffic. We are social owls, but it is only once our work is done for the week that we get together to enjoy a beverage and perhaps some FIFA, Dance Dance Revolution, or some pong of the ping or beer varieties. VanCity Buzz held court at the taps with our VP of Talent, Ambrosia Humphrey.
Our Kitchen/Lunchroom also has a stage and projector, where we enjoy Lunch and Learns, industry meetups and training sessions of all kinds. Grace Ke from Global News TV came by and got to talk to Ambrosia a little bit more about our Lunch and Learns:
Inside the Nest
Since each employee connects wirelessly through our notebooks, we are free to find comfortable places around the office to sit and concentrate. A comfy couch, a picnic table, or even tents for more private meetings, are all in the realm of possibility. John Koetsier of VentureBeat took a moment to stop by and enjoy some of these places.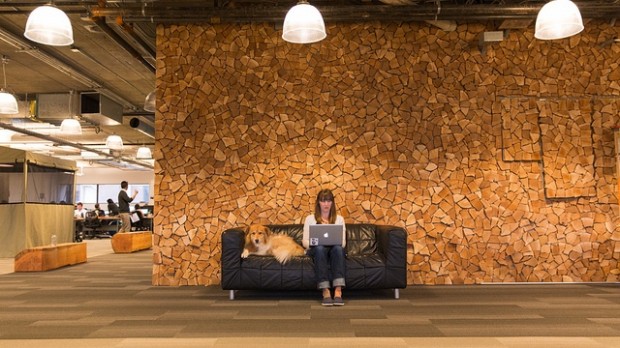 Huffington Post B.C. was here, taking notice of our casual and open atmosphere. Cedar beams, wooden picnic tables and tree stump chairs are found throughout. Trevor Melanson, of Canadian Business Magazine took a minute to talk with Sandy Pell, our Public Relations and Communications Manager, about how the interior of our office has an inviting cabin-like feel. Take a look at images of our interior in Canadian Business Magazine.
The Vancouver Sun calls us "Lucky", but we know that only hard work and great people can ensure us the results we have been seeing. The only way for us to grow is by adding to the fantastic team that we already have. If you want to learn more about joining the nest, check out our careers page.