As the popularity of Instagram Reels continues to grow, so does its potential as a marketing and advertising tool. Fans of the TikTok-inspired format will be excited to know that Instagram Reels ads are now available on the platform.
Instagram launched Reels globally in 2020. They are 15- to 30-second, multi-clip videos that can be viewed in the Reels tab of an Instagram profile and in Explore. They're a highly engaging content form that could get your business more followers.
Instagram recently launched Instagram Reels ads, meaning your business can now use this format in a new brand new way to reach a targeted audience.
Here, we'll explain:
What Instagram Reels ads are
How to set up Instagram Reels ads
How to use Reels on Instagram for advertising
Bonus: Claim your pack of free animated Instagram Reels templates created by Hootsuite's professional designers. Easily customize them in Canva, and take your Reels game to the next level today.
What are Instagram Reels ads?
Instagram Reels ads are a new placement for ads on the platform. In a nutshell, using Instagram Reels ads is yet another way for businesses to advertise on this platform. (And there are plenty — take a look.)
This advertising form launched globally in mid-June 2021 after being tested in a few select countries, including Brazil and Australia.
According to Instagram, "Reels is the best place on Instagram to reach people who don't follow you and a growing global stage where brands and creators can be discovered by anyone. These ads will help businesses reach greater audiences, allowing people to discover inspiring new content from brands and creators."
Instagram Reels ads look a lot like Instagram Stories ads. They are full-screen, vertical videos, like this Instagram Reels ad example from Superstore, a Canadian supermarket chain:
And like Instagram Stories ads, Instagram Reels ads show up between regular, non-sponsored Reels that users are viewing.
Also note that Instagram Reels ads:
Will loop
Allow users to comment, share, save and like
Like all ads, Reels ads show up on Instagram marked as sponsored.
Where will my Instagram Reels ads be displayed?
There are a few different ways Instagram users can be served your Reels ads, including:
In the Reels tab, accessible via the home screen
On the Explore page
In their feed
Instagram Reels ads are displayed in the same parts of the app where users discover organic Reels content. This is a great opportunity for brands to step up their game, get creative and seamlessly capture their audiences' attention when they're scrolling through similar content.
How to set up an Instagram Reels ad
Now that you know what this new ad format is, the next step is learning how to set up an Instagram Reels ad. If you already work in Instagram Ads Manager, the process is a breeze.
Step 1: Create the ad
Start by putting the creative together. This means recording your video and making sure it's the right size. During this stage, you should also write your copy and captions, and decide on hashtags.
Get creative! Organic Reels are usually paired with music or viral sound clips. They're sometimes (or most of the time) funny or quirky. If it's right for your brand, find some a popular audio clip that works with the ad so that it fits in with the other, non-sponsored Reels users are viewing.
Step 2: Navigate to Ads Manager
Make sure your company has an Instagram business account. That ensures you'll have access to Ads Manager. (If you didn't know, here's how to connect your business's Instagram account to Ads Manager.)
Click Create.
Step 3: Choose your advertising goal
What's your business's objective of placing an ad on Instagram Reels? There are several options available, but make sure to select an objective that is specific to Reels: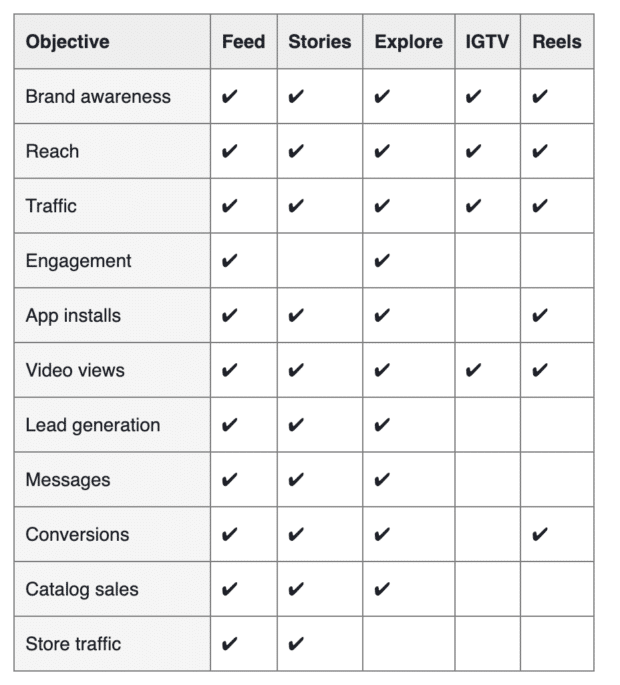 Source: Facebook for Business
Six advertising goal objectives are available for the Reels ad placement:
Brand awareness
Reach
Traffic
App installs
Video views
Conversions
Step 4: Fill out all the ad campaign details
That includes important advertising details like your budget, the schedule and target audience.
Source: Facebook
Step 5: Place the ad
Choose Manual Placements. Then, navigate to the dropdown next to Stories. Choose Instagram Reels for your ad to appear as an Instagram Reels ad.
Step 6: Customize your call to action
You decide how to encourage viewers to act. For example, you could customize the CTA on the button with:
Shop Now
Read More
Sign Up
Click Here
And that's it! Your Instagram Reels ad is ready. After it's been reviewed and approved, the ad will appear publicly.
Source: Facebook for Business
How to boost an Instagram Reel
Sometimes, setting up a Reels ad from scratch isn't necessary. If one of your organic Reels is doing great, you might want to put some advertising dollars towards helping it do even better, a.k.a. boost it.
You can watch our video on how to promote your Reels on Instagram here:
To boost a Reel, head to your Hootsuite dashboard and follow these steps:
In an Instagram Stream, find the post or Reel you want to boost.
Click the Boost post button below the preview of your post or Reel.
Enter your boost settings.
And that's it! If you're having trouble boosting on Instagram, check out our guide for top tips.
Start your free trial. You can cancel anytime.
You can also boost Reels in the Instagram app by heading to your profile and tapping Boost post below the Reel you want to promote.
Instagram Reels ads best practices
Want to know how to get the most out of your Instagram Reels ads? Keep these top tips in mind to create effective, engaging ads. And remember: a great Reels ad is a lot like any other great Reel!
Tip #1: Time the Reel
In other words, make sure you've scripted the Reel to fit in the 30 second limit so it won't get cut off!
Instagram Reels ads, like regular Instagram Reels, are between 15 and 30 seconds in length. If you've created a video that's too long, you risk losing out on sharing your business's most important message with your potential audience.
Tip #2: Know what your audience finds engaging
Don't make guesses! Now that Instagram Reels Insights is a thing, you don't have to.
Instagram Reels insights are metrics that show you how your Reels performed in terms of reach and engagement.
Source: Instagram
Track these numbers to see which style of Reel your current followers engage with most. Then, emulate that style when creating your Instagram Reels ads.
For example, maybe your Reels analytics show that your audience eagerly engages with how-to Reels, and that the same format helps you reach the most people. Making a how-to Instagram Reels ad might be a good way to resonate with your target audience, and encourage viewers to tap your ad's CTA button.
Tip #3: Add audio and text
Yup, audio is extremely important — especially for Reels. Adding the right audio to your Reels ads will help them blend in with organic Instagram content.
That being said, be inclusive. Some of your target viewers might scroll the app with the sound off, and some might have hearing impairments.
Adding captions to your Reels (Reel ads included) is a great way to ensure that everyone will be able to understand, enjoy and engage with your content.
Tip #4: Get your dimensions right
No one will engage with a blurry ad. Make sure the footage you're using in your Reel is the ideal aspect ratio and size for full-screen Instagram ads.
The aspect ratio for a Reels is 9:16 and the ideal file size is 1080 pixels by 1920 pixels. Uploading files that don't fit the bill can result in blurry or awkwardly cropped Reels ads that will just look sloppy and unprofessional.
Tip #5: Get into the Reel spirit
Reels and Reels ads are a great way to show off how fun, creative, thoughtful and even quirky your brand is. So, as much as the purpose of your Reels ads is to generate traffic, views or clicks, make sure to keep it fun. If your content is too pushy and salesy, your audience is likely to swipe to the next Reel without interacting with it.
View this post on Instagram

Instagram Reels ads examples
Here are some great examples of Reels ads from big brands that will help you get inspired and kick off your first campaign using this placement.
Netflix
The streaming service uses Reels to promote new Netflix-exclusive shows.
View this post on Instagram
Nespresso
Nespresso uses Reels to highlight its commitment to sustainability and promote an upcoming IGTV series.
View this post on Instagram
BMW
The luxury car brand uses Reels to promote a new car model.
View this post on Instagram
With some inspiration under your belt and the knowledge on how to get started, your business is ready to use Instagram Reels ads to reach your target audience, increase brand awareness and expand your reach on the platform.
Easily schedule and manage Reels alongside all your other content from Hootsuite's super simple dashboard. Schedule Reels to go live while you're OOO, post at the best possible time (even if you're fast asleep), and monitor your reach, likes, shares, and more.
Save time and stress less with easy Reels scheduling and performance monitoring from Hootsuite. Trust us, it's reely easy.
Free 30-Day Trial