You know when you're scrolling through Instagram, laughing at a Reel, only to accidentally refresh your feed and lose the video forever? Or maybe you found the perfect Reel for a blog post you're writing, only to forget to save it? Wouldn't an easily accessible Instagram Reels history be helpful?
As people who love using Instagram Reels for business, we say yes.
Unfortunately, IG doesn't have an Instagram watch history baked into the platform. Don't worry. We've been filling their suggestion box with requests since we realized the oversight. In the meantime, here's how to see your Reel history on Instagram.
How to check your Instagram Reels history: 3 methods
There are three different methods for checking your Instagram Reels history. But, disclaimer: None of them are perfect (yet).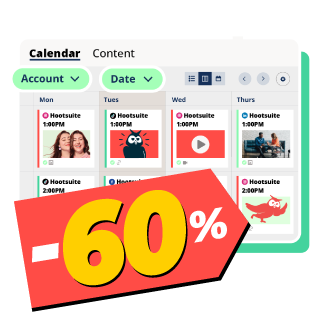 Our best deal EVER!
The deal won't get any sweeter. Get an annual Hootsuite plan 60% off and save up to $1,793 now.
Claim this deal
1. Download your Instagram account data
The most time-consuming and information-stuffed method of accessing your IG Reels history is to download your account data from Instagram. This can take up to 14 days to complete, so if you're in a hurry, you're going to need to try something else.
Step 1: Sign in to your Instagram account on your desktop. This method can't be done using mobile.
Step 2: Navigate to the Hamburger menu in the bottom left corner of your screen.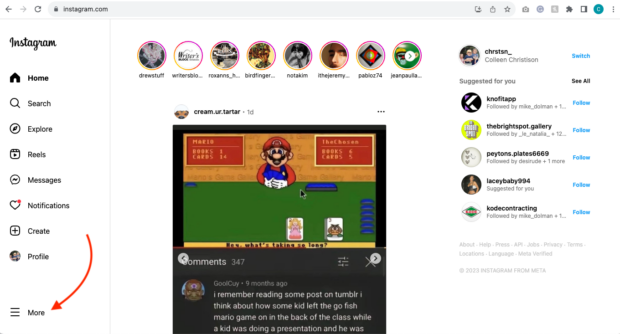 Step 3: Click on Your activity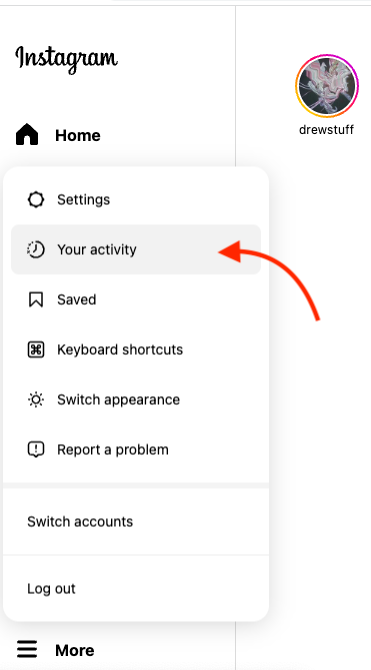 Step 4: Navigate to Download your information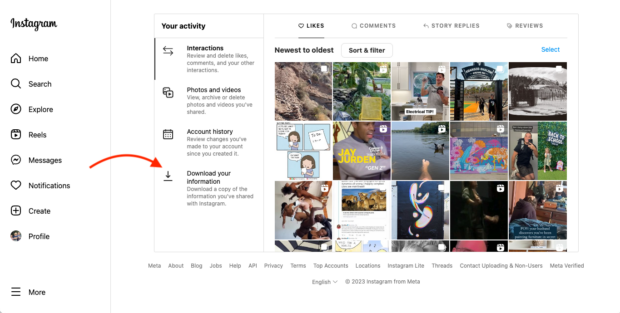 Step 5: Make sure your email is right, choose the information format (HTML or JSON) and click Next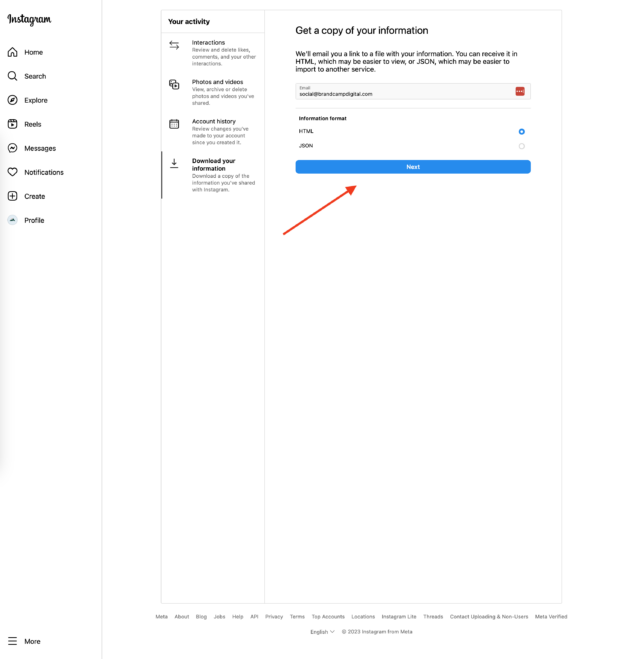 Step 6: Enter your password and click Request download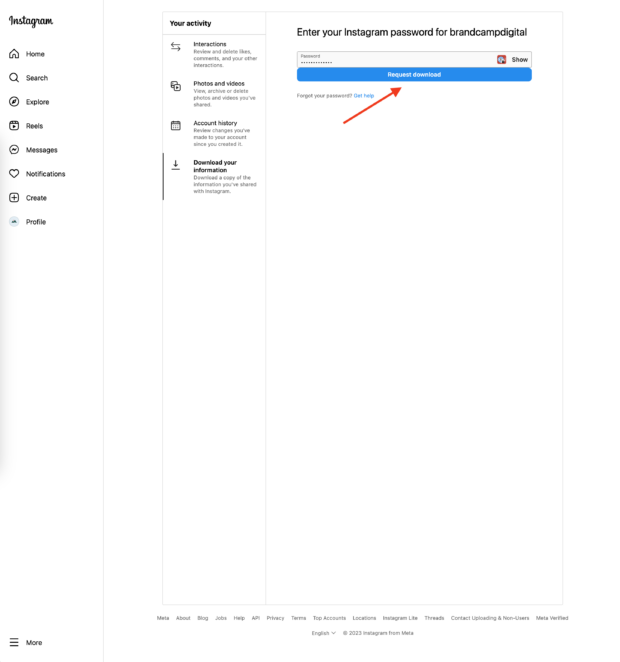 Step 7: You will get a confirmation screen saying your download has been requested. It should appear in your inbox in as many as 14 days. As a note, you can only request your data once every 30 days.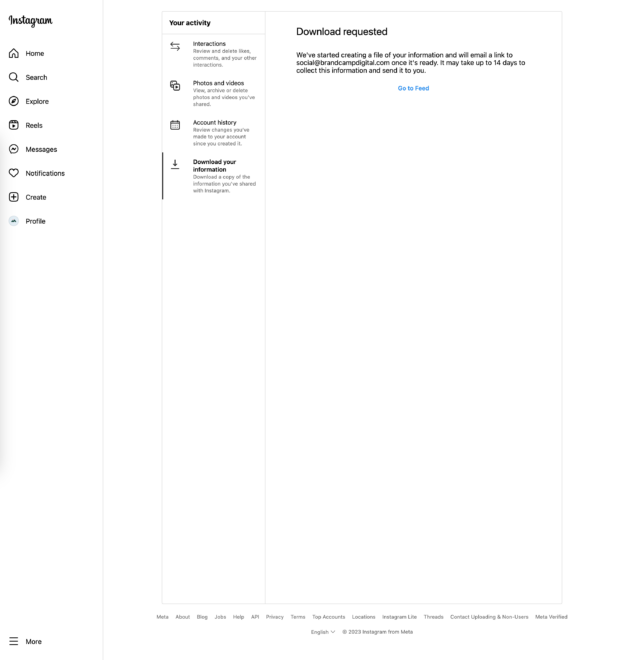 Step 8: You'll receive an official email from Instagram; click Download Information.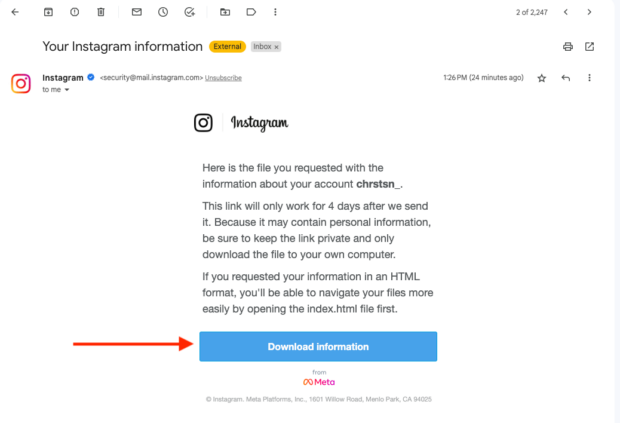 Step 9: This will take you back to Instagram's desktop site, where you'll be prompted to log in.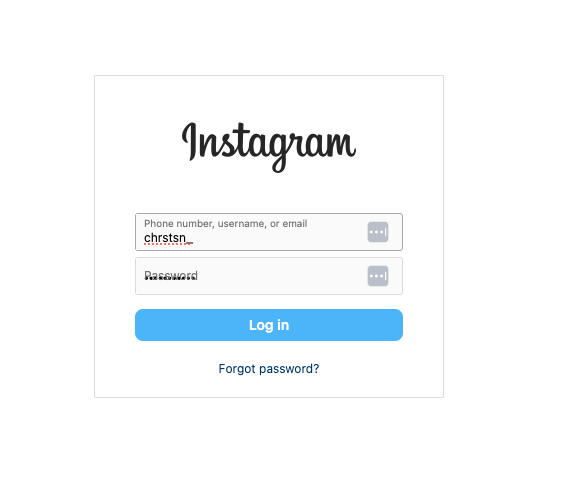 Step 10: A page will pop up with information about your download. Click Download information.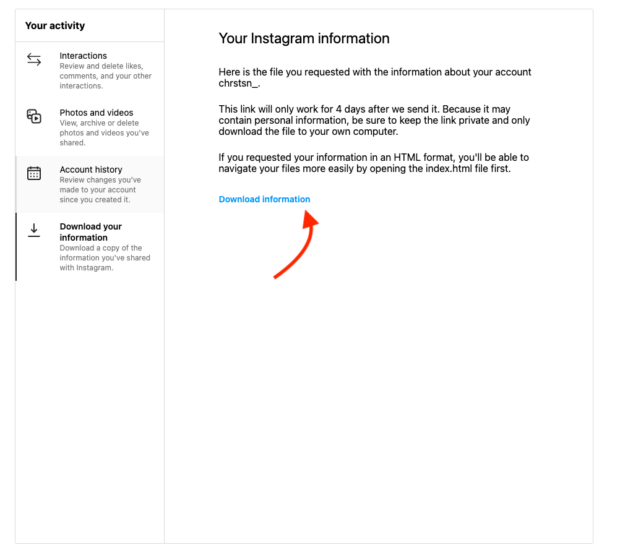 Step 11: Open the downloaded file and navigate to the folder titled ads_and_topics. Open it.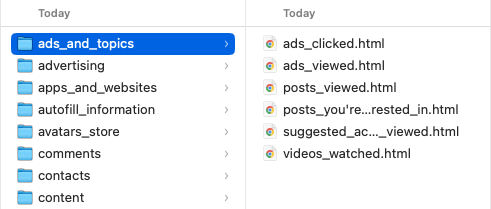 Step 12: Navigate to the file titled videos_watched.html and open it.

Step 13: Now, you have a list of links to every video you've ever watched, including Reels. This does not give you links to the videos, but rather, the name of the account and the time. You can use this information to sleuth through Instagram accounts, looking for Reels published after the time you watched them.
The reels.html file you see is actually the history of Reels you've uploaded in the past. Not the Reels you've watched (sorry to disappoint).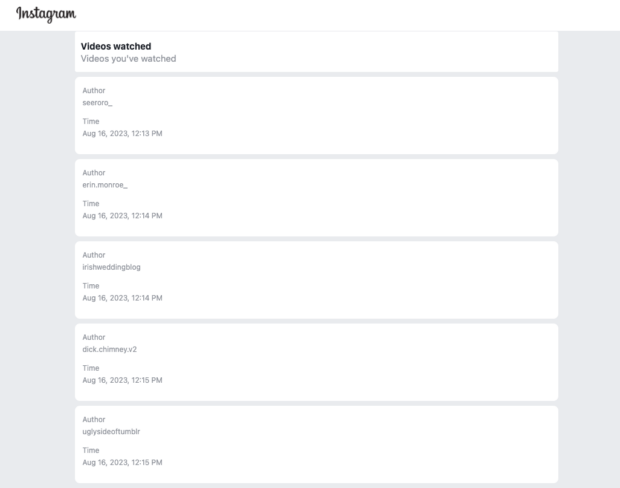 Limitations: Data takes up to 14 days to download. That being said, Instagram made our data available in a number of hours. Another note is that the data provided only gives you the account name and time you watched the video.
2. View previously engaged with Reels in the Your activity tab
One of the easiest ways you can access your IG watch history is to use the Your activity tab.
Step 1: Sign in to your Instagram account on your desktop. This method can't be done using mobile.
Step 2: Navigate to the Hamburger menu in the bottom left corner of your screen.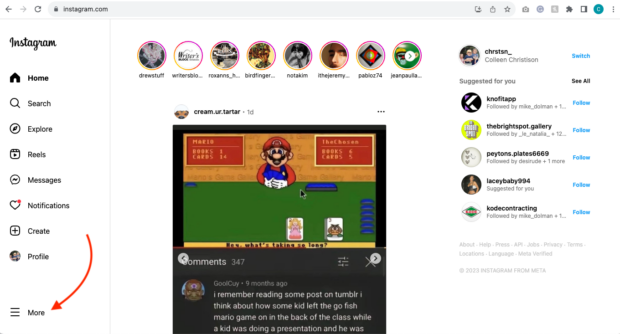 Step 3: Click on Your activity.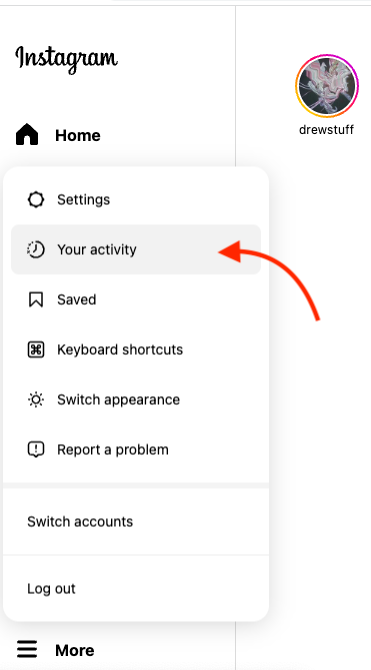 Step 4: Within the Interactions tab on the left-hand menu, you can view all of the content you've previously interacted with. You can filter these by newest to oldest or oldest to newest, and likes, comments, Story replies, and reviews.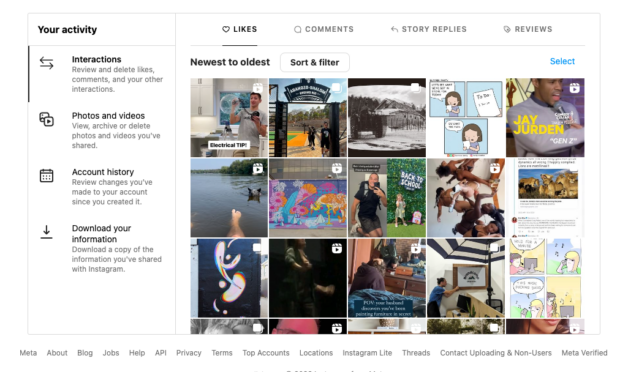 Here, you can see which pieces of content are reels, indicated by the icon in the top right corner of the thumbnails.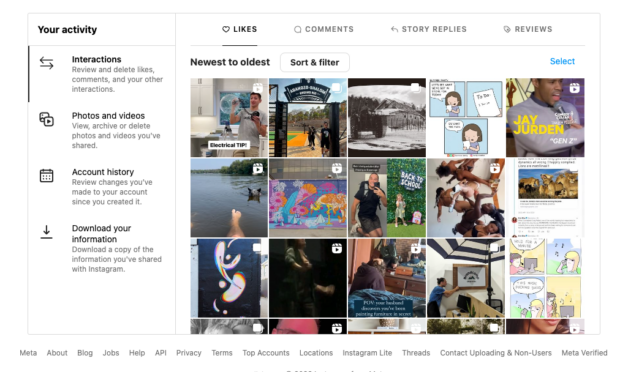 Limitations: You must have previously interacted with the reel to see it. If you simply watched it without liking, commenting, or sharing, it will not show up.
3. Use your Saved tab
Being able to save content on Instagram has saved me hours of searching for lost Reels. If you're a stranger to the Saved tab, let me enlighten you on how to save Reels and access them later in your Saved tab.
Step 1: Once you find a Reel you want to save, click the three dots in the bottom right-hand corner.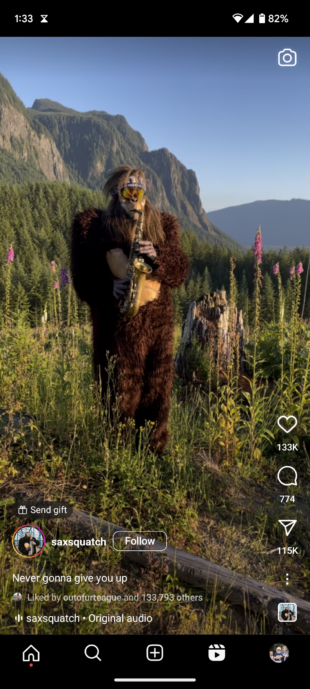 Step 2: Click the bookmark icon to save the Reel.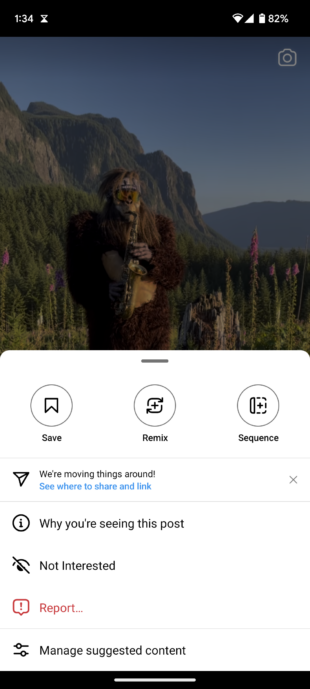 Step 3: If you like, you can choose a Collection to save it to or create a new collection. You can also do nothing here, and the Reel will save to All posts.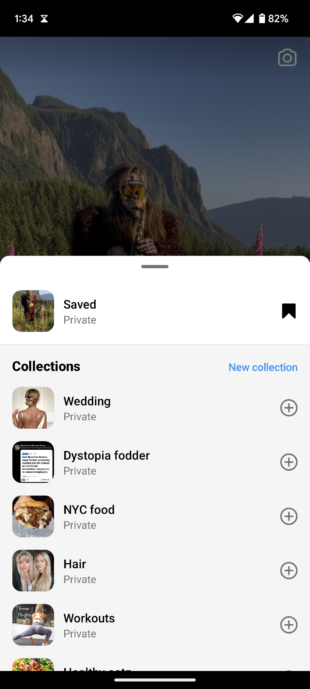 Step 4: Navigate to your profile, then click the Hamburger icon.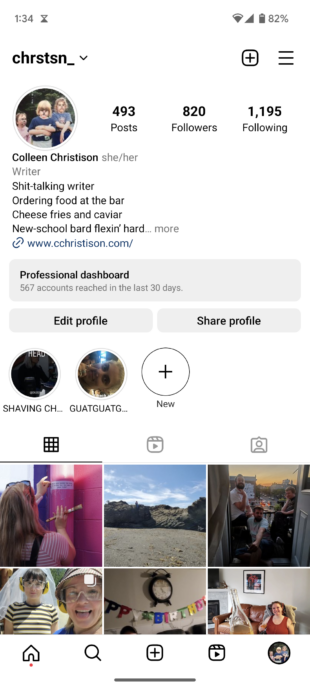 Step 5: Navigate to Saved posts.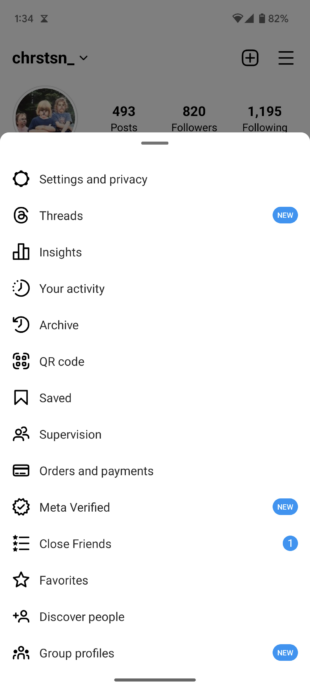 Step 6: Find your Reel in the collection you saved it to.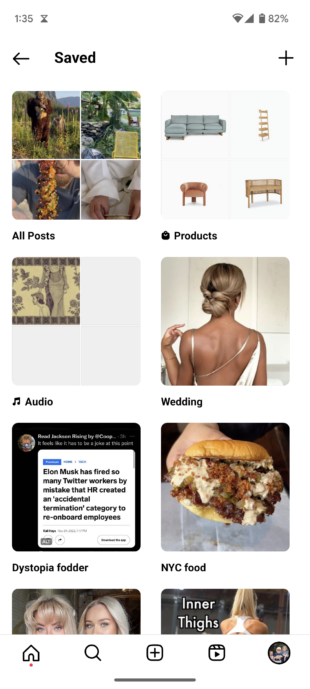 Limitations: You have to have saved your Reel to track it this way.
Hungry for more Reel-good content? Check out these Instagram Reels hacks .
5 tips to find your favorite Instagram Reels again
While there's no surefire way to find your Instagram Reels history, there are a few tricks you can employ to find your favorite Reels again.
Try to remember a keyword from the video
Instagram's search capabilities are certainly better than they used to be! Can you remember the audio features, any keywords from the caption, or the account name? If so, you'll be able to better search for those long-lost videos.
Use Google to find your Instagram watch history
If you're not having any luck searching for your fav-but-forgotten Reels using Instagram's search bar, try Google.
Input the keywords you remember here plus Instagram Reel, and (this is important) include the term site:www.instagram.com in your search. This will tell Google you only want results from Instagram specifically, so you don't end up with blogs or how-to videos.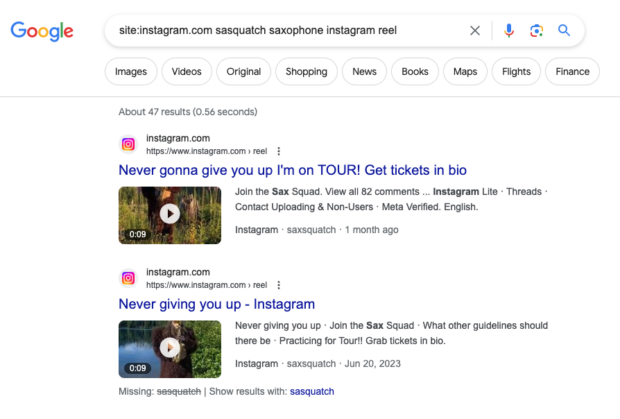 Filter your results by video content so you can see the thumbnails and captions. Then, it's as easy as scrolling through the results, looking for something familiar.
Make it a habit to use your Save feature
Slap that save button any time you watch a Reel for more than a few seconds. You can always go back into your Saved folder and remove all of the ones you don't want to come back to later.
Make it a habit to like or comment on Reels
This tip will not only help you track your Reels, but it will also help those content creators sweating away behind the scenes boost their engagement rates. And why not throw your likes out there? They're pretty affordable to give away, after all.
Start downloading Reels
Is simply saving or liking your favorite Reels isn't working for you? Maybe you've been saving and liking so many that you're losing your top favorites amongst your not-so-top favorites. If so, you could try downloading your top favorites, so you have a hard copy on your desktop.
From simply saving it to your camera roll to using third-party apps, we go over four ways to download Instagram Reels here.
FAQs about your Instagram Reels watch history
How do you see your history on Instagram Reels?
There are a few ways you can see your Instagram Reel history, but the most all-encompassing way is to download your data from Instagram. Follow the steps above to make it happen.
How do I see videos I've watched on Instagram?
You can see videos you've watched and liked or commented on within the Your activity tab, and then within the Interactions tab. You can see every video you've watched by downloading your Instagram data off the platform.
How do you delete Reel history on Instagram?
You can't delete your watched video history from Instagram. The platform (like most social media platforms) keeps a record of everything you do on it. It uses this data to inform the algorithm, giving it signals on what you might enjoy watching next. That being said, you, as the account holder, are the only one who can access this information.
How do you change what Reels you see on Instagram?
You can change how Instagram serves you Reels by interacting with the kind of Reels you want to see more of. The algorithm will recognize this and try to serve you like-content.
You can also manage the kinds of Reels you see by letting Instagram know whether you're interested in the content served to you. The next time you see a Reel you dislike, click the three dots in the bottom left corner, then click "Not Interested." Instagram will stop serving you content like this.
You can control your "interested in" and "not interested in" content in your Suggested Content tab.
First, head to your profile page and click on the hamburger menu in the corner, then click on Settings and privacy. Next, click on Suggested content. From here, you can adjust the Interested, Sensitive content, Not interested, and Specific words and phrases areas to your liking.
Start building your Instagram presence using Hootsuite. Schedule and publish posts directly to Instagram, engage your audience, measure performance, and run all your other social media profiles — all from one simple dashboard. Try it free today.
Save time and stress less with easy Reels scheduling and performance monitoring from Hootsuite. Trust us, it's reely easy.
Free 30-Day Trial