#HootSuite Offers Choice of URL Shorteners ~ From Libya to Liechtenstein

New Shortener Address
At HootSuite, we often find our dashboard playing a role in the midst of world affairs; from the Egyptian revolution to earthquakes in Japan, the use of social media has proven to be a key communication tool in times of crisis.
Civil unrest continues in North Africa, and as we follow the developments, we also hear concerns that using the common Top Level Domain suffix reserved for Libya (.Ly) tacitly supports the current governing regime. We acknowledge these concerns and can assure you that your data is safe and not contributing to nefarious activities.
Meet Owl.Li
To best meet your needs and mitigate your concerns about perception, HootSuite announces 2 new options for URL shortening: Owl.li and Htl.li. The new domains (hailing from Liechtenstein) work the same way as Ow.ly and Ht.ly including tracking clicks for statistical analysis, plus, like Ht.ly, Htl.li offers the social bar to encourage your audience to share your content.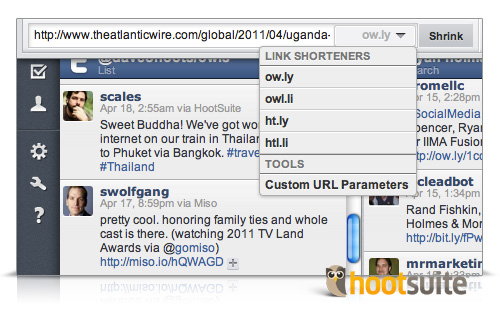 You can begin using Owl.li or Htl.li immediately – here are 3 ways to set it up in the dashboard:
Choose on-the-fly via the pull down menu under the compose window (see above)
Set as your default choice by choosing Settings, then Preferences, then selecting in URL Prefs tab
Customize your feeds with chosen domain when adding an RSS/Atom URL
.Ly Traffic Report
We've mapped out the relationship between the Libyan domain name servers and the rest of the Internet in an infographic to help clear up any confusion about how data travels from servers to your screen.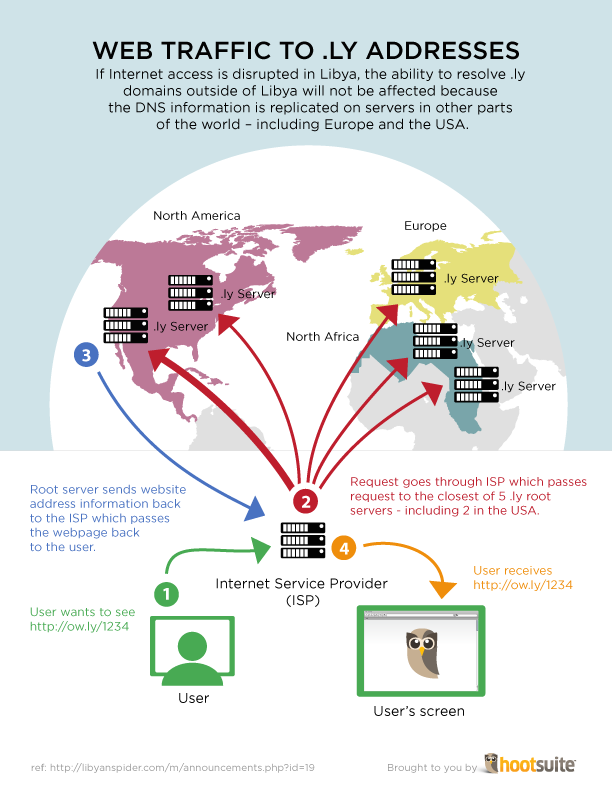 Notes:
* The .Ly domain suffix is ultimately controlled by ICANN who can revoke access from the Libyan government and assume a caretaker role if needed
* Our root name servers are hosted in North America, and the only way your data would pass through a Libyan server is if you lived in Libya
* HootSuite pays a very small fee (less than $50/yr) for the registration which means there is no significant material contribution to the government
Little About Liechtenstein
This small, wealthy and land-locked country doesn't make the news much. Revered for mountainous beauty, this tax haven has more registered companies than people and is a political mix of "a parliamentary democracy mixed with that of constitutional monarchy." (Wikipedia)
Any Liechtensteinian HootSuite fans in this small (and apparently rentable) country? We've got a #Hootkit to mail to your Liechtenstein postal address.
Short and Custom
Aside from the aforementioned choices, HootSuite offers custom/vanity URL shortening services. Using a unique domain is a great way to increase brand awareness while still utilizing powerful analytics.
Pro users can choose to purchase this option in Settings > Preferences > URL and following the instructions. Enterprise customers should contact their Account Executive or complete the form at: hootsuite.com/enterprise.
Seeking more knowledge about short URLs? Visit these HootSuite resources:
More info about Owly and Htly: https://blog.hootsuite.com/htly-owly/
Tips for choosing a short domain: https://blog.hootsuite.com/short-url-owly/
Info sheet about URLs: https://blog.hootsuite.com/library/working-with-urls-info-sheet/
Further Reading
Curious for more? Consider reviewing these articles for more about Libyan domain names:
Credit: Thanks to Dustin Borek (@dborek) at Invoke Media (@invoke) for designing the infographic.