"I wish these photos I am sending this girl would disappear." Such were the infamous words of inspiration that led to the billion-dollar idea of social media app Snapchat. Launched by whiz kids Evan Spiegel and Bobby Murphy (not to mention the disgruntled Reggie Brown) in 2011, Snapchat is now used by some 150 million people users every day.
Incredibly popular amongst the younger generation, Snapchat is used by 41 percent of all 18- to 34-year-olds in the United States alone. But it's not just the younger set who are getting their Snap fix on—over half of all new Snapchat users are over the age of 25. And now brands, too, have caught on.
Given Snapchat's status as the fastest growing social media platform, it stands to reason then that the app presents brands with a hugely untapped marketing potential. From publishing to beauty, savvy brands of all shapes and sizes are now clamoring to get their share of the Snapchat pie.
But, jumping on the Snapchat bandwagon is only step one. Like any marketing platform, you'll also need to understand, and prove the effectiveness of its use. Enter, Snapchat analytics.

Bonus: Download a free guide that reveals the steps to create custom Snapchat geofilters and lenses, plus tips on how to use them to promote your business.
Why Snapchat analytics matter
For social media marketers, knowing exactly how your social media efforts are performing is critical. The same goes for your Snapchat campaigns. By using Snapchat analytics, you and your team will be able to prove the return on investment (ROI) of the platform to your head honchos (and you'll keep your job to work another day).
Benefits of using Snapchat metrics
Gain insights about your audience
See what content performs the best with your audience
Gain a competitive edge in the market
Unlock engagement strategies
Discover key engagement times
6 Snapchat analytics that matter (and how to track them)
For social media marketers, Snapchat presents an enormous opportunity to share brand stories. But while more and more brands jump onto the platform, much mystery (and frustration) persists for brands trying to extract usable data. True to its organic nature, Snapchat's metrics are a loose assortment of extractable data—much of which must be manually calculated on the daily.
Yep, Snapchat is the wild west of social media metrics. As the app matures, and greater numbers of brands flock to its snappy shores, we're likely to see more sophisticated metrics tools emerge. In the meantime, we've summarized six key Snapchat analytics to help you draw meaning from the Snap-sanity.
1. Unique views
For any social media marketer, knowing how many people are engaging with your content is critical information. On Snapchat, this is told through unique views. The total unique views refers to the number of people who have opened the first video or image and viewed it for at least one second. Snapchat only counts each viewer once (regardless of how many time they watch a Snap or Story) thereby presenting an accurate metric of how many viewers each photo or video snagged.
2. Screenshots
On other platforms, like Twitter and Facebook, engagement is often tracked through likes, comments and other reactions. In the wilds of Snapland, engagement can be tracked through screenshots (which shows how many people took a screenshot of a Snap). Screenshots can also help encourage engagement and are particularly useful when measuring the success of a coupon code or other screenshot-focused campaign.
For example, in their Valentine's Day Snapchat campaign, Taco Bell invited followers to screenshot a Valentine's Day card from their brand Story and share it with friends through direct message.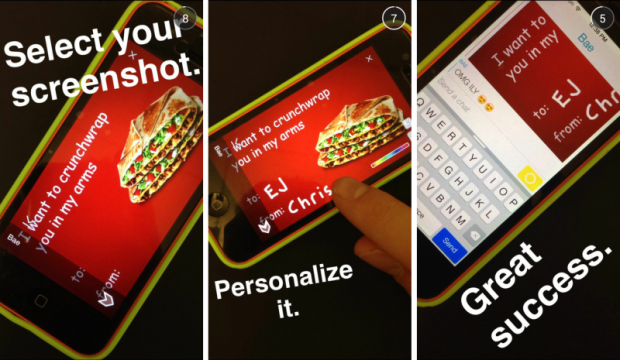 Regularly keep track of your screenshots to learn which content types (photos, videos, photos with text, filtered images, etc.) resonate the most with your audience. Also be sure to jot down the names of people capturing your Snaps—they might be some of your biggest promoters.
3. Completion rates
To drive your brand story home, you need to keep viewers engaged from start-to-finish. This can be calculated in Snapchat through completion rates.
Much like website bounce rates, completion rates measure how many viewers watched your Story through to completion. With this insight, you'll be able to quickly tell which stories are resonating with your audience.
To calculate your story's completion rate simply divide the final view count by the first view count.
4. Fall-off rate
Related to completion rates, your fall-off rate can give you powerful insights into the engagement strength of your story by revealing exactly where followers stop watching your story.
To calculate this, simply find the difference in views from one Snap to the next, divide the difference by the views on the first Snap and multiple by 100.
With this calculation in hand you'll be able to pinpoint the exact spots in your Story where viewings dropped off. Going forward, you can then use these insights to better optimize the structure of your Stories for better engagement.
5. Time-of-day activity
To reach your audience, you need to understand when they're most active. While Snapchat doesn't provide activity metrics, you can gain an understanding of your audience's key activity times by tracking the engagement associated with different posting times.
To do this, run several test Snaps at different times and days of the week. For each Snap, note the posting time and date and compare the unique views and completion rates earned during those periods. Over time, you'll likely begin to see a pattern for the periods where your Snaps are most visible to your audience.
6. On-Demand Geofilter metrics
Geofilters are arguably one of the coolest features in all of Snapland. If you haven't heard of them, geofilters allow Snapchatters to add images, illustrations, custom stamps, and branding to Snaps. For brands, geofilters are also a fun and powerful way to encourage fan engagement in a product or event.
Bonus: Download a free guide that reveals the steps to create custom Snapchat geofilters and lenses, plus tips on how to use them to promote your business.
Just take a look at some of the creative geofilters being created by brands of all kinds.
Was so pumped to see this @vancanadians filter at the Jays game last night. Nicely done! ???????????????????????? pic.twitter.com/OCY3vIiwSZ

— SAM (@samelaanderson) September 20, 2016
Even better, those Snapchat geofilters can be tracked for effectiveness. Here's how to do it:
Log into Snapchat on the web
Click on your name in the top right corner of Snapchat
Click My Geofilters
Select the Geofilter
Scroll down to see your metrics, and voila!
Keep in mind that Snapchat analytics on Snaps and screenshots only last for 24 hours. So if your team wants to keep an accurate track of these metrics you'll need to login each day to pull the data.
Snapchat analytics tools
The right analytics tools are a social media marketers' best friend (okay, that and caffeine, lots and lots of caffeine). So, which Snapchat analytics tools should you use to track your Snappy awesomeness? The short answer, several.
There's a growing breed of Snapchat analytics tools out on the market today. Every tool presents unique strengths and gaps so we suggest using a mishmash approach—drawing key information from each.
Here's the essential lowdown.
Snapchat
While the temporary availability of its metrics can be a nuisance, Snapchat's in-app data should not be overlooked. If you're regularly using Snapchat as part of your social media strategy, turn to the app daily to pull key figures on unique views, screenshot figures, and on-demand geo-filter performance.
Snaplytics
Launched in 2015, Copenhagen-based Snaplytics has positioned itself as the only software as a service (Saas) for Snapchat brand monitoring.
Key metrics offered through Snaplytics include:
Open rates
Views
Average number of screenshots per story
Completion rate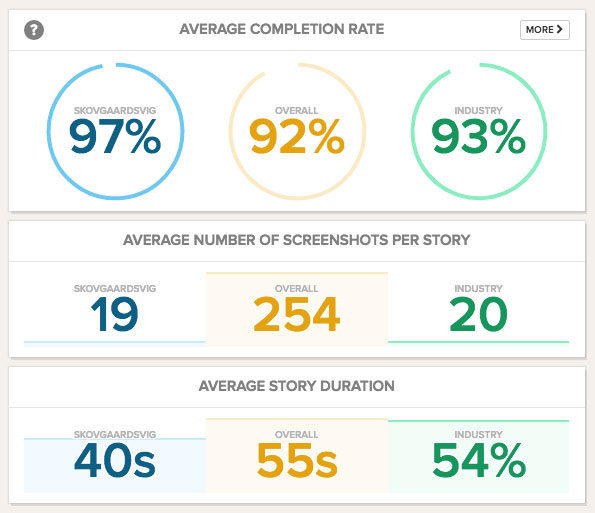 Juicier tidbits offered by Snaplytics include information on how followers stumbled upon a brand's Snapchat account and competitive benchmarking.
Delmondo
New York's Delmondo is another great Snapchat tool to pack into your analytics belt. Used by big brands like McDonald's and Spotify, Delmondo's metrics pack a hearty punch, especially with its daily automated data collection and long-term reporting.
Key features offered by Delmondo include:
Basic Metrics: includes unique views, impressions, completion rates, and screenshot rates
Audience Insights: provides detailed overviews of who's watching your content
Channel Comparison: provides channel comparison data to show how your Snapchat Stories stack up against your content on Facebook, Twitter, Instagram, and YouTube
In just a few short years, Snapchat has completely re-written the social media playbook. Today, the smartest brands are gravitating towards the app to increase their engagement with the coveted young consumer segment and more. And with more and more brands throwing their marketing budget into the Snapchat ring, better metrics solutions will soon arise to help marketers drive their Snapchat ROI.
Hungry to step up your Snapchat game even further? Then check out our post on Snapchat Hacks: 22 Tricks and Features You Probably Didn't Know About.
Want to follow us on Snapchat? Click this link on mobile to go directly to Hootsuite's profile or scan the Snapcode below to add Hootsuite as a Friend on Snapchat.