Social media competitor analysis tools should be a staple in every social manager's toolbox. Unfortunately, there's often a temptation to focus inward and get stuck micro-analyzing your own internal social media performance.
The thing is, your own performance analysis is much more valuable when placed in the context of what's happening overall in your industry niche. And to understand that context, you need competitive analysis tools.
Bonus: Get a free, customizable competitive analysis template to easily size up the competition and identify opportunities for your brand to pull ahead.
A social media competitor analysis tool is a type of software that allows you to benchmark your social performance against that of your competitors.
This type of competitive tool also helps you analyze your competitors' social strategy, so you can get a sense of what's working and what's not within your niche.
Ideally, your benchmarking analysis would always show you outperforming your competitors. But, realistically, this is highly unlikely. Fortunately, once you implement the right tools, you can learn something from every competitor post — and make informed changes to your strategy that will eventually help you outpace the competition.
Bonus: If you're looking for higher-level tips for performing a social media competitor analysis, check out our tactical how-to guide.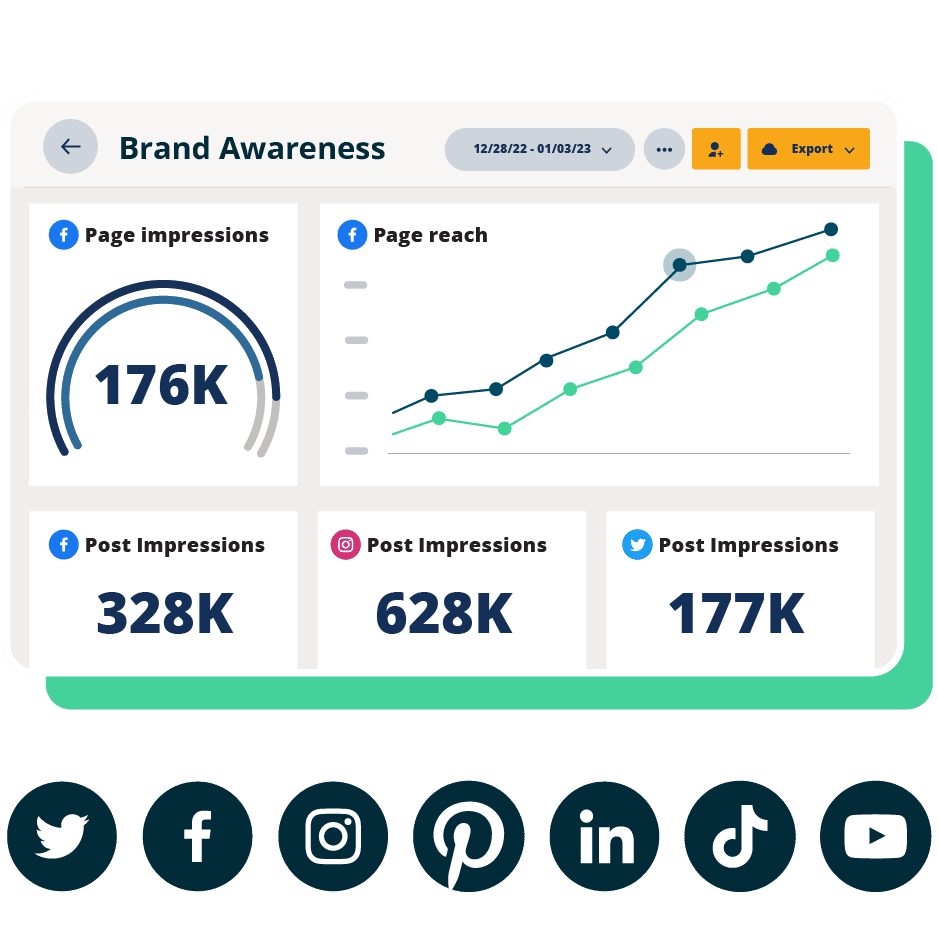 #1 Analytics Tool for Growth
Beautiful reports. Clear data. Actionable insights to help you grow faster.
Start free 30-day trial
Hootsuite offers built-in competitor analysis and benchmarking tools within Hootsuite Analytics.
Competitor analysis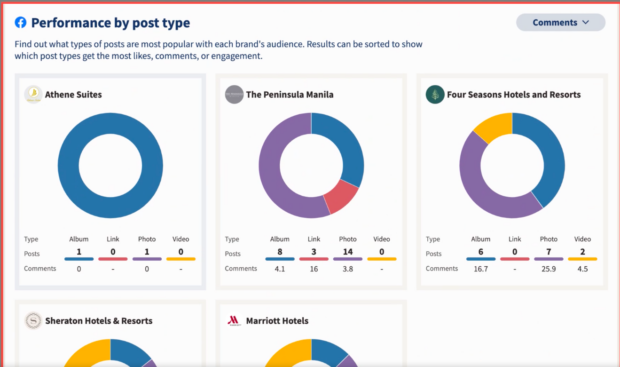 All you have to do is build your competitor watchlist by adding up to 20 hand-picked competitive accounts. (The number you can add varies depending on your Hootsuite plan.) Then, with just a couple of clicks you can generate a competitive analysis report that includes the following metrics for every competitor:
Number of posts published
Posting frequency
Average engagement rate
Number of fans or followers
Audience growth rate
Estimated total engagement
You can also see more details analysis results such as:
Post performance: Take a look at the top- and lowest-performing posts based on your chosen metric.
Performance by post type: How different types of posts performed based on your chosen metric.
Trending hashtags: A word cloud of the most-used hashtags from your competitors' top posts based on your chosen metric.
Post length: Average character count and number of hashtags in your competitors' posts.
Competitor analysis is available for X (formerly Twitter), Facebook, and Instagram.
Industry benchmarking

Hootsuite's industry benchmarking tool is especially useful if you're not sure yet who your competitors are. That's because all you have to do is choose your industry, and the tool does the rest.
You can compare your results for several metrics to the industry average and see charts tracking the pattern over time. The benchmarking tool also provides recommendations to improve your social media strategy and results.
Industry benchmarking is available for Facebook, Instagram, X, LinkedIn, and TikTok.
Social listening
To keep a keen eye on what your top competitors are up to on social media, it's also a good idea to set up a social listening strategy. Hootsuite Streams allow you to gather your competitors' content in one dashboard in real time.
Learn more about how to set up a social listening strategy.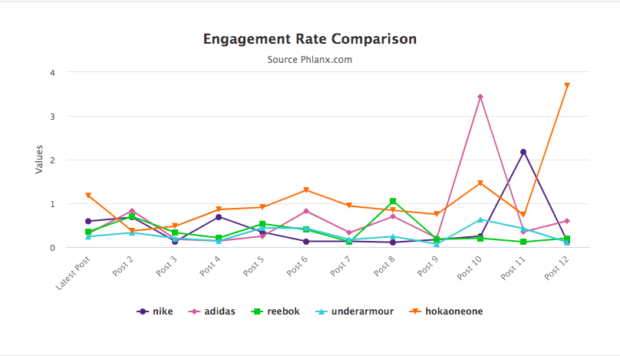 Source: Phlanx
Phlanx offers competition trackers for Instagram, YouTube, X, and Twitch.
The graphs are clear and easy to understand, and Phlanx offers a beginner-friendly price point. But the competitive analysis is based on engagement rate only, so keep this in mind if you want to analyze additional metrics.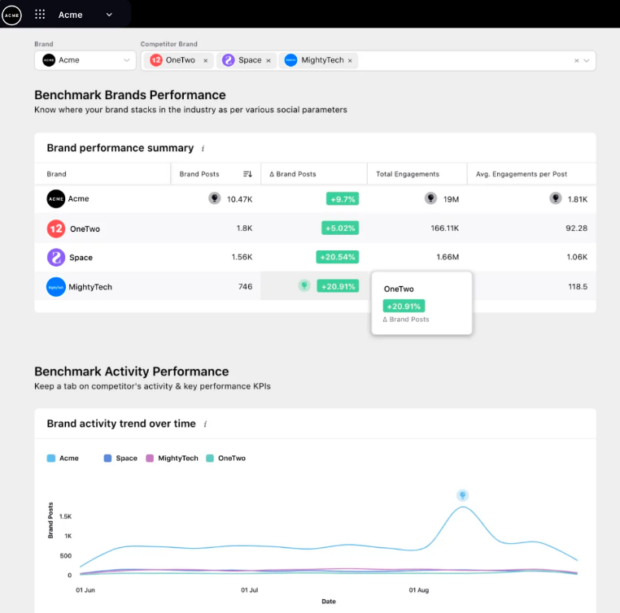 Source: Sprinklr
Sprinklr provides competitive analysis insights for Facebook, X, Instagram, and YouTube, as well as Quora, VK, and Sina Weibo. It does not include LinkedIn or TikTok.
The reports analyze your competitors' content types, post themes, post categories, sentiment, and tone.
Sprinklr is an enterprise-level solution starting at nearly $3,600 per user per year. See how Sprinklr compares with Hootsuite.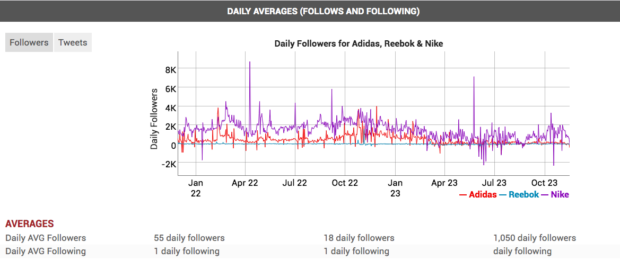 Source: Social Blade
Social Blade's tool for social media competitor performance analysis allows you to compare three accounts per chart for X, YouTube, and Twitch using their free online tool.
The stats tracked vary by network. For X, the comparison focuses on followers, follower growth, and number of Tweets.
An interesting feature is the ability to look up a competitor's handle on various social platforms (including Instagram and Facebook) to see the "grade" assigned to them based on their Social Blade Rank. It's based on metrics like number of followers and engagement rate.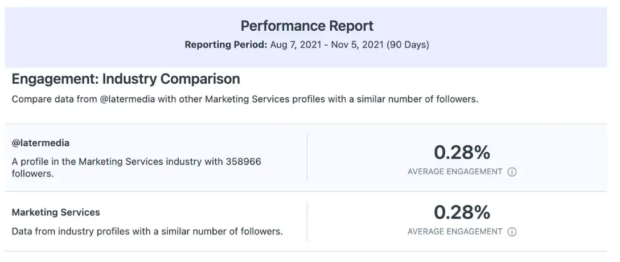 Source: Later
Later provides Instagram engagement rate benchmarking against the industry average for accounts with a similar following. It also offers a weekly report of the top 50 industry hashtags on Instagram.
If you're only focused on Instagram and need only an overview picture of how your engagement rate stacks up against the industry average, this could be a good competitive tool for you. However, it may not be one of the best social media competitor analysis tools to choose if you need to perform an in-depth analysis or address multiple social media platforms.
Find out more about how Later compares to Hootsuite.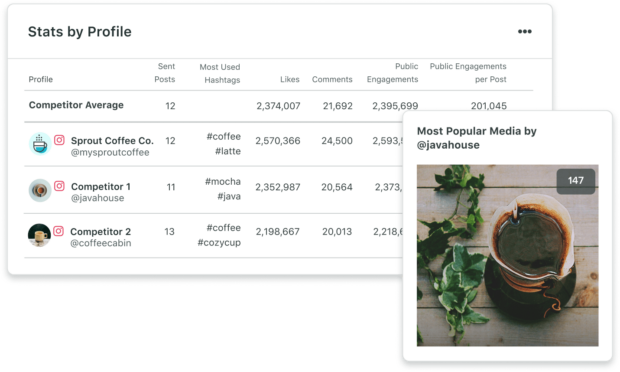 Source: Sprout Social
Sprout Social offers a social media competitor analysis tool to compare your key metrics against top competitors. You can also benchmark your performance against others in your industry. There are social listening tools to help identify keywords and hashtags.
There are solid competitive analytics features here, but they lack some of the customization options savvy social marketers may look for. It's also a pricey solution, with an average cost of $332 per user seat.
See how Sprout Social compares to Hootsuite.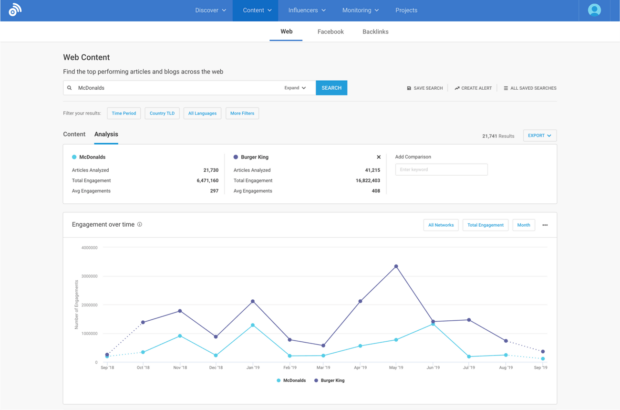 Source: BuzzSumo
BuzzSumo is a content marketing tool designed to provide data to guide marketing decisions. Part of that data discovery involves competitor analysis.
BuzzSumo tracks key competitor metrics across the web. For social channels, they focus on Facebook, where you can analyze engagement based on post type, post length, and time published.
You can also find the top shared content across social networks based on a keyword search, and get a breakdown of the most popular social platforms in your niche.
Overall, this tool provides the most competitive insight if your social strategy is primarily focused on Facebook.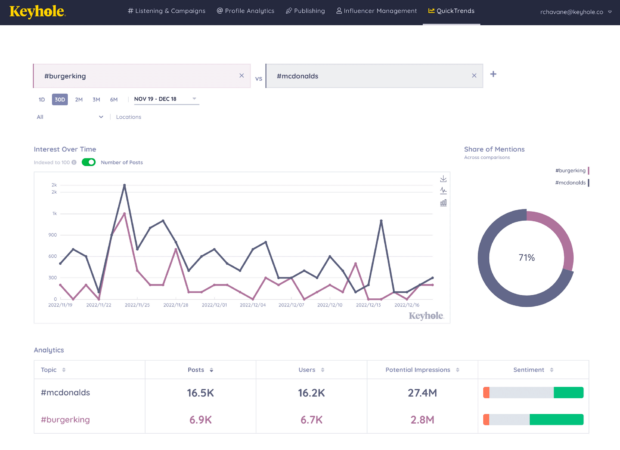 Source: Keyhole.co
Keyhole is a social media competitive analysis tool that allows you to do some free competitor keyword and hashtag research. You can use the search bar at Keyhole.co to determine which social platforms a hashtag was used on and the top referring sites and accounts. This is particularly useful for branded or campaign hashtags.
If you sign up for a paid plan, you can access more detailed competitive analytics and competitor benchmarking.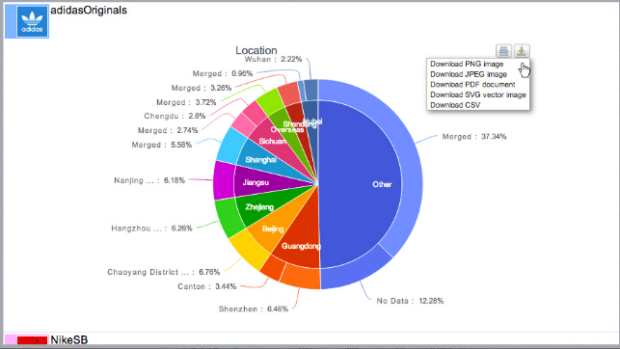 Source: Hootsuite App Directory
Klarity Analytics offers cross-platform competitive analysis with translation capabilities in 20 languages. You can monitor competitors' metrics and use the Klarity Index to see how your social activity ranks in your niche.
Klarity is particularly useful for brands using social media marketing to reach Asian audiences, as their competitive analytics tools include platforms like Sina Weibo and WeChat.
Bonus: Get a free, customizable competitive analysis template to easily size up the competition and identify opportunities for your brand to pull ahead.
1. Set performance goals
Understanding how well your competitors' social posts perform makes it much easier to set realistic goals for your own content.
This is especially helpful when you're starting a new account or adding a new social platform to your social strategy, since you don't have a lot of your own data to work from yet. But even when you have an established social presence, understanding what your competitors are up to (and what kinds of results they're getting) helps keep your expectations realistic in a constantly changing field.
A good social media competitive analysis tool will give you an easy overview of your competitors' top-performing posts based on the metrics that matter most to you. In combination with benchmarking tools that compare overall account performance, this gives you a clear sense of the possibilities within your niche.
2. Understand your results
Just as a competitive analysis helps you know what to expect and how to plan, it also helps you understand your results after the fact. This is particularly useful if you see an unexpected result or an overall change in the trends of your social performance.
Rather than trying to understand your results in isolation, you can check whether your competitors are seeing similar changes. This can help you analyze the reasons for the change: Is it a response to your specific content or a shifting trend industry-wide?
With this better understanding of what your results mean in context, you can better plan how to respond. Do you need to experiment to adjust to a change in the algorithm? Shift your post type or content mix? Knowing what's happening with your competitors gives you a much greater pool of data to draw from.
3. Source ideas and inspiration
Social media competitive intelligence tools bring the top-performing content from your main competitors into one place, so you can see at a glance what's working best within your industry. This is a far more effective way to understand the social landscape than checking all their various accounts. (Bonus: You don't have to give them a follow!)
Keeping an eye on top-performing competitor content in particular is a good way to stay on top of relevant memes, trends, hashtags, and strategies that have been proven to connect with an audience similar to your own.
You never want to copy your competitors' content, of course, but you absolutely do want to learn from and experiment with the strategies that have proven to work for them.
4. Clarify your unique selling proposition
Understanding how your competitors position themselves also helps you understand how best to differentiate your brand.
What makes you different? Where do you excel? What unique benefits do you offer that make you truly stand out from the competition?
All of this boils down into your unique selling proposition (USP). Your USP is a critical part of your social marketing strategy. In fact, it's the foundation of your entire brand identity. Analyzing your brand in the full context of the competitive marketplace makes sure your USP is accurate and compelling.
Ongoing competitive analysis also provides an early warning system in case a new or existing competitor tries to hone in on your USP.
The idea is never to disparage your competitors but to make sure your audience understands the unique benefits you provide.
5. Conduct audience research
You can gain some powerful audience insights from competitor analysis tools. First, you'll get a good sense of the potential audience size for a brand in your particular niche.
But diving deeper, you can also see what works the best for connecting with your audience. Competitive analysis tools can help you answer questions like:
What are the social platforms where your audience is most interested in engaging with brands like yours?
Do they prefer videos or text posts? Stories or Reels?
What tone of content seems to resonate? Should you make some tweaks to your brand voice?
When are they most likely to engage with social content?
What problems are they experiencing with your competitors? Are there pain points you can help resolve through existing services or new innovations?
What do they love most about your competitors? Are there elements of your products and services you need to work on or highlight?
Understanding how your audience engages with competitor content provides a good starting point for your own content strategy.
Hashtag analysis is useful here too. Rather than just leaping on a new hashtag you spot in your competitive analysis, put some thought into the intent behind the hashtag. What can it tell you about your audience, and the ways they think about their social personas? Does it offer clues on how you can better position your brand?
6. Uncover new hashtags and keywords for better discoverability
We've mentioned hashtags a couple of times already in terms of customer intent and trending topics. But it's also important to review your competitors' social strategies to discover the terms that are helping them grow their audiences beyond existing followers.
Hashtags are the easiest to identify, of course. But take a deeper look at your competitors' content with the widest reach. Are there useful keywords and phrases that could be getting their content in front of new eyeballs?
Competitive analysis can be a key input for your social SEO strategy.
7. Perform a SWOT analysis
A SWOT analysis is a specific type of brand analysis that long pre-dates social media. It's a highly effective way of understanding the competitive landscape right now as well as what's on the horizon.
SWOT stands for strengths, weaknesses, opportunities, and threats.
Social media competitive analysis tools provide much of the information you need to perform an in-depth SWOT analysis. For the details of the analysis itself, check out our blog post on how to conduct a social media SWOT analysis.
Use Hootsuite to crush the competition on social media. From a single dashboard you can manage all your profiles, track competitors and relevant conversations, improve performance, and much more. Try it free today.
Beat the competition
See how you perform against competitors, get actionable insights, and become the best in your space with Hootsuite Analytics.
Free 30-Day Trial