Top 10 Global Twitter Trends of the Week ~ Volume 63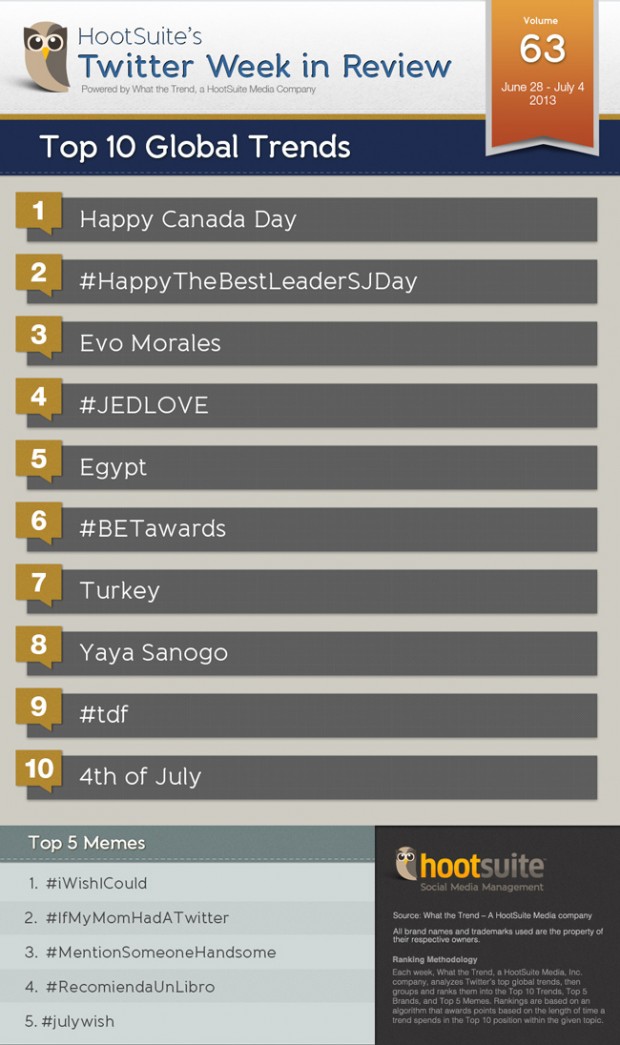 This week's global Twitter trends is a mix of celebration and politics. As anti-government backlash bubbled to the surface of Tweets around the world, some celebratory national patriotism managed to trend. Let's see what the world talked about in our Top 10 Global Twitter Trends this week.
#1: Happy Canada Day
Lumberjacks, forests, fish, mountains, bears, beards n' beers, plaid, prairies, teva shoes with wool socks, Celine Dion, Justin Bieber, Hudson's Bay, maritimes, maple syrup, maple leafs, poutine, French Canadiens, backpackers and beavers, loonies and toonies… Oh, Canada? Thousands celebrated all the little things that make them proud to be Canadian on July 1st.
To all of those Twitterers armed with Canadian flags, matching red and white face paint and fake tattoos, Happy Canada Day and Bonne fête du Canada!
#2: #HappyTheBestLeaderSJDay
As thousands sang "Oh Canada" along with Carly Rae Jepsen on Parliament Hill in Ottawa, Leeteuk, the leader of K-Pop band Super Junior celebrated his 30th birthday on July 1st. The hashtag #HappyTheBestLeaderSJDay trended for four days at number one in Indonesia, Singapore and Japan – and made number 2 globally.
#3: Evo Morales
US whistleblower and wanted man, Edward Snowden's put the US in a hot seat with its European allies. Recent allegations stated that the United States is also conducting widespread surveillance on Europe. This information leak has caused tension between the EU and US, right before a huge American-EU free trade deal.
European Authorities suspected that Snowden may have been onboard Bolivian President Evo Morales' plane home from Russia earlier this week. After denied airspace into France, Spain and Portugal, Evo was forced to reroute and land in Austria for aircraft inspection and his 14 hr confinement.
Officials in Austria and Bolivia say that Snowden was not on the plane. This act has caused an uproar in Bolivia, who are calling this "kidnapping" an act of aggression that violates international law. Although US hasn't commented on their involvement, they admitted they had been in contact with other nations over potential flights that Snowden might take to get out of Russia.
#4: #JEDLOVE
Irish bubble gum popstars and identical twins, John and Edward Grimes, aka Jedward are getting lots of #JEDLOVE this week. Here's the latest hit by "Planet Jedward" called POV. Not sure what that stands for? You're probably not alone.
#5: Egypt
After widespread economic issues and unrest, Egypt began protesting its new democratic government and ruling President Mohamed Morsi. Gaining momentum, the protesters were supported by the Egyptian Military, who stepped in this week to overthrow the government. Technically speaking, Egypt underwent a military coup, but because much of the public supported the overthrow – some may consider it another revolution. However, Morsi's supporters and members of the Muslim Brotherhood remain divided and protests ensue amongst civilians.
With another democratic election in the future, Egypt is currently governed by a temporary government in replace of Morsi. On Thursday, the Supreme Constitutional Court's leader, Adly Mansour, was sworn in temporarily with hopes to mend the divided country.
#6: #BETawards
Some of the hottest stars in Hollywood came out last Sunday for the 2013 BET Awards. There to celebrate music, entertainment and Black culture was Nicki Minaj, Ciara, Miguel, Kendrick Lamar, Macklemore, Kanye, Beyonce and many more celebs.
#7: Turkey
After nearly two months of anti-government protests, Turkey's unrest is still making global headlines – and hitting Twitter hard. Last week Turkish riot police attempted to clear thousands of protesters with water cannons, tear gas and rubber bullets. Turkish Prime Minister Recep Tayyip Erdogan's been in the hot seat for a while, but after his Muslim Brotherhood ally Egyptian President Mohamed Morsi was ousted this week, the situation may have worsened.
After forming an alliance with Egypt's ousted Islamist leader, Erdogan bashed the newly (temporary) democratic leader, saying his overthrow is "unacceptable." Some believe that the situation in Egypt could have serious repercussions in Turkey:
#8: Yaya Sanogo
20-year old French pro footballer, Yaya Sanogo just signed a contract with English Premier League team Arsenal, as a striker. He's trending as people discuss the signing of a free agent and whether he'll be good for Arsenal or not.
#9: #tdf AKA Tour de France
Tour de France is one week in and stirring up Twitterers around the globe. Starting on June 29th and finishing up the 21st stage by July 21th 2013, this year's #tdf covers a total distance of 3,404 kilometres. Fans are encouraged to connect on Twitter to follow the updates and everyone's discussing the progress of each day.
Here's a fun quote by Lance Armstrong: "The Tour de France? No. Impossible to win without doping. Because the Tour is a test of endurance where oxygen is decisive." Unsurprisingly, fans are wondering if they can really trust this year's 100th Tour de France. Either way, it's an epic global sporting event.
#10: 4th of July
On July the 4th every year, millions celebrate America's Independence Day with fireworks, parades and parties. Happy 4th of July to our friends south of the border!
Stay tuned for our next week's Twitter trends, or check out what trended in America.