New Twitter Capability Proves Tweets Drive Offline Buying
This thread follows the impact of social media on offline purchasing. Previous updates can be found below.
Twitter has introduced a new feature to prove the impact of Promoted and regular tweets on offline sales.
The new capability, dubbed "offline sales impact," was created in partnership with Datalogix, a company that specializes in measuring the offline impact of online ads.  With this tool, brands will have the opportunity to track exactly how their social media leads to in-store buying.
In initial tests of 35 brands, Twitter was able to prove – using their new functionality – the significant influence tweets had on purchasing. Users who engaged with a Promoted Tweet were on average 12% more likely to buy that brand than a control group. Even those who viewed the Promoted Tweet but didn't engage were 2% more likely to buy offline from that brand.
Among followers, the impact was even greater. When exposed to Promoted Tweets, brand followers bought 29% more than followers only exposed to organic Tweets.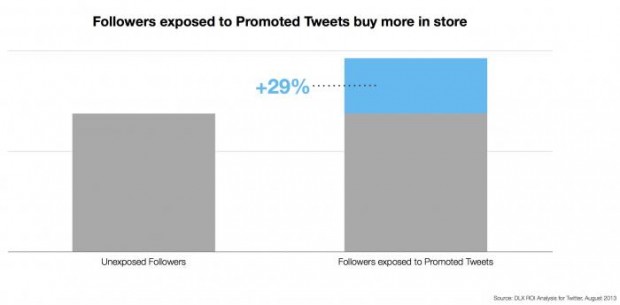 The same brands saw an 8% average sales lift from regular users who were exposed to their organic Tweets. That sales bump was also 3 times larger among followers who saw 5 or more organic Tweets during the trial period. These statistic are a testament to the importance of building a social media following and its direct impact on purchasing.
Previous update:
Social Media Drives In-Store Buying As Much as Online Buying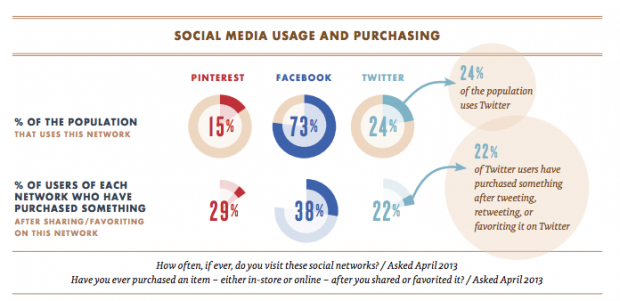 New stats from Vision Critical show that 40% of social media users have purchased an item after favoriting or sharing it on Twitter, Facebook or Pinterest.
As many businesses struggle to prove the direct business benefits of social media campaigns, this new data clearly ties social messaging to purchases.
Interviews with close to 6,000 social media users found that Facebook is the social network that drives the most users to purchase. Contrary to popular belief, the data also indicated that social media drives in-store buying at an equal rate as online buying.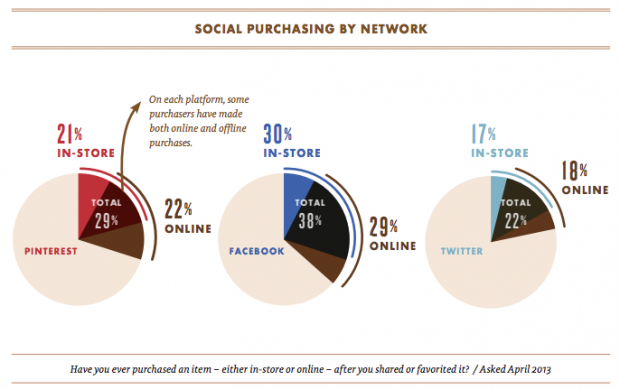 This has huge implications for how marketers track the success of campaigns. "Just that recognition that you are not getting the whole story on social from tracking social to ecommerce conversions is a huge finding," Alexandra Samuel, Vice-President of Social Media at Vision Critical and a HootSource contributor, said in an interview with Forbes. "If you are estimating the ROI on social by looking at social to web, you are missing roughly half your social-inspired purchasing."
More detailed results from those interviews can be found in the Vision Critical white paper, "How Social Media Drives Your Customers' Purchasing Decisions."