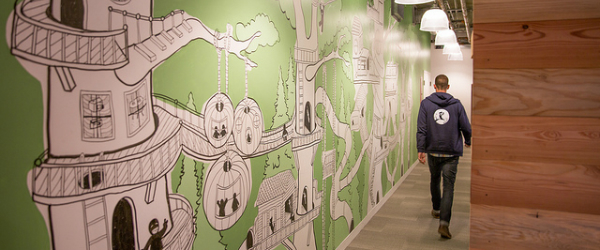 Virtually Tour Hootsuite Offices Around the Globe
On Thursday, April 16th, the Hootsuite Talent team launched Operation #FollowTheSun, a campaign that showcased what life is like in our offices around the world using Periscope.
Join @HootsuiteLife on @periscopeco today, 4/16 at 7am PST for Operation #FollowTheSun to get a glimpse of #HootsuiteLife around the globe

— #HootsuiteLife (@HootsuiteLife) April 16, 2015
We started in Singapore at 10pm local time at Dean Brookstone's apartment. Dean moved to Singapore from Vancouver late last year and shared with us his experience being an expat… and the cost of beer.
Next stop, Romania, where Mihnea Dobrescu-Balaur, an engineer on the backend team who gave us a tour of our Bucharest office/house (fast-forward to 5:20 for all the fun stuff!).
Working our way westward, we stopped to say hello to Rylan Holey, Partner Manager for Europe who works out of our London office. Brazil's broadcast came courtesy of Celso Ferraz, Vice President of Latin America, and our first employee in the region. Our US offices followed suit with Ben Cockerell, Director of Marketing in our Boston office and Kimberly Knight and Justin Gandelman from our Hootsuite Analytics team in San Francisco.
We ended off the campaign in Vancouver with two of our veteran owls, Mohamed Zahid, Manager, Online Revenue Data and Analytics and Noel Pullen, Senior Director, Product + Engineering Development.
Mo toured us around our newest digs—also known as 'HQ2'—where he introduced us to some of our #HootDogs and the 'Outhouse'. Noel, who was in the middle of turning HQ1 into an 18-hole mini golf course for a team-building initiative called #HootPutt, took the time to drive us around the course, and finally succumbed to the crowd's demand to see what's in our fridge.
Thanks to everyone who made Operation #FollowTheSun such a success! Looking forward to our next Periscope broadcast with the next batch of owls. #staytuned
Thx to all who joined #FollowTheSun for a glimpse into #HootsuiteLife today. If you liked what you saw, join us! http://t.co/61Kl8LL6bd

— #HootsuiteLife (@HootsuiteLife) April 16, 2015