It often takes something special to stand out as a brand on social media. However, as marketers, we tend to cling to the safe, the tried and the market-tested. We craft messaging in committees and then run it through a tumble drier of stakeholders and higher-ups before putting it out in the world.
This results in work that's lifeless, repetitive, and entirely predictable. You've seen it time and time again. Meticulously curated flatlays, uninspired user-generated content (UGC) campaigns, and branded hashtags that sound like they were spooned out of a corporate soup.
And we get it. We're all operating at the whim of the market—perpetually concerned over intangible variables like brand perception, share of voice, and customer loyalty.
You can't get lost if you stick to a map. But you'll also never discover anything new, either.
This is a call to action for all of us. Let's loosen up a little. Social media has the potential to be a liberating space where our marketing can be more than what we make of it right now. More sincere. More open. And more honest with people. It starts with letting your social teams run faster, funnier, wilder.
Bonus: Download a free, customizable social media schedule template to easily plan and organize all your posts in advance.
Here's a look at why you should let your social media managers be weird. And how to do it in a way that's measured and true to your brand.
Good things happen when brands get weird on social
Weird and quirky social media marketing tactics might seem a bit kitsch, but their business value definitely isn't.
From brand prominence to longevity to differentiation, adopting a more liberal social presence can go a long way in giving your brand a competitive advantage that you just won't be able to develop by playing it safe.
Weetabix nearly sparked an international incident
And it was a good thing.
The BBC called it "the tweet that sparked international outrage." The official state Twitter account of Israel thought it had the potential to settle political scores in the Middle East. Irish KFC wanted it prosecuted under the Geneva Convention.
On February 9th, the year of our lord 2021, Weetabix gifted the internet with this monstrosity.
Why should bread have all the fun, when there's Weetabix? Serving up @HeinzUK Beanz on bix for breakfast with a twist. #ItHasToBeHeinz #HaveYouHadYourWeetabix pic.twitter.com/R0xq4Plbd0

— Weetabix (@weetabix) February 9, 2021
They could've stuck with social media posts as dry as their fibrous brown breakfast hay, but instead, they chose to get weird. And the strategy paid off.
The tweet spent hours making rounds around the internet, garnering international headlines, and getting the kind of organic reach most highly-curated and well-financed brand campaigns can hardly dream of.
Trust us, this is not a Match

— Tinder UK (@TinderUk) February 9, 2021
Weetabix with baked beans: a debate "more divisive than Brexit"?

Commons leader Jacob Rees-Mogg calls the combo "utterly disgusting" instead preferring "nanny's homemade marmalade on toast" https://t.co/tKukXyb0Ol pic.twitter.com/hikUhtTYuE

— BBC Politics (@BBCPolitics) February 11, 2021
Found the best way to serve it pic.twitter.com/YTizKUgbef

— Justine Stafford (@JustineStafford) February 9, 2021
Jesus didn't die for this…

— York Minster (@York_Minster) February 10, 2021
Skittles made 'weird' their whole brand
Skittles have built their brand on being weird, that's no secret.
Their now iconic Taste The Rainbow campaign has been running since 1994. During that time, they've run over 40 TV spots about disease, anthropomorphic piñatas, and half-man half-sheep hybrids.
View this post on Instagram
Using the term "SKITTLES STAN" is…

— SKITTLES (@Skittles) January 15, 2021
The premise of the work is so simple: make things so weird that people can't help but remember them. It's a principle that's naturally made its way into a successful social strategy.
The longevity and success of Taste the Rainbow should teach marketers about the value of shock and awe.
While going with an idea that seems risky or unspecific may seem like a risk to brand identity in the short term, the long term effects of making absurdity a centerpiece of your marketing are loyalty and enough brand recall to build a candy empire.
R/GA pushes the limits of 'boring' B2B
B2B marketers rejoice. It's not just the B2C folks that get to have all the fun. Welcome to the caustic, weird world of interactive agency R/GA's Twitter.
A brand should speak with a human voice? Where's the data to support that.

— R/GA (@RGA) February 18, 2021
Yeah, I know I'm on mute. I'm talking to myself. I do that a lot lately.

— R/GA (@RGA) February 19, 2021
— R/GA (@RGA) February 19, 2021
Sarcastic, witty, enraged, and bizarre, R/GA's Twitter missives come straight from the brain of Executive Creative Director of Social Content, Chapin Clark.
In a 2013 interview with Digiday he explained their Twitter strategy bluntly: "I aim for a mix of useful and completely useless, funny and dead serious, local and global. I watch to see what the response is to different things and then adjust."
The heart of R/GA's social strategy is the notion that social marketers shouldn't be burdened by crushing oversight over what they say and how they say it. And that the art of successful media marketing comes down to trusting that your social media managers know how to articulate what your brand stands for.
Clark summarizes R/GA's position nicely: "We can have a strong voice, a point of view. We should take advantage of that." And so should you.
What you should do about it
Globally renowned examples are nice and all, but what does this mean for your business on a functional level? How do you carefully liberate your social marketing voice in a way that's both measured and true to your brand?
Give your social media managers more agency
For the love of god, have more faith in your social media managers.
They're more in tune with your audience than anyone on your marketing team. It's one thing to look at buyer personas and surveys, it's another to spend every day talking to customers and getting a sense for how they think and feel.
It's become increasingly clear that the social media managers aren't alright. They've got multifaceted jobs that often go under-appreciated (not to mention the fact that they're constantly dealing with the underbelly of the internet).
Giving them more creative freedom is good for their wellbeing. It will signal to them that their skill sets and knowledge are valued—and that they're not the afterthought they so often feel they are. Get out of their way a bit.
By doing so, your social media managers will be able to do their jobs more intentionally, they'll reach customers more effectively on the channels they know better than anyone else.
Separate your 'social voice' from your brand voice
There's an unwritten marketing rule that says your brand voice should be consistent across every single customer-facing touchpoint. We're here to tell you to break that rule.
You can have a social media voice that's mutually exclusive of your typical marketing brand voice, without jeopardizing how your customers feel about your products.
The most successful brands on social media have been quietly breaking the rule for years. Just consider this print ad from Wendy's vs. one of their sassy tweets.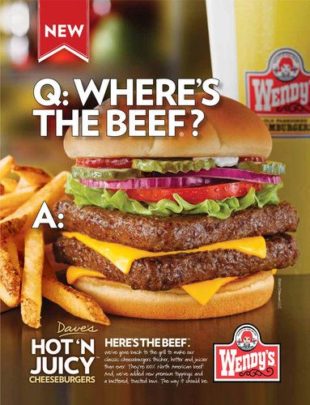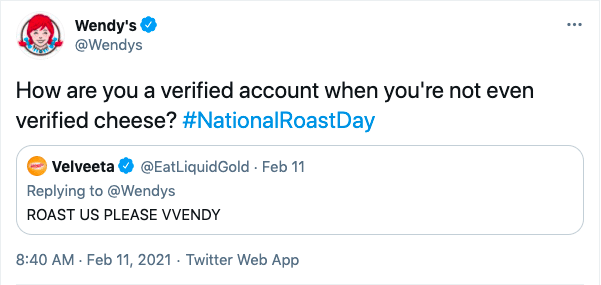 Or compare one of Shopify's social posts with their more traditional out of home advertising efforts.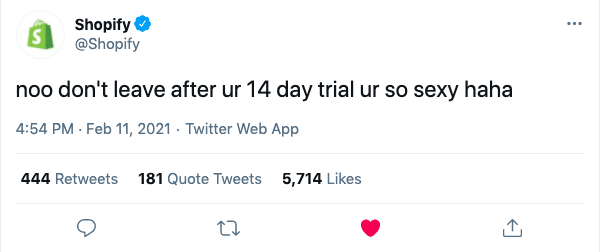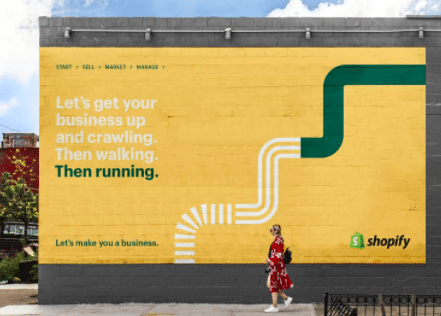 This separation works when we finally admit to ourselves that marketing is inherently intrusive. We need to do away with the corrosive myth that consumers want to hear from our brands, that they want to have conversations with us, that they're dying for a little "brand love."
Those lines of thinking only cloud our judgement. They lead us to believe that we're welcome in people's day to day lives. That we deserve to occupy their time.
We don't.
Rather, we need to be cognizant of how people use space—physical or digital or whatever—and make sure that our work, and particularly our voices, fit into those environments and serve a purpose while people go about their lives.
When it comes to social, if people aren't there to talk with their human friends, they're there because they are bored and looking to fill spare time. So even if your brand isn't famous for its marketing wit and humour, you can free yourself up to take some chances on your feed.
Lean into what people want. And what people generally want on social media is to have a little bit of fun.
Turn up the heat with the mild to wild scale
What's our advice worth if we don't take it ourselves? At Hootsuite, the directive to push the envelope comes right from the top. Our VP of corporate marketing pushes us to develop ideas on a scale from mild to wild. It looks like this: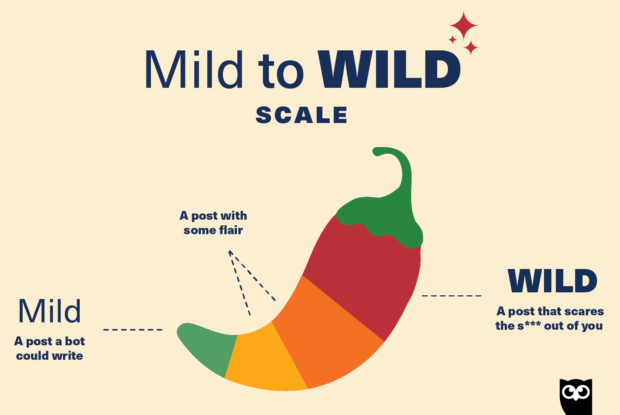 This framework is the perfect starting point for figuring out if and when a weirder execution might serve you better than sticking to staid best practices.
A mild social post is the one everyone expects you to do. It's okay, but maybe a little boring. Up a notch from there are the social posts that excite you, the ones you can't wait to post. And finally, there are the truly wild posts, the ones that scare you to death and you have to close your eyes just to hit "publish."
Not every piece of content your brand puts out needs to be over the top. The point is your content should naturally mix the three levels. Most brands never tick above mild on the scale, but they could all benefit from breaking out of the mold more often.
Sometimes it helps to take a concept and try it all three ways to see what execution works best for that particular message.
Use a format you've never tried before. Write a few terrible posts. Make an Instagram story that makes you uncomfortable. If it doesn't feel right, you can always scale it back.
But at least, in the end, you made an effort to go beyond the tried and true. And maybe, just maybe, as marketers we'll get to a point where our social media content is as worthy of people's time and attention as we would like to think it is.
Free up some time to get weirder and wilder on social with Hootsuite. Try a 30 day trial for free today. 
Do it better with Hootsuite, the all-in-one social media tool. Stay on top of things, grow, and beat the competition.
Free 30-Day Trial