Top 10 USA Twitter Trends of the Week, Vol 69 by HootSuite and Ad Age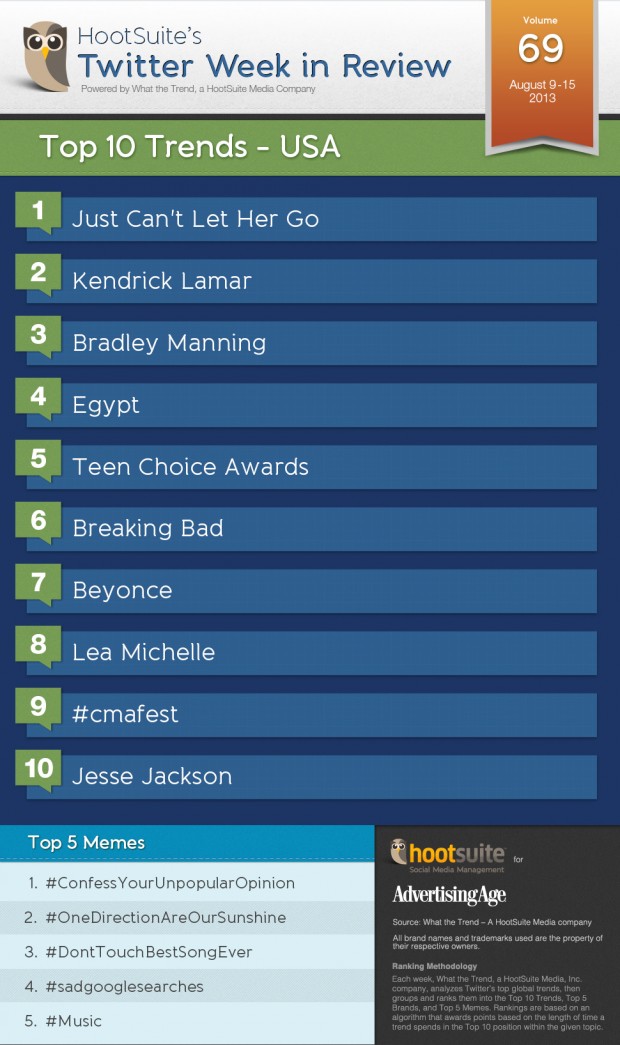 1. Just Can't Let Her Go
Maybe they're called One Direction because they are always headed for the top of our trends charts? Once again, a pop group snags the #1 spot, after the launch of a new One Direction song called "Just Can't Let Her Go" leaked  at the beginning of this week. Fans on Twitter were going crazy for the track, which is expected to appear on their upcoming (third) album. It's hardly the first time they have captured the top US or Global trend, and we don't expect it will be that last. In other news, Tweens are still using Twitter.
2. Kendrick Lamar
Kendrick Lamar made news with a new track too, in which he calls out other rappers. On the song "Control" by Big Sean, Lamar raps "I'm usually homeboys with the same n—-s I'm rhyming with/ But this is hip-hop and them n—-s should know what time it is/ And that goes for Jermaine Cole, Big K.R.I.T., Wale/ Pusha T, Meek Mill, A$AP Rocky, Drake/ Big Sean, Jay Electron', Tyler, Mac Miller/ I got love for you all but I'm tryna murder you n—-s/ Tryna make sure your core fans never heard of you n—-s/ They don't wanna hear not one more noun or verb from you n—-s/ What is competition?".
Based on the Twitter activity, some enjoyed the bold move. Still, some of Lamar's jilted peers undoubtedly went to their trusty pens and pads to write some rhymes of their own in response. Time will tell whether their lines will make for a Twitter trend like this one.
3. Bradley Manning
U.S. soldier Bradley Manning on Wednesday told a military court "I'm sorry" for giving war logs and diplomatic secrets to the WikiLeaks website three years ago, the biggest breach of classified data in the nation's history. "I am sorry that my actions hurt people. I'm sorry that they hurt the United States," the 25-year-old U.S. Army Private First Class told the sentencing phase of his court-martial. "I am sorry for the unintended consequences of my actions … The last few years have been a learning experience."
Manning faces up to 90 years in prison for providing more than 700,000 documents, battle videos and diplomatic cables to WikiLeaks, hurling the pro-transparency website and its founder, Julian Assange, into the world spotlight.
4. Egypt
Gathering Thursday morning around a mosque used as a morgue for hundreds killed the day before, many Islamists waited confidently for a surge of sympathetic support from the broader public. But it failed to materialize.
With their leaders jailed or silent, Islamists reeled in shock at the worst mass killing in Egypt's modern history. By Thursday night, health officials had counted 638 dead and nearly 4,000 injured, but the final toll was expected to rise further.
A tense quiet settled over Cairo as the city braced for new protests by supporters of the ousted president, Mohamed Morsi, after the Friday Prayer. The new government authorized the police to use lethal force if they felt endangered.
5. Teen Choice Awards
The Teen Choice Awards took place on Sunday, and as mentioned above, young people use Twitter. Thusly, it trended. The Award Ceremony included the first public appearance by the girlfriend and co-star of recently deceased Cory Monteith, Lea Michelle. She earned her own spot on this list, below.
But perhaps the biggest surprise of the night came during an acceptance speech by "Chris" Ashton Kutcher:
6. Breaking Bad
The final season of widely popular AMC drama "Breaking Bad" premiered on August 11th. The episode was widely discussed by fans on social media before, during and after its airing on Sunday.
7. Beyonce
Beyonce got a haircut. This is why she was trending. Not only did the haircut make the news, but why the haircut made the news … also made the news.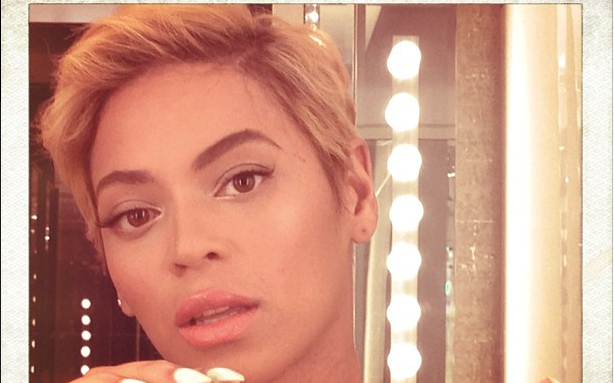 8. Lea Michelle
"I just wanted to be here today to personally thank all of you and tell everyone out there how much all of your love and support has meant to me over these past very difficult few weeks," Michelle said on stage at the Teen Choice Awards. "I wanted to dedicate this award to Cory for all of you out there who loved and admired Cory as much as I did. I promise that we're going to get through this together."
"He was very special to me and also to the world and we were very lucky to witness his incredible talent, his handsome smile and his beautiful, beautiful heart. So whether you knew him personally or just as Finn Hudson, Cory reached out and he became a part of all of our hearts and that is where he will stay forever."
9. #cmafest
The CMA Music Festival,  "Country's Night to Rock," aired Monday night with performances by Kelly Clarkson, Sheryl Crow, Kid Rock, Lenny Kravitz, Lady Antebellum, Brad Paisley, Taylor Swift, Carrie Underwood, and others. The broadcast also featured Instagram photos from fans, making it a very social media friendly event.
10. Jesse Jackson
Jesse Jackson Jr. has been sentenced to two-and-a-half years in prison. The former congressman and son of civil rights leader Jesse Jackson was found guilty of scheming to use $750,000 in campaign funds for personal items.
Curious what topped the global trends charts this week? We've got 'em for you.