Social Media Day Update ~ Celebrate with HootSuite Tune-ups
By Dave Olson • 4 years ago • 12 Comments
HootSuite Blackberry — We know you can't wait and it's getting close — we're making it great to be worthy of the Owl and Blackberry's passionate users
Short Owly Pro URLs — HootSuite's custom URL shortening service is in secret private beta and working great! Get on the list for your chance to get shorter
HootSuite iPad — Those who bought 'em, love 'em and we're making an all-new tool for Apple's popular tablet rather than a hacked iPhone or web app
HootSuite iPhone — A batch of new features will make users of the magically translating, updating, statistics-gathering mobile genius machine even happier
Fixes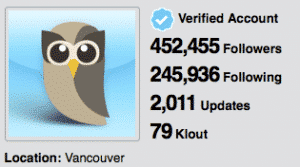 Life in the browser can get tricky with so many different versions and varieties. As such, a number of anomalies popped up which are now hammered down for better performance (BTW, check out this post about which browsers work best with HootSuite).
These refinements include:
Search result columns in IE 7 & 8 are no longer mixed up
Deleted DMs are now completely deleted
Klout influence scores are now displayed in bios
Help
Some some users have reported veeerrrryyy slow performance — we continuing to monitor these reports and request you first do a hard refresh (CTRL+F5) and then try a different browser for trouble shooting. Still something amiss? Please submit a ticket at the Help Desk after searching for an answer to your conundrum.
We monitor all the mentions of HootSuite on Twitter and tend to the HootSuite Facebook page with great pleasure. However, the best place to go for help is the Help Desk. There are hundreds of articles to both assist you and apprise you of known issues. Still haven't found what you are looking for? Submit a ticket if there is something we missed.
Feature requests are an important part of our community and tool evolution — we love hearing them but request that you share with others by posting at Feedback Channel. This allow others to vote ideas up and helps us gauge interest in new tools.