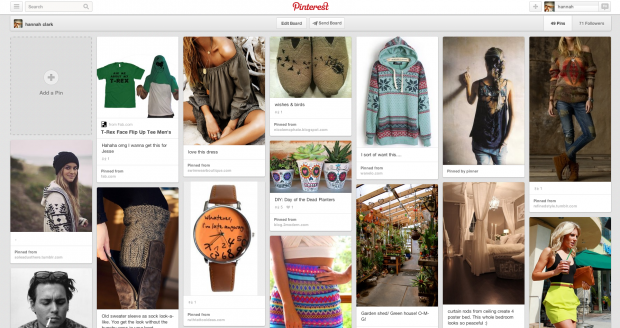 So, you have accounts for your organization on Twitter and Facebook… maybe even LinkedIn. But does your organization have an account on Pinterest? If not, you may consider jumping on board, especially since a survey by the Pew Research Center found that Pinterest is more popular than Twitter.
Pinterest is no longer a social network for soon-to-be brides and moms looking for recipes. Businesses in retail, event planning and tourism (to name a few) were the first to the Pinterest party. Now all sorts of companies are using the platform to show off company culture and, most importantly, make sales. It's important for businesses to not overlook this photo-sharing social network. Here are three reasons why your organization should consider signing up to Pinterest:
Pinterest converts leads into sales:
For some businesses, Pinterest has the potential to convert into leads or sales faster than from any other social media network. For example, online bookseller Indigo saw that conversion rates for Pinterest traffic were 50% higher than traffic from any other source. Pinterest has seriously cut down the number of steps it takes for a user to find an awesome product and make a purchase.
"Even in cases where the path to purchase is not as direct, rarely do you have social network were linking to a for-sale items is done so frequently, you have clear social proof of the desire for the item, you see a picture of it, and where you are only one or two clicks away from being on an ecommerce site" explains Josh Davis on llsocial.com.
To sum it all up, Pinterest converts leads to sales, and super fast. What brand doesn't want that?
Pinterest connects with your website, Twitter and Facebook accounts:
What Pinterest has figured it out is that social networks don't stand by themselves. To truly be social, it's important for networks to… well, network. Pinterest not only connects with Facebook, but also enables users to automatically post to their News Feed for others to see. This means you save a little bit of time, and have even more eyes on your content.
Similar to Facebook, once you sign up for Pinterest, you have the option to automatically share pins into your Twitter feed. You just need to have used the same email address for both accounts.
Plus, adding a 'Pin It' button to your website and blog makes sharing your content or products super easy for any site visitors.
Find out what your audience is really looking for:
Pinterest is an awesome place to find new trends. From tech to fashion (even cute furry animals and DIY projects), you can determine exactly what people love to share. By following your own followers, you can see what inspires them. This gives you a chance to understand what's popular, and use that information to better position your own products or services.
Pinterest users have proven that they trust their Pinterest networks to endorse solid products. These people trust their networks so much in fact, that 47% of U.S. online consumers have made a purchase based on recommendations from Pinterest.
Honorable Mention: Pinterest now supports GIFs!
All users are now able to play and pause .gif files straight from their pinboards! "The well-timed GIF may be the greatest thing to have happened to the internet since emoticons, and lots of people have said they'd love to see playable GIFs on Pinterest," Pinterest stated in its blog. "Starting today, we support GIFs in all their animated glory!"
Do you need another reason to get started on Pinterest? Now you can use Pinterest straight from your HootSuite dashboard. The ViralTag for Pinterest app in HootSuite allows users to easily schedule, share and analyze their pins on the dashboard.
The HootSuite Pinterest Business Insights integration is currently in Beta and is exclusively available to select Enterprise customers. If you are a member of a HootSuite Enterprise account, please contact your dedicated Account Manager to inquire for access.
If you're not already using HootSuite Enterprise, click here to discover more about our Enterprise-level solutions.