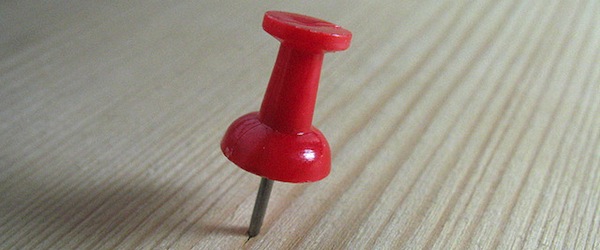 Off the Beaten Path: 6 Unusual Ways to Use Pinterest
Pinterest is no longer just about food, clothes, and weddings. We have learned in the past the potential for business on this social network is great, and many awesome brands are now using it to generate revenue and gain customer loyalty. While many still rely on the social scrapbooking service for these traditional uses, lots of other creative applications are emerging.
Did you know that Pinterest is also a great way to organize music? How about using Pinterest to find your lost pet, or report from a war zone? Take a look at a few unconventional ways people are using Pinterest.
To Bust Criminals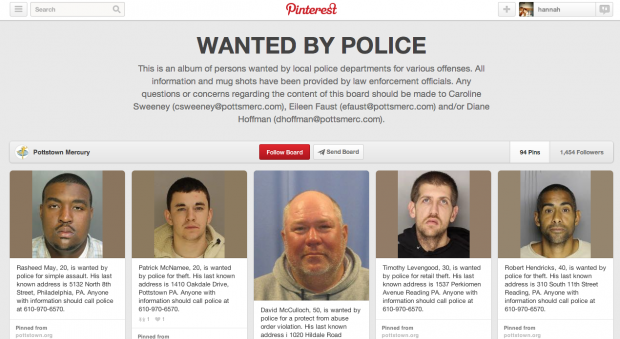 The days of seeing "Most Wanted" posters are behind us. The Pottstown, PA, Police Department has found a much more modern way to catch bad guys. By putting up mugshots on a Pinterest board, this police department is getting the word out to a much wider audience. They create pins that include a person's mugshot, crime, and last known address.
To Reunite Families with Their Lost Pets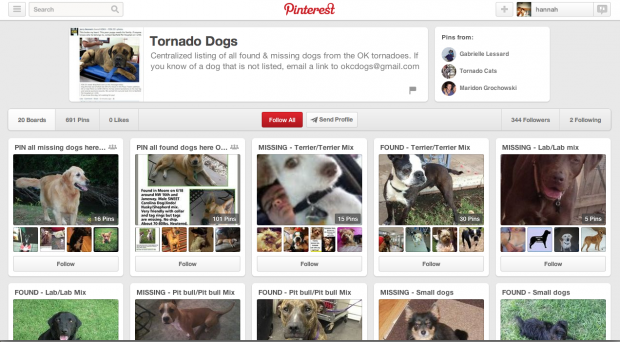 On May 20th. 2013, Oklahoma was hit by some of the most destructive tornadoes in the area's history. These destroyed 13,000 homes, caused more than $2 billion in damaged and displaced 33,000 people from their homes. But what about all the pets? What happened to them?
In hopes of reuniting animals with their owners, the Facebook page, Moore Oklahoma Tornado Lost and Found Animals, was created. Anyone affected by the tornado was asked to post images of their lost pets, or post pictures of pets they found in the aftermath of the storm.To accelerate the process, the Pinterest accounts "Tornado Cats" and "Tornado Dogs" posted photos which separated the pets by breed and color.
By having all the lost animal photos organized, it was easier for people to share the images and find the missing owners. A nice little plus to both of these accounts was that there was a board created and dedicated to showing the happy family reunions in the end.
To Organize Music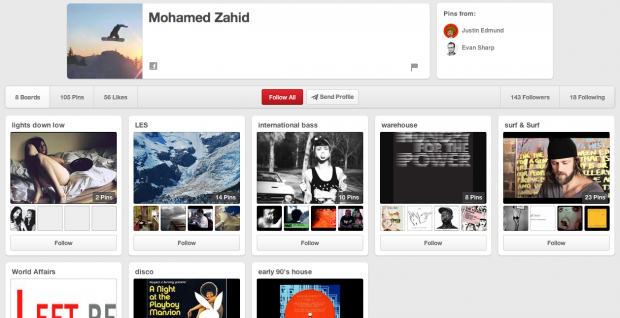 I have a terrible habit of collecting a ton of music, and never taking the time to sit down and organize it all. My friend and coworker Mohamed Zahid has found an incredible solution to this problem by simply using Pinterest! By adding videos into boards that are classified by genre, Mo can easily find exactly what he is looking for without any scrambling or scrolling.
To Report the News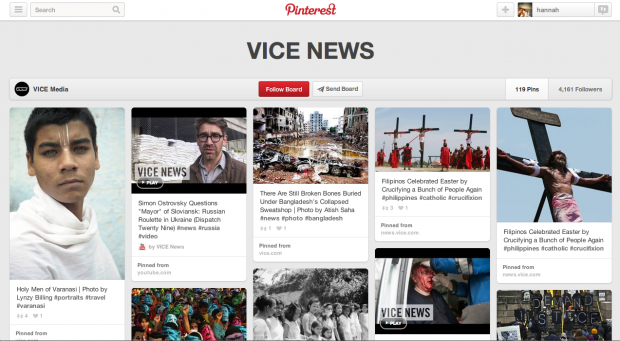 Vice News is an international news channel that was created specifically for a generation who is digitally connected. Amid the skateboard videos, do's and don'ts, drug guides and fashion spreads, Vice News has become a place that serious journalism can live. The Vice Media Pinterest account has a ton of interesting boards, including art, food, travel and tech, but one of their most interesting and popular boards seems to be for Vice News.
Here the user scrolls through photos and videos from all corners of the globe, learning about a different news story with every image. Many of these photos don't give the full story, which encourages readers to go to their main website to find out what is really going on.
To Report the News (From a War Zone)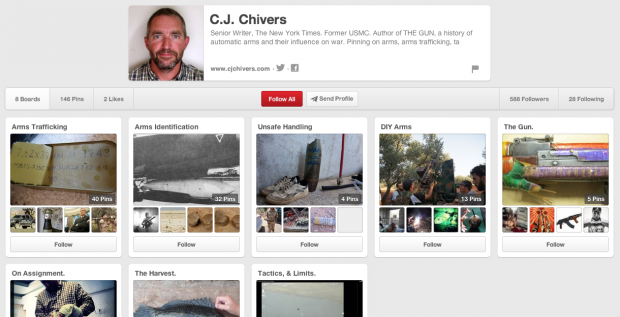 When it comes to reporting from a warzone, the last place many people would expect to find this would be Pinterest. However, New York Times Senior Writer C.J. Chivers has found a new and interesting way to use this social networking tool.
It is on his Pinterest account that we can find boards leading you to see images of arms trafficking and identification, as well as unsafe weapons handling and even images from while he is on assignment. Not only do images like these show what is going on in nations far away from our own, but also tell an incredible story.
To Get a Job at Pinterest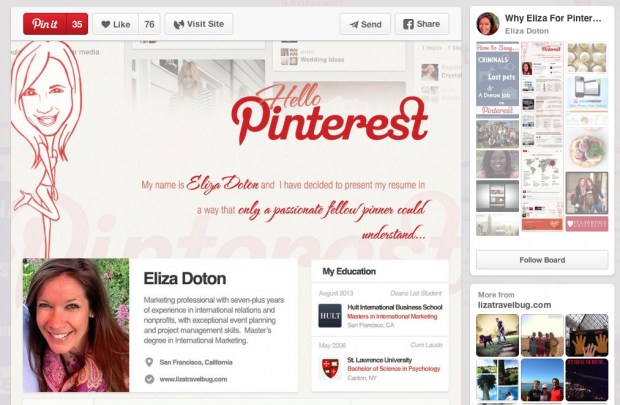 When it comes to finding a job, we've all done our fair share of wild and out there things to gain a potential employer's attention. For Eliza Doton, the dream job was to work at Pinterest and what better way of getting there than showing Pinterest how serious she was about working for them. To make her resume stand out, Eliza made it into a pin — something that "only a passionate fellow pinner could understand."
Of course, this awesome pin nearly instantly went viral, and she was quickly contacted by the people at Pinterest.
By using Pinterest in unconventional ways, businesses are able to breathe new life into this social network, as well as show how important it is not compartmentalize Pinterest as only for retail. Pinterest has now evolved into a place where you can find exactly what you're looking for, sometimes you just have to go looking.
Hootsuite Enterprise recently announced Insights For Pinterest Marketers (BETA). Find out more or Follow Hootsuite on Pinterest.