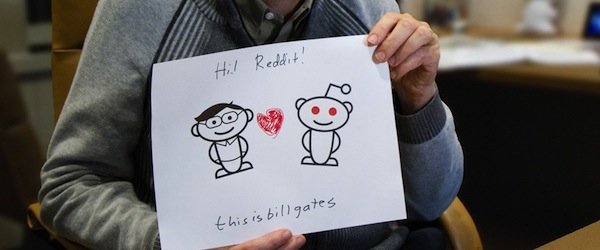 Think reddit is a Productivity Killer? Here are 9 subreddits That Will Help Your Career
Reddit is often given a bad reputation as a place where hours disappear as your work goes ignored. Anyone who has delved deeper into reddit knows that while this is often the case, there is far more to reddit than what you'll find on the front page. Reddit is full of resources and information on just about any subject in the encyclopedia.
While funny pictures and videos might pull you away from your work, following certain subreddits can actually make you more effective at your job. Here are nine subreddits that will help your career.
The /r/iama subreddit is one of the website's most popular, a place where people from all walks of life can share their story and respond to questions asked by regular redditors. Over time, /r/iama has become a hub for celebrities wanting to connect with their fanbase and promote their next movie or project. But behind the glitz and glam of asking Amy Poehler questions, the subreddit is also an absolute treasure trove of career and business insight.
On the /r/iama subreddit you can find people across nearly every industry, learn how they entered their field and what it takes to succeed. Whether you're a programmer, a social media manager or a cardiologist, you can connect with people in the field and ask them practical questions about it, discovering tips and tricks that might help you in your own career. If you're worried about frauds, the subreddit administrators actually force people to prove that they are who they say they are before they can begin answering questions.
In February of 2015 alone, there have been ama's by political leaders, founders of non-profit organizations, several authors, journalists and entrepreneurs. Tim Berners Lee, creator of the world wide web, and Bill Gates, co-founder of Microsoft, have both given AMAs in the past. And later this week Thomas Knoll, one of the original creators of photoshop, will be giving his own AMA.
Check out /r/iama and search for posts from people in your industry. Then bookmark the subreddit calendar and make note of any AMAs that might interest you in the coming weeks.
Simply put, /r/forhire is reddit's best place to find quick freelance work. The subreddit offers professionals the opportunity to post their skills in the hopes of attracting new clients. It also allows businesses to place job postings in their hunt for skilled workers. Many of these jobs can be done via telecommuting, making the regional elements of the job hunt less important.

The /r/forhire subreddit is an easy way to get quick jobs that actually pay, and earn some experience that could pay off further down the line.
Unlike the /r/forhire subreddit, /r/jobs is more of a school than a career fair. According to the subreddit description, /r/jobs is where you can find posts about "How to get work and how to leave it. Employment, recruitment, résumés, CVs, interviews."
While there is some negativity to be found (see "went down in flames at interview'), this is a great place to find answers to common work-related questions or challenges . There are posts about how to network, how to gain experience, interview and resume tips, and much more.
TED is a non-profit organization dedicated to spreading great ideas. TED gathers some of the world's brightest minds and best speakers at conferences, and then posts videos from these events online. If you've never seen TED talks, the videos are interesting, inspirational and often motivational. Watching them can change your perception about your career or your approach to work.
The /r/TED subreddit then adds a dimension to that experience, creating a platform on which to discuss TED talks with other people who have watched them. According to the subreddit description, TED staff have even joined in the fun. "Although it's redditor-created and -moderated, TED staff are not only reading this reddit, but are happy to step out from behind the proverbial bar, grab a beer, and join in interesting conversation. And they can also go back behind said bar to give official, canonical replies to questions or concerns about TED :)."
On a quick visit to the /r/ted page today, you might stumble across a post on the power of believing that you can improve, and another about the ethics of knowledge production. While the talks might not be directly related to your field, they might spark an idea or inspire you in ways that will make you a better professional, and maybe a better person.
If you've ever thought of starting your own business, /r/entrepreneur should be bookmarked in your browser. The subreddit gathers over 100,000 entrepreneurs (both existing and hopeful), to discuss what it means to start a business, the challenges it entails and how to overcome them.
This subreddit is particularly interesting in that it only allows text posts. Many business-related subreddits suffer from self-promotion. People post links to their own blogs or websites in order to drive page views, and don't actually contribute to the reddit community. In only allowing text posts, /r/entrepreneur incentivizes discussion over outbound links.
If you've ever faced an entrepreneurial dilemma, from simply picking colors for a landing page to knowing when to move on from your product, /r/entrepreneur is a place to find answers.
Want to know how easily distracted we are? Over 75,000 people read the /r/productivity subreddit. Being unproductive is incredibly common and, while it might seem counterintuitive, the subreddit is meant to help you get back to work.

One great aspect of the productivity subreddit is its weekly features. These features are prompts which encourage specific discussions from redditors that might benefit the entire group. On Monday, people are encouraged to post their weekly goals in a thread; on Friday, they share their favorite productivity apps; on Saturday, people are encouraged to vent about what has made them unproductive. These prompts take away the pressure of starting your own thread, making it easier to participate and engage.
One of the most common productivity killers is a technical problem. Your laptop stops working or your Word file won't open and you just can't get anything done until the issue is resolved. Enter /r/techsupport. This community of tech-savvy redditors will do their best to help you solve your tech problems, for free.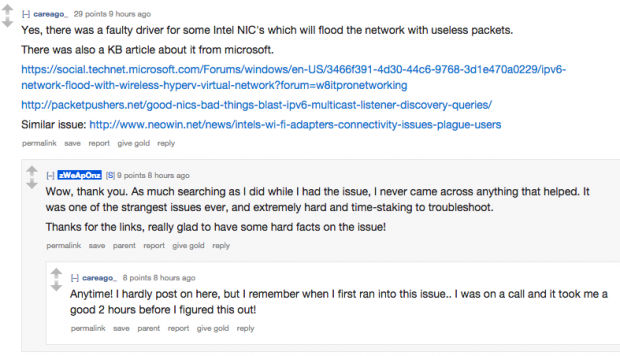 Look for respondents who have "trusted" beside their username. They've proven themselves to the community in the past.
Do you want to learn a new skill in order to further your career? Do you need guidance to take that next step towards a better job? The /r/mentors subreddit is a place where Redditors can find "individuals willing to help them to learn about something, or for knowledgeable users to share their mastery of a subject in order to find those wanting to learn it."
Those seeking a mentor create posts tagged [seeking], while potential mentors tag posts with [offering]. Much of the subreddit focuses on tech skills, like web development and programming, but occasionally opportunities for mentoring in other fields pop up.
For people looking to move into a management role in their career, consider being someone's mentor. Doing so will help you gain experience teaching people what you do, and helping them develop their own skills in the field.
/r/(Your Job)
If you're not familiar with reddit, you might be surprised by the sheer amount of information being shared and discussed in each of these communities. The great thing about reddit is that, regardless of your passions, interests or career, there's a subreddit where you can find like-minded people to engage with.
The proof is in the pudding, as they say. Type http://reddit.com/r/ into your browser followed by whatever industry you work in or your job title. Accountants, plumbers, mechanics, lawyers, even shoemakers have their own subreddits. Find yours, start posting and commenting, and see if the experience is valuable to you in your career.
Hootsuite's reddit app allows you to follow these subreddits from within your dashboard.