Behind the Scenes: HootSuite's Video Team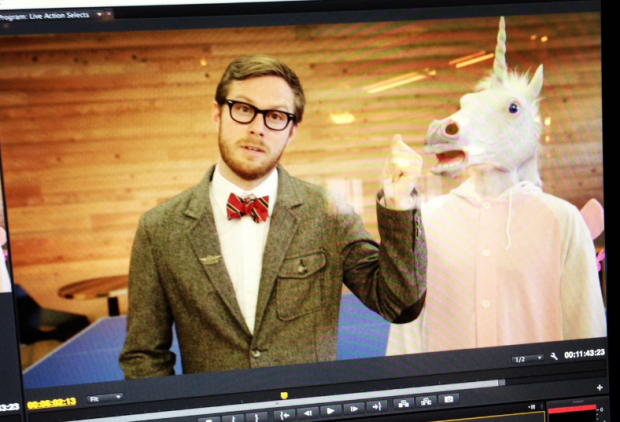 In Part 1 of this blog post I advocated for the idea of brands bringing their video content production in-house. Now, that may have sounded like an exciting prospect but many of you may have wondered how exactly to go about doing that.
Well, like most things it all begins with finding the right people.
Looking at the remarkable ubiquity of video content on the internet it would be easy for someone to say "let's just buy a camera and get Gary the intern to make us some viral videos."
While it's true the cost of camera and editing gear has dropped enormously over the last decade you would be fatally sabotaging your video efforts to assume that the gear alone will get you results.  If that we're true we'd all be Rembrandts simply for owning a paint brush.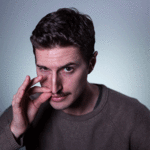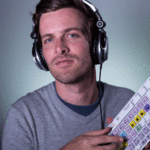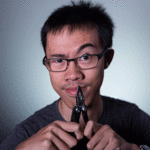 But fear not, for along with the democratization of the technology has come a new wave of video makers trained in a new school of multi-disciplinary production. Where many in the television or film world are trained in only one skill, like writing, or camera operation, the average web video producer is by necessity a jack-of-all-trades.  They write, they shoot, they edit, they create motion graphics and special effects and usually know a thing or two about YouTube analytics and optimization.
Right now, media and film schools all over the world are turning out octo-talented video pros just itching for the chance to put their skills to the test. While many decide to go the freelance route I firmly believe that businesses and organizations can scoop some of the best and brightest with the right creative challenge.
So with that little preamble, let me introduce you to our the video team here at HootSuite.
Currently we're a team of three including myself. As video producer I spend most of my time developing concepts and scripts and working with HootSuite's various departments to produce new video content around upcoming initiatives. If we have a shoot off-site with a client or during an event I'll usually be on hand to organize and direct it.
BrentO is our lead video designer – we sort of made his title up but we're hoping it catches on. As a video designer  Brent does a lot of the heavy lifting in post-production.  This includes editing, motion graphics, sound mixing, and music sourcing but he also jumps behind the camera sometimes too, so video designer is our amalgam of editor-motion-graphics-camera operator virtuoso.
Brian L. Is our production technician, an essential role on any video team. Brian is like a our video mechanic, he preps and maintains the gear, helps set up shoots, troubleshoots any tech issues and jumps into the editor's chair when needed (That's his VFX work in our Zombie HootTip video). Brian also helps monitor viewership analytics and tinkers on the back end of our YouTube channel.
Studio & Gear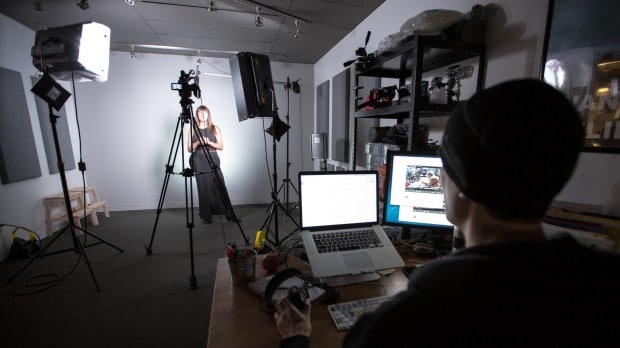 Our studio is a 12×25 space that allows us enough room for 3 editing suites on one end and a recording area on the other. It's not totally sound-proof, it still gets some noise from the overhead HVAC units but it's quiet enough for our purposes and our shotgun microphone cuts out a lot of the background noise. For added sound absorption and to dampen some of the room echo we hung Primeacoustic sound panels on the walls around the recording area.
I personally believe that it's essential to have a dedicated studio space for your recording and editing. For starters it allows you to leave your lights and camera set-up to record whenever you need, and that's important if you're producing regular video content or need to shoot on the spur of the moment.  Editing also requires a closed-off space for sound mixing over speakers (WARNING: Do not attempt to mix sound with headphones alone, it can be horribly inaccurate) to do that in an open office environment would be distracting for both the editor and everyone else in the room so an enclosed space is ideal.
Before we moved to our new HQ we shot in any hallway, board room, or back alley that didn't have people in it, sometimes that's all you can do, but dedicating space for video will save you set-up time, produce better audio quality and allow for more consistency in your productions.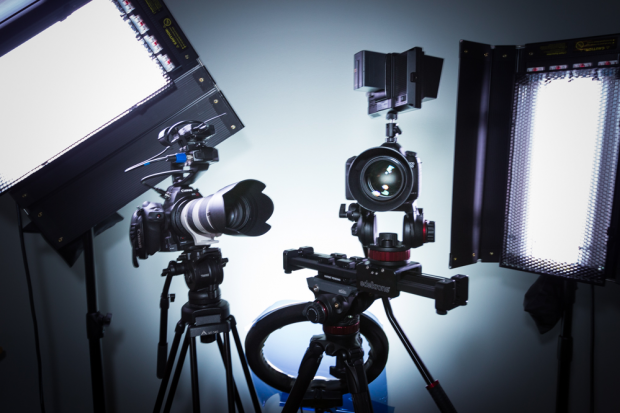 We shoot on two cameras; our "A" cam is a Canon C100 cinema camera while our "B" Cam is a 5d Mark III DSLR. These are two great cameras but for most of the year we made do with just the 5D and before that a Canon T3i.
DSLRs are incredibly versatile recording tools. Not only are they capable of great photography but they can easily convert to HD video with the push of a button and most can be set to cinema frame rates (24fps, 30fps 60fps). IFC's Portlandia series is shot entirely on DLSRs, as are many short and feature films. They're easy to travel with and surprisingly affordable. The only caveat is that they are first and foremost photo cameras, so to optimize them for video I'd recommend a few add ons, an external microphone for one, and usually an external audio recording device like the Zoom H6.
We shoot on a variety of lenses but have found the Canon 16-35 f2.8 and 24-70 f2.8 to be our primary go-to's. If I had to choose just one, the 24-70 is a workhorse lens that will cover most needs.
Additionally we have two tripods, two Kino Flo 400 diva lights (beautiful soft light and low power consumption), a sennheiser lavalier and shotgun mic and some fun toys like an Edlekrone V2 slider for tracking shots and push-ins.
On the post-production side of the room we have two iMac editing suites and one 15" MacBook Pro Retina, which is excellent for mobile editing and captures the highest resolution for screen recordings. All our editing suites run on the Adobe Creative Cloud which includes Premiere, After Effects, Audition, Photoshop and several other programs. There's a range of editing platforms to choose from these days but we've found the Adobe CC suite provides us the most creative versatility.
I won't deny, this is a well-stocked studio. Not every organization will have the means to build a studio like this, but even an investment of $3500 can get you some core hardware and software essentials and in the right hands that can be magic.
Over the last few years we've seen the rise of in-house design teams and blog/content writing teams and now we are entering an era where the in-house video team is becoming just as essential within the marketing department.  Keep in mind that video is a powerful medium for story and identity and the quality at which you produce it- both technically and creatively- will come to represent the quality of your brand.
Start by finding the right creative talent and you'll have the core foundation of a video program that will keep your brand stocked with smart, engaging motion-picture storytelling for years to come.