If branded content and influencer collabs are part of your Facebook marketing strategy in 2022, Brand Collabs Manager should be on your radar. This monetization tool brings brands and social media creators together to create and share branded content that builds trust and expands reach.
Bonus: Get the influencer campaign template for brands to easily plan your next campaign and choose the best social media influencer to work with.
What is Facebook Brand Collabs Manager?
Brand Collabs Manager is a tool that helps connect brands with creators on the Meta-owned platforms of Facebook and Instagram.
Creators develop a portfolio to highlight their interests, the kind of content they create, and even a list of specific brands they'd like to work with.
Brands use Brand Collabs Manager to search for creators with the right audience and connect directly with those they think would be a great fit.
The tool eliminates the need for brands and creators to seek each other out through random DMs that can be lost or ignored, and helps make it easier for the right brands and creators to find each other based on real data.
Brand Collabs Manager also makes it easy for brands and creators to do the actual work of creating and sharing content together, with project briefs, ad creation permissions for posting, and shareable data insights. A Paid Partnership label is automatically applied to content created through Brand Collabs Manager, helping you stay compliant with sponsorship disclosure regulations.
https://www.facebook.com/jakedcohen/posts/2460705050729501
Who is eligible for Brand Collabs Manager?
You can apply to Brand Collabs Manager as either a creator or a brand. Here are the eligibility requirements for each.
Brand Collabs Manager eligibility for creators
To qualify for Brand Collabs Manager as a creator, you need to meet the following requirements.
Facebook public group admins can also apply for Brand collabs manager as creators. In this case, your group needs to meet the following requirements:
Brand Collabs Manager eligibility for brands
For brands, there are very few eligibility requirements:
However, Meta is currently not accepting any new pages or accounts as advertisers in the Brand Collabs Manager because they are "reimagining how to support brand collaborations."
That means you can only use the Brand Collabs Manager tool as an advertiser if you have already been accepted. When applications reopen, you can apply here.
How to sign up for Brand Collabs Manager
While the program is on pause for brands, Meta is still accepting new creator applications for Brand Collabs Manager. Here's how to apply.
Step 1: Apply for access
Head to Creator Studio and select the Page(s) you'd like to monetize from the top drop-down, then click Monetization in the left menu.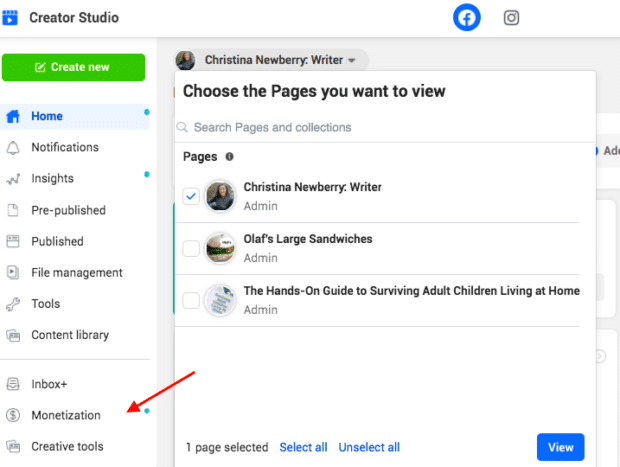 If your Page is eligible, you will see the option to apply for access to Brand Collabs Manager. If you are not yet eligible, Creator Studio will show what requirements you still need to meet.
Step 2: Set up your creator portfolio
In Creator Studio, expand the Monetization tab in the left menu and click on Meta Brand Collabs Manager.
Click the Portfolio tab in the top menu. This is the information brands will see when looking for potential creators to partner with. Complete the following sections:
Portfolio Intro for Facebook: Your Page description appears by default, but you can customize it by toggling on Customize intro shown in portfolio. If you have a media kit, you can also upload that here.
Audience on Facebook: Choose which of your audience metrics to show to potential brand partners.
Past Partnerships: Check the boxes for the past partnerships you want to highlight on your portfolio.
How to use Brand Collabs Manager as a brand
Using Facebook Brand Collabs Manager as a brand is all about leveraging partnerships with creators to extend your audience through trusted recommendations and authentic content.
Find the right influencers
Of course, you don't want to partner with just any creator. (Just like not all creators will want to partner with you.) Fortunately, Brand Collabs Manager is specifically designed to help you find the creators that will have the most impact based on their audience.
You can search for new partners by hashtag, keyword, or the creator's name. You can sort by target audience and then filter by country, gender, age, and interests. You can also define the minimum and maximum number of followers you want in a creator partner.
Note: If you're not sure about who you want to target, check out our post on audience research.
When you first log in, you'll see recommended creators in case you're not sure what to search for. You can also check out our blog post on working with influencers to help define which characteristics you're looking for in a creator partner.
You can also use the Insights tab of Brand Collabs Manager to evaluate creators for potential fit based on their current metrics.
Available insights are divided into two categories: creator insights and audience insights. Each provides data over a 28-day period. Here's what you'll be able to see in each category.
Creator insights:
Branded content: Percentage of Facebook and Instagram posts that are branded content. (You won't likely want to partner with someone who is already posting a large percentage of branded content for other brands, with too little organic content of their own.)
Views per video: Median number of three-second views.
Engagement rate: Median number of people reached by a video, photo, or link post who engaged with the post.
Posts: Total number of original posts published.
Videos: Total number of original videos published.
Followers: Total number of followers, and total follower loss or gain.
Audience insights (for the creator's audience):
Gender breakdown
Top countries
Top cities
Age breakdown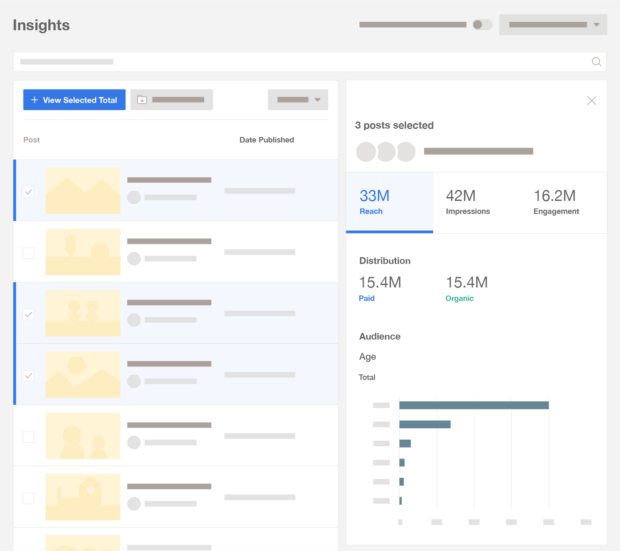 Organize creators with lists
You can start building lists of creators you're interested in working with before you ever reach out to them. This allows you to create a long list of potential partners before narrowing it down to the shortlist of people you actually reach out to.
You can also use lists to organize partners you've worked with previously. For instance, you can create a list of those who perform best or those who work in a specific topic niche. This way, you know at a glance who to reach out to the next time you run a campaign.
Create great project briefs
Project briefs are the building blocks of collaboration within Brand Collabs Manager. A project brief is a detailed document in which you describe the nitty-gritty of the project(s) you want to collaborate on.
Creators view available project briefs based on an expected relevance score. If your project is a good potential match, it will appear higher in the creator's Project Briefs tab.
To increase your odds of achieving a good relevance score, your project brief needs to be detailed and specific. Be certain about who you are as a brand and what you're trying to achieve. It's a good idea to do some goal-setting before you create your project brief.
Make sure you understand who you're trying to reach. Add up to three audience interests for the best potential match.
Also be clear about what you're looking for from creators. Do you want photo content? Videos? Stories? Will you provide specific direction about products to feature or let the creator do their own thing? Do you have existing creative resources they can model, or a style guide that explains the details of your brand?
Finally, be sure to provide deadlines for both application and content delivery, so creators only apply for projects that fit their capacity.
Once your brief is ready, submit it for review. You can choose to publish it if you want multiple creators to apply, or send it directly to a specific creator you've already chosen.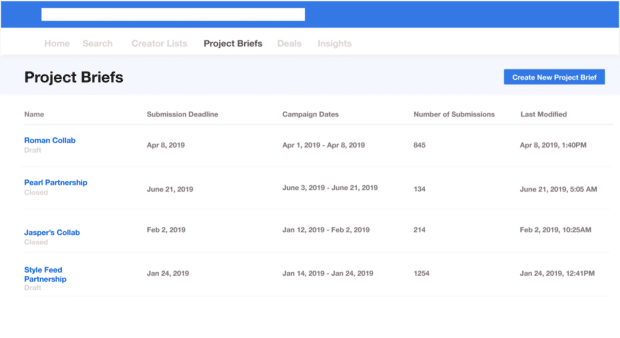 Track paid partnership performance
When you or your creator partners boost branded content as an ad, you get access to shared metrics. Rather than having to rely on the creators you work with to provide details about the metrics and results for paid content posted to their page, you can access them directly through Brand Collabs Manager.
If the creator sets up the ad by creating a paid post or boosting existing organic content in which you are tagged as a brand partner, you will have access to reach and engagement metrics.
If you boost content your creator partner has posted to their page, you will have access to metrics related to the ad objective plus reach, impressions, cost, engagement, page likes, and more.
5 alternatives to Facebook Brand Collabs Manager
Brand Collabs Manager is an important tool, but it's not the only option for working with creators on Facebook. Here are some other helpful alternatives.
Even creators that don't meet the eligibility requirements for Brand Collabs Manager can still use the Facebook Branded Content Tool. In fact, Facebook's Branded Content Guidelines require branded content to be tagged as such, regardless of how it is created. The Branded Content Tool resolves that issue for those who can't (yet) use Brand Collabs Manager.
First, request access to the Branded Content Tool. Your request should be approved right away. Then, when you create a branded content post, you can use the tool to tag your brand partner. You can select whether or not to let the brand boost the post or add a custom call to action.
Your post will appear with the Paid Partnership tag.
2. Hootsuite
Social listening with Hootsuite is a good way to start building a list of potential creators you'd like to partner with. Then, use streams to track what the creators share and who they engage with.
If you use creator partnerships for paid Facebook ads as well as organic content, Hootsuite Social Advertising allows you to track results for both types of campaigns, so you can evaluate where best to allocate your budget.
Fourstarzz is an influencer marketing platform that connects brands with more than 800,000 influencers. The Fourstarzz Influencer Recommendation Engine integrates into Hootsuite and provides access to the influencer campaign designer tool. It allows you to create a campaign proposal quickly and get custom potential influencer recommendations.
Insense allows you to connect with 35,000 creators of custom branded content. Create a project brief using an intake form to get creator recommendations. You can then run Facebook ads using the creator's handle.
This network of six million influencers allows you to search by keyword, interest, demographics, and even aesthetic. Full analytics mean you always know which brand collaboration campaigns are working best.
Make influencer marketing easier with Hootsuite. Schedule posts, research and engage with influencers in your industry, and measure the success of your campaigns. Try it free today. 
Do it better with Hootsuite, the all-in-one social media tool. Stay on top of things, grow, and beat the competition.
Free 30-Day Trial