Social Media Compliance ~ An Interview with CMP.LY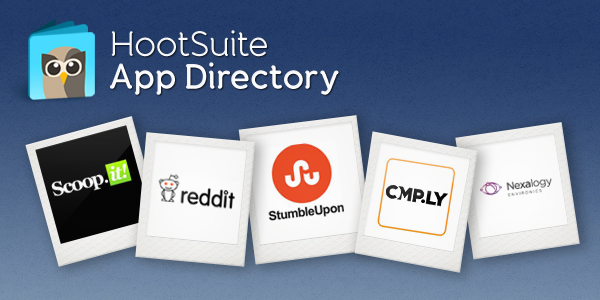 One of the biggest risks for brands is losing consumer trust. Transparency can be a key strategy in building and maintaining trust, but what about in the realm of social media? How do you make sure that the fine print that protects everyone is retained in all of your business' Tweets, Facebook updates and more? CMP.LY is a unique online tool that has found a solution to this very widespread issue for many companies.
We recently spoke to CMP.LY's CFO, James Graham and CRO, Adriana Kampfner to learn more about their company, and on the hot topic of compliance—in an increasingly online business world.
Interview with CMP.LY
HootSuite: What are the consequences for brands or influencers, such as bloggers who fail to disclose their material connection?
Adriana Kampfner, CMP.LY CRO: There are several consequences. For starters, the Federal Trade Commission has taken some action and there's been a number of investigations. Each state has deceptive advertising laws for not being transparent in social media, which can also put the brand at risk for state legal action.
(For example, Google was all over the headlines in August 2012 because they failed to disclose in court a list of their paid bloggers and authors. Their lack of transparency was a PR nightmare more than anything else.
In a CMP.LY case study, the Advertising Standards Authority (ASA) in the UK recently ruled against Nike, banning their pre-Olympic campaign because sponsored athletes failed to disclose their relationship to the brand in their Tweets.)
My resolution – to start the year as a champion, and finish it as a champion… #makeitcount gonike.me/makeitcount

— Wayne Rooney (@WayneRooney) January 1, 2012
The biggest risk for brands that they're most concerned about is consumer trust. The court of public opinion is often the worst. Maybe not more expensive than state action or lawsuits, but from a reputation point is worse.
HS: Why was CMP.LY created and what does it do?
AK: In late 2009, Tom Chernaik created CMP.LY to address updated testimonial and endorsement guidelines on social media by the FTC. These guidelines made it clear that brands and agencies must disclose any material connections they have with influencers such as bloggers, ambassadors, employees and advocates. CMP.LY creates disclosure pages and banners so companies can fulfill regulatory obligations and maintain transparency.
HS: What compliance issues does CMP.LY solve for businesses on Twitter?
AK: It's very hard to make sure that the rules of a promotion are included in a Tweet. CMP.LY helps agencies and brands easily incorporate rules and regulations into social promotions of all sizes.
For example, Nissan uses CMP.LY for their Twitter promotions. Any time they need to promote a social media contest they just finalize their official rules, create a rules disclosure url and input it into their social messaging.
HS: What about for companies using 'Influencer and Advocate Marketing Programs?'
AK: This can be really challenging for agencies and brands to manage disclosures. According to the FTC, the brands are responsible for making sure that everyone associated with them knows their policies, makes the required disclosures and monitors for compliance.
For example, Jamba Juice uses CMP.LY for their Ambassador Program. Every one of their ambassadors are issued a CMP.LY disclosure url to use anytime they promote Jamba Juice. Their brand was able to create one disclosure that says: "I am an ambassador of Jamba Juice, I was selected, am given access to products and information from time to time and the opinions expressed are my own."
From then on, CMP.LY is able to monitor for Jamba Juice for compliance. We will send Jamba Juice, or any of our customers, a simple reminder to disclose and that keeps the brand out of trouble and efficient.
HS: And finally, how can CMP.LY be useful to businesses in regulated industries?
AK: Not only do regulated industries have to comply with the FTC, but they also have additional regulatory requirements and compliance challenges that are heavily policed. Two areas in particular that we're working with closely are: Financial Services and Healthcare.
Financial services had some assistance from updated rulings, but there hasn't been any substantial documents for healthcare marketers on approaching social. Thus, the healthcare industry has been the most cautious of them all. CMP.LY helps tremendously because it addresses and creates the disclosures and supplies compliance monitoring that these industries need.
HS: What kind of businesses can benefit most from using CMP.LY?
AK: There are three key constituents that we serve: the end consumer, actual influencers, and brands. The disclosure framework that was developed had the end consumer in mind. We wanted to make sure it was easy for the consumer to get information on material connections or other important notices in the social environment.
Then it must be easy for the actual influencers to use our disclosure framework and share in their content. They can quickly select whether they have a promo, paid, affiliate or business connection to the agency or brand. And our final relationship is with the brand. The product that we offer brands and agencies is a bit more robust than for the influencers. We make it easier for them to create and distribute disclosures to their advocates, employees, bloggers, influencers and own channels to document and monitor and provide compliance learning and reporting.
HS: Why is the integration between CMP.LY and HootSuite important to you?
James Graham, CMP.LY CFO: It's very important for us because in order for our solution to be effective, we not only have to solve the problem of creating disclosures for social messaging, monitoring and measuring for compliance and success, but we also have to make it user friendly. We recognize HootSuite as by far the leading social media management dashboard – I use it myself for all my day to day use of Twitter in particular. The ability to have your disclosures right there in a stream and easily place it into the social message, is beyond useful.
One of the key hurdles in helping people to easily disclose has been solved by this integration.
Quick HootSuite How-To on CMP.LY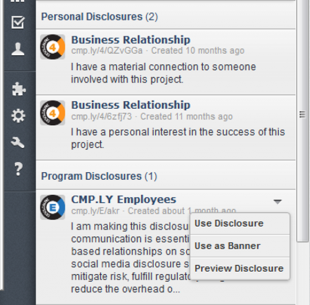 Visit the HootSuite App Directory, scroll to find CMP.LY and click Install App. Select the stream you'd like to place it into and then which tab you would like to place the stream in and click "Finish." You've just successfully installed the app.
Sign in to your CMP.LY account (Don't have an account?) and you're off to the races.
Create a new disclosure or click on the arrow that appears when hovering over the right corner of your past disclosures to either: use disclosure, use as banner or preview disclosure. Using the disclosure simply adds a link to your CMP.LY disclaimer. Using as a banner allows you to link to another url where the disclaimer will be wrapped around the page.
Now that your social message is compliant, easily share it across your social profiles.